Charleston, South Carolina is a historic and beautiful city. Check out the sites where the first shots of the Civil War rang out, or stroll the elegant French Quarter. Visit museums and historical sites that exist nowhere else, or experience the chills and thrills of haunted Charleston. Charleston also boasts incredible natural beauty with a vast array of flora found in the city's green spaces or hit the beach. Make your hotel stay a memorable part of your trip! Whether you want to try a luxurious stay at a resort-style hotel or a historic hotel, you can find it in this list of the Best Hotels in Charleston!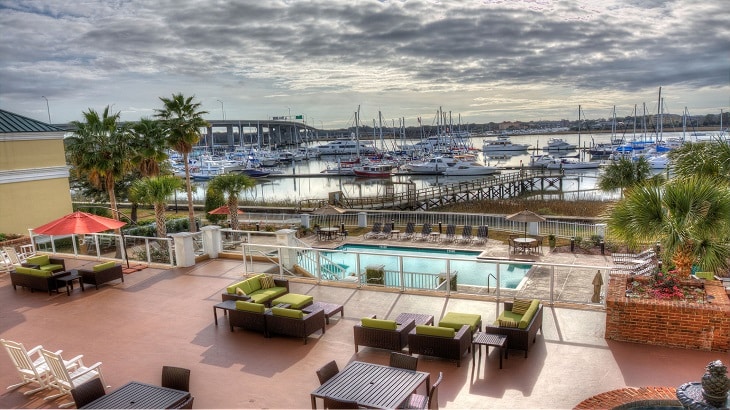 1) Harbor View Inn
The Harbor View Inn is located in historic downtown Charleston. With gorgeous beaches nearby and a unique variety of boutiques, restaurants and museums, you won't be too far from the action. The hotel itself offers some of the best views in Charleston.
Rent a bike from this beautiful hotel to tour the storied city. Enjoy the view of the harbor from the beautiful roof-top terrace and soak up the sun! Take in sweeping panoramas of the city skyline from your luxurious room and retire to a historic four-poster bed. When you wake, don't forget to take in your complimentary breakfast! From historic architecture inside and out to incredible views, this hotel in Charleston is a great choice.
*Some amenities have changed due to Covid.
2) Market Pavillion Hotel
Market Pavillion Hotel would like to "welcome [you] to luxury" while you stay in Charleston! Enjoy your stay in this historic building and enjoy "the art of Southern Hospitality". In the heart of downtown Charleston, you'll have access to the best of "America's favorite city". Tour the waterfront or visit countless historic buildings, shops, and museums.
Return to the hotel to be truly taken care of. Dine at Grill 225 for an authentic taste of the South, or sip cocktails at the rooftop oasis Pavillion Bar. Retire to your well-appointed room to luxuriate in your beautifully adorned room worthy of royalty. Enjoy sweeping views from arched windows and ensuite bathrooms with marble tiling! If you want to stay in style then Market Pavillion Hotel is the choice for you!
*Some amenities may be changed due to Covid.
3) Grand Bohemian Hotel
Add some artistic flair to your stay with the Grand Bohemian Hotel Charleston. Located in downtown Charleston, you'll watch the city unfold before you. This hotel boasts being the most unique of the downtown hotels. See if it's true for yourself by taking in all the Grand Bohemian has to offer.
Enjoy Champagne at check-in, then tour the avant-garde art gallery. Bask under the stars around the outdoor fire pit and rekindle your energies. Check out the rooftop bar for handcrafted cocktails and socializing with like-minded artists. Make the most of your trip by hitting the Wine-tasting room with the best Southern wines. Retire to well-lit rooms with quirky art decor and luxurious beds. Drink in-room Starbucks coffee while taking in the view of the city or atrium. Pets are allowed at this artsy gem, so don't forget to bring Fluffy. For a hotel in Charleston with flair, you want to stay at the Grand Bohemian Hotel.
*Some amenities may be changed due to Covid.
4) Wentworth Mansion
Voted the number one hotel in Charleston by Travel+Leisure, this historic mansion lives up to the title. Retreat to the gilded age with beautiful surroundings. Italian crystal chandeliers hang overhead, and Tiffany stained-glass windows filter the golden Southern sun. Located directly on King Street, you are mere steps away from the city's best restaurants and shopping spots.
Enjoy incredible dining at Circa 1886, where you can start your day with a traditional Southern breakfast or take in updated delicacies for supper. This fusion of past decadence and modern sensibilities has won the second best hotel restaurant by USA Today.  Unwind at the spa with massages and other rejuvenating therapies to renew yourself before taking on the city. Retire to your room and recline like Southern nobility in plush beds with decadent surroundings. Wentworth Mansion is truly a stay you will never forget.
*Some amenities may have changed due to Covid.
5) Belmond Charleston Place
Belmond Charleston Place is a gorgeous Georgian with marble floors and a bronze fountain. In the heart of the historic district, you'll be transported to a more elegant era before you set foot through the doors! Explore Charleston's historic district, and take in the best of the city's yesterday.
Grab a bite at the Charleston Grill with the best of jazz and Southern flavors! Don't forget to treat yourself to a world-class spa treatment. Take a dip at the rooftop pool or get a workout in at the health center. All before retiring to your beautifully adorned Georgian room. If you want to live like 17th-century royalty, then Belmond Charleston Place is the hotel in Charleston for you.
*Some amenities may have changed due to Covid
6) Dewberry Charleston
Located on the edge of Marion Square, the Dewberry offers easy access to America's favorite city! Stroll the historic streets in search of hidden Southern gems, or tour the harbor. Perhaps hop on a horse-drawn carriage to truly escape to another century. The Dewberry's locale makes it all so easy. Rent a bike from the hotel to tour the city.
At this charming hotel in Charleston, there is much to do. Take in the best of Southern hospitality at the in-house restaurant, The Livingroom, or grab a cocktail at the Citrus Club. Get some R&R at the Spa and truly unwind. Check out the best souvenirs at Feildshop by Garden & Gunn, to find something to commemorate your trip. All before retiring to your expertly designed room and curling up in Irish linens. For a mix of contemporary and antique, Dewberry is a gem downtown.
*Some amenities may have changed due to Covid.
7) Renaissance Charleston Historic District Hotel
Located downtown, the city is ready for you to take! Explore the best shopping and historical spots, hop on a carriage or tour the harbor. Enjoy the unique mix of Southern charm and modernity that is Charleston's historic district.
Enjoy southern cuisine at Lenoire with dishes expertly crafted by celebrity chef Vivian Howard. If you're in a hurry, try experimental grab-and-go dishes with a craft coffee at Handy and Hot Cafe. Go for a dip in the outdoor salt-water pool for some fun in the sun without embarking on the beach! Get your workout in at their fitness center. Rest for the night in a room that expertly fuses old-world charm and chic style. Comfort is not compromised at any part of this luxury hotel. Book your stay at this hotel in Charleston for the best of Southern hospitality.
8) The Ryder Hotel
An oasis in the heart of the city, this hotel in Charleston has everything. Rent a bike to explore the city the greenway! Get a taste of the tropics while downtown. After you've taken in the sites, tastes, and sounds of the city, embark on an elegant escape. Go for a dip in the outdoor pool encircled with palm trees, drink on its patio with a drink from Little Palm. Fancy a coffee? No problem, sip luxurious craft lattes and coffees at the Cafe. For those you don't wish to escape, you can bring them with you as the Ryder is pet-friendly. Enjoy free membership to Pivotal Fitness just walking distance from the hotel. From a ten-minute drive to the beach to a tropical-themed get-away, the Ryder Hotel in Charleston is a great choice for your vacation.
*Some amenities may have changed due to Covid
9) Governor's House Inn
Rated the number one  Bed&Breakfast by Trip Advisor, this historic inn is one of the best in Charleston. Standing over the city since before the American Revolution. Over the past 250 years, the Governor's House has been called home by politicians, religious leaders and visited by royalty.
Enjoy a stay at this historic inn and retire to luxurious rooms. Pine flooring, antique decor, beautiful windows and four-poster beds are only the beginning. Sip wine and sherry brought to your room in the evening, and suite guests can enjoy the piazza. For a stay you'll remember, check out the Governor's House Inn.
*Some amenities have changed due to Covid.
10) French Quarter Inn
A hotel should be a home away from home. French Quarter Inn takes this mantra to a new level. Pamper yourself in the beautiful rooms and suites. Enjoy ensuite marble bathrooms and furnishings that recall South Carolina's genteel past! Enjoy the boutique lobby with a fireplace and cozy seating. Delicious Southern treats are served with champagne in the lobby and upon turn-down service. Relax on the terrace with a fresh cup of coffee or wine. Make the French Quarter Inn your home away from home while in Charleston.
11) Hotel Bennet
Hotel Bennett boasts "authentic Charleston hospitality" and makes good on its promise. Enjoy the best of Charleston dining with Hotel Bennet's 3 in-house restaurants. Sample fine dining at Gabrielle either indoors or on the sunny balcony. Fiat Lux is a rooftop bar and restaurant that offers the best of spirits and cocktails while you view the city. Or try some champagne at Camillia's. Pastries and hot drinks can be found at their cafe, La Patisserie. 
Unwind at the hotel's spa and enjoy a variety of treatments worthy of royalty. All before retiring to your beautiful room with grand furnishings fusing chic modernity with old charm. Recline in your comfortable bed or take in sweeping views of Charleston downtown. If you want a taste of old meets new then this is the hotel in Charleston for you.
12) The Restoration
What do you get when you mix Old Southern charm and modern chic touches? You get the Restoration. A stay at this hotel in Charleston completes your Southern vacation. Rent a bike to tour the city or hit Pivotal Fitness with a guest membership. Enjoy organic meals from local farms at the Watch, a rooftop restaurant where you can eat in or on the stylish balcony. Crave a coffee first thing or need a midday pick-me-up? Get an expertly crafted coffee at the Rise. Bookworms need not fear. There is a library at the Restoration with an eclectic selection and cozy reading spots.
Bring the spa into your room. You can book luxurious treatments and pamper yourself without leaving your beautiful room. Enjoy the view from your beautifully adorned room with wine and cheese. You can also partake of late-night cookies before turning into your comfortable bed.
*Some amenities may have changed due to Covid
13) Battery Carriage House Inn
Enjoy a stay in what was once a private mansion with a mix of old and new. Book a suite with a seating area or a room with garden access. The Battery Carriage House Inn offers a stay in dignity. Retire to your four-poster bed after taking in stunning views of the city. In the heart of the Historic District, you can tour the city in style with nearby carriage rides or simply walk the historic streets.
Enjoy nightly wine and cheese in the exquisite Ballroom or hit the cafe and lounge for a nice cuppa. Partake of the honor bar while you stay here. When you wake in the morning, enjoy a complimentary European-style breakfast! Step into history at the Battery Carriage House Inn. Though be careful, this is allegedly Charleston's most haunted inn and the history may literally haunt the halls.
*Some amenities may have changed due to Covid.
14) The Spectator Hotel
Jazz up your Charleston visit with a stay at The Spectator Hotel! Enjoy the glamour of Charleston's jazz age at this glitzy hotel while taking in the Historic District. Rent a bike from the hotel to truly explore. Centrally located, Historic City Market, Dock Street Theatre, and Gibbs art museum are within walking distance.
Stay like the wealthy of the roaring '20s in rooms or suites decked out in gilded-age antiques with marble ensuite bathrooms. Enjoy a butler service that includes coffee and tea delivery! Take in a cocktail at check-in. Enjoy cocktails and wine at the Bar, a prohibition style-speakeasy with all the elegance and none of the danger. When you wake, enjoy a complimentary breakfast right in your room. Offering all the glamour of the Great Gatsby with none of the tragedy, Spectator is the classier choice of hotel in Charleston.
* Some amenities may be changed due to Covid
15) Elliott House Inn
Stay in this historic inn that was once a mansion in 1861. In the heart of the Historic District,  Elliot House Inn is a stone's throw from the city's most cherished historic sites. Rent a bike and take in old churches and cathedrals or ride a horse-drawn carriage through the old streets of the city. Consult the inn's in-house historian for the details on Charleston's most storied spots.
Enjoy a stay that fuses the simple elegance of a boutique hotel and the decadent charm of the Old South. Relax in the charming courtyard over a glass of wine. Pick-up historic tours ensure you get the most history out of your stay. After taking in all Charleston and Elliott House Inn has to offer retire to your room! With original flooring and restored walls step into a more elegant age before resting for the night.
*Some amenities may have changed due to Covid
16) The Mills House Wyndham Grand Hotel
Located on Museum Mile, you're steps away from the Gibbes Museum of Art, Historic City Market and so much more. Explore Historic Charleston in style with a horse-drawn carriage or tour the gorgeous waterfront! For those who wish to venture a little further Folly Beach and Sullivan's Island are within reach.
After exploring all Charleston has to offer, return to Mills House to enjoy the best of old-world charm with modern convenience. Experience fine Southern dining in a lush courtyard with Barbados Room for dinner or breakfast. Before retiring to your room, sip a cocktail at The Best Friend Lounge, and take in the easy atmosphere. After-dinner drinks can be enjoyed in First Shot Lounge. Take a dip in the outdoor pool or simply lounge on the patio! You can also get your daily workout in at the 24/7 fitness center. Turn in for the night in gorgeous rooms with floor-to-ceiling windows and charming views of the city or terrace. For luxury mixed with history, the Mills House is the hotel in Charleston for you.
*Some amenities may have changed due to Covid
17) The Vendue
Welcome to Charleston's Art Hotel! The Vendue is adjacent to the Waterfront Park and is only blocks away from Historic City Market. Enjoy historic downtown Charleston with the best of shopping, food, and history only steps away. Hop on a rented bicycle to explore the city without a carbon footprint.
Lounge on the complimentary beach for fun in the sun. Enjoy an art reception with wine in the evening or independently check out the 300 piece rotating exhibition at the in-house gallery. Artists have more than art to admire at this beautiful hotel. Check out the Artist-in-Residence-Program and take advantage of the working art studio! Sip cocktails and wine at the Drawing Room or enjoy a casual dining experience at the Rooftop. Before turn down, enjoy cookies in the evening. Dog-friendly rooms are available for travelers of the four-legged variety. When waking enjoy complimentary breakfast! For a pet-friendly experience in the heart of the French Quarter, the Vendue is the best choice for a hotel in Charleston.
*Some amenities may have changed due to Covid.
18) Francis Marion Hotel
In the heart of Marion Square, this luxury hotel rises 12 stories above the Historic District. Charleston's beautiful gardens, best museums, and hottest shopping spots are all steps away. After taking in Charleston in the day, watch this district transform at night. Guests are within walking distance of the city's best nightclubs.
Back at the hotel, there is plenty to do. Get your workout in at the on-site fitness center or unwind at Spa Adagio, the third best Spa in Charleston. Take in the best of Southern dining at the Swamp Fox Restaurant & Bar made with sustainable ingredients. Retire to a room with commanding views of the city and harbor unlike any other. For a touch of history with modern flair, the Francis Marion Hotel is the hotel in Charleston for you.
*Spa, fitness center, and restaurant are operating at reduced capacity due to Covid.
19) John Rutledge House Inn
Once a home for John Rutledge, one signer of the declaration of independence, this bed & breakfast is woven in the fabric of America! Stroll the cobblestones steps outside the hotel and take in the sites of the old world. Charleston's Historic District is a fusion of 17th-century regal scenery and modern boutiques. Consult the inn's manual of places to see before you set off exploring to make the most of your trip.
Like Charleston itself, John Rutledge House Inn expertly fuses the elegance of a past era with modern sensibilities. Your room will maintain the appearance and majesty of upscale 17th-century chambers, with ensuite bathrooms boasting modern conveniences. Enjoy sweeping views of the historic city from beautiful paned windows. In the afternoon enjoy tea and hor louvers for a pick me up and wind down at night with port, sherry, or brandy before retiring to your Tempur-Pedic bed. When you wake in the morning, be sure to get your continental breakfast at the elegant ballroom or dine in the lush courtyard. Enter another era with this charming hotel in Charleston.
*Some amenities may be changed due to Covid
20) Andrew Pickney Inn
The vibrant yellow and ivory buildings at the corner of Church and Pickney Street stood over the Historic District for centuries. This restored, historic building is placed perfectly for urban explorers to take advantage of. Only a block away from King Street, you can visit the city's best historic houses, museums, boutiques, and restaurants in no time at all. The Andrew Pickney Inn is also a pick-up spot for historic tours, allowing you to make the most of your Charleston vacation.
Enjoy seasonal afternoon receptions on the rooftop Solarium with lush scenery and a commanding view of historic Charleston. Get an afternoon pick-me-up with gourmet coffees, teas, and artisanal cookies! Guest of the hotel will receive complimentary access to Pivotal Fitness, so you can maintain your workout routine. After an exciting day of exploration, winning, and dining, retire to your beautifully appointed room. Enjoy decor reminiscent of the 17th century and calming natural color pallets. Inspired by the West Indies, these well-lit soothing rooms demand luxury. When you wake be sure to take in your complimentary Southern breakfast in the Solarium. From beautiful surroundings to centrality, the Andrew Pickney Inn is a perfect hotel in Charleston for travelers of all Stripes.
*Some amenities may have changed due to Covid.
Conclusion
When you make your way down to the beautiful city of Charleston, you will not find yourself, your family, or your group of friends bored; as there are so many amazing views and things to do in Charleston. While you are planning your itinerary of adventures in this beautiful city, don't forget to book a stay at one of the 20 Best Hotels in Charleston.