Every year hundreds of people visit Jacksonville, Florida, due to the many cultural events hosted there. This city has the honor of hosting the second-largest jazz festival in the country, the World's Largest Outdoor Cocktail Party, also known as the Florida- Georgia game which makes this city famous due to Jacksonville being the home of many local breweries and distilleries. But if you dislike overcrowded touristic places, and you prefer to spend your day sightseeing and walking or hiking, you don't have to worry, because we created this list of the best hiking trails in Jacksonville so you can explore the numerous natural reserves that belong to this great city.
If you love wildlife and want to spend a family day with your kids in an educational and fun way, don't forget to go and visit the Jacksonville Zoo, because it hosts the second largest animal collection in the state of Florida. This zoo features elephants, lions, and Jaguars and a multitude of reptile houses, flight aviaries, and many other animals, you and your kids will love it.
The endless green scenery, thanks to the plethora of flora and fauna that this city has to offer in the form of state parks and many nature reserves, make Jacksonville the perfect place for those who enjoy strolling through the wilderness, so pick up your map, and grab your hiking gear because here is the list with the best hiking trails in Jacksonville.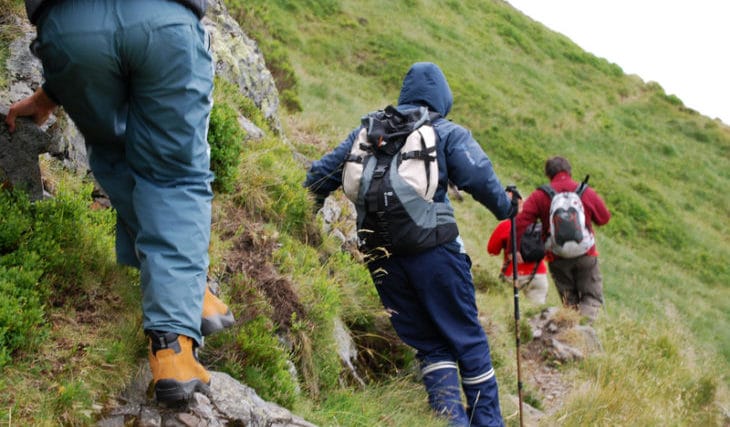 1. Baldwin Rail Trail
This trail was once an abandoned railroad corridor, purchased by the Florida Greenways and trails program. This program was designed to turn abandoned railroad lines into linear parks.
The Jacksonville-Baldwin Rail Trail extends 14.5 miles from Jacksonville to the town of Baldwin.
Whether you enjoy hiking, biking, or horseback riding this trail is the perfect combination for those who enjoy sightseeing or taking photographs for their next Instagram update.
The Baldwin rail trail is a free hiking trail, you don't have to pay any kind of fee or make any kind of reservation. Open hours are 24 hours, every day.
Address: 1800 Imeson Road, Jacksonville, FL 32220
Phone: N/A
Website: N/A
2. Camp Milton Historic Preserve
The most interesting aspect of Camp Milton is that you can see every part of its story right there on every tree you walk by. What was once the most significant military encampment built in Florida during the civil war is now a 2.1 miles nature reserve located about 5 miles from Jacksonville. This state archeological site trail is surrounded by a leafy canopy that will shelter us from the sun on a sunny day.
This Jacksonville's trial trail opens every day from 9:00 am to 5:00 pm, night excursions are not allowed in this historic site. No admission fee is required unless you go in your car.
Address: 1225 Halsema Rd N, Jacksonville, FL 32220
Phone: +1 904-630-2489
Website: www.coj.com
3. Robert W. Loftin Nature Trail
This 6-mile hiking trail is located near the campus of the University of North Florida, this trail is open from sunrise to sunset and while parking is free on weekends, you have to pay a $3 fee on weekdays.
The Robert W. Loftin Nature Trail is divided by 5 trails. Red maple boardwalk: This trail is wheelchair accessible and was built in the late 70's.
Gopher Tortoise ridge: this trail provides underground homes to small mammals, amphibians and reptiles alike.
Big Cypress loop: this trail connects the goldenrod and the blueberry trail.
Blueberry trail: This 1.5 trail has permanent exercise stations for those who like fitness.
And the Goldenrod trail: this 2.8 miles trail is the nearest trail to the UNF. This trail is open to the public every day of the week but the bad news is that bikes and dogs aren't allowed.
Address: Recreation and Wellness, 1 S U N F Dr. Bldg 61, Rm 1200, Jacksonville, FL 32224
Phone: +1 904-620-44769
Website: www.unf.com
4. Timucuan Preserve
One of the most visited hiking trails in Jacksonville is the Timucua preserve, every year 1.300.000 people visit this ecological and historical place. Established in 1988, the Timucuan national preserve is the oldest national park not only in Jacksonville but also in the state of Florida. The Timucua historic preserve includes several sites around Jacksonville, such as Fort Caroline, the Kingsley Plantation, Theodore Roosevelt Area, Cedar Point, and American Beach. Make sure of visiting this hiking trail if you're visiting Jacksonville.
Address: 12713 Ft Caroline Rd, Jacksonville, FL 32225
Phone: +1 904-641-7155
Website: www.nps.com
5. Little Talbot Island State Park
Located near downtown Jacksonville, this nature preserve is a loved trail for old and young people. Little Talbot Island State Park not only is one of the most visited hiking trails but is also one of the most diverse national parks in Jacksonville, if you're looking for a place to be your next vacation spot this is the perfect one, camping, fishing, hiking, swimming, canoeing, nature watching, bird watching and surfing are just a few of the several activities you can participate in while visiting this place.
6. Fakahatchee Strand Preserve State Park
This is by far the largest state park in Florida, it offers us a variety of wildlife and nature we cannot see in our everyday life.
If you want to escape from your daily routine and challenge yourself for something new, Fakahatchee Strand Preserve State Park hiking trail might be what you are looking for, you never know what you might come across when you're visiting this beautiful place.
Experience child-like wonder when hiking the Cypress Bend boardwalk a two-thousand footpath. This national park is open from 8 am to sundown every day of the year.
7. Jacksonville Arboretum & Gardens
What once was a gold mining company is now a unique natural attraction inside a bustling city. Located 15 minutes from downtown Jacksonville, near the Arlington neighborhood, Jacksonville Arboretum & Gardens has seven designated hiking trails to explore.
Affordable and friendly, this hidden hem, has a lot to offer if you're looking for the perfect place to hang out with your friends or family or if you want to take your dog for a walk. Jacksonville Arboretum & Gardens is open to the public 7 days a week from 8 AM to 5 PM.
8. Tree Hill Nature Center
Tree Hill Nature Center is home to more than 20,234 hectare of natural trails, with butterfly and hummingbird gardens home to the annual Jacksonville Butterfly Festival, and native wildlife. Every year more than 25 thousand people, visit this wilderness preserve. Here at Tree Hill Nature, you can have a learning experience while taking a stroll on the multiple trails that make part of this marvelous preserve.
Address: 7152 Lone Star Rd, Jacksonville, FL 32211
Phone: +1 904-724-4646
Website: www.treehill.com
9. Julington Durbin Creek Nature Preserve
This 5.5-mile loop trail is the perfect place for a leisurely walk. If you are on your lunch break and want to take a relaxing walk, don't hesitate to visit this place. Open all year round, this trail is known for being one of the best off-road courses in Jacksonville. Feel free to go if you looking for a place to go with your dog.
Address: 13200 Bartram Park Blvd Jacksonville, FL 32258
Phone: +1 904-630-2489
Website: www.timucuanparks.com
10. Kathryn Abbey Hanna Park
Located near the ocean, specifically at Mayport, in Jacksonville's beach area this 2.7-mile trail is perfect for hot summer days. Hanna Park also has 15 miles of bicycle trail, and a campground carefully designed for tent camping or RV use. Kathryn Abbey Hanna Park is open 8 AM-6 PM November through March, 8 AM-8 PM April through October.
Address: 500 Wonderwood Dr, Jacksonville, FL 32233
Phone: +1 904-249-4700
Website: N/A
11. Tillie K Fowler Island Trail
Tillie K. Fowler Regional Park is located near the Jacksonville Naval Air Station, it has a length of nearly 3.3 miles of unpaved ground offer us a lot more than is expected.
Every trail in Tillie park has several levels of difficulty, you can find the Tower Trail, which is 1.2 miles long, this trail leads you to an observation tower, a two-story tower that overlooks the whole park and the Island Loop trail, a single-track trail that is perfect for cardiovascular training.
No admission fee is required and it opens from 5 AM –to 7 PM, every day (until 9 PM during daylight savings hours).
Address: 7000 Roosevelt Blvd, Jacksonville, FL 332244
Phone: +1 904-573-2498
Website: N/A
Conclusion
Sometimes we feel the need to run away from the city life but without actually leaving home or maybe we lack the time or the monetary means to embark on an adventure. For those who feel that way, Jacksonville will surprise you with a variety of options ranging from old historical buildings to the most beautiful nature preserves. Whatever you wish to do, camping, fishing, hiking, swimming, canoeing, nature watching or horseback riding there is no lack of options for you.
There are several kinds of trails for you to try in Jacksonville, from beach trails to urban park trails, all of them family-friendly and well maintained. There is so much to Jacksonville than just being one of Florida's largest cities and a growing metropolis. Here, in Exploreist we hope you find this list of Hiking Trails in Jacksonville helpful. And as always we wish you safe travels!