Jacksonville is a quaint oceanside city with a charm that draws tourists from all over the United States. While many people flock to Jacksonville to stay inexpensive, overpriced hotels that overlook the beach, some opt for a more affordable option–camping. There is a common misconception about camping; it's a hassle, time-consuming, and not as relaxing as reserving a hotel and taking the easy way.
While some of these are true to an extent, camping can build a vacation worth remembering. Not only are you in a beautiful city with quiet, sandy beaches and a city with plenty to do, but you are also taking the time to commune with nature and experience vacation in a much more natural way. Detailed below are some options for you to consider when you are planning your trip to Florida. These are the best campgrounds near Jacksonville Fl, so you are sure to find the perfect place for you!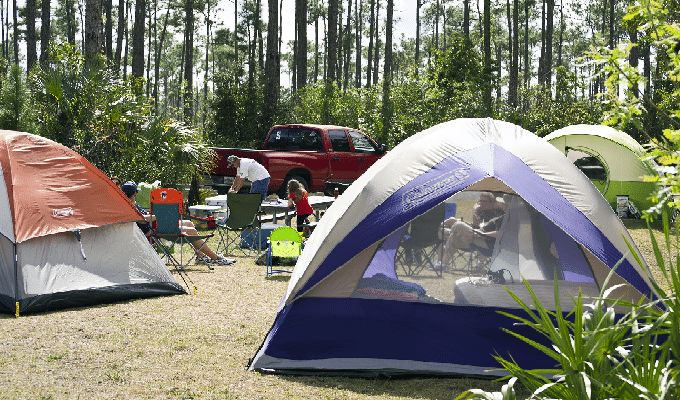 1. Hanna Park Campground 
Hanna Park Campground is one of the campgrounds near Jacksonville Fl that caters to RV users looking for a relaxing vacation. There are beautiful beach access, bathrooms, showers, and an on-site store for any last-minute needs. The campground is a short distance from town, and accessible to all of the things Jackson has to offer. One thing noted in the reviews of this campground is the upkeep of the restrooms.
If your RV has showers and bathrooms, then this should not be an issue for you. If you will need to use on-site facilities, check with the campsite management that the bathrooms have been cleaned recently before venturing in. The Hanna Park Campground also has hiking trails and outdoor shelters for gathering. The price for car entry is $5. This campground is affordable and enjoyable! 
2. Big Tree RV Park
Big Tree RV Park is another one of the campgrounds near Jacksonville FL that caters primarily to RV users. However, Big Tree has a long list of amenities for their guests to enjoy. They have electric service for their guests, as well as laundry facilities. The restrooms are reviewed to be very clean, and the staff is said to be very helpful upon arrival and if anything is needed during your stay. This campsite is walking distance to the beach. This campsite is still very close to all of the exciting things to do in Jacksonville, so your visit will be an array of different activities! The reviews for this campsite are overwhelmingly positive, so it might be worth your while to give it a try! 
3. Pecan Park RV Resort
The Pecan Park RV Resort is the perfect place to start your vacation in Jacksonville. With a large park that can accommodate your RV, a pool for the whole family to enjoy, and a fishing lake, you can't beat this RV campground. One drawback that visitors might experience is the lack of beach access. This campground is farther from the beach than the others, and that detracts from its appeal. However, the offer free breakfast, maid services, and WIFI for guests. Depending on what kind of experience you are looking for in Jacksonville, this would be a great option to park your RV! This resort is close to all of the activities in Jacksonville, so you won't be missing much!
4. Riverfront RV Park and Marina 
The Riverfront RV Park and Marina is, as you might have guessed, riverfront. There is a fishing pier to sit and enjoy the afternoon, and it isn't far from the beach. If you are looking for a beach vacation at a reasonable price, this might be the place for you! However, you would need a car to transport yourself to and from the beach, as well as whatever you would like to do in Jacksonville. This RV park offers a relaxing and peaceful atmosphere, clean facilities, friendly staff, and a pet-friendly campus! Please note that this campsite is adult-only, and children are only permitted on the weekends. Keep that in mind when you are booking your vacation to one of the campgrounds near Jacksonville FL!
5. Pelican Roost RV Park 
Pelican Roost RV Park is a military campground specifically those who have served, are retired or a guest of someone who is affiliated with the military. If you are military personnel, this is the perfect RV park for you. If you are not affiliated with any branches of the military, you will need to book your stay at one of the other campgrounds near Jacksonville, FL. Pelican Roost RV park has waterfront campsites available for an additional $2/per night–a great deal for an added view.
Unlike many of the other campgrounds near Jacksonville, Fl, Pelican Roost offers a place for campers to pitch tents as well, so they are not only accommodating to RVs. They offer free laundry facilities, tennis, a snack bar, archery, and bowling. As long as you or a family member has served in the military, this campsite will be perfect for your vacation!
Little Talbot Island State Park is possibly one of the most unique campgrounds near Jacksonville, FL. It is located right on the beach for the convenience of visitors and caters to both tents and RVs. Pets are allowed at Little Talbot Island, and they have ample availability to connect your RV to electricity. After deciding if you will be bringing an RV or a tent, the only thing left to worry about is what exciting activities you will do once you've arrived!
Just to name a few, Little Talbot Island State Park offers; kayaking, surfing, canoeing, bike trails, bird watching, and much more. The base fee to stay at this campground is $24/night, regardless of if you will be using an RV or a tent. This does not include any additional fees of electricity hook up, water hooks, or taxes. 
Conclusion
Jacksonville has some great options for camping in the area, and you can't go wrong with any of these unique campgrounds near Jacksonville Fl. If you are looking to camp right on the beach, there is a campground for that. If you are wanting to be closer to town, then there are several RV parks to suit your needs. Whatever you are looking for in your vacation, Jacksonville is prepared to fulfill those needs. Carefully consider what kind of vacation you are hoping for, and make the best selection for your family from the detailed information above! You are sure to have a wonderful time at any of the campgrounds near Jacksonville, Florida.