Seattle is a vibrant city, but like many major metropolitan areas, downtown parking can be hefty. Finding a hotel in downtown Seattle with free parking can be an art, but it is not impossible. We've made it easy to find hotels in downtown Seattle with free parking with this list. Read on to discover the best hotels in downtown Seattle with free parking!
Once you're actually at the hotel, many of these hotels listed are great on the walkability scale; however, so many adventures around Seattle exist, it's a great idea to come with a car.
Take a day trip to the Olympic National Rainforest, check out the stunning Mt. Ranier National Park, or visit the beautiful Snoqualmie Falls. With a hotel in downtown Seattle with free parking, you'll be able to choose the breadth of your exploring journeys without the extra cost of a daily parking fee.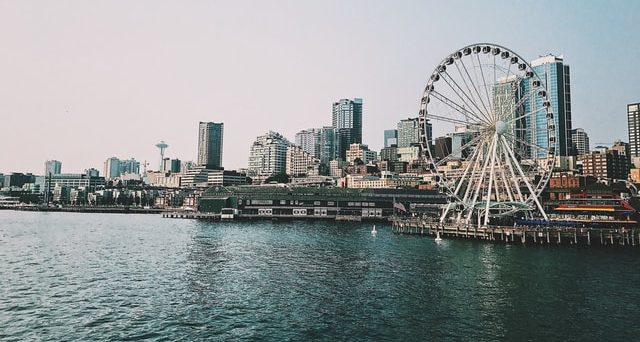 1) Holiday Inn Express Hotel & Suites North Seattle – Shoreline
Holiday Inn Express Hotel & Suites in North Seattle is not technically in downtown Seattle, being seven miles north of downtown Seattle. However, the clean, spacious rooms and allure of free parking may be worth it to those who are okay with being out of the direct action.
With easy access to I-5 and HWY 99, you'll be able to quickly zip to wherever you need to go. The hotel itself offers standard hotel rooms or expanded suites, with separate living room space. Many great amenities are provided, including free breakfast, a pool and hot tub, and a business center.
2) Greenlake Guest House
Not a hotel, but a charming guest house, Greenlake Guest House is a top-rated Seattle bed and breakfast. Be immersed in a lovely residential neighborhood that includes walkability to many restaurants.
Five miles from downtown Seattle, take advantage of being on Green Lake, where you can run or walk near the beauty of nature. Immaculate rooms and grounds make Greenlake Guest House a favorite. Many rooms come with gas fireplaces and jetted tubs, and a wine reception is held nightly Monday-Friday.
3) Chelsea Station
In the Freemont neighborhood, Chelsea Station offers apartment-style lodging, with approximately 900 square feet per room. Choose to add breakfast or snacks to your stay at Chelsea Station to make it even more like home.
Chelsea Station is a great location for those who wish to visit the Woodland Park Zoo or explore the Green Lake neighborhood. A quick drive into the city center, Chelsea Station is a tranquil oasis, with free parking, in the Green Lake area.
4) Comfort Inn & Suites Seattle
Comfort Inn & Suites is approximately a twenty-minute drive to downtown Seattle, with the important perk of having free parking. Clean and spacious suites come with a separate living room and a two-person sleeper sofa bed if you're traveling as a family.
Complimentary breakfast includes fresh waffles, and business travelers love the business center complete with printing and fax services. Comfort Inn & Suites Seattle may not be directly downtown, but easy access to I-5 as well as accessibility to the Seattle bus line makes this a great choice.
5) Georgetown Inn
Georgetown Inn is a family-owned boutique hotel situated in the beautiful and historic Georgetown neighborhood. Just four miles south of downtown Seattle, Georgetown Inn has up-and-coming art galleries and eateries.
Enjoy fast wifi, morning pastries, and complimentary coffee and tea. A friendly, multilingual staff is ready to help you, 24/7. Make sure to take advantage of little perks such as free washer and dryer and complimentary umbrella rentals for those rainy PNW days.
6) The Grove West Seattle Inn
The Grove West Seattle Inn is Seattle's only full-service lodging accommodations, located in West Seattle. Modern rooms come equipped with wireless internet, 32-inch TVs, and in-room coffee and tea service. Just minutes from downtown Seattle, as well as SeaTac Airport, The Grove West Seattle Inn has a nice neighborhood-vibe.
A daily continental breakfast, complimentary newspapers (M-F), and onsite laundry facilities are wonderful additions to The Grove West Seattle Inn. Be sure to check out the hotel's outdoor deck with a fire pit for cozy evenings around the campfire.
7) Hotel Nexus, BW Signature Collection
Hotel Nexus, BW Signature Collection combines fresh style with a vintage flair. Hotel Nexus is in North Seattle, close to I-5, making it convenient to reach such destinations as SeaTac Airport, Lynwood, and the University of Washington. This motel-style accommodation offers free breakfast, a complimentary shuttle on a scheduled route, and a seasonal outdoor pool.
The onsite restaurant, Saffron Bar & Grill, is award-winning and known for mango chicken curry and tandoori kabobs. With fun and relaxing atmosphere, Hotel Nexus is an easy choice.
8) Crown Inn
Another classic motel-style choice, Crown Inn offers a clean, budget-friendly stay. Enjoy free parking, basic amenities that include free wifi, cable TV, and air-conditioned rooms.
Just three miles from the Woodlawn Zoo, Crown Inn is also close to off-the-beaten-path attractions such as the nearby Sakya Monastery of Tibetan Buddhism. Additionally, a plethora of restaurants are less than one mile away. Crown Inn may not have a ton of bells and whistles, but it does have clean accommodations and free parking.
9) Travelodge by Wyndham Seattle North of Downtown
Travelodge by Wyndham Seattle is an additional budget-choice with motel-style accommodations. Comfortable and convenient, leave the hassle of finding parking behind when you stay at Travelodge by Wyndham. Travelodge offers complimentary breakfast each morning, nonsmoking rooms, and wifi. Just five minutes north of the Space Needle, jump on I-5 and get to all of Seattle's major attractions in no time.
10) La Hacienda Motel
La Hacienda Motel is a no-frills motel with 35 guestrooms. Situated in proximity to downtown Seattle (3 miles south), the Space Needle, Safeco Field, and Quest Field, La Hacienda Motel is a great economy pick. With free parking and free wifi, La Hacienda Motel offers standard, bridal, and family rooms.
If you're traveling with your pet, La Hacienda does have pet-friendly rooms, as well as fax and photocopying services for the working traveler. Don't expect luxury when you're at La Hacienda Motel, but for a quick night's rest, it'll do the job.
11) Columbus Motor Inn
A basic motel, Columbus Motor Inn offers rooms with air conditioning, free wifi, and free parking some five and a half miles from downtown Seattle. All nonsmoking rooms include family-friendly options.
Columbus Motor Inn is a budget hotel, meaning you'll save on accommodations to see the city in style. Close to many restaurants and a few local, underrated attractions such as Dunn Gardens (2.5 miles away), Columbus Motor Inn is a humble budget-friendly choice.
12) Days Inn by Wyndham Seattle Aurora
Days Inn by Wyndham Seattle Aurora is near Puget Sound and with direct access to I-5. Quickly access downtown Seattle or the Edmonds Waterfront and ferry. Enjoy breakfast each morning, a business center, HBO, and widespread internet throughout the hotel. Days Inn comes with family-friendly room options and free parking.
A totally nonsmoking hotel, be sure to utilize the in-room kitchenettes or the business amenities, which include fax and printing services. Grab a complimentary newspaper in the morning, and relax in this comfortable hotel.
13) Extended Stay America – Seattle – Northgate
Extended Stay America – Seattle – Northgate offers affordable suites that are perfect for families traveling to Seattle. Each room comes with a kitchenette, a grab-and-go breakfast, free parking, and speedy internet. Extended Stay America is a pet-friendly hotel, as well as being nonsmoking. If you need to do a load of laundry, Extended Stay America has you covered with coin-operated laundry on-premise. Lower rates are available for longer stays.
14) Kings Inn
Kings Inn is an economy hotel with free parking in a parking garage, a 24-hour front desk, and free wifi throughout the hotel. Great for walking to major Seattle destinations like the Space Needle and Pike Place Market, Kings Inn is centrally located.
Rooms are basic but clean, although you do pay a higher price for being downtown, without any major additional frills. A multitude of delicious Mexican restaurants surrounds the hotel, perfect for a dinner out.
15) 11th Avenue Inn Bed and Breakfast
If you're looking for a charming stay to remember Seattle by, look no further than 11th Avenue Inn Bed and Breakfast in the Capitol Hill neighborhood. Just one mile from downtown Seattle, you can walk to the heart of Seattle in about twenty minutes.
The surrounding neighborhood is a quaint area to explore with restaurants, shops, and coffee shops. Opt for a room in the main house or rent the barn, which has a queen room, private entrance, and a private bathroom. Free parking, and of course, an included breakfast, come with your stay at 11th Avenue Bed and Breakfast.
Conclusion
From economy-style motels to bed and breakfasts, this list of hotels in downtown Seattle with free parking has you covered no matter your budget or needs. From directly downtown to being further out from the city center, but still, within accessibility, there is something for everyone on this list of hotels in downtown Seattle with free parking. Save yourself the extra money and headache of paying for a hotel that does not come with free parking, and book one of these great options today!