Our furry friends are companions for life. And as such, we enjoy treating them to fun activities from time to time. This gives us a chance to bond, exercise, and spend time together. It is important to keep dogs well exercised to elongate their time here with us and to make sure their quality of life is good. A great way to do this is by taking your pup to dog parks in Tallahassee, Florida. Whether you are visiting Tallahassee with your pup in tow, or if you are local to the area and looking for a new spot for yourself and your pal, the locations below are a great list of resources for dog parks in Tallahassee, Florida.
Spending time with your pup is not just great for them, but it is also good for you. Dogs are known to be supportive and calming to humans and can make us feel less alone. This is one of the many reasons why it is important to show your dog some extra love and take them for a day out to the dog park. 
Read Also: Campgrounds in Tallahassee FL
1. San Luis Dog Park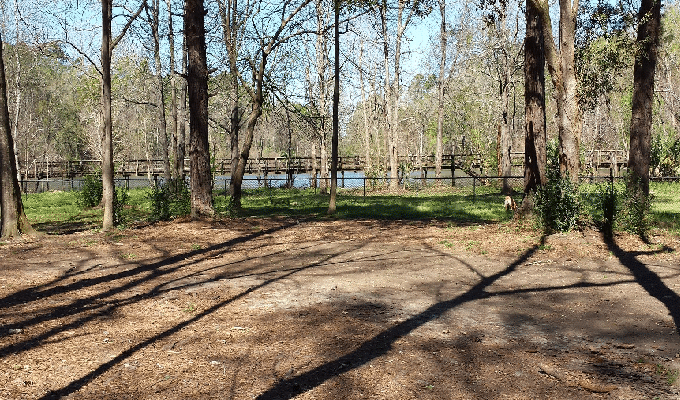 San Luis Dog Park is a sub-area of San Luis Mission Park. The dog park is a fenced-in area that allows dogs to be independent of their leashes while within the contained area. During this time, dogs can interact with each other, play with their owners, and meet new people. After finishing up an afternoon play session at the San Luis Dog Park, there are hiking and walking trails to discover with your leashed pet. Make sure to bring a portable water bowl, as the temperatures can get hot during Tallahassee Summers and Springs, and your pooch will work up a thirst while they are playing. Many dog parks provide water but do not assume this is always the case. Err on the side of caution and come over-prepared. 
Please keep in mind that this park is open from the hours of 7 am to 8 pm every day, and that includes all areas of the park. While this is a simple dog park, it is a great place for you and your dog to enjoy the day together.  
Phone: +1 (850) 891-5321
Address: 1313 San Luis Rd, Tallahassee, FL 32304
Website: www.talgov.com
2. Dog Park at Tom Brown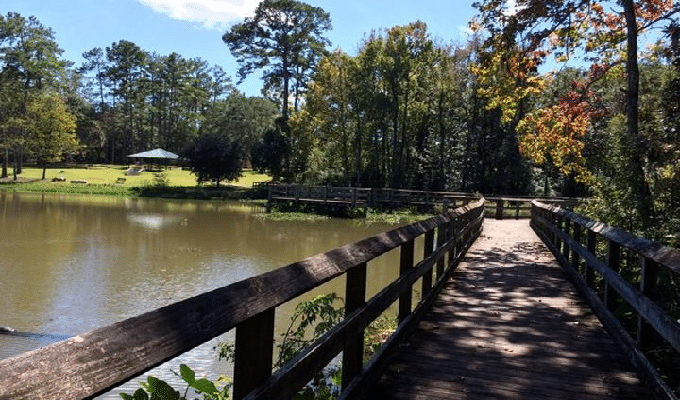 The Dog Park at Tom Brown is one of the most popular dog parks in Tallahassee, Florida. The highest concentration of residents focus on this area, and they have given it great reviews. There is a strong community of dog-lovers who frequent this park with their furry family members. Many of the dogs and people know each other and enjoy watching their animals play while they enjoy a nice chat. The park provides little bowls of water around the dog park area and the walking trails. There is a baby pool for dogs to swim in and cool down after a long day playing in the park. 
This park is open 24 hours a day, but I would recommend going between the hours of 8 am-5 pm. This is when most people bring their animals out to play at the park and the best time for socialization. In addition to the dog park, there are also hiking trails, biking trails, and lakes all around for scenic pleasure. 
Phone: +1 (850) 891-3866
Address: 501 Easterwood Dr, Tallahassee, FL 32311
Website: www.talgov.com
3. Park Avenue Dog Park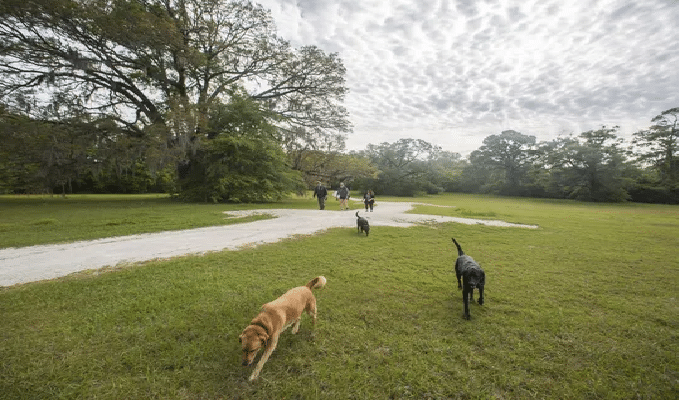 The Park Avenue Dog Park is a simple fenced in area with lots of room for your pooch to run and play. As an off-leash park, you are only required to leash your dog outside of the gates and while you are coming back and forth. Many families enjoy bringing their dogs here, but they have noted that there isn't much else to do. While it is still a great option, especially considering location, make sure to consider what you are looking for before you commit to a dog park.
There are plenty out there with all the bells and whistles– A few are mentioned in this article! This park does not have any business hours listed and has no contact information. That being said, it is a safe bet to assume the best hours to go is from 8 am-5 pm, as mentioned before. This is when dog owners are typically bringing their furry friends to parks, and you will have the best chance at socialization. 
This park makes no specific mention of providing water for the local pups, so make sure to bring a portable water bowl for your dog to make sure they don't overheat while they are playing. 
Phone: N/A
Address: 200-298 W Park Ave, Tallahassee, FL 32301
Website: N/A
4. All Saints Dog Park
 
All Saints Dog Park is another example of a simple, fenced-in area for dogs to run free. The area is covered with gravel, which will give your dog a greater work out as they play. This is due to less traction when they are running or walking at faster speeds. The area itself is fairly small, and could not fit many dogs at once. It is a great choice for locals who are walking distance and want something simple to do with their pups. There are no posted hours, but follow the rule of thumb here as well; 8 to 5 pm is your best bet. If the park is too crowded, there are plenty of benches to sit on while you wait for a turn. 
Phone: N/A
Address: 810 S Martin Luther King Jr Blvd, Tallahassee, FL 32301
Website: N/A
Conclusion
Now that you are aware of the options available to you concerning dog parks in Tallahassee, Florida, there are plenty of choices to spend an afternoon with your canine companion! Whether you prefer smaller areas within parks or large dog parks where your buddy can run free, you can't go wrong with any of the above suggestions. Consider packing a picnic with your significant other, or a group of friends, piling into the car and spending a fun-filled afternoon watching your furry friends play in one of these exciting parks. Remember–it is important to bring doggies bags and always clean up after your pet. Some dog parks offer bags, but do not expect this and end up in a bind if your dog needs to use the bathroom. Make sure you're prepared before you head out for your day of fun!