20 BEST Restaurants in Scottsdale, AZ [2022 UPDATED]
By

Marina Yoveva
Are you ready to dine in some of the best restaurants in Scottsdale now that Arizona is open for business? Sunny Scottsdale, AZ, offers a variety of dining options that allow for ample outdoor seating. Or order takeaway for private dining in the luxury of your own home or favorite location.
From modern Tex-Mex to Thai and everything in between, you'll have no shortage of savory options in Scottsdale, AZ. Here's a round-up of the twenty best restaurants in Scottsdale, AZ, and all you need to know before you go.
As COVID may affect restaurants, please call ahead to make sure the hours are as advertised and for safety policies. Dig into this delicious list of good cooking to get your tastebuds tempted for your next outing in beautiful Scottsdale, AZ.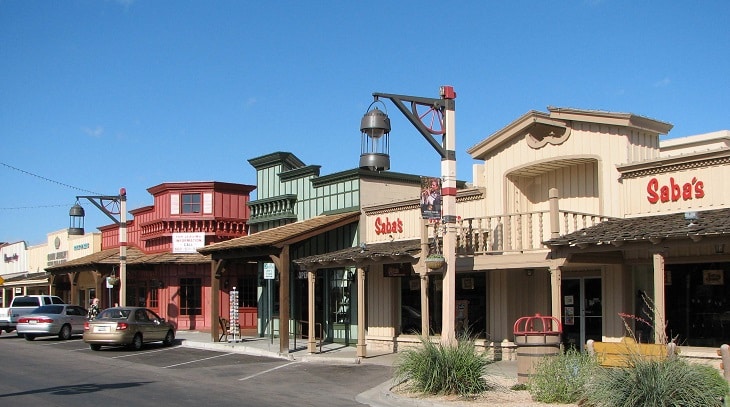 See Also: Best bars in Old Town Scottsdale
1. Cafe Monarch
If you've been saving up all your pennies during the lockdown, Cafe Monarch is the perfect fine dining option to spend them at. With a sophisticated modern American menu set in the center of old Scottsdale, you'll love the ambiance, and cuisine Cafe Monarch provides. An ever-changing menu ensures your experience will be unique, with world-class service. It's time to make new memories at the delectable Cafe Monarch.
2. Franco's Italian Caffe
Travel to Tuscany through your palette at Franco's Italian Caffe. Perfect for when you're craving classic Italian from the heart of Italy, Franco's serves up dishes such as hearty lasagna, homemade burrata, and nightly fish specials. Franco's got an extensive list of wines to be paired with your entree of choice. Currently only serving take-out, Franco's is worth it.
3. Butterfield's Pancake House
Nothing says easy-breezy like a fun brunch, which is precisely what Butterfield's Pancake House is known for. Open seven days a week for in-house dining, curbside, and take-out, get in line for your short stack at Butterfield's. Options include pecan pancakes, an Irish benedict with corned beef, and a specialty eggs rojo or verde. With an extensive menu that can appease vegans, meat-lovers and children alike, Butterfield's Pancake House is a classic.
4. The Capital Grille
When you're craving red meat, head to The Capital Grille, renowned for dry-aged steaks, and an excellent wine list to accompany, the Capital Grille is still able to host large groups. But, the restaurant is perfect for an intimate evening. Expect old-school wait service, well-crafted meals, and attention to detail at The Capital Grille. Online ordering and car-side pick-up are also available if you prefer.
5. Rehab Burger Therapy
Aptly named for this time in an age when we all need a little food therapy, Rehab Burger Therapy is a perfect local joint to pick up either a traditional meat burger or veggie burger. With a fun beach-themed environment, come to Rehab for their happy hour (from 11 am-6 pm!), or order ahead of time to swing by and pick up your burger and fries. Be sure to try such crazy concoctions as the PBJ & bacon burger. Yes, you read that right.
6. Craft 64
Pizza and beer are a winning combination that never gets old. However, Craft 64 elevates the field with wood-fired pizza, local craft beer, and farm-fresh ingredients. Craft 64 has the patio to sip at, which will help you leave all your worries behind. With options to dine-in (reservations required), take and bake, or get delivery, Craft 64 keeps the good times rolling. Pizza from Craft 64 is simply comforting food at its best.
7. Virtu
When you're ready for well-crafted bites, artisanal plates, and high-class drinks, head to Virtu. A blend of Mediterranean and American fare, Virtu was voted one of the "Best New Restaurants" in Esquire magazine when it opened in 2013. Enjoy the creative hand of Chef Gio Osso, an award-winning chef who has had a longstanding place in Arizona kitchens. Head to beautiful Old Town's Bespoke Inn to find Virtu, a clear winner on the list of best restaurants in Scottsdale, AZ.
8) Steak 44
Steak 44 is excited to welcome back its clientele and begin serving high-end steaks again. In neighboring Phoenix, Steak 44 is worth seeking out. Get your carnivore on with medium and large cuts of steak, lamb, veal, chicken, and fresh seafood. Dark woodwork sets the vibe for this casual yet classy environment. Head to the patio for fresh air, or lounge by the comforting fireplace during Arizona's winter months.
9. Butters Pancakes & Cafe
It's a grand slam at Butters Pancake & Cafe for breakfast. With consistently attentive staff, a breakfast menu to drool over, and two locations within Scottsdale, you need to get yourself to Butters. Try the Berry Bliss pancakes, which are layered with marscapone, or go savory with the smoked salmon scrambler. Sister restaurant to the equally touted Butterfield's, Butters is a brilliant way to start your day.
10. Grassroots Kitchen and Tap
Head to Grassroots Kitchen and Tap for a Southern-influenced menu that touts exceptional ingredients. Share small plates such as pork belly with spicey tomato jam, or dig in for the main dish with Carolina baby backs, spitfire chicken, or a farm-to-table vegetarian platter. With an ever-updating menu, come for lunch or dinner in-house or with a curbside pick-up. Enjoy Social Hour from 3-6 pm which highlights affordable drinks and reasonably priced small bites (in-house dining only).
11. elements at Sanctuary Camel Back Mountain
If you're looking for a view to immerse yourself in, elements at Sanctuary Camel Back Mountain is the place to go. A seasonal, fresh menu led by celebrity Chef Beau MacMillian punctuates the air of fine dining in Paradise Valley. With vegan and vegetarian options, all will come away wowed at elements, one of the best restaurants in Scottsdale, AZ. If you're looking to celebrate a special occasion, elements is a sure-fire way to impress and indulge.
12. deseo
deseo celebrates Latin American dining in the contemporary setting of The Westin Kierland Resort & Spa. Small plates, ceviche, and South American-inspired meats grace the menu at deseo. A fantastic date night, deseo does a bang-up job with tapas and affordable drinks that highlight South American wines. Appointments are required for this notable South American-inspired restaurant.
13. Roka Akor Scottsdale
Roka Akor, the Japanese steakhouse, and sushi restaurant is now open for dining in, take out, as well as delivery. Sip on sake while you take in the action at the Robata grill as dinner is prepared before your eyes or watch the sunset on the peaceful patio. A knowledgable waitstaff can help steer you in the best direction with attractive options such as Wagyu steak, the Japanese wild mushroom hot pot, and fresh maki rolls.
14. Dominick's Steakhouse
Because Scottsdale loves its steakhouses, Dominick's Steakhouse comes in strong as an excellent choice for a night out. The giant 10,500-foot dining space welcomes you with ample space. Come for a cocktail and then progress onto the menu of quality cuts and fresh seafood, as well as creative sides. Resembling a mid-Manhattan steakhouse, you will feel transported by the magic of Dominick's Steakhouse, whose food equals the ambiance.
15. Eddie V's Prime Seafood 
Sure, seafood might not be the first cuisine to come to mind when in the desert, but Eddie V's has you covered in Scottsdale. Enjoy a curated cocktail with fresh catches that include a shellfish tower. Filet mignon, bone-in ribeye, and lobster tail all make surf and turf a wild ride. Eddies are available for responsible in-house dining, as well as pick up for a special night at home.
16. Snooze at AM Eatery
Snooze at AM Eatery is simply a fun way to start the day. Come for excellent vegetarian options such as the Sweet Potato Veggie Smash Up, a Smashed Avocado Benny (benedict), or OMG! French Toast done with brioche. Pancake flavors such as the Pineapple Upside Down Pancake will leave you satisfied. Shrimp and grits, Mexican-style eggs, and a soft-pretzel egg sandwich are all additional reasons to point your toes towards Snooze.
17. True Food Kitchen 
True Food Kitchen is founded on the belief that food should make you feel better, not worse. Its kind of food is the first-medicine philosophy, one thankfully, that does not skimp on taste. The brainchild of Dr. Andrew Weil, a renowned physician of integrative medicine, TFK, offers seasonal fare that will leave your body singing. Chomp on entrees such as spaghetti squash casserole, grilled chicken avocado wrap, and the Margherita pizza. Feel good about your choices when you dine at TFK.
18. Mastro's City Hall Steakhouse
Yes, another steakhouse to choose from with Mastro's City Hall Steakhouse. This one is set apart by its large portions and sensational drinks. Impeccable service greets you at Mastro's, as well as a menu that ranges from tuna tartare to Japanese Wagyu steak. Top it off with Chocolate Sin Cake, a name so irresistible; it simply is a must.
19. HIRO Sushi
HIRO Sushi has been a mainstay in Scottsdale dining for 25 years, offering freshly rolled sushi and sashimi. Try sushi rolls in a traditional style that spans from sea eel to tuna. With reasonable prices, you'll be tempted to go for just one more roll or one more sake. A charming mom-and-pop style restaurant, HIRO Sushi will have you planning your next visit while you're still at the table.
20. Tutti Santi Ristorante Italiano by Nina
Homemade pasta, Italian wines, and passionate Italian food are all found at Tutti Santi, one of the most beloved Italian restaurants in all of Scottsdale. Currently operating for taking out only, Tutti Santi is committed to making sure the restaurant is safe and clean before opening. Enjoy house favorites such as veal scaloppine (Vitello Marsala) and Zuppa de Pesce Mediterranea, a mouth-watering mix of seafood soup.
Conclusion
Scottsdale, AZ, is eager to return to a simpler time, one that includes fine dining and casual eats. This list of the best restaurants in Scottsdale, AZ, runs the gamut in price and cuisine; however, all are committed to serving you the best food possible.
Whether you seek to step out and enjoy yourself in an in-house setting or prefer to pick up curbside for an inspired meal at home, this list of the best restaurants in Scottsdale has you covered. Enjoy all that Scottsdale, AZ, has to offer in delicious food!