20 BEST Restaurants in Tempe, Arizona [2022 UPDATED]
By

Jane Flowers
Tempe, a small gem tucked away in the suburbs of Arizona, is known for several unique attractions. The Tempe Center for the Arts attracts travelers to its lively dance shows, concerts, as well as comedy. After spending the day viewing the natural wonders of the Arizona desert, paddling around the Tempe Town Lake, or visiting the Hayden Butte mountains, ravenous travelers go in search of some local cuisine. Visitors have a wide variety of options to choose from, as the best restaurants in Tempe are unique to the local culture and avoid cookie-cutter menu items. Whether the customer is in search of vegan fare, bar food, or more exotic tastes, both locals and travelers alike are bound to find a restaurant to satisfy their cravings.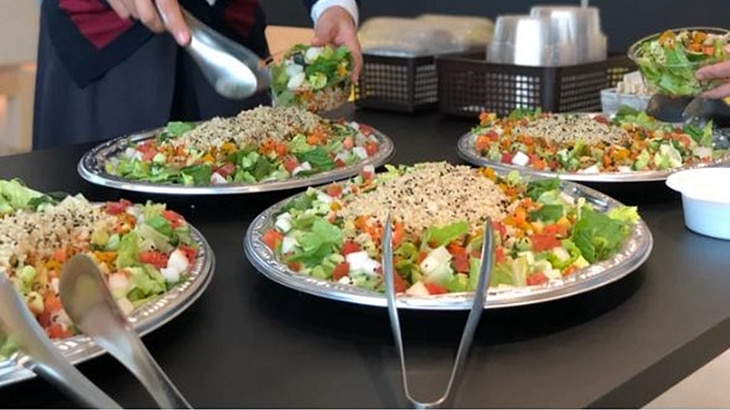 1. The Chuckbox
Among all of the best restaurants in Tempe, the Chuckbox is undoubtedly a local gem. They serve made-to-order burgers, chicken sandwiches, and wings. One of the most impressive things about the Chuckbox is its value to quality ratio. The average customer can enjoy a satisfying meal at the Chuckbox for $10 or less. This restaurant has earned the Certificate of Excellence award every year since 2015 and continues to serve great quality American fare to its customers.
2. Snooze an AM Eatery
Hit "snooze" one too many times this morning and missed the mediocre hotel breakfast buffet? No worries! Snooze an AM Eatery serves delicious breakfast and brunch options from 6:30 am – 2:30 pm, making it the perfect choice for an early breakfast, or a late brunch! They have a wide variety of options to choose from, including vegetarian and vegan-friendly menu items. This restaurant has been awarded the Certificate of Excellence award annually since 2016.
3. Vincitorio's Restaurant
A local Italian eatery, Vincitorio's Restaurant, has easily earned its place among the best restaurants in Tempe. Open for lunch and dinner, Vincitorio's offers a wide variety of classic Italian dishes at moderate prices. They are famous for their fresh, homemade pasta in all of its different varieties. With dinner prices slightly higher than the average joint, this delicious Italian restaurant would be perfect for a nicer evening out.
4. RigaTony's Authentic Italian
RigaTony's serves heaping amounts of lasagna, pasta, and other classic Italian dishes. They have hoagies, Italian desserts, and seafood on their extensive menu as well. The pricing for RigaTony's is reasonable, where an entree can cost anywhere from $8-$16. This family-friendly spot is one of the best Italian restaurants in Tempe.
5. Cornish Pasty Co
The Cornish Pasty Co is a European style restaurant serving pasties, which are pastries with unique and savory fillings. This restaurant serves traditional European pasties, such as the "Oggie". The Oggie consists of; Steak, potato, onion, and rutabaga (swede) with a side of red wine gravy or ketchup. This establishment also offers a more creative take on this dish. They have pasties filled with Mexican dishes, Indian tikka masala, among many other choices. They are also vegetarian and vegan-friendly, with their menu boasting several choices that do not contain meat or animal products.
6. House of Tricks
The House of Tricks would fall under Tempe's finer dining category. With smaller, yet elegantly presented dishes, the customer can expect a true experience from sampling a dish from one of the best restaurants in Tempe. The House of Tricks serves modern American food in an upscale but relaxed atmosphere. This restaurant would be perfect for a night out, as the dishes range from $25-$35 per place.
7. Yupha's Thai Kitchen
Serving authentic Thai food is Yupah's specialty, although they also serve other Asian options. They serve lunch and dinner and operate on a 12-8 schedule most days. Many of their dishes feature curries originating in thailand, such as; green curry, yellow curry, and red curry, among many others. Customers have commented that Yupah has the best curry in the world. While that is subjective, it couldn't hurt to give it a try!
8. Oregano's Pizza Bistro
While Tempe is not short on Italian restaurants, each is unique in its menu and individuality, and worth trying. Oregano's Pizza Bistro is known in the Tempe area for its delicious and authentic pizza. You have the option to build your own or select a pizza from their specialties. Although pizza is their main focus, delicious appetizers, salads, soups, and desserts can also be ordered at Oregano's.
9. Postino Annex
The Postino Annex is a restaurant in Tempe that serves American, Mediterranean, and Italian fare. They have a variety of options to choose from; bruschetta, cheese, and olive plates roasted cauliflower, among many other dishes. The Postino Annex is vegetarian-friendly, but also serves an ample amount of meat dishes. It is a very popular restaurant in Tempe, so calling ahead for a table would be recommended.
10. Four Peaks Restaurant
The Four Peaks Restaurant sits among some of the best restaurants in Tempe. It is a gastropub-style atmosphere. They are also a bar with their own brewery, so this is the perfect place to relax with a tasty dinner and a local brew. Four Peaks does not have a specific genre of food they adhere to–they serve American, tex-mex, salads, among other dishes. A truly unique hodgepodge of Tempe culture.
11. Rula Bula
Rula Bula, a local Irish pub, boasts Irish and European fare as their menu focus. They also serve local and European beer and liquor. This quaint restaurant is nestled on a quiet Tempe street, Rula Bula has been serving their customers since 1888. They have a happy hour from 3 pm-6 pm on food and drink.
12. The Keg Steakhouse + Bar Tempe
Among the bar and American food scene in Tempe, The Keg Steakhouse + Bar stands out. While the other restaurants mentioned focus more on pub food, The Keg Steakhouse offers a finer dining experience. The customer can choose from different cuts of steak, seafood, salads, and burgers. The menu ranges anywhere from $8 for an appetizer, to $40 for a great cut of steak. If you're in the mood for meat, you can't go wrong with the Keg Steakhouse.
13. Green New American Vegetarian
While many restaurants have vegetarian options, the Green New American Vegetarian offers an exclusively vegetarian and vegan menu. They serve a variety of foods; salads, Asian dishes, sandwiches, and curry bowls among other things. All of these dishes are made with meat substitutes and are 100% cruelty-free. Whether you are vegetarian, or just in the mood to try something different, the Green New American Vegetarian will not disappoint.
14. US Egg
Another wonderful breakfast and brunch option in Tempe is US Egg. They are open from 6:30 am to 2:30 pm. US Egg serves salads, omelets, pancakes, along with frittatas and breakfast burritos. The US Egg is a breakfast staple among Tempe locals and a popular destination for visitors. On a diet? US Egg offers a low carb/low-calorie menu as well.
15. Culinary Dropout
The Culinary Dropout has added its contributions to the American/Bar food scene in a unique way. They offer vegan dishes, fish and chips, salads, ribs, burgers, and many other things. Not only is the menu diverse and unique, but the atmosphere is relaxing and inviting. This is a great location to go with a group of friends to share some delicious appetizers, have a meal, and a few rounds of drinks.
16. Ncounter
Ncounter is a breakfast and brunch location in Tempe that serves simple, delicious food to get the day started. With an array of healthy options, not-so-healthy options (Hey, you're on vacation), and sandwiches, there is plenty to choose from for the whole group.
17. Chompie's
Delis' are scarce on the list of best restaurants in Tempe, which is what makes Chompie's special. They boast a variety of deli sandwiches, meats, and desserts. Their chicken salad is a crowd favorite and the restaurant's self-professed "best item". In addition to being delicious, Chompie's is also kosher, vegetarian-friendly, and has vegan options.
18. Top of the Rock Restaurant
Top of the Rock is one of the more upscale restaurants in Tempe. Located in the Marriott hotel, the menu prices are higher than many of the other spots to eat in Tempe. Top of the Rock has different types of seafood, red meat, tofu, and duck as their main entrees. In addition to this, they also have a nice wine list for a special evening. This restaurant is a great choice for a "splurge" dinner.
19. The Dhaba
The Dhaba is one of the only stand-alone Indian restaurants in Tempe, but they have managed to make it onto the list of the best restaurants in Tempe. With a relaxed, family-friendly environment, The Dhaba is the perfect place to dine for those who enjoy exotic spices and rich flavors. The pricing is reasonable, and Indian dishes are great for sharing. With the rice, naan, and entree dish, there is more than enough to go around. And if you don't feel like sharing, you can look forward to some tasty leftovers.
20. Perfect Pear Bistro
The Perfect Pear Bistro specializes in southwestern/American food. They serve; sandwiches, soups, salads, tex-mex, and pasta. The prices can range from moderate to expensive depending on the dish and whether the customer is eating lunch or dinner. The atmosphere is relaxed and casual, with a sophisticated flare. This spot has a perfect 5/5 rating on local rating sites, boding well for the quality of their meals.
Conclusion
When on vacation, as well as in life, it is important to fuel your body with enjoyable and nourishing meals. These dining encounters always have the ability to enhance or degrade an experience. While exploring Tempe, be sure to take advantage of the diverse culinary scene. There are many hidden gems in the city that are unique to Tempe and worth trying. Hopefully, the above list has given a good guideline of the best restaurants in Tempe and will lead to an enhanced vacation. Good luck, and happy tasting!
SEE MORE POSTS