BEST Restaurants in Little Rock, Arkansas [2022 UPDATED]
By

Marina Yoveva
This beautiful capital city of Little Rock is named for a rock formation on the banks of the Arkansas River that served as a landmark for travelers. The temperate climate of the city makes it a great tourist destination all year round. With a thriving art and culture scene supported by dozens of museums, there is enough to keep you busy here. With a river trail, zoo, water park, and a state park, there is a decent amount of outdoor fun to be had. The dining and restaurant scene here, however, is sure to surprise you with the variety on offer.
Food festivals and events are a regular occurrence here and will tantalize your taste buds. From fine dining restaurants to casual eateries and charming cafes serving up a range of international cuisines, you will be spoilt for choice. Check out this list of best restaurants in Little Rock that ensure you a gastronomic experience like no other.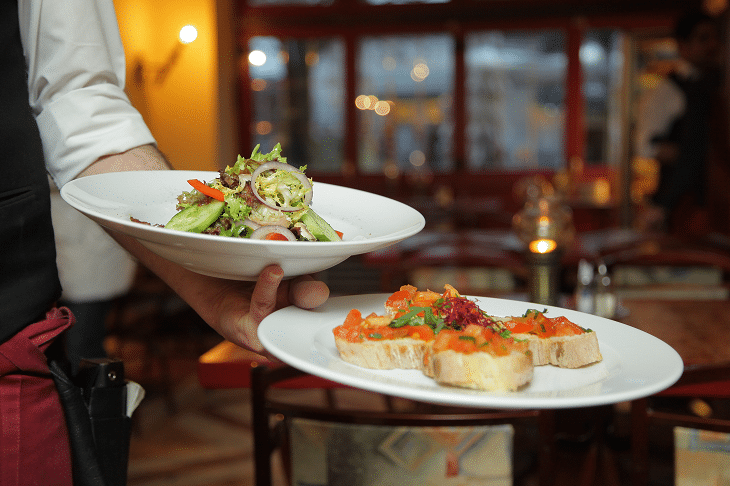 1. Brave New Restaurant
A great place to enjoy a cozy dinner in a steakhouse ambiance. This place makes number one on our list of best restaurants in Little Rock. Choose from the flavorful and creative appetizers, delicious soups, and steaks to mention some of the highlights of the menu. Fresh ingredients and meticulous cooking give every dish a unique taste that will have you returning for more.
2. Star of India
Enjoy the exotic flavors of delicious Indian cuisine at this charming restaurant with vegetarian and non-vegetarian options Specializing in authentic cuisine from the northern part of India, taste the rich blend of spices and herbs in every meal. Relish a candlelight dinner with soft instrumental music playing in the background. From biryanis to the flatbreads with thick gravy dishes, do not hesitate to be adventurous.
3. Kemuri Restaurant
When it's Japanese cuisine you have a hankering for, head to this creative restaurant. With sushi, smoked meats, and delicious seafood beckoning you, it promises you unique dining experience. Try their robata or traditional Japanese style fire-grilled delicacies while you are here. Reservations are a good idea to ensure you are not disappointed.
4. The Pantry
Satisfy your craving for European delicacies at this chic restaurant which also offers outdoor seating. From classics such as bratwurst to sauerkraut to cheesecake with Brulee topping, there is something for everyone. Other noteworthy specialties include the Schnitzel bun and bacon-wrapped dates. There is also a full bar with imported brews,  signature cocktails, wine, and microbrew.
5. Lost Forty Brewing
Deriving its name from the historic forest that sprawls over 40 acres in Calhoun County, this pub is a good choice for a casual evening with friends and family. Settle in and relax with a refreshing pint of their specially crafted brew at one of the long tables. Order briskets or bratwurst and make a meal out of it!
6. Layla's Restaurant
Sample a variety of Greek and Mediterranean delicacies at this cozy restaurant. Try their pizzas and of course, the gyros which come in generous portions. Falafels, calzones, and yummy salads are just some of the available choices which make it one of the best restaurants in Little Rock. Courteous and friendly service more than makes up for the compact space within which the restaurant is located.
7. The Root Café
Enjoy American favorites cooked with fresh ingredients at this café style restaurant. Offering Sunday brunch, breakfast, lunch, and dinner, this pet-friendly restaurant offers patio seating.  They use locally grown and sourced vegetables, meat, and bread as well as locally-roasted coffee and craft cocktails. Sample their pimento cheese and crostini appetizer and finish up with red wine chocolate cake!
8. Bruno's Little Italy
Feast on a selection of vegetarian and non-vegetarian Italian delicacies at this family-run establishment that has been in business since 1949. This restaurant does not take reservations and seating is on a first-come-first-served basis. Breadbasket refills are available upon request and the maximum number of people that can be seated at a table is 12.
9. Samantha's Tap Room & Wood Grill
Conveniently located in the downtown area, this upscale restaurant is the only one in Arkansas to offer all beer and wine on tap. This has also fetched it the Free Flow Wine's 2015 KEGGY "People's Choice" award. Believing in the traditional wood fire method of cooking, this restaurant has a wide-ranging menu with appetizers, salads, sandwiches, and main courses.
10. Table 28
Situated within the Burgundy Hotel, this classy restaurant features award-winning executive chef Scott Rain. Relish modern American cuisine with an innovative twist here. There is an option to dine at the feature table and enjoy a six-course meal prepared exclusively for you and served by the chef. Also, one percent of the price for dining at the chef's table will be donated to the Arkansas Children's Hospital.
11. Whole Hog Café
The variety of options on the menu in this restaurant is mind-boggling. Part of an Arkansas based chain, this restaurant is known for its pulled pork and barbecue. The ribs are definitely worth a try and accompanied by a potato salad, it makes for a great meal. They also have private rooms for larger parties that can be reserved by calling ahead. Another one of the best restaurants in Little Rock.
12. Dizzy's Gypsy Bistro
Offering a variety of American and international specialties, this vibrant restaurant features walls covered with art and quirky chandeliers. Be sure to sip some of their excellent sangria with the truffle Mac n' cheese or the chicken spaghetti. Enjoy the generous portion sizes but be aware that there is a split charge. Also, on weekends, it might be wise to call ahead and book a table.
13. Capital Bar and Grill
Situated within the Capital Hotel, this lovely restaurant is famed for its comfort food. They have decent soup and salad combos priced around $12 including the tax. Their signature dishes include fried chicken, rice and red beans, and special charcuterie.  Don't miss out on the exotic cocktails and daily specials or the half sandwiches. Their burgers are also quite good if that's more to your taste.
14. ZAZA Fine Salad and Wood Oven Pizza Co.
As the name suggests, this is the place to head to whenever you crave some excellent wood-fired pizza. Team it up with one of their savory salads and top it off with creamy gelato. Choose your kind of dressing for the salad and you can even request extra sides of dressing at a small price. Specializing in Southern Italian cuisine, the fresh ingredients are flavorful and tempt you to take just one more bite.
15. Vino's
Soak in the casual ambiance of this pub with pizzas that definitely qualify as oversized! The pizza dough is made fresh each day to give you that unique taste. Sip on a pint at this microbrewery which also offers live music entertainment as well as other shows on a regular basis. Free parking is available right across the street. Nice little pizza place which made our list of best restaurants in Little Rock.
16. One Eleven at the Capital
Savor the delicious meals cooked up by chef Antunes at this sophisticated restaurant. The presentation and innovative recipes are sure to have you wanting to return. Check out the  French-inspired plates set on tables with elegant white tablecloths. Gluten-free and vegan options are also available in plenty here. Oysters, scallops, and tuna tartare are some of the highlights of the menu here.
17. Big Orange
When the mood for burgers, salads, or shakes strikes you, head for this local joint which has three branches across the city. Their hand-dipped, freshly whipped shakes are a must-try while the luscious burgers invite you to sink your teeth in. The full bar with its selection of wines and craft cocktails provides you with just the right accompaniment to your meal.
18. Big Orange
Ideally situated at the promenade, close to the IMAX theater and shopping, this restaurant is the perfect place to grab a bite after a busy day. There is plenty of parking and free WiFi. Outdoor seating is also available and there is a full bar to help you complement your meal of burgers and salads. However, the price is not cheap and it can cost you a neat $60 for two sandwiches and two kids' meals without any drinks.
19. Flying Saucer Draught Emporium
Having been around since 1995, this beer bar s conveniently situated in the downtown area. With over 75 taps and more than 100 choices cans and bottles, you will never be bored! There are daily specials that are simply unbelievable such as draft beers at $3 every day and so on. The tavern-like ambiance completes the picture.
20. Ya Ya's Euro Bistro
Last but not least on the list of best restaurants in Little Rock. Enjoy Continental cuisine with some excellent wine at this elegant restaurant's featuring wood beams on the ceiling, beautiful stone columns, mosaic tile floor, and wall panels covered with fabrics. The eclectic menu offers you a choice of dishes from French, Greek, Spanish, and Mediterranean cuisines. Seafood preparations are a highlight and so are the excellent desserts such as tiramisu that help you complete your meal.
Conclusion 
Variety is the spice of life, especially when it comes to dining options. And this compilation of the best restaurants in Little Rock definitely offers you that. From bistros to cafes to elegant restaurants, there are plenty of options to choose from. Sample the offerings at these restaurants for something different every time you dine out. Once you begin to explore a bit and try something new in food, you are sure to discover that the possibilities are limitless. So, head out with an open mind and a ravenous appetite to enjoy the best gastronomical delights the town has to offer!
SEE MORE POSTS