10 BEST Things to do in Bakersfield at Night
By

Marina Yoveva
Bakersfield, California, sits just north of Los Angeles on the Kern River. With strong agricultural and oil sectors, Bakersfield is rapidly expanding in growth.
With this growth brings exciting cultural enrichment. Set against a beautiful backdrop of the Sequoia National Forest, there is an abundance of outdoor activities to occupy one's time with as well.
Overall warm and sunny, there is no wrong time to visit Bakersfield. Providing a variety of activities for both tourists and locals, Bakersfield welcomes you to come and play.
Though there may be some limits due to COVID 19, Bakersfield is bouncing back with safety measures in place. So whether you're ready to go out dancing, or simply want to grab a bite to eat in Bakersfield, here's a list of inspiring things to do in Bakersfield at night!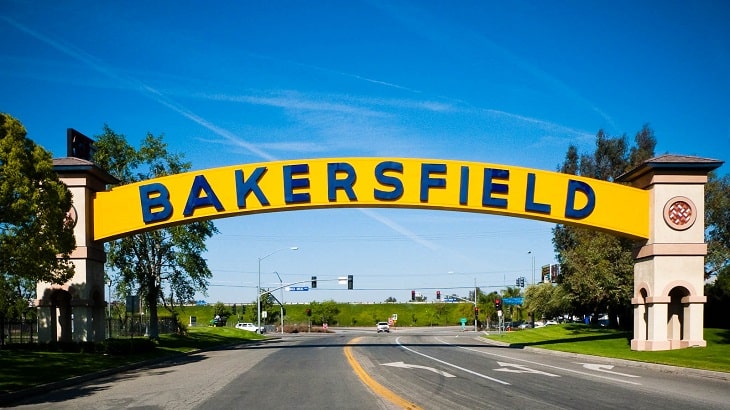 1) The Park at Riverwalk
Perhaps one of the silver linings of Covid-19 is that we have come to enjoy nature more. Enter The Park at Riverwalk, a city park at the heart of Bakersfield that offers ample recreation.
The park showcases two lakes which are connected by a stream. Whether you're ready to hit the pavement walking, or prefer to kick back with a BBQ, The Park at Riverwalk provides all these opportunities.
Get your bike tires spinning on the trail through The Park at Riverwalk that parallels the Kern River. The Park at Riverwalk is also home to the Spectrum Amphitheater, which offers outdoor entertainment and movies. Fun for all ages, going green never goes out of style.
Phone: (661) 326-3866
Address: 11200 Stockdale Highway, Bakersfield, CA
2) Kern County Raceway
If burning rubber sounds like your idea of a good time, then get yourself to Kern County Raceway, with both an oval asphalt and dirt racetrack half a mile long.
This fast track annually hosts the NASCAR's Whelen All-American Series and has ample seating to keep everyone safe. The track was rebuilt in 2013 and replaced the former Mesa Marin Raceway.
Affordable concessions make a night out at Kern County Raceway a done deal. Tickets and the latest updates on Kern Country Raceway can be found on the website. One of the more fun things to do in Bakersfield at night.
3) Mechanics Bank Arena
Yes, events are back up and running at Mechanics Bank Arena, which hosts a variety of activities. From the upcoming Trolls Live! event in late July to anticipated fall conferences, Mechanics is back in action, making sure the venue is as safe as possible.
Mechanics Bank Arena is home to both the Bakersfield Condors hockey team as well as the Bakersfield Symphony Orchestra.
Admittedly, perhaps two different groups of people, but happy people nonetheless to have some entertainment back. Be sure to check the website before buying tickets to see all updates.
4) Kern River Parkway Trail
If you fancy taking an evening spin on your bicycle, Kern River Parkway Trail is just the place to do it. Overall a flat trail, this paved path is ideal for road bikes. The trail is 20.5 miles in total from point to point.
If you're ambitious, make it an even 41 miles round-trip. Do be cautious of other pedestrians while biking; this popular trail sees high foot traffic in certain spots. Additionally, keep your eye out for potential wildlife spottings.
Much of the trail way hugs protected riparian areas that are home to such animals as roadrunners and bobcats. Trail access is accessible at several city park points.
Address: Enos Lane, Bakersfield, CA 93311
5) Buena Vista Aquatic Recreation Area
Twenty-five miles outside of Bakersfield, Buena Vista Aquatic Recreation Area is an enormous humanmade lake that is perfect for fishing and camping.
Whether you want to make it a day-trip and come for jet skiing, or are looking to get out into the Great Outdoors overnight, Buena Vista Aquatic Recreation Area is a no-fail answer.
All sites are pull-through and offer hookups for those off-grid, but still craving the comforts of home. Additionally, the grounds offer picnic areas, soccer fields, and a basketball court.
Phone: (661) 868-7000
Address: 13601 Ironbark Road, Bakersfield, CA 93311-9478
Website: www.kerncounty.com
6) Valley Plaza Mall
Perhaps you've been dying to get your retail therapy on since the start of COVID. Now's your chance as Valley Plaza Mall reopens their doors.
With dining and shopping options that include: Aldo, Apple, Chipotle, Express, and H&M, there is more than enough shopping to be done at Valley Plaza Mall. Open until 7 pm most evenings; it won't be a late night at the mall, but surely a satisfying one.
7) Golden West Casino
Get ready to roll the dice at Golden West Casino, which is now open again. Featured games include: Ultimate Texas Hold 'Em, Three Card Poker, and Omaha Hi/Lo. Celebrating its 25th anniversary, Golden West Casino is offering several cash giveaway specials.
Known for a surprisingly good restaurant, get your game, and eats on at Golden West Casino. There's no wrong time to visit Golden West Casino as its 30 gaming tables are open for non-stop gaming 24-hours a day, seven days a week.
8) Catch a Movie in the Park
With summer in full bloom, its the perfect time to catch an outdoor movie. Bakersfield has a fun line up of family-friendly films that are currently showing throughout parks in Bakersfield.
From Spiderman to The Incredibles, Bakersfield has the latest movie hits that everyone will love. Bring your picnic and snacks, social distance, and get ready to enjoy the American cinema in plain air. Check out Bakersfield's tourist site below to see what upcoming flicks are playing and where. Another fun thing to do in Bakersfield at night.
9) Grab a drink from Crusader's Brewing Company
Check out the upcoming local beer scene in Bakersfield, by grabbing a six-pack from Crusader's Brewing Company. A microbrew that implements ancient wisdom of brewing (hence the Crusader's reference) in modern times.
Delicious for a hot afternoon or evening drink, check out their highly-touted Amber (red). Though the brewery is currently only offering beer for pick-up, keep your eye on their website as things are in a constant state of flux.
10) Walk the Arts District 
A walk on a breezy summer evening is just the ticket, especially when you're routed through the inspiring Arts District of Bakersfield. Check out multiple galleries that can be mapped out by picking up the Arts & Culture District map at the visitors center.
On a fully-operating day, enjoy entertainment at places such as Jerry's Pizza where Korn first got its start, or catch a flick at historic Fox Theater.
Though all options might not currently be open, we hope it is only a matter of time until the Arts District of Bakersfield becomes fully operational. My favorite thing to do in Bakersfield at night.
Conclusion
With all of these things to do in Bakersfield at night, it really beckons you to come out and see what this growing city has to offer.
From sipping a cold one on your front stoop to testing your luck at Golden West Casino, there is something for every interest in Bakersfield.
Don't forget to stop and enjoy the fresh air with Bakersfield's many outdoor opportunities, or to take in some culture in the Arts District. Enjoy all there is to do in beautiful Bakersfield tonight.