Warning
: DOMElement::setAttribute(): ID wpgmza_tolls_188 already defined in
/home/sweetspi/exploreist.com/wp-content/plugins/wp-google-maps-pro/includes/class.directions-box.php
on line
126
Have you ever craved a big juicy burger that almost melts in your mouth only to be disappointed by its small size? There is nothing more unacceptable when it comes to food cravings. If only there were a way to curb those cravings and your appetite at the same time. Well, you actually can with these biggest burgers in California. They are so big, one person can't eat it alone.
Here you will find your dream burgers, where to get them, and the heavenly ingredients they are made with. From the smallest biggest burger to the daddy of all burgers your taste buds will salivate for these babies. Grab your napkin now because, by the time you finish reading this, you will need it.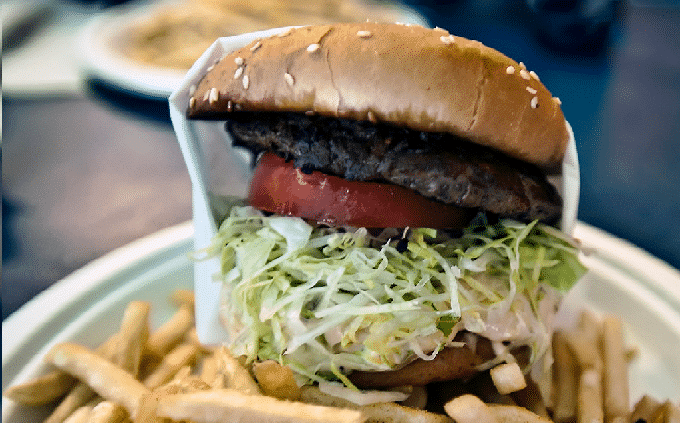 1. Tilted Kilt- The Pub Double
While the Pub double made the top of this list as one of the smaller burgers, it will still take a hearty appetite to finish the ½ lb. of grilled perfection. This burger is still one of the biggest in California. With all the extras a burger normally comes with, you may need to unbuckle your belt when you leave. Bring your Irish spirit and appetite when you come. They definitely have some of the biggest burgers in California.
2. Mooyah Burgers Double Diablo
As fun as the name is to say, Mooyah is serious about making great burgers. Their double diablo is a ½ lb. of certified Angus beef. The jalapeno kick adds to the applewood smoked bacon to make this a culinary explosion of tastes. With several locations in California, you are never too far to experience Mooyah.
3. South Southside Royale Burger
Made with a ½ lb. of lucky dog grass-fed beef and if willing, add fried chicken to your burger to confuse the most discerning of taste buds. Along with their homemade sauce and burger toppings, it will be an experience you won't soon forget. Take the time out of touring California's capital city and go South.
4. Hi Ho Triple Cheeseburger
You will be as happy as one of the dwarfs when you sink your mouth into the ½ lb. of perfection. With 100% grass-fed Wagyu beef, and freshly made white bun, their goal is to keep their burgers simple and delicious. Whether visiting or living in California, this is an experience you don't want to miss out on. Some of the biggest burgers in California can be found here!
5. MeatZilla Burgers Beef Beef Burger
Double your pleasure with the double-double Meatzilla burger, the beef burger. Made with Angus Chuck, your testbeds will be teased by this tantalizing treat.  It comes complete with the burger toppings you would expect. The unexpected is the pizza bun on top of all of this. If you find yourself in sunny Los Angeles, stop by and see what the fuss is all about.
6. Hook Burger
Get hooked on the burgers at Hooked. Each of their burgers is made to order. Order the double Hook burger and you will find yourself with 2/3 lb. of deliciousness. Their large assortment of burgers and lighter options such as a turkey burger will let everyone find what they are looking for. With several Southern California locations, you will never miss out.
7. Stacked Double Make Your Own
With 100% Angus Chuck patties, you already know the burgers will be good. Add in the fact that you can create your burger, will the sky is the limit. With all the options they have available, it may take the more indecisive diner a while to create his or her masterpiece.
8. The Boss Burger Super Boss
The Boss burger takes command of its burger making. All the patties are made with 100% pure beef from the Wagon Wheel of Oroville. This ¾ lb. a nice and juicy burger is said to be one of the best. Located in Northern, California, it is worth the trip.
9. Burgers and Brew Double Cheeseburger
Made with 1lb Niman Ranch Beef and double cheddar cheese, you might have to have some serious eating skills to devour this burger. Served with fries or salad, add a beer to complete the experience. This is one of Sacramento's hidden gems.
10. The Up and Under Outside Center Burger
This monstrous mound of meat is a 1 lb. masterpiece compliment with lettuce, red onions, tomato, and your choice of cheese. This mouthwatering goodness will keep you coming back for more! Located in Point Richmond, California, so the next time you find yourself in the san Francisco is, make sure you stop in.
11. Slater's Original 50/50 Burger
The original 50/50 burger at Slaters is a whopping 1/3 lb., made with a blend of beef and bacon. When you add in pepper jack cheese, avocado, sunny-side-up egg and chipotle mayo on a brioche bun, mark my words, you will be in heaven. If you choose to Slaterize your burger with double or triple the meat, you will leave feeling full.  With locations throughout California, go to their website to find the one closest to you.
12. Fatburger's XXXL Burger
Fatburger's XXXL is1&1/2 pounds of 100% fresh, never frozen beef. This beast of a burger will curb the appetite of the heartiest eater. These babies are grilled to order and made with fresh buns made daily. Feeling the Picasso in you coming out? Create your burger with the toppings bar.
13. Big D's Big n Tasty Burger
The Big n Tasty is made with 3- 12-ounce patties. That is over 2 lbs. of big and juicy goodness topped with Texas toast. This burger is no joke and not for the fair-hearted. If you want to add more goodness, ask for bacon. Your eyes will bug out at the amount of bacon that is added to your burger. With two Southern California locations, you won't have trouble finding it.
14. The Catch OMG Burger
OMG is right. This 5 lb. burger is made with 16 slices of cheddar cheese and all the fixings you would expect on a burger of this size. If that isn't enough, it is served with 5 lbs. of seasoned fries. Next time you take a trip to Disneyland, hop on over for this feast. While this may not be the biggest burger in California, it comes pretty close.
15. Wayback Burger Triple -Triple -Triple
The triple-triple-triple burger at Wayback will take some serious skill to eat. With a whopping 9 hamburger patties a slice of cheese to match each patty, you better be starving before you attempt to it this goliath of a burger. For those worried about healthy eating, don't worry, they add lettuce, tomato, and onion to your burger. Having locations throughout California and the U.S, when your cravings hit you will be sure to find one!
16. JT Schmid's Restaurant & Brewery Bigger Badder Asser Burger
This burger was not designed for one human to consume. With its 6 lbs. of beef, this hulk of a burger is topped with 16 slices of cheese, 10 tomato slices, and all kinds of other toppings. If this isn't enough, it comes with 4 sides served on a silver platter. If that still isn't enough, you can add 30 slices of bacon for an additional $10.This burger is meant to share at a party or with friends. With a price tag of $60, you will want to. Anyone who tries to eat this burger alone would fall into a food coma. This burger is such a statement that on the menu it says to ask about it. This is one of the biggest burgers in California.
17. In-N-Out 100×100 Burger
Some people may not realize the In-N-Out Burger has a secret menu, and as long as they have it in stock, they can make it for you. The biggest burger ordered and made was the 100×100. That is 100 meat patties and 100 slices of cheese. That is an insane amount of food/ One of the guys who took part in this meal admits to never eating at In-N-Out again. There is such a thing as too much of a good thing. Although this is a secret menu item, it is still considered the biggest burger in California.
Conclusion
When traveling in California, there are a ton of great places to eat. If you are in the mood for a great burger that will satisfy the largest appetite, you will find one here. Northern, southern, or central California; you will not be far from one of the biggest burgers in California. Bring your appetite and stretchy pants and enjoy a true culinary experience you will never forget.