The Top 7 Closest Beaches to Fresno California
By

Marina Yoveva
California has one of the most diverse ranges of cities in the United States. You will find charming villages in the mountainous regions, breathtaking beaches on the coast, and glorious natural wonders in-between. Fresno is home to Yosemite Natural Park, which boasts majestic landscapes and waterfalls that entice the crowds to come flocking for a glimpse of things to do. If you're visiting Fresno and have had your fill of hiking and exploring the expansive Yosemite park, it may be time to look for the closest beaches to Fresno! While Fresno is a landlocked city, it is about a two and a half-hour drive from many of California's glistening beaches. Check the detailed list below to find the perfect one for you!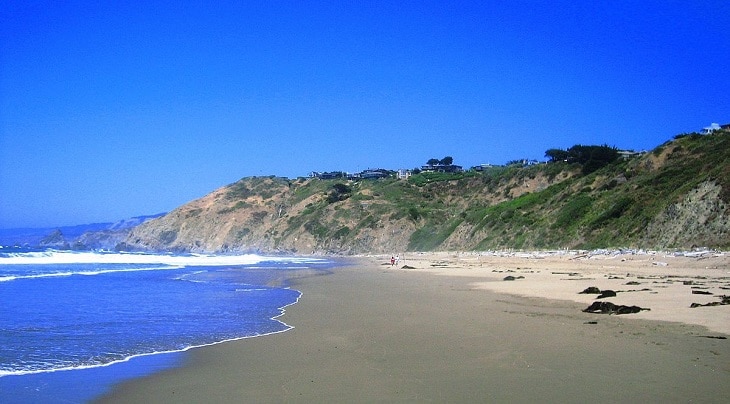 1. Moss Landing
Moss Landing is a coastal city in California dotted with peaceful beaches perfect for a day-time getaway. A quick two hour and twenty-minute drive will land you at the Moss Landing City Beach. The beautiful city beach is supported by a strong fishing town, which makes it the perfect place to snag a fresh seafood lunch while you are enjoying your day. If you continue walking down the sandy shores, you will make your way to several other beaches nearby. The choice is yours–stay and enjoy the city beach, or explore the neighboring beaches on foot. This beach provides free parking, and furry friends are permitted if they are leashed!
2. Santa Cruz
Santa Cruz is a popular city filled with an array of beaches. Many of them are typically crowded, but that doesn't mean they aren't worth the visit! Santa Cruz's main beach is the perfect place for a day of family fun. With the energetic boardwalk, exciting amusement park, and beautiful beach view, this is the perfect place to bring the kids for an activity-filled afternoon. If you are looking for something more laid back, Santa Cruz has several quiet beaches with minimal amounts of tourism. A quick drive down the road to Palm Beach will satisfy your longing for a relaxing atmosphere!
3. Pismo Beach
While Pismo has many beaches, one stands out among them as a must-see. Pismo State Beach is one of the closest beaches to Fresno, the drive only being two and a half hours. When you arrive at Pismo State Beach, you have the option of camping on site. This beach is also home to a monarch butterfly colony. The colorful insects are flitting around from October to February. If you are in Pismo during the listed time frame, don't miss out! Keep in mind that pets are allowed at Pismo State Beach as long as they are leashed.
4. Avila Beach
You can walk from beach to beach on Avila's sandy stretch and never see a tiresome view. Starting at the Avila City beach, you can explore for the entire day. The city beach is the most populated of all of the beaches, but still reasonably relaxed. If you are in the mood for some added adventure, venture over to Cave Landing. Cave Landing beach is a hidden beach in Avila that is difficult to reach. Because the beach is tricky to land on, make sure to bring a buddy if you decide to check this area out. You will find hidden tunnels and ropes to assist you in descending onto the beach. From there, you will be able to enjoy breathtaking views made even more satisfying by the process of getting there.
5. Morro Bay
The Morro Rock City Beach is wrapped in dark cliffs, contrasting the deep blue ocean. The waves are often perfect for surfing, so make sure you bring your gear! One large rock sits in the water, giving the beach its name. Although climbing this rock is not permitted, checking out the view is worth it. Camping is available on Morrow Rock City Beach, as well as pets. Parking is free and readily available at the main entrance point. Additionally, the beach has public facilities to use, and picnic tables for enjoying lunch with loved ones.
6. Cayucos
Cayucos Beach is a quiet place for visitors looking to escape to a peaceful oasis for the day. The mountains are visible from the shore, and on a sunny day, the waters are clear and blue. This beach is about two and a half hours from Fresno, making the drive comparable to most of the other beaches listed here. Bring a book, your beach chair, and relax the day away.
7. Monterey Bay
Out of all of the closest beaches to Fresno, Monterey has some of the most beautiful. The State Beach is uncrowded and located two and a half hours from Fresno. Upon arriving at the State beach, you will notice an untainted atmosphere that remains unbothered by tourists. A quick detour will take you to Del Monte Beach, where there are stray pieces of driftwood decorating the sand of the residential beach. Whether you choose the State Beach or Del Monte, you can't go wrong!
Conclusion
Luckily, the closest beaches to Fresno also happen to be some of the best on the California coast. Whether you are looking for an exciting time on 'The Strip', an adventure to hidden beach caves, or a relaxing place free of overpopulation, you are sure to find the perfect place for you somewhere on this list. If you plan on camping on any of the beaches, make sure to bring your gear to ensure that you are comfortable and safe on your overnight trip. Make sure you fully enjoy Fresno before leaving to check out the nearby beaches!