20 Fun Things to do in Fresno Tonight [Nightlife Guide]
By

Marina Yoveva
Beautiful Fresno, California, is set in the San Joaquin Valley and is known for being an agricultural hub. Moderate-sized, it's an affordable Californian city (something of a rarity) and has a charming downtown to explore. With a rich culture that includes waves of Hmong, Basque, Chinese, and Mexican immigrants, all of these influences can be seen in Fresno's food culture. Additionally, Fresno makes for a great jumping point to stunning nearby destinations such as Yosemite Park and Kings Canyon. Within city limits, Fresno offers a variety of activities from museums to organic farms which keep Fresno synonymous with "fresh." If you're on the prowl for some nightlight activities, read on to discover the very best things to do in Fresno tonight!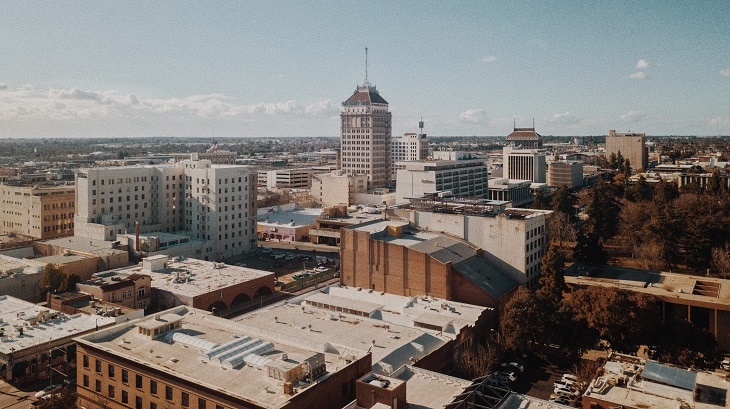 1) Shinzen Japanese Garden
Absolutely a stunning spot to stop at, check out the Shinzen Japanese Garden for an early evening stroll. This five-acre Japanese style garden, including a tea house, is worth seeking out. Discover the world of Bonsai; the art of growing ornamental trees. With peacocks wandering about and koi fish fluttering in the pond, it truly is a tranquil oasis. The garden closes at 5 pm, so do get there at least by 4 pm to spend an hour touring the grounds.
2) Woodward Regional Park
While visiting Shinzen Japanese Garden, explore the surrounding Woodward Regional Park, a staple park in Fresno. Open daily until dusk, Woodward Regional Park is a wonderful place to enjoy an evening picnic or to take a walk along the San Joaquin River. Entrance fee is $5 per car, but it's a small price for the spaciousness the park provides. Catch a concert at the Woodward Park's Rotary Amphitheater or throw the frisbee around at the frisbee golf course.
3) Island Waterpark
For summer days and nights when Fresno gets hot, Island Waterpark is a wonderful place to go. Open until 6 pm, plan to spend an afternoon or full-day hitting the water slides. Kids of all ages will adore rides such as Tsunami, Waimea River, and the Thrills of Fiji. The park can get quite hot during high sun, so it's worth investing in a private cabana to ensure everyone's safety. Additionally, outside food is allowed, save bringing glass containers, so bring your favorite picnic along!
4) Fresno Art Museum
Fresno Art Museum is a beautifully curated museum focused on reflecting the diverse cultural background of California. Open Wednesday to Sunday until 5 pm, it's a great activity to do before heading to dinner or to your next stop in Fresno. With a special exhibition in tribute to a late-blooming female artist and a special Pre-Colombian exhibit, you're certain to bask in the light of visionaries at Fresno Art Museum. With a reasonable $10 entry fee, get elevated at Fresno Art Museum.
5) Fashion Fair Mall
Open daily until 7 pm, Fashion Fair Mall is a one-stop for shopping and dining. With shops that include: Apple Store, Disney, H&M, and Lush Cosmetics, there is a little something for every shopping appetite. Dine in the food court with classic mall bites such as Cinnabon, Five Guys, and Panda Express. Check online for specific sales and events.
6) Save Mart Arena
Head to Save Mart Arena tonight for a basketball game or to catch a live concert. Upcoming events include Harlem Globetrotters, Tool, and a Monster Jam. Parking for $10 is easy and quickly disseminates following the event. Home to Fresno State, you'll find both men and women's basketball games here, as well as wrestling. Check online for upcoming events and to buy tickets.
7) Moravia Wines
Part of the Vinters and Distillers of Fresno County, Moravia Wines is a must-see stop for wine lovers. For a mere $5, taste six of Moravia Wines in their incredible WWII-era barn. Parents can feel free to bring kids along, as the site has a wonderful playground for young ones. The winery is only open on weekends from 12-5 pm, so do plan accordingly. Special events such as Winemaker's Dinner can be found at Moravia's website.
8) Fresno Convention & Entertainment Center
Fresno Convention & Entertainment Center is more than just a place for conferences. With events ranging from Disney on Ice to keynote speakers such as author Rebecca Skloot (The Immortal Life of Henrietta Lacks), Fresno Convention & Entertainment Center keeps Fresno ready for a night out. Town Hall Lectures, comedy shows, and musical acts are additional bookings to look forward to.
9) Tioga-Sequoia Brewing Company
Balance yourself out from the wine tasting with a trip to the local brewery. With an ecological mindset, Tioga-Sequoia aims to bring awareness to the preservation of Southern Sierra Nevada through beer. With a must-see beer garden, Tioga-Sequoia features rotating food trucks and frequent entertainment. Sip on one of their signature beers with General Sherman IPA or 99 Golden Ale.
10) Ziveli Winery
When in California, it's only natural to want to hit up as many wineries as possible. Head to Ziveli Winery for another hot spot for late afternoon sipping. The Nale Family celebrates their Croatian background by utilizing European methods with California grapes. Tastings are weekends from 12-5 pm, with a special offer to sample wood-fired pizza made onsite.
11) The Tower Theater for Performing Arts 
Once a movie house, The Tower Theater for Performing Arts is now dedicated to live entertainment. From bluegrass to legendary comics, children's events and tribute bands, The Tower keeps Fresno rocking. Placed on the Historical Register after being renovated in 1989, a visit to The Tower Theater is worth the ambiance. With phenomenal acoustics and a seating capacity of 761 make every performance intimate.
12) 2nd Space Theater
With only a 150-person occupancy, 2nd Space Theater is home to the Good Company Players who tout themselves for producing less commercial plays. A brainchild of Roger Rocka's Dinner Theater, you can find listings for both venues on their joined websites. Known as a black-box theater, this no-frills theater allows for audience members to focus on the live art.
13) Roger Rocka's Dinner Theater
A staple in Fresno's theater scene, Roger Rocka's Dinner Theater is the perfect night out. With emphasis on both delicious dinners as well as creative theater, Roger Rocka's Dinner Theater is where memories are made in Fresno. Reasonably priced at around $60 for both dinner and the play, this is a great idea for a special occasion. Check out upcoming plays which include: The King and I, Guys and Dolls, and Pippin.
14) Bowlero Fresno
For a casual and relaxing night out, head to Bowlero Fresno, for a chance to bowl a strike. With weekly specials such as $2.88 Tuesdays where games, tacos, and tallboys are all $2.88, it's easy to love (and afford!) Bowlero. Check out food options such as the 6lb Behemoth Burger which will require some friends to share it with. Even if bowling's not your thing, head to the arcade room or toss a round of cornhole.
15) Pinot's Palette
Pinot's Palette is Fresno's response to the sip-and-paint craze. Whether you're bringing a group of girlfriends or heading to paint solo, there's something for everyone at Pinot's. Attend an open studio for $35 or pick out your favorite painting to replicate, with events posted online. Wine can be purchased separately at Pinot's Palette, but no outside bottles are allowed.
16) Ghost Golf
A spooky mini-golf course, Ghost Golf is a fun year-round as it is during Halloween season. Yes, the theme is on the macabre side but in general, it's more silly than nightmare-inducing, making it okay for all ages. For $13 for two hours, golf the 18 holes as well as zombie shooting, air hockey, and arcade games. An indoor course, it's approachable regardless of how hot the Fresno temps can be outside.
17) Pine and Palm Brewing
A smaller brewery, Pine and Palm Brewing is loved for that very reason. With indoor and outdoor seating, Pine and Palm Brewing serve up their microbrews including a long list of IPAs, stouts, and blonde ales. Every Monday, Wednesday, and Friday enjoy the tasting room which features flights and live sporting events. Friendly staff often includes the brewery's founder, Roger.
18) Puzzle Effect Clovis 
If escape rooms are your thing, head to Puzzle Effect Clovis, just outside Fresno. Unique storylines make Puzzle Effect a special experience with a best friend or family member. Can you unlock your puzzle in the allotted sixty minutes? Accepting walk-ins, you can be spontaneous about your trip to Puzzle Effect. A welcoming staff makes any experience at Puzzle Effect seamless.
19) United Skates Clovis
Also in neighboring Clovis, United Skate Clovis a throw-back roller rink fun for kids and adults. Open until 10 pm on the weekends, United Skate is reasonably priced (around $8 per adult, $4 for skate rental) and has something for everyone. Check out the Family Skate, or head to Adult Skate with hip-hop and old school tunes. No outside food is allowed but food is available for purchase at the cafe.
20) No Surrender Tag and Adventure Park 
One last stop at Clovis brings us to No Surrender Tag and Adventure Park, a laser tag area with an adventure course and a virtual and real arcade. Family-friendly, No Surrender also offers appetizers, craft burgers, and pizza so you can stay and play longer. Additionally, a lounge area serves up adult drinks to keep the party rolling. No Surrender is open until 11 pm on Friday and Saturday, and until 10 pm on Wednesdays and Thursdays.
Conclusion
From wineries to arcade games, there's something for every taste in Fresno. Whether you feel like being in the Great Outdoors or would rather catch some live theater, check these things to do in Fresno tonight off your list. Fresno brings world-class fun to this California town. Get out and go live a little tonight in Fresno, California!