Warning
: DOMElement::setAttribute(): ID wpgmza_tolls_204 already defined in
/home/sweetspi/exploreist.com/wp-content/plugins/wp-google-maps-pro/includes/class.directions-box.php
on line
126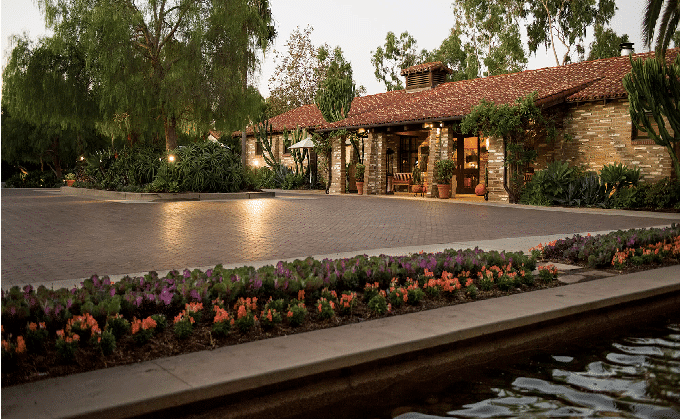 Check-in Times
Room Rates
Directions
Check-in time: 4 pm
Check-out time: 12 pm
432 – 476 USD depending on room type.
The fastest route to Estancia La Jolla Hotel & spa is via I-5 N, a distance of 15.1 miles.
1. Get on I-5 N and drive for 0.8 miles.
2. Follow I-5 N to Genesee Ave. Take exit 29 from I-5 N.
3. Follow Genesee Ave and N Torrey Pines Rd to Estancia La Jolla Hotel & Spa.
Enjoy a luxurious and relaxing stay while dining on delicious cuisine at Estancia La Jolla Hotel & Spa in San Diego.
Hotel description
Located close to the University of California San Diego, Estancia La Jolla Hotel & Spa nestles on 10 acres of landscaped gardens. The hotel is 1.7 miles from the Torrey Pines Golf Course, a 15-minute drive from the Del Mar Racetrack and a 20-minute drive from San Diego International Airport. The hacienda-style hotel boasts an outdoor heated swimming pool, hot tub, a spa, and wellness center and three dining options.
Meals can be enjoyed in The Adobe El Restaurante and Mustangs & Burros, while guests can relax with a drink or meal in the Trinitas Cellars Wine Bar & Private Dining Room. All the restaurants in the hotel feature innovative cuisine and offer both indoor and outdoor dining. The hotel also offers 24=hour in-room dining.
Guests can escape from the stress of normal daily life by relaxing in the hotel's full-service spa and wellness center. A variety of massage therapies, manicures and pedicures and facials can be enjoyed. Guests at Estancia La Jolla Hotel & Spa can also take advantage of the on-site modern fitness center.
Guest rooms at Estancia La Jolla Hotel & Spa are luxurious and well-appointed and feature flat-screen TVs with cable channels, coffee makers, an in-room safe and a work desk. Each natural stone bathroom offers guest bathrobes and complimentary toiletries. All rooms offer private balconies with courtyard views, while some suites have additional living and dining areas. Free Wi-Fi is provided throughout the property. Valet parking is provided and the hotel is pet-friendly.
Reviews
The four-star Estancia La Jolla Hotel & Spa has been rated by Google users as 4.5/5 Excellent from 79 reviews. One former guest said the hotel was a nice little hideaway at affordable prices for the area and that the food was excellent. The same guest made a joke about the fact the waitress gave him his drink with two paper straws and when he asked why he was told they cannot use plastic straws in California and the paper straws disintegrate before you finish the drink.
Another guest said they enjoyed their stay and that the hotel was convenient to the beach and excellent restaurants. The staff were said to be very pleasant and friendly. A TripAdvisor member spent two nights at the hotel for a business conference and said every aspect of the hotel, from check-in to check-out was exceptional.
However, another guest complained about a staff member at the Hotel, saying the masseuse was very rude to her. She complained because the guest was not relaxing during the massage. However, other members of staff were friendly and professional.
Estancia la Jolla Hotel & Spa
Average rating:
0 reviews