Warning
: DOMElement::setAttribute(): ID wpgmza_tolls_159 already defined in
/home/sweetspi/exploreist.com/wp-content/plugins/wp-google-maps-pro/includes/class.directions-box.php
on line
126
It is very important before traveling, to have a list of the best Hotels In Gaslamp Area Of San Diego. You will see how the 19th-century charm still exists as one of the best-known and oldest neighborhoods in the area. Its architectural beauty has lined the buildings that were former brothels and saloons. It is now lined with shops, clubs, and restaurants. Horton Plaza is the local shopping center. You will be refueling for your business meetings with the rest of the tourists in the area as you enjoy all it has to offer.
Many of the people are there for just a few days for business or tourism. You will want to learn about its history and will be walking down the same streets traveled by Wyatt Earp, who owned gambling halls and lived at Horton Grand Hotel. Experience all the different things to do and tours have to offer, but when it's time to sleep, you want a clean and comfortable place to lay your head. You should find at least one hotel that catches your eye. Happy travels to the Gaslamp District!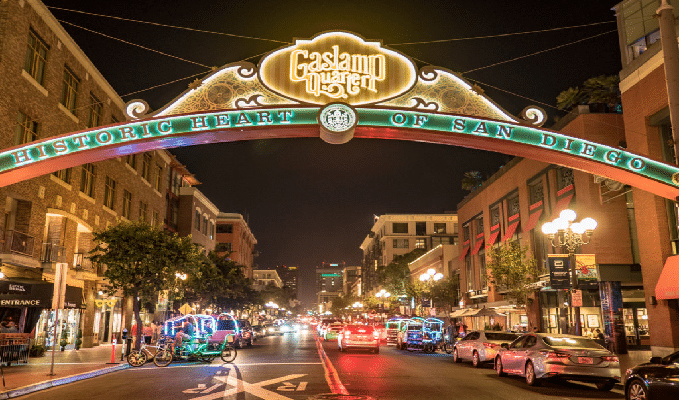 1. Manchester Grand Hyatt
You will find the hotel the best value out of 1,059 hotels to stay at while you're in San Diego, and is a mere 0.6 miles from the Gaslamp Area. You will fall in love with the incredible views and spacious waterfront rooms. Enjoy the spa and fitness center, or take a dip in one of the two rooftop pools. Enjoy one of the eight dining outlets, including Sally's Fish House & Bar!
2. The Sofia Hotel
The Sofia Hotel is the #2 hotel in all places to stay in the district. It is conveniently located just outside of the Quarter (0.4 miles), and has been called "Urban Bliss." Romance is alive with a cruise from B Street Cruise Ship Terminal and only 0.7 miles from the USS Midway Museum. Meeting facilities, a 24-hour fitness/exercise center, a bar/lounge, and hotel restaurant are just for starters.
3. Pendry San Diego
You will be a mere 0.1 miles from the Quarter and staying in the #3 best value in the San Diego area. Luxury is the word as soon as you see the interior of the hotel. It's breathtaking with a delightful pool and tons of lounge chairs to gather the sun. You will have access to six restaurants and bars and will be entertained by wine events, live music, and so much more.
4. Comfort Inn – Gaslamp Convention Center
It's a winner with just 0.1 miles from the Gaslamp area with airport transportation available. Use the in-room safe as needed or use the business center if you're seeking exceptional Internet access. Enjoy the free breakfast like no other, including delicious juices, waffles, coffee, tea, cereal, yogurt, and so much more! Visit one of the 88 attractions or 308 restaurants within 0.3 miles from your doorstep.
5. Hotel Indigo
This delightful hotel is merely 0.2 miles from the Gaslamp Area with the Level 9 Rooftop Bar and its enchanting fire pit on those cold nights. Use the business center for your copying needs (open 24/7) or visit the fitness center to work out a few kinks of the day. You are also close to the San Diego Convention Center as you breeze through the Quarter.
6. Omni San Diego Hotel
You will be right across from the Convention Center, within miles of the sandy beaches, and right in the middle of the Gaslamp Area. Take a harbor cruise, visit Balboa Park, or catch a pro game at Petco Park using the pedestrian bridge. You have an outdoor terrace with a heated pool, hot tub, and stone fireplace. The hotel's treatment room offers massage therapy by appointments.
7. The Bristol Hotel – A Greystone Hotel
If you are craving a boutique hotel near the Quarter, The Bristol will be your spot for a meeting space for business or social events. It is listed as #8 Best Value of 1,059 places to stay in San Diego with its modern pet-friendly rooms. Enjoy the exercise center, valet parking, and an on-site bar/lounge. If you forgot your robe, no problem, they have one for you!
8. Residence Inn Downtown
The Inn is a mere 0.2 miles from the Gaslamp area and is listed as the number five hotel for value out of 1,059 places to stay in San Diego.  Be sure to book a reservation, and save your spot. However, management is now allowed to provide rollaway beds because of the area's fire codes. The hotel is highly rated at 4.5 out of 5-stars completed by 2,093 patrons!
9. Marriott Marquis – San Diego Marina
Be Adventuresome! This awesome view is posted as the #7 best value of all places in the area and is only 0.4 to the center of the Gaslamp area. Enjoy all of the amenities offered of a full-service, luxurious hotel – adjacent to the Convention Center. The 450-slip marina accommodates vessels from 25 feet to 125 feet, and offers additional San Diego boat rental options, yacht brokerage, and fully catered, seasonal marina guest parties with live entertainment.
10. Hard Rock Hotel – San Diego
Stop by and take center stage in downtown, within 0.3 miles of 142 restaurants and 40 attractions. Visit PETCO Park, or attend a corporate event right across the street at the Convention Center with a shuttle if desired. As the name demands, the stylish Hard Rock suites are your spot for a rooftop lounge, a 24-hour state-of-the-art fitness center, and bike rentals if desired. Enjoy a classic American breakfast or lunchtime favorites, and much more!
11. InterContinental – San Diego
If you're seeking flexible outdoor or indoor space for a meeting space, you will have 95,000 square feet to consider. Its fabulous views of the bay will be only the beginning in Vistal Bar & Restaurant open for breakfast through dinner and a happy hour to boot. You are a mere 0.8 miles from Gaslamp Quarter. Rent a cabana on the rooftop pool deck or visit the fitness room for some stress-relief.
12. Hotel Republic – San Diego
If you like to walk, the hotel is rated at 100% satisfaction with 19 attractions and 79 restaurants for dining within a 0.3-mile radius. You are 0.6 miles from the Quarter and only 2 miles from San Diego International Airport. Visit the rooftop terrace, exercise/fitness center, or enjoy the bar/lounge for a delicious beverage.  The hotel is pet-friendly, so call for the details.
13. Moxy San Diego – Downtown
It is 0.2 miles from the Quarter. As you can imagine, you will not have a dull moment with the endless bars/cocktail lounges, nightclubs, and breweries in the area. Local attractions include Balboa Park, the San Diego Zoo, Petco Park, the USS Midway, the Maritime Museum, and much more. You will receive 5-star service, including an exercise/fitness center, business center, and convenience store, complete with a concierge.
14. Hilton – San Diego Bayfront
Visit the San Diego Bay from the 30-story hotel and visit the Gaslamp Quarter at a short 0.6 miles. Use the pedestrian bridge to directly visit Petco Park and the vibrant Gaslamp area, and up-coming East Village. The comfort greets you in the lobby, restaurants, and spacious guest rooms. Plan your next romantic getaway or take a family or business trip to receive all this fabulous hotel has to offer.
15. Best Western Plus – Bayside Inn
If you want a smoker option, rooms are available for you with a restaurant, bar, and lounge available. Stay in an ocean view room with a fireplace and room service if desired. Enjoy the heated pool, hot tub, fitness & exercise center, and free Internet with public WiFi. Grab a free breakfast buffet before you start your day. A free shuttle or taxi is available to the airport as needed. Kick back and have some fun!
16. Manchester Grand Hyatt
You won't be sorry for taking in all that this gorgeous waterfront hotel has to offer, from its breathtaking views, spacious rooms, and amenities offered to the city's top attractions and is a short 0.6 miles to the Gaslamp area. Dine at Sally's Fish House & Bar or choose from one of the many restaurants and bars/lounges in the area. Rejuvenate in the Spa & Salon with a facial, massage, or body treatment. Take it to the limits!
17. Kimpton Solamar Hotel
You'll be right in the front door of the Gaslamp area (0.1 miles) with 232 restaurants and 63 attractions within a short 0.3 miles. The friendly staff is ready to help you settle into your room.  Take a dip in the heated/rooftop pool and enjoy a delicious beverage from the poolside bar. The nightclub will give you the DJ atmosphere, and the pets are also allowed to visit on this vacation getaway.
18. Marriott Vacation Club Pulse
You will be just 0.5 miles from the Gaslamp area with the historical ambiance and flair of downtown, including Balboa Park, SeaWorld, and the delightful San Diego Zoo. The retreat has fully-equipped kitchenettes, a modern workout and fitness center, concierge desk, valet-dry cleaning, and much more. Stop in at SHAKE, which is open for breakfast, lunch, and dinner. If you need drinks or snacks, stop by the Marketplace Express.
19. The US GRANT – A Luxury Collection Hotel
The hotel is a historic building just merely 0.3 miles from the Quarter area with a 100% great option for walkers with 234 restaurants and 58 attractions within 0.3 miles of your doorstep. Have a workout or go for a dip in the outdoor pool. Patrons proclaim the staff as extremely helpful and friendly, which compliments the beautiful hotel setting with plush robes and so much more!
Conclusion
San Diego encompasses a semi-arid climate that borders on the Mediterranean type of dry and hot summers with wet and cold winters. You will adore all of the local scenery with the town's location near the Mexican border on the Pacific Ocean coast.
If you are planning on traveling to the Hotels In the Gaslamp Area of San Diego, you know by now which one will best suit your needs. You have many options to choose from, including pet-friendly, exercise/fitness rooms, restaurants, bar/lounge options, swimming pools, and so many more amenities. You can enjoy many of the historical landmarks and enjoy the San Diego Bay Area from the hotel rooms. Get Packing!