Warning
: DOMElement::setAttribute(): ID wpgmza_tolls_148 already defined in
/home/sweetspi/exploreist.com/wp-content/plugins/wp-google-maps-pro/includes/class.directions-box.php
on line
126
Sunny San Diego is a wonderful place to visit any time of the year. With a temperate climate, access to beautiful beaches on the Pacific Ocean, and world-class activities such as the San Diego Zoo, there is so much to love about San Diego. Whether you plan to travel solo, as a couple, or as a family, San Diego offers something for every age and interest. Read on to discover more about this beautiful city, and begin planning your list of things to do in San Diego!
1. USS Midway Museum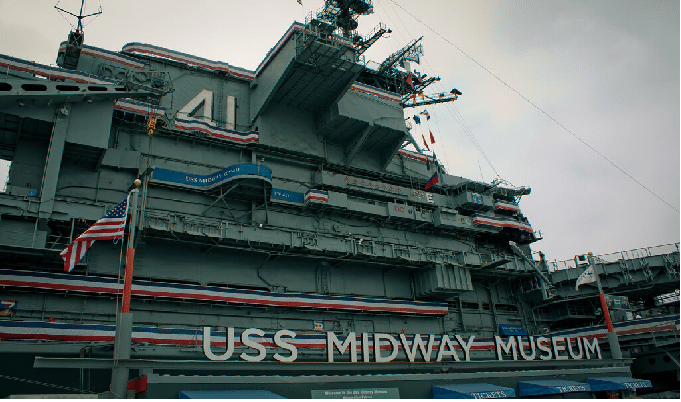 A long-standing naval base, San Diego has a rich slice of American military history. Head to downtown San Diego to the USS Midway Museum, which highlights the longest-serving aircraft carrier of the 20th century. Journey into the history of the Midway, which has been home to some 225,000 service people over the years. This interactive museum is fun for all and includes beloved exhibits such as a theater, flight simulators, and "floating city" that Midway once was.
2. San Diego Zoo

One of the best-known zoos in the United States, the San Diego Zoo is home to some 3,500 species, as well as a botanic collection that includes 700,000 plants! Founded in 1911, the zoo is an overhead organization for the zoo, safari park, San Diego Zoo Institute for Conservation Research, and the San Diego Zoo Global Wildlife Conservancy. The zoo itself is huge, so be prepared for a half-day or day of walking. Additionally, for an extra treat at the zoo, upgrade to an Inside Look Tour, which gives the ultimate insiders view into the San Diego Zoo.
3. La Jolla Cove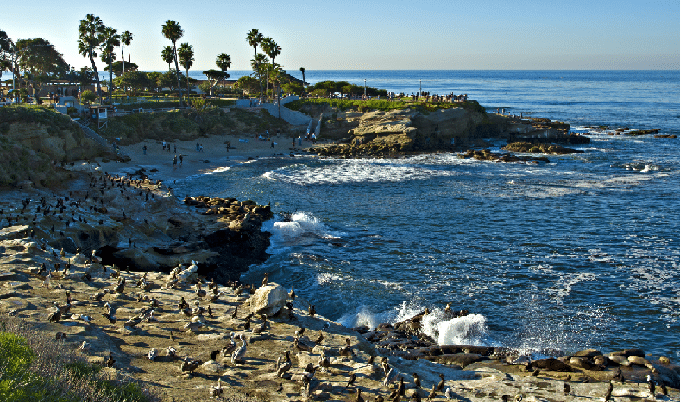 Southern California nature at its finest, La Jolla Cove is a must-see destination while in San Diego. With sweeping views of the ocean, walking paths, and tidal pools to explore, you may not ever want to leave this natural oasis. Check for sea lions who make frequent showings in the area, as well as a diverse group of sea birds. Come for dinner along the coast and then stay for an unforgettable sunset view.
4. Mt. Soledad National Veterans Museum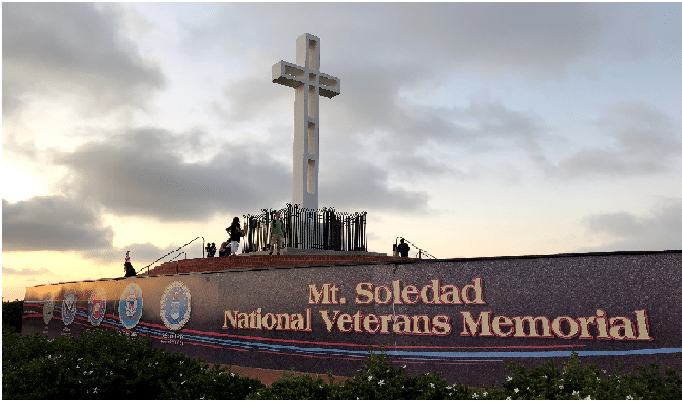 Another stop along the military tour of San Diego, Mt. Soledad National Veterans Museum commemorates veterans from the Revolutionary War to the current time. Set atop a mountain, overlook the Pacific Ocean and glimpse views of Mexico as you pay tribute to America's military history. Owned by Mt. Soledad Memorial Association, this veteran operated memorial is important and thought-provoking.
5. Balboa Park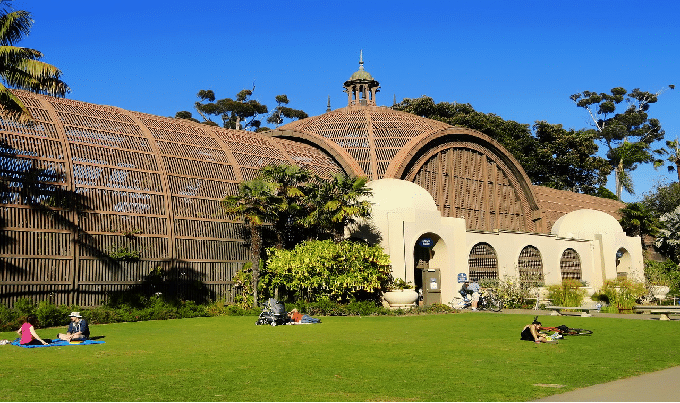 A San Diego gem, Balboa Park is beloved by locals for being a green space that has it all. Home to the San Diego Zoo, Balboa Park is also a must-see for local art, a plethora of museums, cultural events, and opportunities to play outside. Bring Fido to head to one of the many dog parks, or check out historic buildings, while stopping along the way for lunch. Truly, as good as it gets, you could visit Balboa Park alone while in San Diego and leave a satisfied visitor.
6. La Jolla Shores Park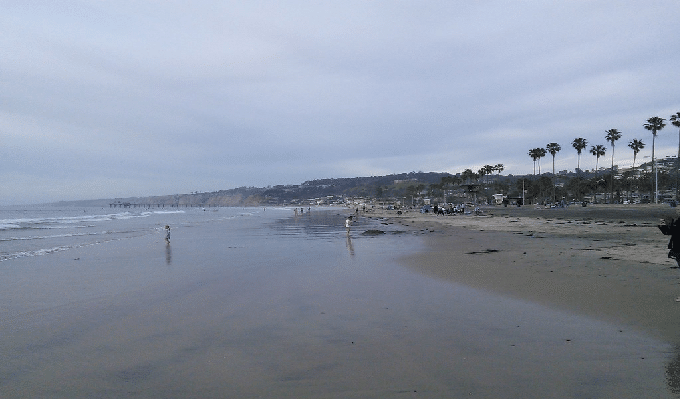 If white-sand beaches are your reason for being in San Diego (if they're not, they should be!), head to the mile-long La Jolla Shores Park to play. Popular with novice scuba divers, La Jolla Shores Park is one of the most gentlest beaches. Manned by lifeguards, La Jolla Shores Park has playgrounds, beach volleyball, surfing, and picnic spots; everything you need for a perfect day at the beach!
7. Children's Pool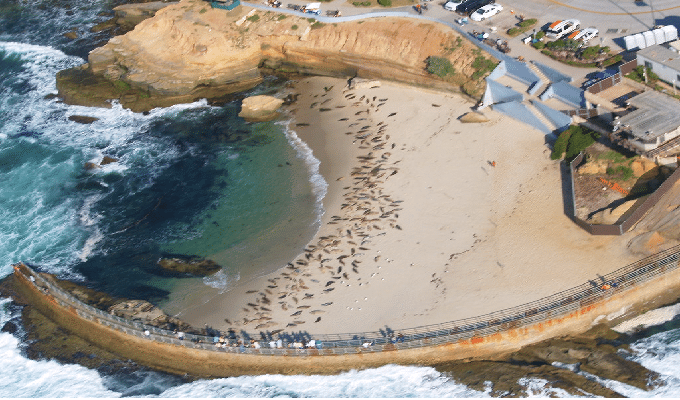 If you have young ones in your crew, head to the Children's Pool, a small beach protected by a seawall. Even if you don't, it's a great spot to spend an afternoon or to check out harbor seals who frequent the area during pupping season. With reefs just offshore, scuba divers flock to this beach. People love Children's Pool beach for the awe-inspiring views that this locale provides.
8. Torrey Pines Gliderport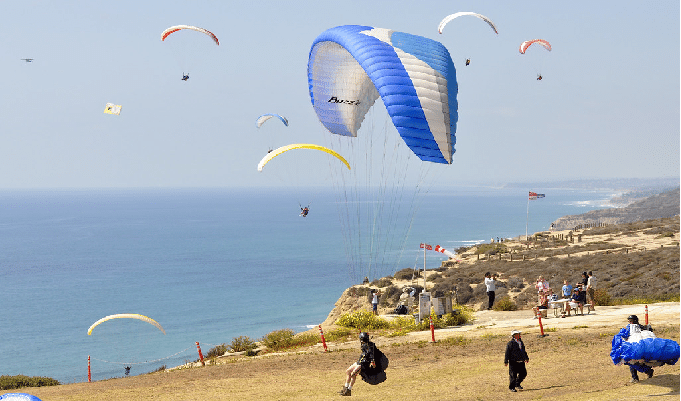 If extreme sports are your thing, you cannot miss the opportunity to paraglide from Torrey Pines. Known as a premier gliderport, Torrey Pines offers the chance to paraglide, tandem glide, and hang gliding. Okay, you can also just come to Torrey Pines to watch others paraglide; the view alone is worth the trip. The Cliffhanger Cafe is a great place to grab a bite and check out the action as well as the gorgeous ocean below.
9. Sunset Cliffs Natural Park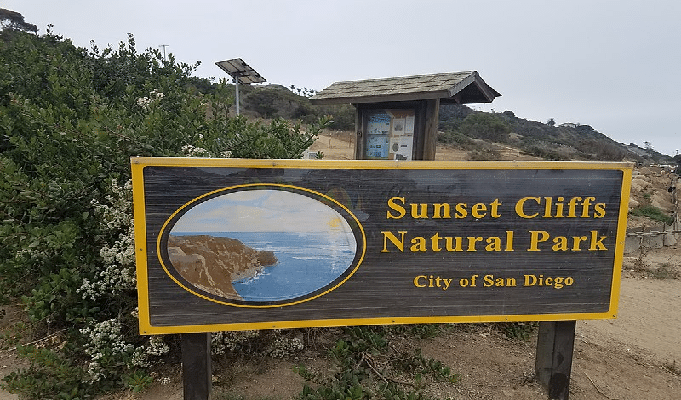 The name says it all at Sunset Cliffs. This incredible park spans some 68-acres along the Pacific Ocean, making it the premier place to see the sunset while in San Diego. Check out the carved coastal bluffs, and bring your binoculars for the unique chance to spot a California gray whale below. With three different viewing points of the sunset: Ladera Street, Luscomb Point, and Osprey, take your pick of where to view the day's end.
10. Petco Park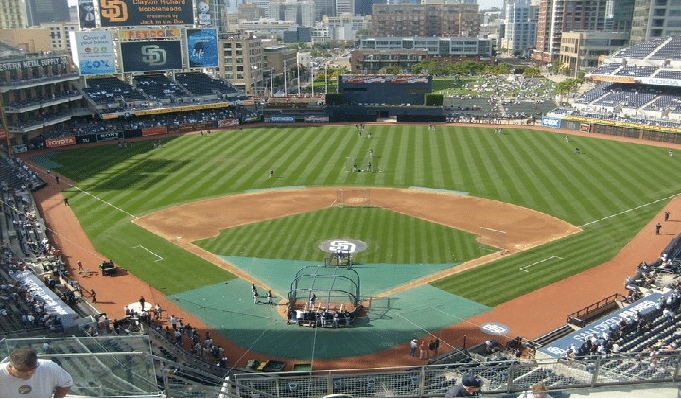 Petco Park is home to the San Diego Padres, part of the MLB network. Celebrated for unique architecture, take in a baseball game as well as the city skyline when you come to visit Petco Park. If baseball isn't your thing, check out a concert at Petco Park, or come for a Supercross event. Petco Park is a staple in San Diego culture and a great stop on any sport's fans agenda.
11. Birch Aquarium at Scripps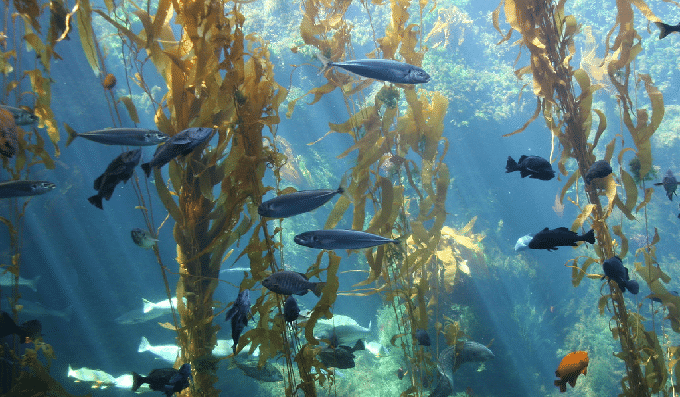 Anyone interested in marine life must head to Birch Aquarium at Scripps, a renowned look into the world of oceanography. Set atop a bluff overlooking the Pacific Ocean, scenic and exploratory, Birch Aquarium is home to over 60 exhibits. Check out habitats from the Pacific Northwest down to Mexican waters, and be sure to stop by and see the seahorses and sea dragons. Free parking helps to keep costs down at Birch Aquarium. Check out the website for special events, including programming for children.
12. Windansea Beach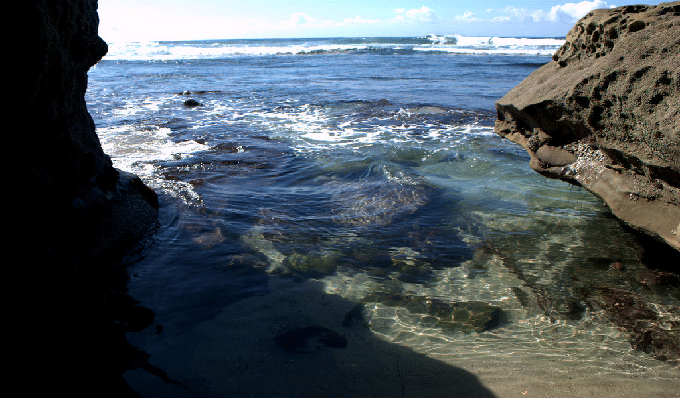 A calmer part of La Jolla, Windansea Beach is a great place for a stroll. Not necessarily a swimming beach, Windansea is known for its rocky beach that is a haven for surfers. Street parking is available but must be sought out when coming to visit. Winter and summer are quite different at this beach, as winter waters tend to wash away the sand. If you love the beach life, a visit to Windansea is worth it.
13. Cabrillo National Monument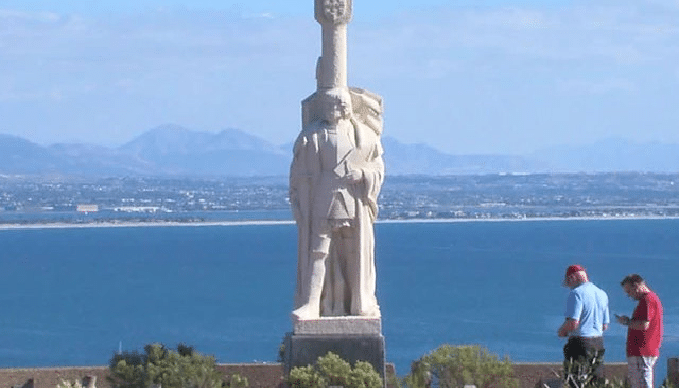 Cabrillo National Monument honors Portuguese explorer, Juan Rodriguez Cabrillo, who was the first to set foot on now-San Diego-territory in 1542. Run by the National Park System, a visit to Cabrillo National Monument is equally a chance to learn some history and to immerse oneself in the great outdoors. Check out the tidal pools or head to Old Point Loma Lighthouse. With incredible views of San Diego, the optimum views can be found at the top of the lighthouse.
14. San Diego Factory Outlet Center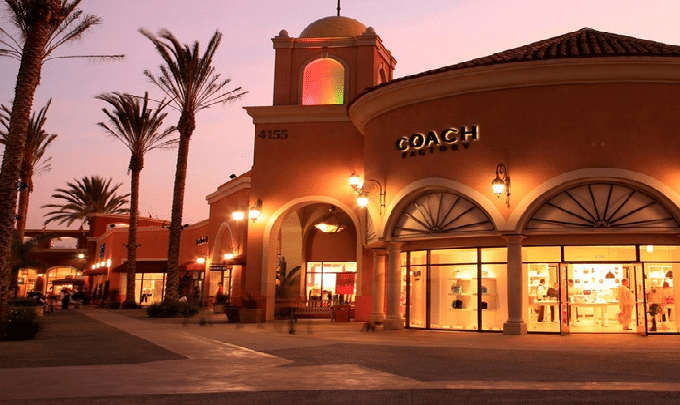 Who doesn't love a good bargain? At San Diego Factory Outlet Center shop names such as Kate Spade, The North Face, Polo Ralph Lauren, and J.Crew Factory. It's a great place to get the most bang for your buck if you need a new wardrobe, or just want to have some retail-therapy fun. While shopping, take a break to enjoy a plethora of dining options ranging from Japanese to Mexican, and of course, not missing the ever-present Starbucks.
15. Torrey Pines State Natural Reserve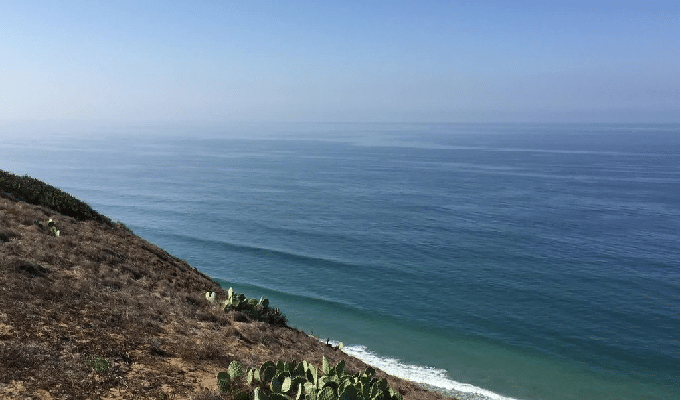 Yet another reason San Diego scores high for natural beauty; Torrey Pines State Natural Reserve is within city limits and provides ample, approachable hiking trails. Overlooking the Pacific Ocean, these trails are great for hikers of all levels. Still one of the wildest stretches of land on the Southern California coast, come to see migratory birds, native plants, and unspoiled land. No dogs are allowed at the reserve, and be sure to check the website before going, as some trails are currently closed due to the effects of heavy rain.
16. Coronado Bridge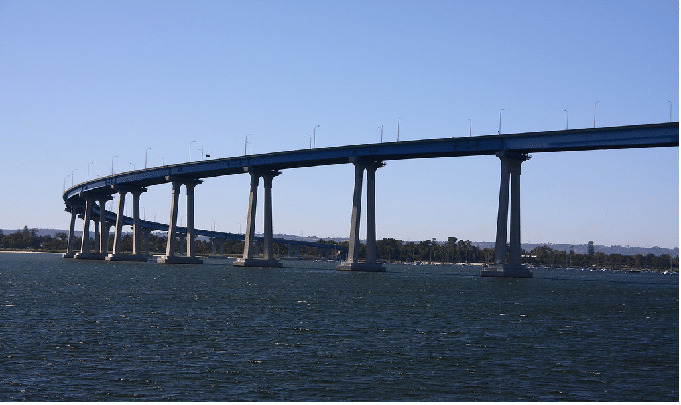 Connecting San Diego to Coronado, Coronado Bridge is an impressive sky bridge. More than two miles long, this bridge is truly an engineering wonder to behold. Yet another scenic vantage point to take in San Diego from, this bridge is idyllic with windows rolled down, and the fresh breeze of the Pacific rolling in. Coronado itself is worth checking out; a historic tourist town, beautiful beaches, and locally-owned shops and restaurants are a fun change of pace.
17. Little Italy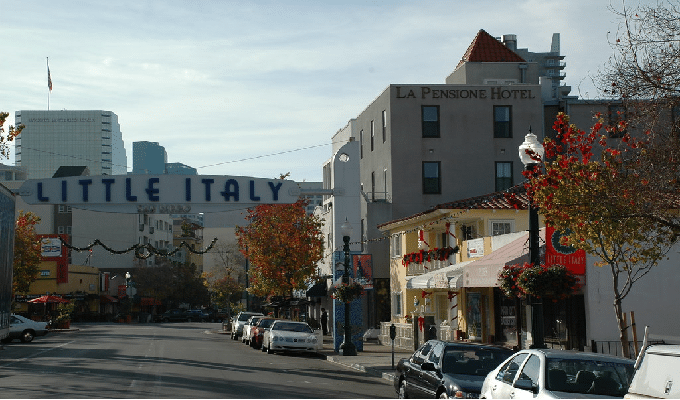 An enclave of delicious food and history, Little Italy pays tribute to some 6,000 Italian families that settled in this neighborhood. Helping to create the tuna industry in San Diego, a visit to Little Italy is worth the time. Public art, piazzas, and yes, pizzas too, give an intimate look into how Italian Americans have contributed to this part of the country. Little Italy can be reached by the hop-on, hop-off trolley, eliminating any parking worries.
18. Ellen Browning Scripps Park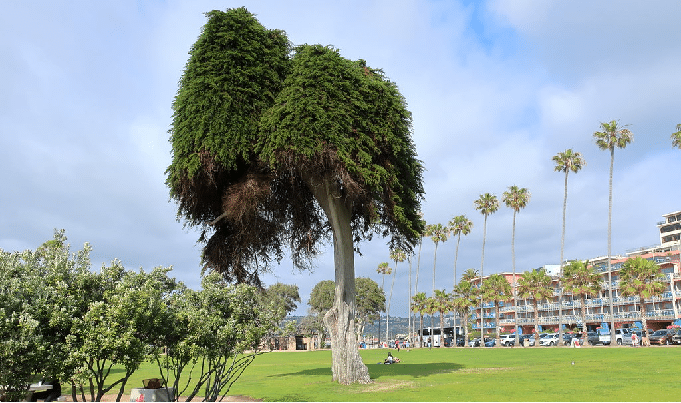 Ellen Browning Scripps Park is reportedly the most photographed spot in all of San Diego, and a popular spot for weddings. Grassy lawn, ocean views, and great climbing trees for the young are just a few reasons to come for a stroll. Additionally, sea lions frequent the cove, making it a wonderful place to take in some wildlife viewing. Dr. Seuss gleaned inspiration from this park, with the Truffle Trees in the Lorax resembling those at Scripps Park.
19. Pacific Beach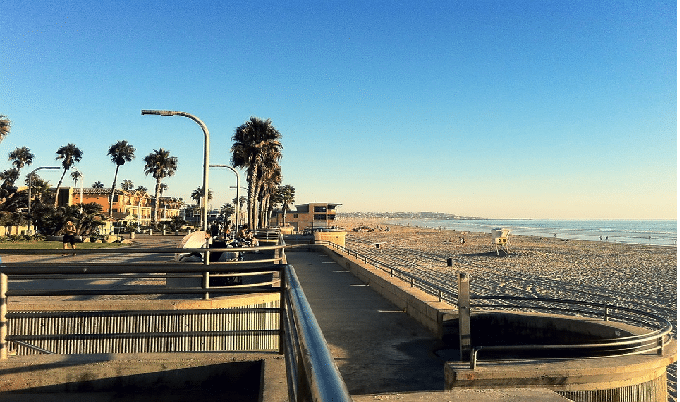 One of the most popular beaches in San Diego, Pacific Beach is clean and ready for fun. A great place to take a surf lesson, hang-ten or just bask in the California sun before taking a dip. Locals and tourists alike love this beach, whose amenities include an area for fishing, public showers and bathrooms, and lifeguards. Even in the winter, the beach is worth a walk or for a visit at sunset.
20. Salk Institute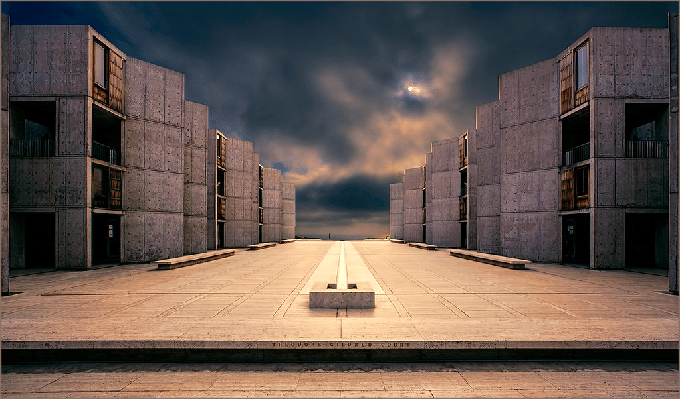 Salk Institute is home to award-winning scientists who strive to answers some of the most vexing medical research questions in modernity. Visitors flock to Salk Institute to soak up this greatness, but also to bask in the architectural wonder of Salk Institute, named after Jonas Salk who developed the polio vaccine. Book a tour to learn more about Louis Kahn's incredible structure, completed in 1965. Self-guided tours are available for a modest $7.50 or opt for the pricey, but well-worth-it option of a private tour at $150.
Conclusion
It's easy to see why San Diego should be on the top of your list for American cities to visit. With a wealth of nature, culture, and history, San Diego is a non-fail choice for your next vacation. With this list of things to do, you'll be ready to soak up all the fun and sun that this Southern California gem has to offer!
See Also: Hotels in Gaslamp area of San Diego