Warning
: DOMElement::setAttribute(): ID wpgmza_tolls_176 already defined in
/home/sweetspi/exploreist.com/wp-content/plugins/wp-google-maps-pro/includes/class.directions-box.php
on line
126
Powell Street is one of the main arteries of San Francisco, and an excellent spot to stay when you are visiting the Golden City. Famous for iconic cable cars that connect Powell Street to major San Fran destinations and things to do such as Union Square to Fisherman's Wharf, Powell Street is quintessential San Francisco. Great restaurants, fun shopping, and historic landmarks punctuate Powell Street's allure. With several hotels to choose from, you cannot go wrong when deciding to be immersed in all the charm this California city on the bay has to offer.  Read on to discover the top hotels on Powell Street in San Francisco and get ready to book your adventure today!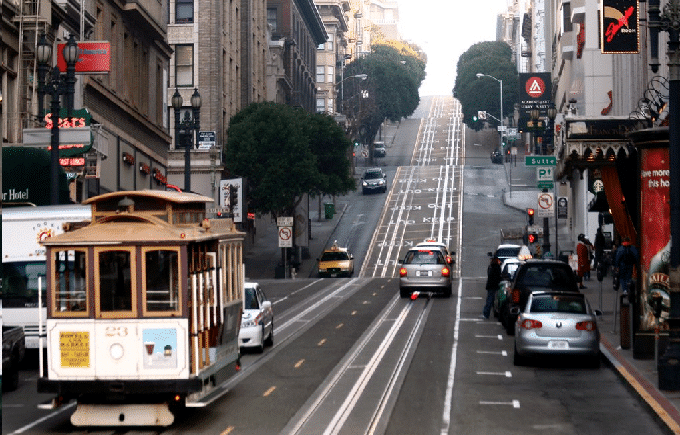 1) Hotel Nikko San Francisco
Just 0.1 miles from Powell Street, Hotel Nikko San Francisco is urban chic. Only steps from Union Square, you will love how easy it is to access the heart of San Francisco from this hotel. Great for those who love to travel by foot, Hotel Nikko offers not only convenience but also some amenities. Take a dip in the pool, head to the bar which has karaoke, or head to the on-site gym. If you're traveling with your best dog friend in-tow, enjoy the pet terrace complete with a dog run. Those who need business amenities will enjoy the UPS business center. Their contemporary Japanese restaurant, ANZU, is a wonderful choice when looking for a healthy, savory bite to eat. With so much to love, and with everything that Powell Street has to offer, Hotel Nikko San Francisco is an easy choice.
2) Chancellor Hotel on Powell Street
Directly across from Union Square, Chancellor Hotel on Powell Street is at the epicenter of San Francisco's action. A historic building, Chancellor Hotel first opened its doors in 1914 and is known for being family-owned. Jump the cable car directly from your hotel at Chancellor, and be transported into the magic of San Francisco. Enjoy the complimentary pillow menu (yes, really!) of twelve different types of pillows to choose from. Additionally, for an extra $20, enjoy the buffet breakfast. Or book direct and get breakfast on the house. Though there is no other on-site restaurant, numerous bars and restaurants line Powell Street. Clean and tidy rooms at an affordable price make Chancellor Hotel a winning choice.
3) The Mosser
The Mosser is an independent hotel within a beautiful Victorian building. Though the architecture is from the past, the hotel touts itself on sleek, modern design. Set between Union Square and the Moscone Convention Center, work and play are at your fingertips. Enjoy the SoMa (South of Market) neighborhood where The Mosser makes its home, complete with museums, restaurants, and the San Francisco Giant's field. Dine within The Mosser at The Keystone Social House, or check out The Mosser's very own recording studio, Studio Paradiso. With coffee and tea, as well as fresh muffins, is served each morning from 6:30-9:30 am, it's easy to get your day off to a good start at The Mosser. One of the best hotels on Powell Street in San Francisco.
4) Hotel Zelos San Francisco
Hotel Zelos San Francisco is located within the historic Pacific Building and offers a sophisticated ambiance. Recently voted one of the top 15 hotels within San Francisco by Condé Nast Traveler Readers' Choice Awards, it's easy to see why Hotel Zelos cuts. From their award-winning restaurant, The Dirty Habit, to unique touches such as bicycle rentals and soundproof rooms, Hotel Zelos consistently gets highly rated. Walk to Union Square, grab a few groceries at neighboring Trader Joe, or check out all the neighborhood has to offer. Hotel Zelos San Francisco is for the traveler who loves a hip vibe and wants to be where the action is.
5) The Herbert Hotel 
Established in 1909, The Herbert Hotel truly is a slice of San Francisco history. Directly on the cable line and only one block from the Powell stop for BART (San Frans public transportation system), The Herbert Hotel couldn't get more convenient if they tried. Modern decor graces the 99-room hotel, complete with Bartlett Hall, The Herbert Hotel's gastropub. Walk to Chinatown, The Moscone Center, or the Museum of Modern Art. Enjoy high-speed internet, instant contact with Union Square, and quick access to places such as the San Francisco Public Library (0.7 miles away). From single rooms for one to connecting rooms perfect for families, there is something for everyone at The Herbert Hotel.
6) Hotel Zetta San Francisco
Sister to Hotel Zelos San Francisco, Hotel Zetta is another great option brought to you by Viceroy Hotels. Known as one of the most creative hotels set in the SoMa neighborhood, those seeking a unique hotel experience will adore Hotel Zetta San Francisco. In the epicenter of San Francisco's start-up businesses, the neighborhood pulses with a fresh and innovative vibe. Check out the hotel's British brassiere, The Cavalier, who serves up dishes such as fish and chips and steak fries. Or head to the game room for a chance to unwind with pool, ping pong, and pinball. Easy to access all San Francisco's hot spots from Hotel Zetta, Hotel Zetta is a class place to spend time in while visiting San Fran.
7) Hotel Union Square
Hotel Union Square is a unique boutique hotel in the heart of San Francisco. Created for the 1915 Pan Pacific Exposition, Hotel Union Square is a staple in San Francisco hotels. With a complimentary wine reception from 5 to 7 pm daily, unwind after a busy day of sight-seeing. Head to the on-site fitness center, or delve into a steak at Tad's Steakhouse (also available in-room service). Updated rooms fuse the old and new. Just a few minutes' walks from the BART station, Hotel Union Square is accessible to all of San Francisco's major attractions within minutes. A thorough website helps visitors plan their trip to San Francisco, complete with updated listings of events.
8) San Francisco Marriott Marquis
Set in a postmodern high-rise, San Francisco Marriott Marquis offers a central location for anyone coming to San Francisco. Just a few blocks to Moscone Convention Center, Chase Center, Oracle Park, or to the classic cable car, San Francisco Marriott Marquis is fit for any traveler. Enjoy incredible panoramic views from the top of the hotel's The View Lounge, whose art-deco style overlooks the SoMa neighborhood. Enjoy the on-site spa with services such as body wraps, a variety of massages, and facials. A more traditional hotel experience, those who crave the comfort of a classic hotel will revel in San Francisco Marriott Marquis.
9) The Inn at Union Square- A Greystone Hotel 
The Inn at Union Square is off the beaten path, a perfect choice for someone seeking a romantic getaway or simply a bit quieter. The Inn at Union Square is a beautiful boutique hotel complete with an evening wine and cheese, complimentary breakfast, and a fitness facility. Perfect for walkers, The Inn at Union Square is a true gem, with perks such as an-ever-full cookie jar, fresh Pete's coffee, and friendly staff. Check online for the hotel's specials. Additionally, The Inn at Union Square touts itself on being LGBT friendly, listed on GayTravel.com and TAG-Approved.
10) The Handlery Union Square Hotel
The Handlery Union Square Hotel offers some perks that most Union Square hotels lack. From a heated outdoor pool to pet-friendly rooms, The Handlery Union Square exceeds standard hotel norms. Though the rooms are not as modern as some competing hotels, The Handlery Union Square Hotel is a wonderful choice for families or business people who need to stay for an extended period. A business center, dry cleaning, and sauna are all additional reasons to bask in the comfort of The Handlery. Dine at The Daily Grill; an Americana-style diner paying tribute to the 1930's dining scene of San Francisco with an emphasis on scratch-made food.
Conclusion
Location, location, location is what these Powell Street hotels are defined by. All of these Powell Street hotels offer the chance to step out your door and into the heart of the San Francisco pulse. From sleek and modern aesthetics to hidden gems that provide a quiet respite, for every personality, there is a hotel to fit in San Francisco's city center. Whether you're in San Fran for work or play, be sure to enjoy all that Union Square, SoMa, and Powell Street have to offer including restaurants, a thriving night scene, as well as world-class museums. San Francisco is truly a unique American city with an unparalleled personality. Book your getaway today with this list of outstanding hotels on Powell Street in San Francisco, California!