20 BEST Restaurants in Temecula, California [2022 UPDATED]
By

Marina Yoveva
Temecula, California is a tourist and resort destination. Temecula is best known for its extraordinary and spectacular resorts. An incredible tourist attraction to people all over the world. Considering how many people keep on coming in and out of this city, there is a definite need to keep the people fed and satisfied. It is never easy selecting a restaurant, but with this list, you will be able to make a decision confidently. Depending on your interest and taste in cuisine this list has it all. From seafood to grill and Italy vs Mexico with cafes and diners. Temecula tries its best to cater to every tourist. The following list consists of the top 20 best restaurants in Temecula, California.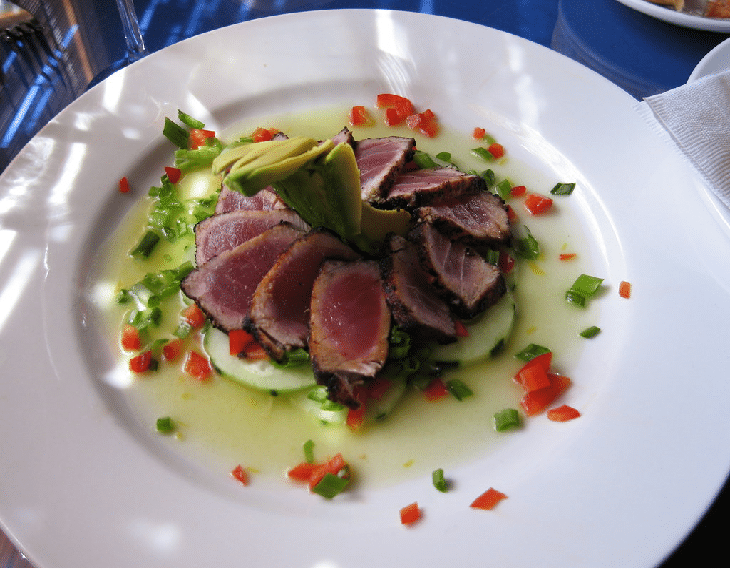 1. Trattoria Toscana 
Temecula is home to many incredible restaurants and one of the best of these incredible restaurants is "Trattoria Toscana", where only the best Ceasar Salads are made. The Caesar Salad is to die for and no other restaurant has such a high demand for a Ceasar Salad. Other Signature dishes include; their seafood pasta, lasagne & carbonara. Be sure to head on down if you know what's good for you. This is easily one of the best restaurants in Temecula. 
2. The Goat and Vine 
For the foodies who love a menu that is direct and to the point. This restaurant is not known for its range of dishes and enormous menu, but for simplicity in detailed dishes that are staples to American cuisine. The pizza, salads, and sandwiches are all the rave and are what puts this restaurant at the second place an absolute ringer and deserve its spot on the top 20 list of the best restaurants in Temecula, California. 
3. Bushfire Kitchen – Temecula
Healthy, Vegetarian, Vegan & Gluten-free. This restaurant is one of the best restaurants in Temecula, California. The most amazing place for; sweet potato fries, roasted butternut, mac & cheese, ribs, and sandwiches. The healthy food lover's haven. If you find yourself passing by Temecula this is not a driveby restaurant. So be sure to stop by. 
4. Gourmet Italia 
Have you ever dreamed of flying off to Italy, but never having enough money or time? Well, "Gourmet Italia" makes the trip easier for you. Catch a cab and not an airplane, because Italy is in Temecula, California. No need for long flights just to indulge in authentic Italian cuisine, now it's only a matter of highway traffic. This little shindig is the perfect spot for you and your partner, family or friends. 
5. Penfolds Cafe 
This is not your traditional cafe. The menu is not only made up of breakfast and bakery items but greasy, messy and dripping dishes. From sticky wings to tangy steak and even piping hot soup. It's a family affair meets the food affair kind of restaurant, where there are little bits of everything for everyone, no one leaves unsatisfied and hungry. "Penfolds Cafe", specializes not only in breakfast but also lunch and dinner. 
6. Cork | Fire Kitchen
Defined as both rustic and refined. This is one of Temecula's finest. Short ribs and beet salads are all the locals are crazy about. And the cost is not sky high, everything on the menu is at a reasonable price if the price is high, the quality is even better. Remember to pop in when in Temecula, California. You will never forgive yourself if you don't try "Cork's" amazing food, there is a reason why this restaurant is number six on the top 20 list of the best restaurants in Temecula. 
7. The Restaurant at Ponte 
Sit beneath the shade of the umbrellas and enjoy a delicious cocktail. It is undoubtedly one of Temecula's classiest. It has amazing service from the staff and the atmosphere is most splendid, also caters to vegetarians, vegans, and gluten-free lovers. 
8. Bluewater Grill
The seafood is galore. Every sailor's dream restaurant. This place serves everything seafood; prawns, mussels, oysters, crayfish, lobster, crab, shrimp, calamari & fish. Amazing for a group of friends to hang out and chill or something a lot more eventful like an engagement celebratory lunch or a birthday dinner. Confidently one of the best restaurants in Temecula, California. 
9. Mo's Egg House 
You breakfast stop shop, perfect for an early bite. Pancakes for kings and omelets for queens. This breakfast bar is one of the best in Temecula, California. Enjoy your breakfast while being waited-on by amazing waitrons serving up your every wish and command. The atmosphere will make you feel right at home. Stop at "Mo's Egg House" and embrace royal treatment at your home away from home. 
10. Il Tramonto Ristorante
Italian cuisine at its finest. The general cost per person is not unrealistically high, but quite reasonable. You are paying for quality and pleasure. Enjoy your food in an environment that is steller and service that makes you feel like a king. The atmosphere is killer and the food is not your "average-joe" kind of food. Be sure to take a seat and enjoy a delicious pasta or burger and quench your thirst with incredible wine and cocktails and finish everything off with a magnificent dessert topped with a cherry. 
11. Public House 
This joint is well known for its cozy atmosphere and chilled environment. The setting and interior are one of the best and homey at the same time. Enjoy a vivacious restaurant. Order the messy humongous burgers and do more than satisfy your hungry needs. Everything on the menu is to-die-for. A definite contender for the best restaurant in Temecula, California. 
12. The Vineyard Rose at South Coast Winery
Don't be the last to embrace one of Temecula's best restaurants. This is a California gem, serving some of the most amazing dishes from a golden menu. This winery is surrounded by nature and has a rustic wood interior and exterior, beautiful pictures and amazing for in-the-moment comfort. The wine is not secondary to the setting and atmosphere. This winery has the most delicious wine in Temecula. Be sure to stop by on your way through Temecula. 
13. The Gambling Cowboy 
A restaurant you'd think only existed in your dreams. From a dream to reality, this fancy hotspot is serving you quality in the form of food and atmosphere. It is a tad pricey, but it is not that bad. Great food, great wine, great service, and great live music. This restaurant caters to people in wheelchairs, vegetarians, gluten-free eaters and vegans. A California staple that needs to be added to your restaurant bucket list. 
14. 1909
The burgers are what makes this restaurant great. A simple dish such as a burger, yet not so simple. "1909", serves stellar burgers in many different flavors and heights. All messy and all delicious. And please, do not forget to compliment your burger with a "1909" cocktail. These two elements are only a small portion of what is on the menu and are only two reasons why this is one of the best restaurants in Temecula, California. 
15. Swing Inn Cafe
The best hash browns in California. Not for the faint of heart, if you are not physically and mentally prepare for your body to be transported to utopia with every bite then maybe you should stay away. If you are looking for something to take the craving away this is where you'll find heaven on earth. Be sure to stop by whenever you can, this restaurant won't be going anywhere. It will forever be trending. 
16. Garage Brewing Co
Probably one of the most affordable restaurants on this list, your food won't cost you an arm and a leg. You'll leave satisfied and with no real harm done to your wallet. This is one of the best restaurants in Temecula, California for its affordable meals and enormous pizza slices. Head on down fast and grab your slice of heaven. 
17. Crush & Brew
Flatbreads, plates of pasta, Brussels sprouts, fries, wings & cocktails is what's popping here in Temecula, California. Do not be a stranger and do not stick to traditional restaurants. Be bold and try something new, it will surely have you hooked and wanting more. Order anything on the menu and be sure to have your meal served confidently. Each item on the menu is a detailed masterpiece. 
18. Lazy Dog Restaurant & Bar
Everyone comes for the bar but stays for the food. You will not be able to resist to taste once you get a whiff of the delicious meals passing by. Drink up at the bar and then hit the dining area for an amazing meal. The signature dish is the glorious pot roast. Be satisfied with the rest of the evening and leave feeling majestic and confident. 
19. Annie's Cafe
The classic American diner. Everyone local and international's dream. An amazing trip to the past with every bite from superb 70s & the 80s themed cuisine. Eggs and crispy bacon with beautiful golden toast. Morning sausages and coffee. The perfect breakfast joint. Have a creamy milkshake and fresh glass of juice alongside your meal and be sure to return for lunch. Easily one of the best restaurants (diners) in Temecula, California. 
20. Havana Kitchen Cafe
Your very own Carribean & Latin infused cuisine to satisfy your every need. Sandwiches and pies to fill the emptiest stomachs and hungriest lions. This is the one-stop-shop with almost everything and anything on the menu. Do stop by before leaving Temecula. This is the kind of restaurant that will leave you wanting more. It is one not to miss out on. A true Temecula gem and one of the best restaurants in Temecula, California. 
Conclusion
I am 100% convinced that this list has attracted your body, mind & soul and let's not forget stomach as well. Be sure to stop by whenever you can, these restaurants are not going anywhere. However, hurry up as you do not want to be the last to join the foodie trend. If you're visiting family or coming for a family holiday at one of the stellar resorts there are plenty of restaurants to satisfy your hungry needs. Don't be a stranger and hit up the best restaurants in Temecula, California.