20 BEST Things to do in Denver [2022 UPDATED]
By

Marina Yoveva
Step into the Wild West when you visit Denver, a modern metropolis that has evolved into a vibrant, culturally diverse city. The capital of Colorado, Denver is home to a growing population and is also the doorway to Colorado's world-class ski resorts. An artful blend of old and new, highlights include outdoor fun, impressive museums, sports attractions, and delectable dining options. Whether you're traveling to Denver as a family or an individual, there's something to love for every age and interest. Fun year-round, there is so much to do in Denver. Read on to discover this list of things to do in Denver, for inspiration for your upcoming Colorado vacation!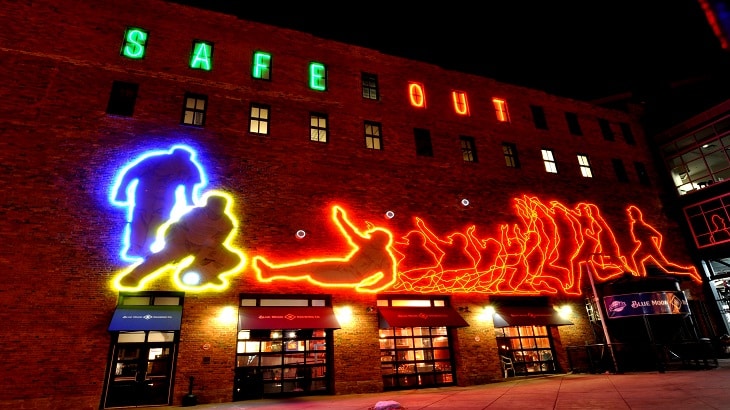 1) Denver Botanic Gardens 
This 23-acre botanic garden is a welcome respite from the hustle and bustle of the city. Located within the Chessmen neighborhood, the Denver Botanic Gardens offers a beautiful blend of gardens that include alpine, succulent, and tropical plants. The Denver Botanic Gardens is also home to a wide range of natural history collections, such as vascular plants and fungi. With something always going on at Denver Botanic Gardens, from plant blooms to fun events like summertime concerts, you'll surely adore this location.
2) Mount Evans 
One of the quintessential day trips from Denver, a trip to Mount Evans takes you on the highest paved road in North America. A drive alone is one way to see these stunning views. Of course, outdoor enthusiasts will revel in the chance to hike trails such as Summit Trail and Mount Goliath Trail. Mount Evans is one of the 14 peaks in Colorado that is over 14,000 feet in elevation, and there's a certain pride in knowing that you've scaled this massive landmass, be it by foot or by car. The road to Mount Evans is open from Memorial Day to Labor Day, due to the heavy snows the peak receives during the fall and winter months.
3) Denver Union Station
A historic landmark turned hip-culinary scene, Denver Union Station epitomizes the creativity that is currently coming out of Denver. A mix of shops, award-winning restaurants, and bars Denver Union Station is also still used as a transportation hub. Denver Union Station is also home to one of the most sought-after hotels in Denver, The Crawford Hotel, which sits above the Great Hall. The Great Hall is available for private events but also hosts local music with free, live acoustic sets every Friday and Saturday; a reason alone to visit.
4) Coors Field 
Home of the Colorado Rockies, Coors Field is a must-see for any baseball fan. Come for a summer game, or for ongoing stadium tours which can be booked online at the Coors Field website. Tours are approximately 70-80 minutes long and run Monday – Saturday at $12/adults and $9/children. Onsite is also The Sandlot Brewery, a fun place to enjoy the award-winning beer. Built in 1995, Coors Field has been a staple amongst Colorado sports enthusiasts, drawing nearly 3 million people in the non-Covid year of 2019.
5) Denver Museum of Nature & Science
Denver Museum of Nature & Science is a great destination for children young and old. Learn more about the natural history of Colorado, whose rich past includes dinosaurs, flora, fauna, and geological changes. Exhibits at the museum include Space Odessey that draws out our natural curiosity of life beyond Earth or the always-popular Egyptian Mummies. With rotating and permanent exhibits, there is always something new to learn at the Denver Museum of Nature & Science.
6) Denver Art Museum 
The Denver Art Museum is one of the largest art museums in the West, with one of the biggest collections of Native American art. Upcoming visiting exhibits include The 19th Century in European and American Art and Simphiwe Ndzube's Oracles of the Pink Universe. Permanent collections include African Art, Art of the Ancient Americas, and Western American Art. Tickets can be bought ahead of time online (due to Covid safety precautions), and run at $13/adults, children 18 and younger for free.
7) Denver Zoo
The Denver Zoo is another great family activity while in Denver. Celebrating 125 years, the Denver Zoo is home to 4,100 animals, from a variety of ecosystems. Learn about a wide range of animals from African lions to harbor seals. The zoo is open daily from 10 am to 5 pm, and tickets must be made in advance. Denver Zoo's free app makes it easy to get around the extensive zoo and can be downloaded from the website.
8) Molly Brown House
Discover the story of the Unsinkable Molly Brown who famously survived the Titanic wreck, and who also was a philanthropist and activist. Self-described as a "daughter of adventure," Molly, or Margaret Brown, was larger than life in every way. An advocate for women, children, literacy and education, and historic preservation, Molly Brown is arguably one of Colorado's most interesting historical figures. Visit the museum Thursday – Sunday, from 11 am – 4 pm or jump on a virtual tour through the website.
9) Forney Museum of Transportation
Geek out on the history of transportation at the Forney Museum of Transportation. With 600 artifacts in the museum's possession surrounding transportation, the Forney Museum's collection includes a Union Pacific 'Big Boy' Steam Locomotive #4005, Amelia Earhart's 1923 Kissel 'Gold Bug', Forney Locomotive, as well as an 1817 Draisenne Bicycle. The museum is currently in a gradual reopening plan and has limited hours of Thursday through Saturday 10 am to 4 pm and Sunday from 12 pm to 4 pm.
10) Larimer Square
Denver's most historic area, Larimer Square dates back to 1858 when it was settled by a group of Georgians coming for the Gold Rush. The city and block have stood the test of time, and Larimer Square now stands as a vibrant area for shopping, dining, and entertainment. Decorated with romantic canopy lights, Larimer Square invites you to slow down and savor the best of Denver. Head to dine at one of the many noteworthy restaurants like Tamayo, which highlights modern Mexican cuisine, then cap the night off with a drink at Cru Wine Bar. Whether you visit day or night, there is always something exciting happening in Larimer Square, where the best of the past comes alive.
11) Washington Park 
A testament to Denver's green spaces, Washington Park is 155 acres of urban park. Set on two lakes, Washington Park is a favorite with locals for getting some exercise, relaxation, and rejuvenation. Surrounded by shops and restaurants, it's easy to spend a morning or afternoon in the park, then grab a coffee or a bite to eat. Amenities at the park include playgrounds, tennis courts, a paved walking path, and plenty of open space.
12) History Colorado Center 
The History Colorado Center is the place to go to learn more about the American West. Four floors of exhibits include history, art, and current topics in Colorado. Visit displays such as Hecho en Colorado, Women Behaving Badly, and Liberated: America Fights for Democracy in World War II. The ambitious exhibits are meant to be approachable for the young and old and include books, manuscripts, photography, documents, and maps. Live performances and educational opportunities also add to the value of the History Colorado Center.
13) Kirkland Museum of Fine & Decorative Art
Kirkland Museum of Fine & Decorative Art covers more than 1,500 artists, with ever-evolving exhibits. The museum is in a brand new building, and the sparkling new grounds are a perfect complement to the rich decorative, regional, and international art found at Kirkland Museum. Welcoming visitors ages 13 and up (due to the delicate nature of the art), Kirkland Museum of Fine & Decorative Art is ADA accessible. The museum also has a museum store, which is the perfect place to pick up a unique gift.
14) Downtown Aquarium 
Downtown Aquarium is a massive complex of marine life learning, perfect for any age. The heart of the Downtown Aquarium is the 50,000-gallon aquarium, full of colorful fishes and aquatic life. Highlights of the Downtown Aquarium include the interactive Stingray Reef touch tank, Aquarium Restaurant, Dive Lounge, the Nautilus Ballroom. Though certain exhibits have been closed due to Covid (the Mystic Mermaids are currently canceled), ongoing events such as Friday Family Nights continue to be held.
15) Wings Over the Rockies Air & Space Museum
Located on the former Lowry Air Force Base, the Wings Over the Rockies Air & Space Museum is a must-do for any air and space enthusiast. A thrilling place to imagine yourself in flight, enjoy high-energy flight films, a virtual reality lounge, and the 50 aircraft on display. Learn more about the history of the Lowry Air Force Base and the rich history of Colorado's relationship to flight and aviation. Continuing to operate during Covid, Wings Over the Rockies is open daily.
16) Denver Mountain Parks
For those who've come to Denver to explore the outdoors, Denver Mountain Parks are 14,000 acres of parkland, including hiking trails and camping. Not just one park, the Denver Mountain Parks are a network of parks that are accessible outside of Denver, and that include 22 parks and 24 conservation areas. To find what park you might be looking for, simply go online to the Denver Mountain Park Site and follow the search that tailors to your individual needs. Showcasing the beauty of the Denver area, Denver Mountain Parks is a true national gem.
17) LoDo
A trendy part of the city, LoDo, or Lower Downtown is a great place to feel the buzz of the city. It's also where buildings from the original settlement of Denver can be seen, making it a wonderful blend of past and present. In the heart of Denver, check out museums such as The Museum of Contemporary Art Denver, or head to one of the many delicious restaurants in the district. Also located in LoDo is the Union Station, another worthwhile stop in the neighborhood.
18) Clyfford Still Museum
A mecca for Abstract Expressionists, Clyfford Still Museum is an incredible addition to the art community of this city. Just a two-minute walk from the Denver Art Museum, you could conceivably make an art day of it, hitting up both museums. Named after the artist, Clyfford Still, the museum's permanent museum is dedicated solely to his work. His style included outdoor scenes and people and then evolved into more abstract forms. The museum is open every day but Monday and is $10 for adults to enter.
19) International Church of Cannabis
With the Green Movement came the culture of marijuana in Colorado, and the International Church of Cannabis is such a wacky place, you simply have to see it. With guided meditation and laser light experience, you don't need to be stoned to enjoy this other-worldly phenomenon. The church is an actual church repurposed and has now been painted in brilliant colors that welcome visitors. More than just a show, the International Church of Cannabis is considered a true spiritual path by its followers who consider themselves Elevations.
20) RiNo Art District
Considered by many to be the hippest place in all of Denver, the RiNo Arts District is a thriving artist community. Just north of downtown Denver, the RiNo Art District is comprised of a wide array of artists from photographers to architects. The First Fridays of the month are RiNo's signature event, with an open art gallery walk through the district. RiNo Art District is also an awesome place to take a class in a new interest, such as circus arts or "polar bear yoga."
Conclusion
Denver preserves the spirit of the American West, while also being an elevated community of free thinkers and outdoorsmen. With activities that range from mountain hikes to art tours, there is something for everyone to enjoy in The Mile High City. Welcoming in any season, Denver is ready to welcome you to all it has to offer. With this list of things to do, you're on your way to a vacation you will never forget.