Top 20 Things to do in Fort Collins Tonight
By

Marina Yoveva
Fort Collins, Colorado, is a vibrant small-city with an active nightlife. Set in Northern Colorado, Fort Collins has a stunning background of the Rocky Mountains, including prominent peaks such as Longs Peak and Mount Evans.
Easy to get to, some 50 miles north of Colorado's capital city of Denver, Fort Collins has long been loved by outdoor enthusiasts. This easy-to-love city is also home to Colorado State University.
With a historic old town that was developed in the 1800s as a military outpost, Fort Collins is no new kid on the block. With elegant homes, a creative arts scene, and a plethora of bike trails running through Fort Collins, this is a city ready for fun.
Whether you're in Fort Collins to get some fresh air, or to dance the night away, there is something for everyone in this charming Colorado city. Read on to discover things to do in Fort Collins tonight!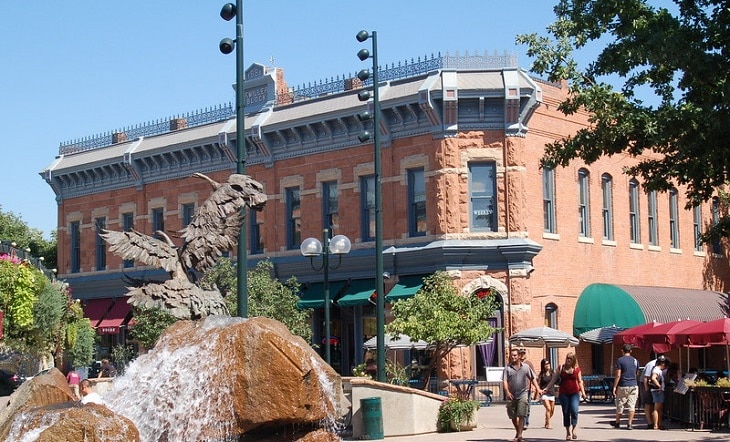 See Also: Best restaurants in Fort Collins
1) Grab a Beer at New Belgium Brewing 
Step into the dreamy land of beer-brewing, which is New Belgium Brewing. Free tours mean the price is right, which includes samples for those 21 and over.
Learn about this large-scale brewing process then maximize your time by a meal from the rotating food truck or (another) beer in the indoor bar or on the outdoor patio. 100% employee-owned, your visit to New Belgium Brewing may spark up the brewmaster in you.
Though tours are free, reservations are required. Additionally, furry friends are invited, so bring your pup along! The brewery closes at 8 pm.
2) Take a Tour at Totally 80's Pizza & Museum
The '80s and pizza are two of the best things to get mashed up, so a visit to Totally 80's Pizza & Museum is a no-fail. With delicious pizza set in a world of '80s memorabilia, you'll take a step back into an era that cannot be replaced.
While eating, make sure to scan the room. '80s celebs have been known to frequent the joint and have included icons such as Corey Feldman (Goonies, Stand By Me) and John Paragon (Jambi the Genie on Pee Wee's Playhouse).
Check out vintage arcade games, cereal boxes, and all-around awe-inspiring pop memorabilia.
3) See Live Music at Paddler's Pub
Connected to Mountain Whitewater Descents, a paddling company that you can try whitewater rafting through, Paddler's Pub is about as Colorado as you can get. Soak up views of the foothill mountains as you listen to free music every Friday, Saturday, and Sunday.
With local brews on tap and a visiting food truck, this outdoor bar is so much fun.
Head to the sandpit for outdoor volleyball, or let the littles run free on the onsite playground. Paddler's Pub is laid-back and friendly for visitors of all ages.
4) Night Stroll at Spring Canyon Community Park
If you adore the simplicity of night walk in the fresh air, Spring Canyon Community Park is the perfect place to be. A skate park, dog park, playground, tennis courts, and picnic facilities all offer the chance to spend a healthy evening outdoors.
Well-maintained walking, biking, rollerblading, and even horse trails run throughout the community park. Safe and well-used, Spring Canyon Community Park should be on your list any time of the day.
5) Get Cultured at The Lincoln Center
Colorado's largest center for live performance that includes dance, theater, and concerts, The Lincoln Center is a classy way to spend an evening.
With two theaters, The Lincoln Center offers the best that the world of entertainment has to offer from comedy to classically trained trios. A full listing of the upcoming events can be found on The Lincoln Center's website, as well as ticket sales.
Additionally, an onsite art gallery is always free when open (currently closed due to COVID).
6) Jump Into Fun at Fly High Trampoline Park
If you've got the energy to burn, head to Fly High Trampoline Park, which boasts 23,000 square feet of fun! Trampolines, dodgeball, foam pits, and trampoline basketball all melt the hours away with high-energy excitement.
Great for kids and kids at heart, Fly High Trampoline Park will get you feeling young again. The trampoline park closes at 8 pm, and rates are per hour.
7) Sip a Spirit at Elevation 5003 Distillery 
In a land where breweries reign king, it's fun to mix it up and head to a distillery instead. Elevation 5003 Distillery is set in an unassuming strip mall but serves out-of-this-world cocktails that will send you into an absolute euphoria.
Try the lavender sour, a beloved drink by customers, which can be sampled in the tasting room. If Covid's still got you feeling like a homebody, curbside bottles and mixed drinks can be ordered.
8) Soak Up Art at the Center for Fine Art Photography
You'll have to visit this Fort Collins gem before you hit the town, as the Center for Fine Art Photography closes at 6 pm. However, this small yet impressive collection of color and black and white photography is worth a stroll through.
The center is always free and hosts rotating collections with occasional evening talks. For the art lovers of Fort Collins, but the Center for Fine Art Photography on your map.
9) Skate at Rollerland Skate Center
Old school fun, skating at Rollerland Skate Center is pure magic. With current discounts on skates, Rollerland Skate Center is affordable entertainment for the whole family.
Skate through the laser maze which takes skating to a whole new level, or rock out to the always-DJ'd floor. Adult skate is 8-10 pm on Wednesdays for those 18 and older.
10) Get Your Jam on at Magic Rat
One of the best places to see live music in Fort Collins, be it a small weekday jam or a big headliner, is at Magic Rat. A cool-vibe, Magic Rat, frequently offers free shows to keep your pocketbook happy. Located on the ground floor of the Elizabeth Hotel, Magic Rat is the perfect setting for unwinding with a cold one. Be sure to call ahead before visiting; though Magic Rat has concerts listed for August on the website, those are subject to change due to COVID.
11) Play Pool at Match Up's Pool Hall 
If billiards is your game, you must visit Match Up's, Pool Hall. With more than just pool, Match Up's also has darts, poker, TVs, and free wifi. Play a few games, then enjoy a casual dinner and drinks. A friendly staff makes Match Up's a place to return to. Tournaments are every weekend and include an $8 entry to play.
12) Snap Some Pictures at the Annual Flower Trial Garden 
Set on the campus of Colorado State University, the Annual Flower Trial Garden is an outdoor display area that is created by the staff, students, and researchers of the institution. The garden is free and open to the public and runs from May to October. The first trial that took place here was to see if peonies could overwinter. Now the garden has an annual contest of the trials to see how developers can improve garden-related projects such as annuals, perennials, and cool seasons plants. Beyond the competition, it's a beautiful place to spend time.
13) Plan Date Night at The Gardens on Spring Creek 
Spring Creek is a gorgeous expanse of 12 acres of land, showcasing botanic gardens and a butterfly house. Though usually visits are limited to the daytime, Spring Creek is currently offering a "Date Night at the Gardens," a lovely Friday-night series. Designed to be socially-distanced, date night at Spring Creek includes live music, an upscaled box dinner, beer and wine, and time to explore the gardens. How much more romantic can you get?
14) Have a Picnic at City Park
Set on City Park Lake, City Park is a great place to spend an evening with loved ones. Pack a picnic, and enjoy the many places to put out your blanket. The park includes lighted tennis courts, a playground, a horseshoe pit, and the opportunity to rent paddle boats (through the park system). Additionally, there is an arboretum to check out while in City Park. With easy parking and well-kept grounds, City Park is a free and healthy way to spend your evening.
15) Listen to the Fort Collins Symphony Orchestra
The Fort Collins Symphony Orchestra has been making beautiful sounds for 68 years! Excellent addition to the Fort Collins arts community, the symphony plays at The Lincoln Center with their season running from October through May. Concerts for the 2020-2021 season will be listed shortly on the website. The symphony also hosts occasional free open rehearsals as part of their education minded-mission.
16) Join the First Friday Art Walk 
A great way to learn more about the art scene in Fort Collins while getting fresh air, join in the First Friday Art Walk. A self-guided tour, which is always free, join in on making the rounds of beautiful downtown Fort Collins. Check the downtown Fort Collins website to learn about which businesses are participating. The walk runs from 6-9 pm, and all participants are encouraged to wear a mask and social distance.
17) Play Putt-Putt at Old Town Putt
A carefree way to spend an evening in Fort Collins, get ready to tee off at Old Town Putt. An indoor mini-golf course, Old Town Putt, also serves up drinks to make each round a little more fun. Old Town Putt also offers ping pong, beer pong, skee ball, shuffleboard, and an arcade game. Weekly drink specials include a daily happy hour from 4-6 pm.
18) Take a Beer and Bike Tour
Bike and beer are two trademarks of Fort Collins. Beer and Bike Tours combines these Fort Collins passions. Though the company offers multi-day trips, it is possible to schedule a day or afternoon tour. The Brew Cruise, which stops at three breweries and includes bike rental and a growler, is the company's most popular tour. If you get hooked, they also offer adventures to exotic locales such as Belgium and Japan!
19) Rock Out at Mishawaka 
Just outside Fort Collins, this outdoor amphitheater nestled in the Poudre Canyon is worth the view alone. Mishawaka is set on the riverfront and hosts several different musical acts. Enjoy a burger at the restaurant, or come for one of Mishawaka's Sunday Summer Series concerts. Additional fun draws are outdoor movies throughout the summer. Fall in love with the incredible scenery and lifestyle that Mishawaka capitalizes on.
20) Tank Up at the Foco Food Truck Rally
Food trucks are a culinary trend that hopefully doesn't stop anytime soon. An easy way to sample multiple local bites, head to the Foco Food Truck Rally at North Sheldon Drive. Monday-Thursday from 4-8 pm, four food trucks per week rally to bring you delicious bites. The rally runs from June to September and has a rotating schedule of food trucks.
Conclusion
Fort Collins delights with a wide variety of activities to pique any visitor's interest. From local brews to exciting ways to enjoy the night air, Fort Collins is a city that knows how to enjoy itself. With this roundup of activities in the Fort Collins area, step out to find your variety of fun tonight! There are so many things to do in Fort Collins tonight!