Colorado is simply stunning. With the Rocky Mountains taking center stage, this progressive Western state is beautiful year-round. Sure, it helps if you love the outdoors. However, Colorado offers a little something for everyone, from historic sights to hiking trails, arts, and entertainment to white water rafting.
Exciting in every season, Colorado beckons for you to come out and play. With activities for individuals, couples, or families, this round-up of things to do in Colorado will have you ready to pack your bags and go today. Read on to discover all there is to do in Colorado and get ready to escape into Colorful Colorado.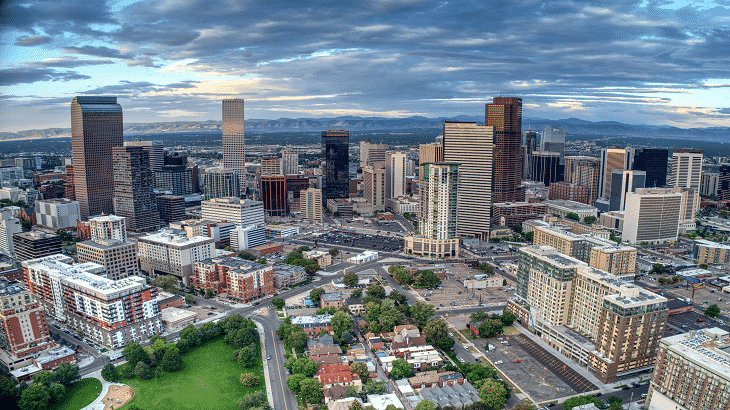 1) Colorado National Monument
Just outside Grand Junction, Colorado, the Colorado National Monument is a natural wonder to behold. Known for some of the West's most iconic landscapes, Colorado National Monument is defined by monoliths and canyon panorama.
Perhaps most famous at Colorado National Monument is the 600-ton boulder perched on a rock pedestal named Balance Rock. With over 23,000 acres of land to explore, you may be lucky enough to catch glimpses of Big Horn Sheep and an eagle or two.
2) Old Colorado City Historic District
If you're in Colorado Springs, head to the Old Colorado City Historic District, a great place to get a feel for historic Colorado while experiencing boutique stores, coffee shops, and delectable eateries. If you're looking for a souvenir or two, this is the place to do it, although be warned; shops close around 5 pm. Evenings are full of live entertainment, and local pubs offer the chance to sip homegrown brews.
3) Garden of the Gods Visitor and Nature Center
Located at the base of Pikes Peak, the Garden of the Gods has a stellar name that matches its appearance. 300-feet sandstone towers are set against the snowy background of Pikes Peak, making for a glorious ambiance. The informative Visitor and Nature Center is worth heading to if you want to geek out on geology.
Beloved with rock climbers, hikers, and adventurers, no matter your fitness level, there is something to enjoy at the Garden of the Gods. Check out the restaurant in the Visitor's Center, Bean Sprouts Cafe, a healthy cafe that caters to those with food allergies.
4) Colorado State Capitol
Dever is Colorado's capitol, and a visit to their only LEED-certified capitol in the United States is a nice way to orient oneself.  The gold-bell shaped dome is a staple in the Denver skyline and one of the most beautiful features of this building. Though the capitol is temporarily closed due to the pandemic, it is still worth walking the grounds and circumnavigating the building to take in the beauty of its architecture.
5) History Colorado Center
Also, within Denver, head to the History Colorado Center to learn more about Colorado's past. With a collection of Colorado's most historic treasures and ongoing programming for adults and children, History Colorado Center is an educational yet enjoyable stop. Also, reflecting Colorado's current changes, explore exhibits such as Hecho en Colorado, Women Behaving Badly, and What's Your Story? An affordable $14 for adults and $8 for children, bring the whole family to History Colorado Center.
6) Red Rocks Park and Amphitheater
An open-air theater built into the side of breath-taking red rocks comes for a concert or simply checking out the park. Concerts have been affected due to Coronavirus; however, concerts are planned to resume in April of 2021.
The park itself is a wonderful place to hike or bike with trails that are approachable for the modestly fit to the very fit. In addition to concerts, the amphitheater also hosts yoga events and movie screenings.
7) Ouray Hot Springs Pool
Ouray Hot Springs Pool is just one of many natural hot springs available in Colorado. Though Ouray Hot Springs Pool tends to be on the more commercial side of natural hot springs, it offers a beautiful destination and clean, relaxing geothermal pools. The pools range in temperature from 75 degrees F to 104 degrees F, and entry is a modest $18 for adults and $12 for youth. Formally founded in 1920, people have been swimming in the Ouray Hot Springs since the native Ute people.
8) Ski Steamboat Springs
Like hot springs, Colorado has no shortage of world-class ski resorts. Steamboat Springs is just one of the many incredible mountains to ski on while in Colorado. Come ski on slopes where Olympic athletes have practiced their right turns and enjoy champagne-like snow all winter long.
If you've got your own skis, great, otherwise rent some from the chalet and grab a lesson while you're at it. Be warned; downhill skiing is not easy on the pocketbook. A single-day ticket for an adult is around $200.
9) Georgetown Loop Railroad
Taking a ride on a historic Colorado train is a wonderful way to step back into time and slow down for a minute. Though there are numerous historic railways to climb aboard, the Georgetown Loop Railroad is 45 minutes from Denver, making it easily accessible. Enjoy the narrow gauge train ride, then take a tour of a silver mine, or complete your trip learning how to pan for gold. With a daily train schedule, it's easy to book your trip online.
10) Fly High in an Air Balloon
Taking in the scenes from high above certainly takes some bravery; however, a hot air balloon ride is a romantic way to ride. With balloon ride companies available throughout the state, you only need to look locally to the closest provider near you. However, we've listed the Grand Adventure Balloon, which flies just outside of Fraser, CO. Their balloon rides are year-round and offer glorious views of the Rocky Mountains. Expect to pay around $300 per adult.
11) Rocky Mountain Outdoor Center
Whitewater rafting is nearly synonymous with Colorado, and finding a company to tour through leads one to plentiful options. We've included a link to Colorado's state tourism website, which has a list of all state-certified rafting companies. There are a plethora of options, and you can search for what's nearest to your location. Know that the intensity of the experience varies on the time of the year, correlating to the rainfall and water flow.
12) Royal Gorge Bridge & Park
If you've got any fear of heights, Royal Gorge Bridge & Park will test them, with America's highest suspension bridge. Built-in 1929, the Royal Gorge Bridge suspends 956 feet above the Arkansas River.
If you're feeling extra-adventuresome, take a ride on the World's Scariest Rollercoaster, try your hand at the zipline, or jump on the gondola to get some perspective. Reservations are currently required, but the park is open daily from 10 am – 4 pm.
13) New Belgium Brewery
Colorado is super into their beer, and the famous New Belgium Brewery, most affectionately known for their Fat Tire amber ale, knows how to have fun. Take a brewery tour (which is temporarily suspended due to Covid) and learn more about this craft beer giant.
Then be sure to stop at the taproom to try more than just a sample of their delicious brews. Because it is winter in Colorado, the taproom is limited to grab-and-go, yet, in the summer months, there is an excellent outdoor patio where you can even bring your furry friend, Fido.
14) Ute Indian Museum
Get fascinated with the history of the Ute Indian people on the Western Slope at the Ute Indian Museum located in Montrose. Part of the History of Colorado, prepare to be amazed by the tenacity of the Ute tribe as you learn more about the Ute people's adaptation throughout the years. You can also learn more about the Ute's Bear Dance, a spring social dance celebrating the end of winter, which can be traced back to the 15th century.
15) Stay at a Dude Ranch
If the Wild West doesn't conjure up some form of cowboys and mountain silhouettes, then I don't know what story of the American West you've learned. What better way to fulfill that image than by staying at a real live dude ranch? Colorado has an extensive list of dude ranches that range from rustic to luxury, all with the chance to be close to nature.
Check out Lost Valley Ranch in Sedalia, Colorado, which has won the AAA Four Diamond award for 43 consecutive years. An all-inclusive dude ranch, get ready to horseback ride, go fly fishing, check out a rodeo, or try your chance at square dancing.
16) Celestial Seasonings Tea Company
If you're headed to Boulder, be sure to make a stop at Celestial Seasonings Tea Company. The makers of such beloved teas as Sleeptime Tea, Vitamin C Shine, and Sugar Plum Spice, Celestial Seasonings, are classic American tea companies. Unfortunately, the free factory tours are temporarily suspended due to Covid restrictions.
However, during normal operating times, the best way to enjoy Celestial Seasonings is by a tour followed by a bite to eat at Celestial Cafe as well as a stop at the Tea Shop to pick up a mug or your favorite steep.
17) Denver Botanic Gardens
Touring this 24-acre expanse of flora is a tranquil way to spend a morning or afternoon. From a tropical rainforest to drought-tolerant xeric plants, come to Denver Botanic Gardens to learn and grow. Kids will adore the special play garden just for them, and rotating art exhibits always add a special something to this already unique gem in Denver's urban setting.
18) Drive a Scenic Byway
Colorado has breath-taking views in almost every direction you turn, and taking time to hit the road less traveled is a rewarding way to see Colorado's scenery. There are nearly 25 scenic byway routes in Colorado, covering the range of territory Colorado provides. Check out popular routes such as Top of the Rockies, which tours Pikes Peak and high points in the Rockies.
Or check out the flatter side of things with the South Platte River Trail, which stretches into pioneering plains. A complete list of scenic byways can be found by clicking on the link to Colorado's state tourism site, listed below.
19) Mesa Verde National Park
Set in Southwest Colorado, the Mesa Verde National Park's highlight is the Ancestral Puebloan cliff dwelling. Get chills imagining what the ancient Pueblo people's lives may have been like as you explore some of the 5,000 archeological sites and 600 cave dwellings. The Ancestral Pueblo people are thought to have lived in the area some 700 years ago, and the sites in the park are some of the best-preserved in the country.
20) Visit a Ghost Town
Colorado's mining boom was a formative stage in the state's development during the 1880s. Though many towns, such as now-Breckenridge, have been able to evolve into modern places, a fair share of these mining towns were deserted.
There's nothing like walking down a street whose buildings of brothels, pubs, and the general store stand, only to be without any customers. Tour some of these historic and a bit creepy spots such as St. Elmo. One of the best-preserved ghost towns in Colorado, St. Elmo is just west of Buena Vista.
Conclusion
Colorado has incredible views, historic sites, adventures around every corner, and rich culture. With so much to do in Colorado, it may simply be impossible to fit everything in one time around. With this list of things to do in Colorado, you'll be on your way to one of the most memorable vacations ever.