20 BEST Restaurants in New Haven, CT [2022 UPDATED]
By

Marina Yoveva
Have you ever wondered what the best restaurants in New Haven are? Well, we've made it easier for you. The coastal city is populated by a number of famous pizzerias, restaurants, and bars that offer natives and guests several toothsome offerings. Owning the title as the pizza city, New Haven is surely a stop for pizza lovers. With so many to choose from, one will fall in love with the thrilling flavor profiles of the extended urban area on Long Island Sound. Italian, Spanish and American, are only some of the cuisines that the city explores. 
And irrespective of your diet preferences, you will certainly have a euphoric food adventure, especially in the heart of the admired metropolis. So, if you plan to make a trip to New Haven or host a special occasion, be sure to try a few if not all of its best restaurants. Many are award-winning eating houses.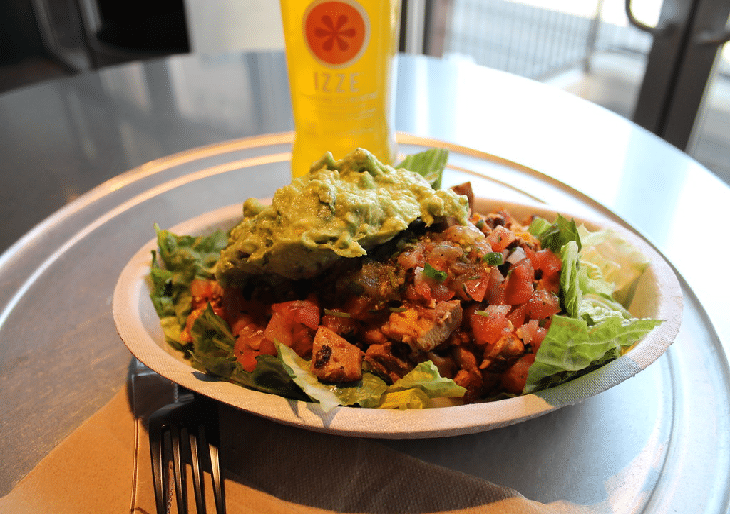 1. Modern Apizza
It's the pizza sanctum of New Haven. Italian, vegan, vegetarian, or gluten-free, the famous pizzeria cooks up spectacular dishes creating gastronomic affairs for lunch, dinner, or late-night snacks. The certificate of excellence 2015-2019 winner offers its savory options in small, medium, and large sizes. Whether you choose to go traditional or indulge in its extraordinary specialties, appetizers, calzones, and grinders you will not be disappointed.
2. Olea
Open Mondays to Saturdays, Olea delivers authentic and excellent dishes of Spanish and Mediterranean origins. It's anchored in downtown New Haven. There you'll find Chef Manuel Romero and his talented team whipping up plates with tasty profiles. Olea, an award-winning eatery is not only known for its delectable food but also its fine wine and unforgettable cocktail selections.
3. Zinc
Whether it's lunch, dinner, dessert, or cocktail that you are craving, Zinc: a hub for modern American food, is a superb choice. In a comfortable environment, you'll be served fantastic foods that are fitting for kings and queens. This eating station is also famous for producing palate-pleasing sensations with its fascinating rendition of Asian cuisine.
4. Union League Cafe
Unique League Cafe tantalizes taste buds with an array of French-inspired dishes. It's the go-to place for seafood lovers and is excellent for vegans, vegetarians, and those who prefer the lighter side of gluten. This fascinating locale provides guests with a unique private dining experience. An award-winning brasserie too, it's wine, professional staff, and service to top off the experience.
5. Frank Pepe Pizzeria Napoletana
Pizza, please! Mouths water for the delicious Italian pizzas of this bustling eatery. The 95-year-old establishment invites customers to dine in, but takeout is also an option. Digging into each selection heightens the experience. Plus with a varied menu, you'll have a hard selecting just one option. So, try as much as possible. The authentic flavors of the dishes will pop out at you.
6. Atticus Bookstore and Cafe
Breakfast is the most important meal of the day, so why don't you sit down at the Atticus Bookstore and Cafe for yours? Known for its classic American cuisine, this eating house also whips up culinary wonders such as soups. Relaxing, eating, sipping wine and shopping should be your focus when you get here.  For more than 40 years, the cafe has been serving foodies with scrumptious yet healthy brunch lunch, and dinner offerings.
7. Barcelona Wine Bar
This is more than a typical restaurant. Inspired by the vibrant Spanish culture, Barcelona Wine Bar and Restaurant, offers European, Mediterranean, and Spanish cuisines. Adventurous food lovers can dig into the constantly changing international delicacies at the warm and welcoming bistro. Its award-winning wine selection also makes it a prime location to have a feast. 
8. Claire's Corner Copia
It's a place to indulge in great culinary artistry. And it's where you'll experience the tasty side of healthy. Perhaps you are vegetarian, vegan or just an adventurous eater, whichever it may be, you'll never go wrong at Claire's Corner  Copia. You can choose from a wide selection of organic, sustainable, kosher, vegan, and gluten-free dishes that are bound to satisfy your gustatory cells.
9. Prime 16
Gourmet burgers and classic beers are the talks of the town at this hybrid restaurant and pub. Catering to a special diet, those who prefer gluten-free, Prime 16 only uses All-Natural beef that meets the highest stands. The filling and nutritious burgers are perfected with in-house condiments. So journey to the 11-year-old establishment to have your chance of devouring delicious burgers in a pizza-dominated city.
10. Shell & Bones Oyster Bar and Grill
Awarding-Winning waterfront seafood, steakhouse, and raw bar, Shell & Bones Oyster Bar and Grill, is one of the most suitable spaces for dining. With a team of skillful chefs, led by Chef Franco, its exciting offerings along with exceptional customer service creates an indelible experience whether you choose to dine indoors or outdoors. And its menu just keeps getting better.
11. Bar-Pizza, Beer, and Nightclub
Amid the hustle and bustle, it's only right to have a pizzeria to keep you going. It's another pizzeria that rolls out one-of-a-kind brick oven-baked pizzas. And to wash it down, a mug of freshly brewed beer is available too. If you're not a fan of pizza, delectable seafood and Italian options await your palate.
12. Brazi's Italian Restaurant
Earning its place as one of the best restaurants in New Haven, Brazi's Italian Restaurant serves plates of toothsome pizzas. The Italian bistro whips up several kinds of pasta, steak, and traditional favorites such as eggplant parmesan, antipasto, and bruschetta al Pomodoro for you to choose from. It's not just for dining. Brazi also caters to special occasions including wedding receptions.
13. Adrianna's Restaurant
Bon Appetit, this Italian-inspired vegetarian-friendly restaurant has struck gold in New Haven by winning the hearts of many. With a stock of crisp, red, sparkling wines, a dynamic menu, and a classy and cozy atmosphere, an evening of enchantment is guaranteed. You may dine privately, but if you are on the go, it's only fair to your taste buds that you opt for take-outs.
14. Consiglio's Restaurant
Here's another top-notch restaurant in the coastal city. Owned by the Consiglio family, the 78-year-old eatery continues to please guests with authentic delicious Italian homemade like meals. The Consiglio's Restaurant is considered a "neighborhood gem" by some. Still, mystery night is what tops off the experience for many. Who knows what your dinner will be that night?
15. Heirloom
Heirloom's exceptional customer service and seasonal menu items make it one of the best restaurants in New Haven.  It considers cuisine as coastal and just fitting for contemporary American diets. Anchored within The Study at Yale hotel on Chapel Street in the center of the Yale University Arts Campus, the restaurant is focused on the changing New England traditions.  
16. Goodfellas Restaurant
Just 14 years old, Goodfellas Restaurant has already become a New Haven favorite. It's well known for its vibrant menus of authentic Italian dishes. However, its entertainment package is a plus. Goodfellas Restaurant is the place for stars and all food lovers. Vegetarians and vegans too can enjoy its pleasures, especially with a glass of its best wine.
17. Da Legna
Home to one of New Haven's finest tasting pizzas, Da Legna is also known for its decadent desserts. The eating house was introduced to the community in 2012. Now it is among the creme de la creme of the city's culinary scene. Fuelled by wood in the traditional brick oven each pizza is baked to perfection simply for your palate.
18. The Spot, Frank Pepe Pizzeria
Established in 1925, this restaurant has copped its title as one of the best restaurants in New Haven. Like many other eateries in the coastal city, this renowned food and entertainment hub is deeply rooted in Italian cuisine. Its impressive menu options are tailored with great details to allow vegetarians to share in the taste festivities.
19. Basta
Basta is an epic trattoria that puts delicious twists on traditional recipes. Italian at its best, the small and intimate restaurant whips up unmatched home-style cooked meals that keep its guests returning for more. Spicy, sweet, piquant, or savory, whatever you desire the highly acclaimed restaurant meets all expectations with finesse. It's always ready to serve you lunch and or dinner.
20. John Davenport's
Last on the list, John Davenport's has a suitable atmosphere for dining. Pizza city, it's one of the few American-inspired restaurants. Nonetheless, it satisfies gustatory cells, taking them on a joyride with superb tasting foods as its vehicle. New England Seafood Chowder, House Smoked Salmon, Connecticut Farm Cheese Selections, and Local Farm Inspired Deviled Eggs, are just some of the influential restaurant's offerings. 
Conclusion
Now that you know of the best restaurants in New Haven, it's time to head on down for some unique experiences. Make the necessary reservations or have take-outs at your preferred spots. Remember it's always acceptable to have more than one round of your favorite option. If you love it, enjoy it as much as you can. Pizza is a good choice. However, trying something new is a plus. Your taste buds will thank you. Life is too short to lose out on great-tasting food.