Warning
: DOMElement::setAttribute(): ID wpgmza_tolls_225 already defined in
/home/sweetspi/exploreist.com/wp-content/plugins/wp-google-maps-pro/includes/class.directions-box.php
on line
126
Traveling to Washington is a true joy, especially when site seeing with the kiddos, but let's face it, when you're in the hotel, your kids are bound to get bored, that's why we made this list of the best hotels for kids in Washington DC. Finding a hotel with all the amenities kids adore: a pool, kids' channels on T.V., and breakfast, are small but important factors to make your journey easier.
Traveling to Washington, D.C., is a perfect choice for a family. The city is full of educational and cultural learning around every turn, in every season. From learning about the U.S. government to soaking up the restaurants and activities D.C. is famous for, you'll have a ball.
Ensure that your trip is smooth sailing by finding a kid-friendly hotel to rest each evening. To make life easier, we've rounded up twenty of the best hotels for kids in Washington DC. Read on to find the very best kid-friendly hotel for you and your littles, and get ready to book your Washington, D.C. getaway!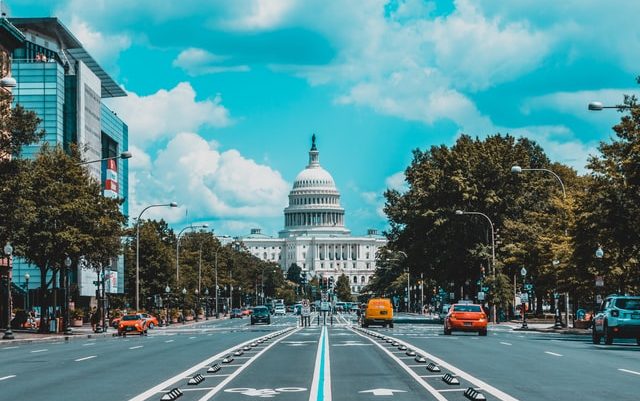 See also: Things to do in DC at night
1) The Henley Park Hotel
There's a storybook quality to The Henley Park Hotel that children and adults alike will love. Located in the business district of D.C., The Henley Park Hotel charms with historic elegance. Easily walkable to many kid-related interests, such as the International Spy Museum and The White House (a twenty-minute walk, be forewarned), The Henley Park Hotel is a wonderful choice for families. Enjoy rooms with free cribs/infant beds, and relax with speedy wifi in each room.
2) Dupont Circle Embassy Inn by FOUND
Little things make the difference at Dupont Circle Embassy Inn by FOUND. This smoke-free property is in the convenient Dupont Circle neighborhood, full of fun and exciting shops and restaurants. The Smithsonian National Zoo is always a hit with kiddos; it's a mere eleven-minute drive. Rooms options such as a studio with multiple beds or two queen beds give space to families. Enjoy the onsite library and express check-in and check-out.
3) The Capital Hilton
The Capital Hilton is a mere two blocks from the White House, which is perfect if you've got school-age kids learning about the capital. Spacious rooms with balconies, an onsite grocery store, and the option for additional cots or cribs, are all reasons that families head to The Capital Hilton. Also, just two blocks from multiple Metro stations, D.C. is easy to navigate from The Capital Hilton.
4) The Embassy Row Hotel
If you're looking for a hotel with a unique character, The Embassy Row Hotel is it. Set in the Dupont Circle neighborhood, this boutique hotel reaches all of D.C.'s iconic landmarks. Families love the free cribs available for young children, a hot continental breakfast (for an additional cost), and the view from the rooftop patio. Pet-friendly and with an onsite restaurant and coffee bar, The Embassy Row Hotel makes life easy.
5) Grand Hyatt Washington
The Grand Hyatt Washington is a stately hotel with an excellent walkability score. Check out the sights on foot, or hop on the metro, conveniently connected to the Grand Hyatt Hotel. Extra services such as extra beds/cribs, an available breakfast, and a 24/7 fitness center are essential for families. Modern rooms and friendly, multilingual staff are signs of a well-run establishment.
6) Hyatt Regency Bethesda
Highly rated by past guests, the Hyatt Regency Bethesda is clean and spacious, although not directly downtown D.C. If you're okay with being a bit outside of the heart of the action, Hyatt Regency Bethesda is worth the commute (about twenty minutes). Enjoy large rooms that have been recently renovated, self-parking ($24/night), and a to-go breakfast. Set atop the Bethesda Metro Station, you can quickly zip into the city from the Hyatt Regency Bethesda.
7) The Darcy Hotel
The Darcy Hotel offers beautiful hotel rooms and suites that any family will love. Located in the Embassy Row neighborhood, walk to major attractions as well as delicious local restaurants. Families will enjoy the two onsite restaurants, Netflix, and the contactless check-out. Free cribs and a minifridge all add to the convenience of The Darcy Hotel.
8) Hyatt Regency Crystal City
Hyatt Regency Crystal City is not located within D.C. but at nearby Arlington, VA. For some families, this could be a plus, as the Hyatt Regency is at the Reagan National Airport, making flights in and out a little bit easier. A free airport shuttle puts parents at ease, and each room comes with its sitting area for extra space. Babysitting is available for an extra surcharge, giving parents the option for a date night.
9) The Westin Washington, D.C. City Center
Back in the heart of Washington, D.C., The Westin is a high-class hotel with all the essential amenities. Bring the whole family as The Westin is pet-friendly. Enjoy the perks of a fitness center, a cooked-to-order breakfast ($25/person), and an onsite restaurant. Helpful staff can arrange tours or provide ticket assistance for D.C. attractions.
10) The Normandy Hotel
The Normandy Hotel is a boutique Dupont Circle hotel, with a distinguished touch. Be close to the White House and National Monument, and quickly hop on the metro with a nearby station. A quiet, yet convenient location, The Normandy Hotel is perfect for making sure everyone gets their shut-eye. A beautiful outdoor terrace is a lovely place to explore, and families can take advantage of the hot breakfast to get an easy start to the day.
11) Churchill Hotel Near Embassy Row
This stylish hotel makes you feel like you've leveled up in class. In the heart of D.C. Churchill Hotel Near Embassy Row is in the Dupont Circle neighborhood, and close to a Metro station. Small but notable touches take hospitality a step up with amenities such as an in-room robe, complimentary umbrella to use, and fruit-infused water in the lobby. Families who need an extra bed will find it at Churchill Hotel, although there is a surcharge.
12) Courtyard by Marriott Washington
If Mom or Dad is in D.C. for a convention, Courtyard by Marriott Washington Downtown is the perfect place to be. Ample space in every room adds comfort to family living, and extra beds/cots can be arranged. An onsite restaurant,  available breakfast, laundry services, and self-park ($25/day) are additional amenities and perks for families. Take a stroll around the neighborhood for a glimpse of the local culture, or get a view at the rooftop patio.
13) The Bethesdan Hotel, Tapestry Collection by Hilton
Another suburban Bethesda choice, The Bethesdan Hotel, Tapestry Collection by Hilton, offers relaxation in an abode. Close to the interstate, hop on to get into the city, or explore the local life of Bethesda. Bethesda is just minutes from the National Institutes of Health and Walter Reed National Military Medical Center if you're in the D.C. area for medical reasons. The hotel itself offers clean, spacious rooms with perks such as memory foam beds, a fitness center, and a coffeeshop on-premise.
14) Hampton Inn Washington DC NoMa Union Station
Hampton Inn Washington Dc NoMa Union Station is in the Brentwood neighborhood, an area known for its excellent shopping. Close to the Museum of Natural History and Capital One Arena, there are a plethora of fun activities at your fingertips. Free breakfast is provided, although the much-loved pool is currently closed. You also have the chance to take the free shuttle to Union Station to connect to other D.C. spots.
15) American Inn of Bethesda
American Inn of Bethesda is far enough away from the noise of the city, yet still within reach. Only four miles from downtown D.C., American Inn of Bethesda welcomes visitors with high-speed internet, a complimentary breakfast, and an onsite restaurant. Parking is included, making this location even easier for families. A seasonal outdoor pool is a major draw for young children if you can catch the last of the summer in the D.C. area.
16) Hotel Pentagon
In neighboring Arlington, VA, Hotel Pentagon is close to major attractions such as the Pentagon, Air Force Memorial, Arlington National Cemetery, and the Iwo Jima Memorial. Get to D.C. within a few miles, as well as the Reagan Washington National Airport. Families will appreciate complimentary breakfast, free parking, and free wifi. Unfortunately, the seasonal pool and fitness center are currently closed.
17) Yours Truly DC
A memorable name signifies the extra mile that Yours Truly DC goes. This downtown hotel is "programmed like a house" so that everyone feels right at home. What does that mean exactly? First, the hotel is pet-friendly, so if the kids can't live without Fido, bring him along! Yours Truly also prides itself on services such as delicious, locally prepared breakfast, free cribs and infant beds, and an onsite gift shop with a newsstand. Let the kids loose in the outdoor space or kick up your heels in the complimentary bathrobe and slippers.
18) Riggs Washington DC
A converted historic bank, Riggs Washington, DC, is a memorable stay. Set in the Chinatown neighborhood, Riggs Washington DC is close to all D.C.'s actions. Rooms are soundproof, and all come with Tempurpedic beds, ensuring a good night's sleep. On Conde Nast Traveler's hot list in 2020, Riggs is sleek and modern, yet approachable.
19) Sofitel Washington DC Lafayette Square
If you want to be transported to France in D.C., chose Sofitel Washington DC, whose decor and ambiance reflect French culture. Elegant and refined, Sofitel Washington D.C. is also incredibly convenient in the downtown area, close to major D.C. attractions. Families take note of soundproof rooms, cribs and cots, and an onsite babysitting service for an additional cost. They also provide a to-go breakfast as well as organized activities all through the hotel.
20) The LINE Hotel DC
The LINE Hotel DC is a truly unique experience set in the center of the city. Located within a former 110-year-old church, The LINE Hotel DC is a brainchild of local innovators that include chefs, artists, and bartenders. Enjoy the James Beard-nominated restaurant, or check out LINE's art program, including an onsite gallery. For families, enjoy a cooked-to-order breakfast (at an additional cost) and the freedom to bring your dog along to this pet-friendly location.
Conclusion
Whether your family wants to be at the center of all that D.C. has to provide, or prefer to be in quieter suburbs, these family-friendly hotels cannot be beaten. Each with a unique character, relax with the peace of mind that these hotels go the extra mile for families. From soundproof rooms to effortless mornings with onsite breakfast, this roundup of the best hotels for kids in Washington DC has concluded. Hopefully, you were able to be pointed in the right direction.