Top 10 Hotels Near Nationals Park Stadium Washington DC
By

Marina Yoveva
There are many reasons to head to the capital of America's country, Washington DC, one of them being baseball. If you are a die-hard fan flocking to Washington for a game at Nationals Park Stadium, you need a hotel that is close and convenient to the action. Home to the Washington Nationals, Nationals Park Stadium is an impressive venue servicing the Major League Baseball (MLB).
Set in the Navy Yard, Nationals Stadium is the first LEED-certified baseball stadium in the U.S., making it a progressive and updated stadium to visit. Overlook views of the Anacostia River as well as the Washington Monument and Capitol Building from the stadium, giving it a uniquely DC vibe. Whatever team you're rooting for while in DC, here's a list of hotels near Nationals Park Stadium Washington DC to make your trip to D.C. seamless and fun!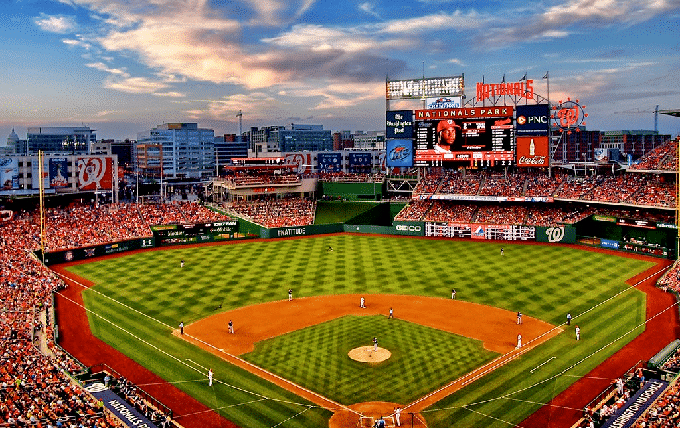 1) Liaison Washington Capitol Hill
Liaison Washington Capitol Hill is a mere 1.6 miles away from Nationals Park. Close enough to Uber to, Liaison Washington Capitol Hill is beloved for a variety of reasons including an onsite restaurant and rooftop pool and lounge, walkability to DC's major landmarks, a fitness room, as well as a modern aesthetic. Great for those who love to travel by foot, walk out the door to the Capitol Building or National Mall. Enjoy Liaison's restaurant, Art and Soul, which focuses on local and sustainable food with global-inspired dishes. The chef of Art and Soul has been recognized by James Beard twice; a reason to seek out Liaison Washington Capitol Hill in and of itself. Clean and comfortable, Liaison Washington Capitol Hill is close to everything a traveler, and baseball fan could need.
2) Phoenix Park Hotel
Refined and elegant, Phoenix Park Hotel is an upscale accommodation in the heart of Washington DC. 1.7 miles from Nationals Stadium, it is as close as you can get for accommodations this lovely. Set in a historic building, the decor is modern and updated throughout. Check out the hotel's Dubliner Pub, a classic Irish restaurant serving breakfast, lunch, and dinner, as well as drinks. The Dubliner also highlights nightly music. Originally opened in the 1920s, the hotel aims to preserve the historic feel while also offering modern comfort. Amenities include a business center, unlimited wireless printing from your smartphone, tablet or IPad, as well as a 24-hour fitness center. Near Union Station, everywhere you need to get to in DC can be accessed at Phoenix Park Hotel.
3) Pod DC Hotel 
Pod DC Hotel is hip and sleek with minimalist interiors. The concept of Pod is to provide no-frills rooms so charges stay low, while also offering comforts such as private bathrooms and free WiFi. Just two miles from Nationals Stadium, Pod DC touts itself on three social spaces in the hotel,  including Crimson Diner, Crimson View, and Crimson Whiskey Bar, so you can get to know your fellow travelers. Located in Penn Quarter, Pod DC is a great place for night owls, who adore late-night eats. Friendly staff and access to great DC neighborhoods such as Gallery Place and Chinatown. Additionally, if you need to get some work done while you are in DC, head to the Pod DC Hotel's workspace, Work It, which is just around the corner. Though not free, it does come with a discount for staying at the hotel. Additionally, if you're traveling with children, be sure to book the family pod, complete with bunk beds!
4) Capitol Skyline Hotel 
Just a mere 0.4 miles from Nationals Stadium, Capitol Skyline Hotel is the place to be if you crave convenience. A boutique-style hotel, you'll find it all at Capitol Skyline Hotel including a pool which has been voted best-pool in DC, the Rubell Art Collection, and two on-site restaurants. Originally designed by Morris Lapidus, the renovated hotel reflects current looks, done by stylist Scott Sanders (of Ralph Lauren Interior Design). A business center, fitness center, and stunning views of the capitol all add to your stay at Capitol Skyline Hotel. A free shuttle to nearby attractions chooses to stay at Capitol Skyline Hotel even more of a no-brainer. One of the best hotels near Nationals Park Stadium Washington DC.
5) Capitol Hill Hotel
Under a mile from Nationals Stadium, Capitol Hill Hotel offers the very best of downtown DC. The only hotel technically on the hill, Capitol Hill Hotel is a boutique hotel with rooms that are 50% larger than standard hotel rooms. Enjoy daily breakfast, fitness center, and bicycle rentals that are included in your stay's fee. Additionally, partake in the daily happy hour which serves a glass of complimentary wine from 5-6 pm, or grab some snacks to go with their daily snack bar from 7-10 am in the Library. Capitol Hill Hotel is a cool place to feel the pulse of DC with no nuance left untouched.
6) Hyatt Place Washington DC National Mall
Hyatt Place Washington DC National Mall is a newly built 13-story hotel, 0.9 miles from Nationals Stadium, and just near L'Enfant Metro station. Walk to all of Washington's major museums from the hotel, as well as the National Mall. Enjoy a fitness center, children's activities, a pool, and a business center. Pets are also welcome at Hyatt Place. Additionally, enjoy dining at the always-hopping restaurant, whose rooftop views give good reason to visit. With Hyatt Place, you know your stay will be clean and the staff professional.
7) Residence Inn by Marriott Washington Capitol Hill Navy Yard 
Just around the corner from Nationals Stadium, Residence Inn is only 0.2 miles away from your baseball getaway. Spacious suites, a complimentary breakfast, as well as a fitness center and children's activities make this a great choice. Check out the hotel's bicycle rental to pedal around the neighborhood, or enjoy a plethora of dining options within walking distance. Spacious rooms include kitchenettes and USB ports. Additionally, enjoy the social hour with complimentary drinks. A friendly staff, always ready to serve, will help you with getting settled and oriented at Residence Inn by Marriott Washington Capitol Hill Navy Yard.
8) Hotel Harrington
Charming in the way visiting your grandmother is, Hotel Harrington is a cozy stay. 1.9 miles to Nationals Park you will need an Uber to get to the stadium but otherwise can walk your way to most major DC attractions. Enjoy a full-service restaurant, a pub with friendly servers, and a gift shop that offers tickets for tours to local attractions. Free postcards in the lobby are a sweet touch to write home about. Quirky, yet endearing, Hotel Harrington should be your go-to if you like a hotel with a little character.
9) Homewood Suites by Hilton Washington DC Capitol-Navy Yard
Only 0.3 miles from Nationals Park, Homewood Suites gives you a comfortable spot to put up your feet after the game. Enjoy perks such as daily hot breakfast, an evening social Monday-Thursday with complimentary drinks, and large suites, many with separate lounge areas, to relax in. Handicapped accessible, Homewood Suites offers larger rooms to accommodate those in the wheelchair. Each room comes with a kitchenette for your morning coffee or late-night snacks. Less than two years old, you know that your stay at LEED-certified Homewood Suites will be spotless. Great for those traveling with children (there is a pool!), Homewood Suites hits all the marks.
10) Hampton Inn & Suites Washington DC Navy Yard
Last but not least is Hampton Inn & Suites Washington DC Navy Yard, just 0.1 miles from Nationals Park. You literally cannot get any closer than this hotel, whose complimentary breakfast, sparkling aesthetic, and seasonal rooftop bar make staying here so much fun. Many come to Hampton Inn & Suites for the rooftop bar alone; views include the Nationals Park Stadium, which creates a fun and sporty vibe. Check out the bicycle rentals available, head to the gym, or dine at one of the many nearby restaurants. Hampton Inn is a great choice for that on-foot; parking is not included in the stay and does add cost.
Conclusion
With all these hotels being two miles or less to Nationals Stadium, there are a plethora of choices to pick from when looking for a hotel near Nationals Park Stadium Washington DC. Each hotel offers a slightly different personality, but all are convenient to the major landmarks in Washington DC as well as the stadium. From family-friendly choices to happy hours and free bike rentals, there is something for everyone on this list of Washington DC hotels near Nationals Park Stadium. Hopefully, your feet are pointed in the right direction for your baseball getaway, and you are inspired to book your hotel today.