20 Best Hotels Near The Verizon Center Washington DC
By

Marina Yoveva
Just so there's no confusion, The Capital One Arena (as it is called today) is an indoor arena in DC. The center's former names include the MCI Center from 1997 to 2006 and switched to The Verizon Center from 2007 to 2017. The arena was constructed in the 1990s and houses wrestling events, plus so much more. You will need to locate a place to stay that's close by so you can have a great time and not worry about driving long distances from the event. There is something available to suit every budget and group in this list of hotels near the Verizon Center Washington DC.
Be awed by the beautiful memorials, monuments, eclectic neighborhoods, and plenty of other things to do that DC has to offer. You will find tons of places to eat and have a wonderful time. The 20 hotels listed will provide you with most of the information necessary to make your plans and get rolling to the historical community of Washington, DC. Why not visit The Greene Turtle Sports Bar & Grille in the Verizon Center featuring a vegetarian-friendly menu as well as a delightful American bar/pub?
See Also: Hotels near Nationals Park Stadium
1. The Henly Park Hotel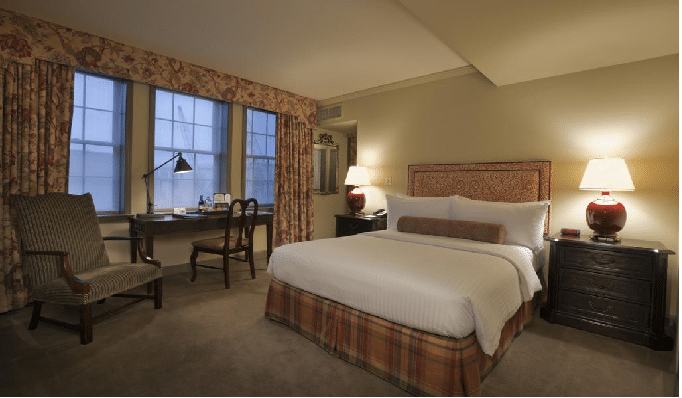 You will see the historical grandeur before you ever enter the Tudor-style, beautifully restored building. Its rooms are full of plush bedding with enriched antique furnishings await ng your visit. Initially, the building was an apartment called Tudor Hall. You will love sleeping in the same spaces once occupied by congressmen/congresswomen, senators, and other respected nobles of Washington's society. Book your spot today!
2. Embassy Suites by Hilton Washington DC Convention Center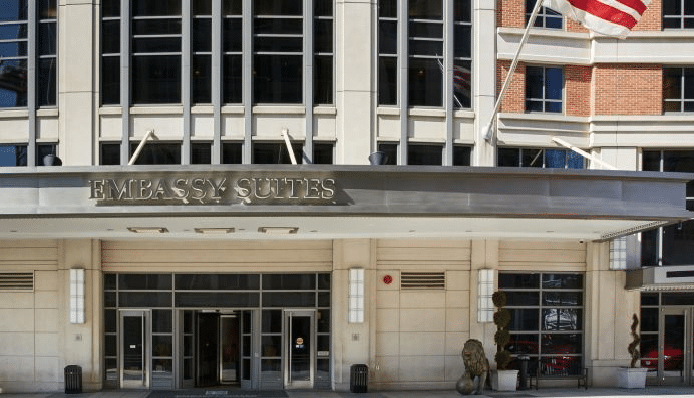 Go for the two Cs, convenient and comfortable, and you have what the Hilton has to offer you while you visit some of the most famous landmarks DC has to offer, including the White House and Ford's Theater. Enjoy a free breakfast, room service, and shops to help make your stay as delightful as possible. Enjoy a steakhouse atmosphere at one of the close restaurants, including Joe's Seafood Prime Steak and Stone Crab or The Capital Grille. See you there!
3. Courtyard By Marriott Washington – Downtown Convention Center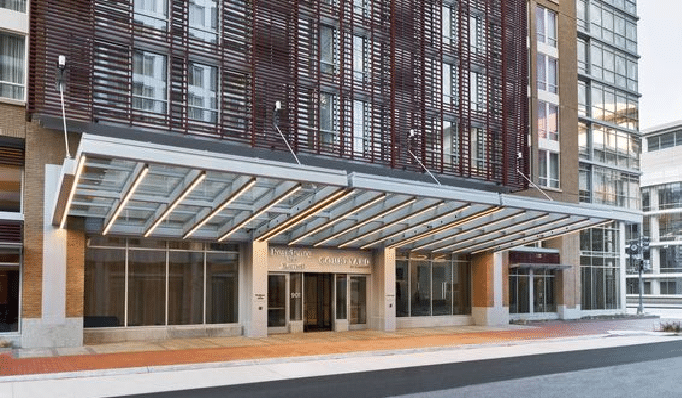 Plan your next business meeting in the flexible business meeting space offered. Stay in one of the plush guest rooms providing a non-smoking environment with complimentary WiFi. Spend a little time in the fitness center or have a drink at the bar and lounge. If you are concerned about any valuables, you also have the option to store items in a secure safe. Give the friendly staff a call.
4. Kimpton Hotel Monaco Washington DC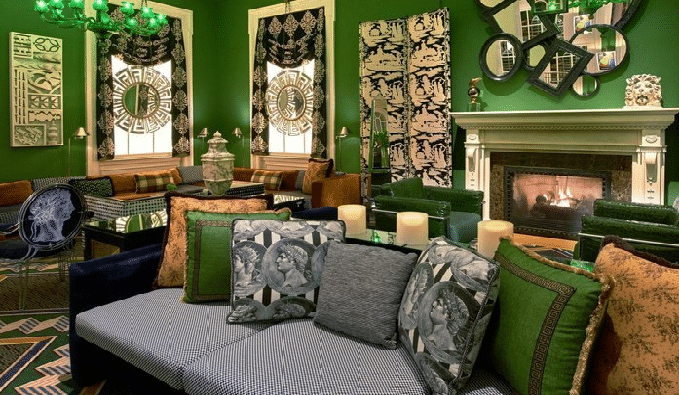 Step into another time (1839) as you walk through the doors of the recently renovated National Historical Building. It is located in Penn Quarter and is the former General Post Office. You will find luxury and will find only a short pass from the Smithsonian National Portrait Gallery, the Capital One Arena, and a ton of popular museums. Cozy down with a fireplace and the minibar for some private relaxation!
5. The Eldon Luxury Suites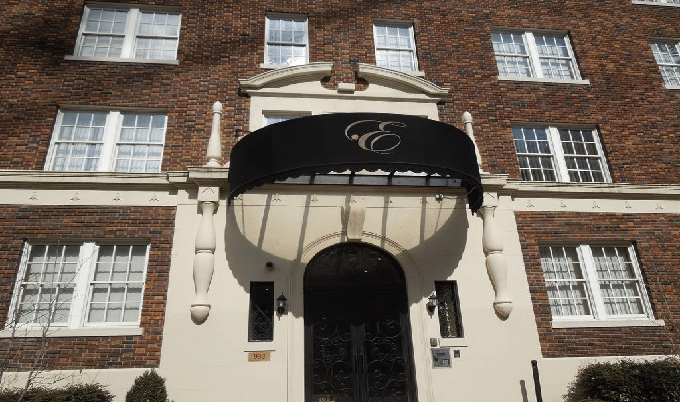 The convenience of the suites will have you a short half of a block from the Convention Center. You will absolutely fall in love with the spacious smoke-free rooms. Enjoy a home away from home using the kitchenette. Luxury units include custom wood walls, granite floors, and an inviting shower with side shower jets!
6. The Westin Washington, DC City Center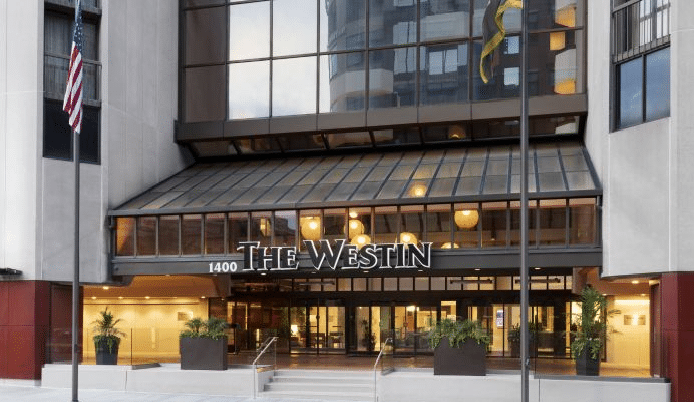 You will find The Westin centrally located in DC and is a short five blocks from the White House and Convention Center. The hotel is also near two metro stations with 21 attractions and restaurants within 0.3 miles. You and your children will enjoy a breakfast array (kid-friendly too) in this luxury hotel that is rated a 4.5 for excellence!
7. Renaissance Washington, DC Downtown Hotel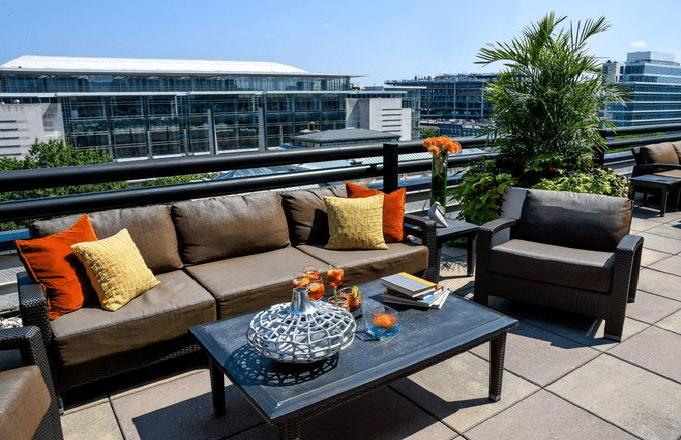 The Renaissance is centrally located and geared for business class patrons. The newly renovated hotel houses five dining choices, including a vibrant lounge and Starbucks. You will also find a 24-hour fitness center if you are inclined to workout. The hotel staff will be waiting for your next visit; you won't be able to resist all of the options the hotel has to offer!
8. Pod DC Hotel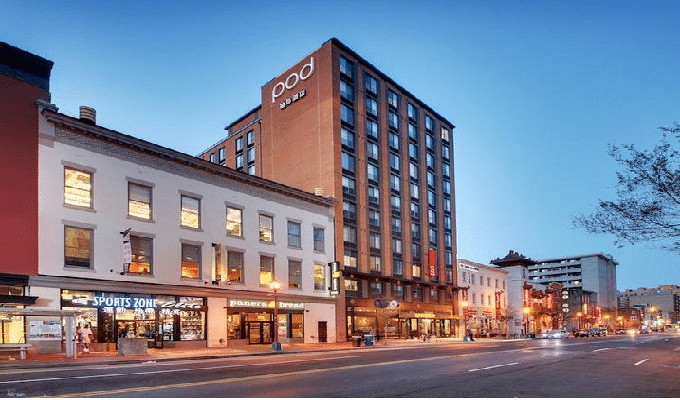 If you are looking for a hotel located in Penn Quarter without all of the fuss but is still very tasteful, this is your spot for the night! It is kid/family oriented with allergy-free rooms and children's activities as one of its added amenities. It houses its own bar and lounge for a drink if you decide it's on your agenda. There is also a qualified babysitter offered if needed.
9. Cambria Hotel Washington DC Convention Center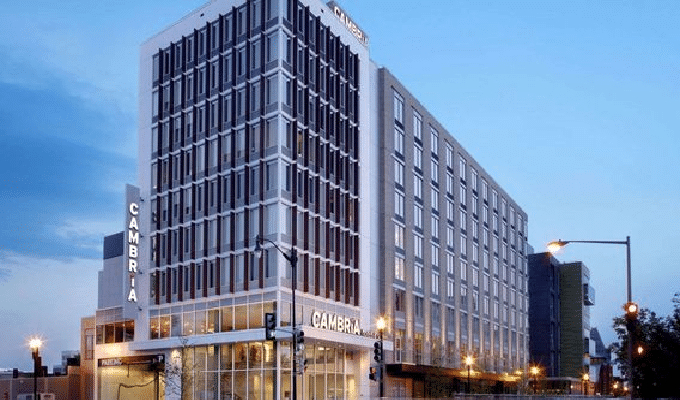 Join your friends at this upscale hotel with a view of DC from the lounge on its rooftop.
If the rooftop lounge isn't for you, what about the indoor rooftop pool? Turn a few workouts in the exercise room and fitness center. If you're a government traveler, the hotel is FEMA Approved. Valet cleaning service is also available but may require an additional cost. Sorry, No Pets Allowed.
10. Quality Inn & Suites New York Avenue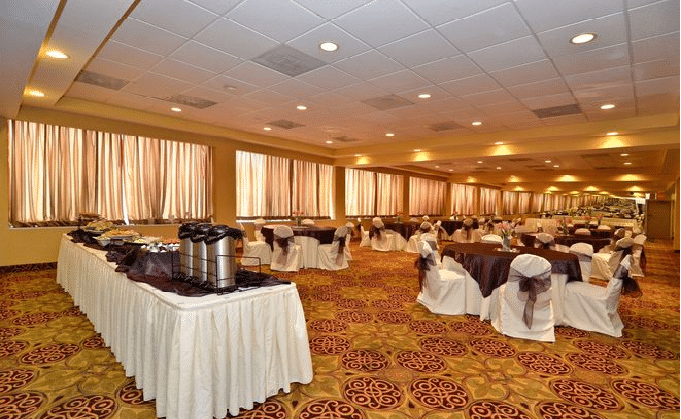 Enjoy the amenities, including a business center with free Internet access, a complimentary hot breakfast buffet, and a 24-hour hot beverage bar. Jacuzzi suites and tubs are also available. You will be supplied with an in-room safe, a fridge, microwave coffee maker, and so much more. Check out one or two of the twelve local restaurants or two attractions within 0.3 miles of your suite for more excitement.
11. Park Hyatt Washington DC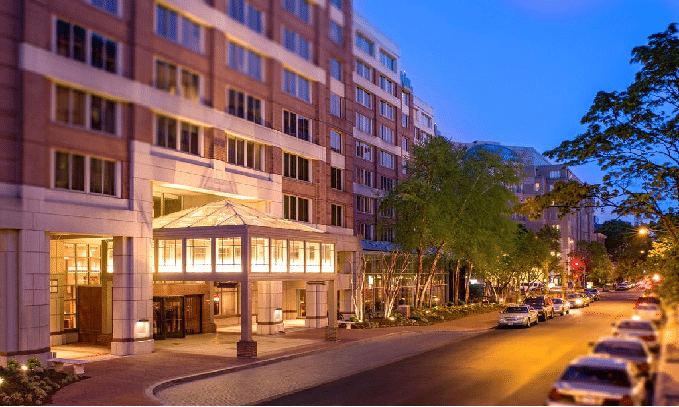 If you're looking for a super value, great location, service, and a clean place to stay in the fashionable West End Georgetown, the Park Hyatt is the place for you to spend some time. Spend your downtime unwinding in the spacious rooms crafted using American folk art to elegant natural stone baths. Entertain and enjoy the separate dining and living room spaces. Such a stylish way to spend your time in the DC area.
12. Morrison-Clark Historic Inn & Restaurant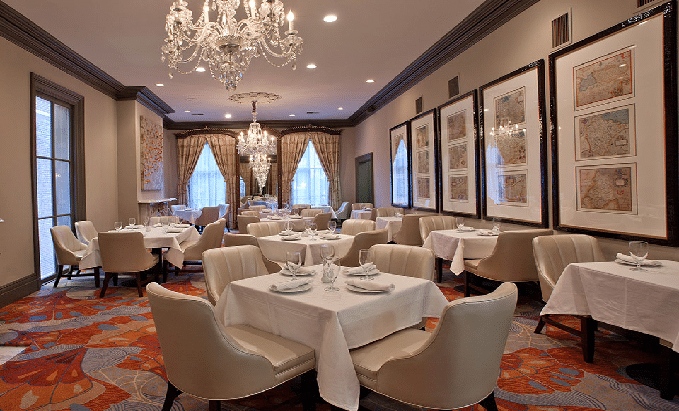 You will have to see this for yourself, or you will not believe how the combination of Chinese ecclesiastical, and the Victorian heritage atmosphere can connect vacationers and business travelers as well. Enjoy valet parking and dine in its luxurious Inn restaurant. Have a drink at the bar/lounge. The Business Center is also available for Internet usage.
13.Omni Shoreham Hotel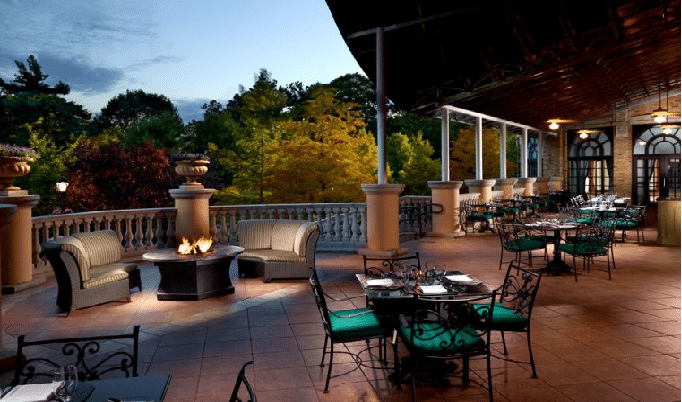 Since 1930, this luxurious hotel has hosted world leaders, presidents, and more. The hotel is about 2.4 miles from the Capital One Arena, but you have 24 attractions, and 184 restaurants within ¾ of a mile of your resting spot. It's nestled in a premier residential neighborhood as an urban retreat. Enjoy the resort atmosphere with a taste of music, art, culture, and politics.
14. Hampton Inn Washington Downtown Convention Center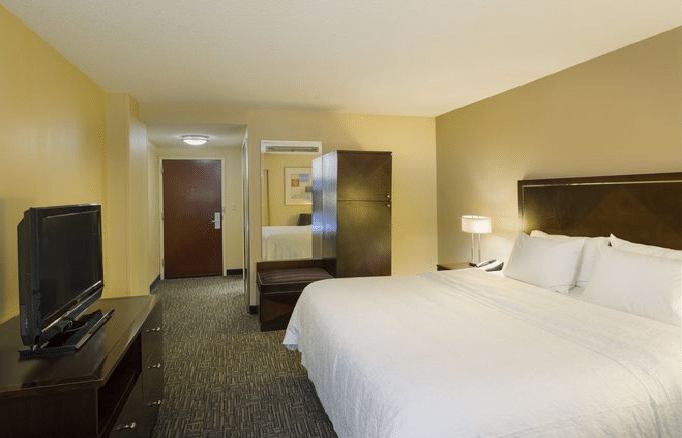 You will be only about five to ten minutes from the Convention Center. Within the hotel, you have access to a business center or a place you can enjoy an indoor pool and spa. You will also enjoy a new bar area, a guest laundry facility, a fitness center, and a valet parking garage. Enjoy a complimentary breakfast, and also feel free to use the microwave provided in your non-smoking room.
15. DC Lofty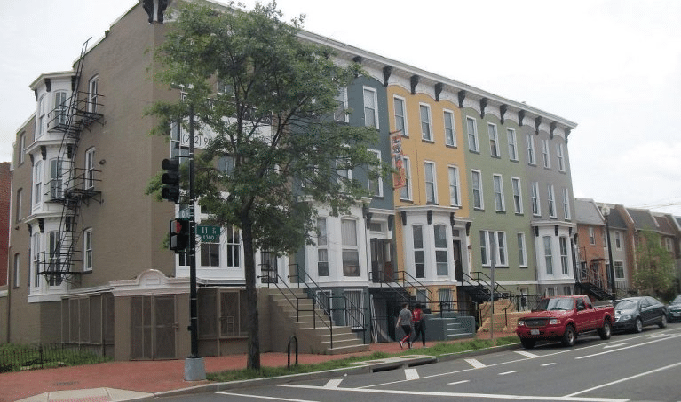 The non-smoking rooms are hotel budget style. You will find several languages spoken, including English, Spanish, French, Russian, and a couple more. You will be less than ten minutes or just a few blocks from the Convention Center. It is also less than a mile from the White House. Of course, you have Wifi and Internet privileges with a shared kitchen available. You have 77 restaurants and 12 attractions within 0.3 miles from your room.
16. Comfort Inn Downtown DC Convention Center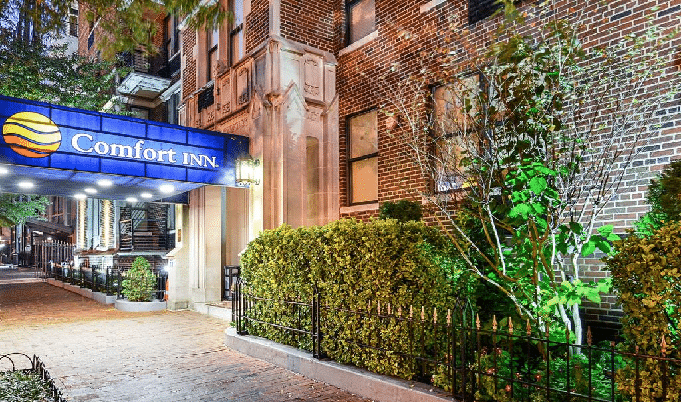 You will be about 15 minutes from the Verizon Center, but you will have 124 restaurants and 13 attractions less than half a mile away. It's classified as a business-oriented and centrally located hotel. If you're looking for adjoining rooms with a safe, a big TV, a fridge, and coffee maker – it's for you. Enjoy the fitness center with a gym/workout area. Your kids will stay free!
17. Homewood Suites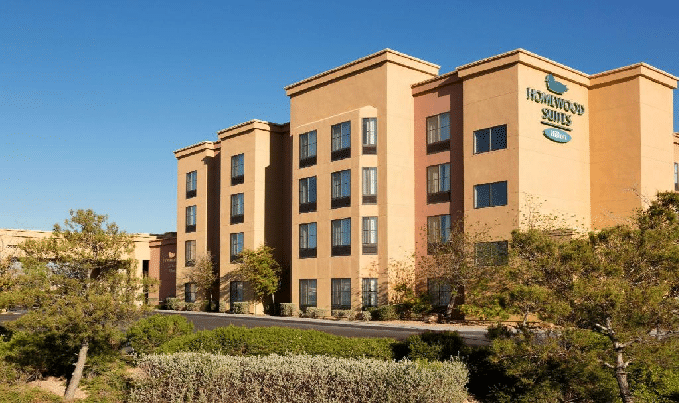 If you want to see a game at the Capital One Area, you are just 15 minutes away. Visit anywhere in DC using the Metrorail station, only three blocks from Homewood Suites. Every day will provide you with a free and piping hot breakfast or a grab-and-go snack. There are a ton of amenities, including the business center, braille elevator, closed captioning, grab bar for the bathrooms, and so much more.
18. The Darcy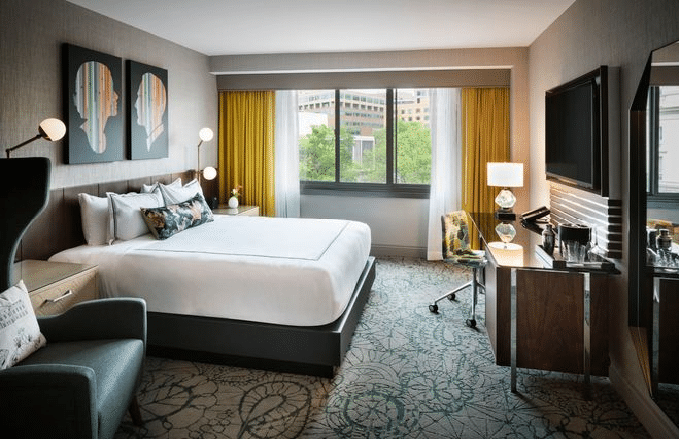 Enjoy the on-site restaurant and 24-hour room service. You can use the meeting/event space, Fitness Center, Valet laundry/dry cleaning service, and a high-speed Internet throughout the hotel area. There is no pet fee for pets under 75 pounds. You can receive bottled water upon request or enjoy a daily craft cocktail tasting in the hotel lobby.
19. The River Inn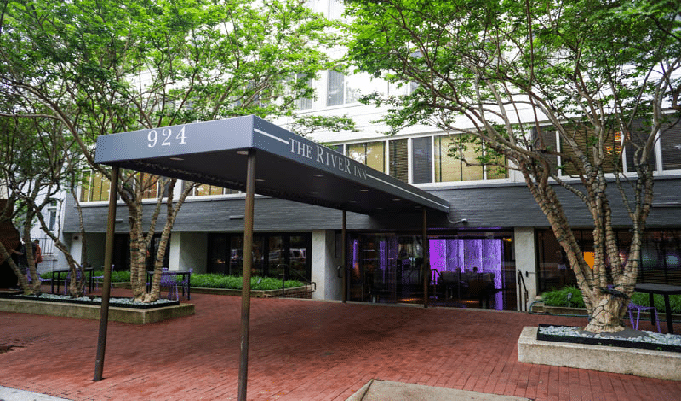 Come by and enjoy all that DC has to offer in the quaint Georgetown tree-lined street with nine attractions and 59 restaurants within a half-mile radius. The spacious suites provide you with a comfortable living space, dining area, and full kitchen. Visit the cozy, intimate bistro for a special hand-crafted cocktail or rent a bicycle and explore the C&O path. It received a Certificate of Excellence of 4.5 out of 5 with so many extras included.
20. Trump International Hotel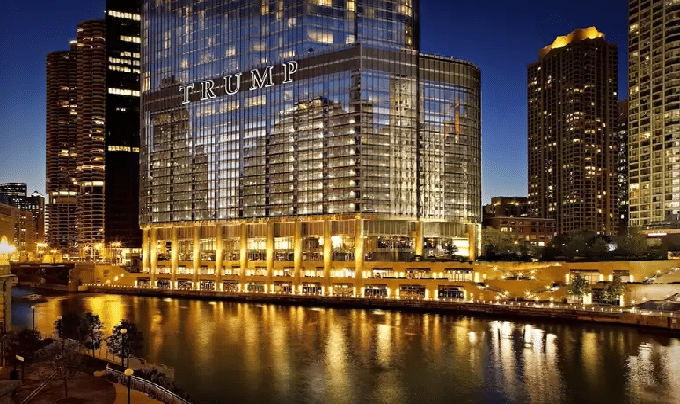 If you are searching for a 5-Star hotel that's great for a family trip, you should experience the luxury offered in this exceptional pet-friendly hotel. Some of the amenities include a 24-hour business center, a full-service spa, a 24-hour health club, a restaurant with a bar and lounge, free toiletries, and so much more.  You can take leisurely walks through the nation's capital. So, come on and enjoy DC First Class!
Conclusion
Now that you have the scoop, your trip to the Verizon Center in Washington, DC will be more pleasurable when you know there's a comfortable room that suits your traveling needs awaiting your arrival. Whether you choose a budget-oriented room or one that is elegant with all of the luxuries of your dreams, you will have a wonderful stay in the country's Capital Town. Make the reservations today to ensure you will have the room you desire. It's as simple as that to travel the same streets that have been traveled by historians and famous leaders of our country. It will be a trip and adventure you will not soon forget!