Top 10 Hotels in Washington DC Near The White House
By

Marina Yoveva
Washington DC is a fascinating city, with a rich history of American politics. As the capital of the United States, the city serves as home to the major political offices, including the president's home, The White House. Whatever opinion you have about current or past presidents, a trip to see The White House is educational and interesting. Spanning six floors, 132 rooms, and 35 bathrooms, The White House is, in a word, huge.
John Adams was the first president to live in it, and the building was given its name by President Theodore Roosevelt—previously it had been known as The President's Palace. Whatever your particular interest in The White House, it is important to have a nearby hotel to make life easier when visiting DC. Check out these hotels in Washington DC near The White House and plan your American adventure today!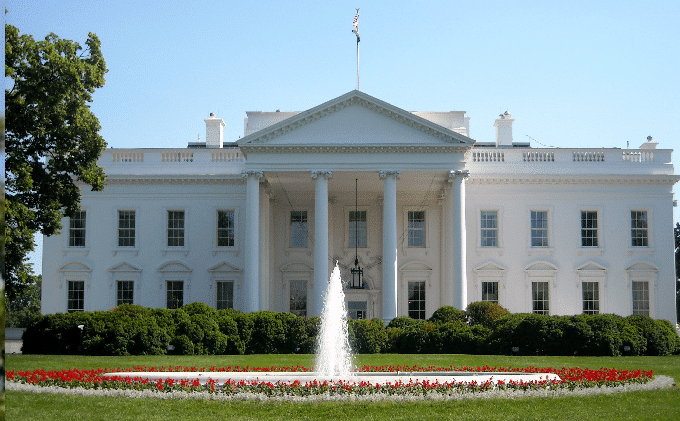 See Also:
1) Grand Hyatt Washington 
A reasonable 0.6 miles from The White House, Grand Hyatt Washington offers a sophisticated yet comfortable stay. Known as a luxury hotel, but with an affordable nightly price, Grand Hyatt Washington will have you feeling like royalty. With the Metro train literally connected to the lobby, Washington DC is at your fingertips at Grand Hyatt Washington. Enjoy high-speed internet, a fitness center, a business center, and an onsite restaurant-bar. If you're coming for a conference at Washington Convention Center, it is literally stepping away. Grand Hyatt Washington couldn't get more cozy or convenient for an in-city experience in Washington DC.
2) Sofitel Washington DC
Sofitel Washington DC is a favorite among travelers for good reason. Only 0.2 miles from The White House, Sofitel Washington DC is set by Lafayette Square, a seven-acre green space directly north of The White House. Housed within a historic building dating back to the 1880s, Sofitel is modern and clean. Head to the gym, or hit up their amazing restaurant, Opaline Bar and Brasserie, a French-style bistro. Opaline Bar serves up strong yet sophisticated craft cocktails. Business travelers will love the provided business center with conference facilities. Sofitel Washington DC makes both work and play easy.
3) Hotel RL Washington DC
Hotel RL, or Red Lion, of Washington DC, is a happy 0.5-mile walk from The White House. A boutique hotel, the renovated space is vibrant in color and emanates an energetic atmosphere. Enjoy large flat-screen TVs in every room, free and fast wireless, and sleek interiors to the rooms. A notably kind and helpful manager, Manny, helps to make your stay as easy as possible. Large rooms with kitchenettes make Hotel RL a great choice for families traveling. Coffee lovers will rejoice each morning with RL's Coffee Bar, serving complimentary Vitrola Coffee Roaster's from Seattle. Additionally, the neighborhood is perfect for those looking to explore DC on foot. A plethora of attractions can be accessed within a mile or less.
4) Hotel Harrington
Hotel Harrington is in an excellent location for anyone seeking the major attractions of Washington DC. Set between The White House and The Capitol, Hotel Harrington lovingly calls itself "Washington's Tourist Hotel" for good reason. Affordable rooms and friendly staff make the somewhat dated look of Hotel Harrington charming. Deluxe family rooms are available for more spacious options, and an onsite restaurant and pub make evening meals effortless. Check out Ollies Trollies, Hotel Harrington's kitschy-yet-fun burgers and shakes restaurant. Or check out the lobby gift shop for all your trinkets and small gifts needed to take home. Immersed in the heart of what makes Washington DC iconic, Hotel Harrington is a great choice.
5) Eaton DC 
Eaton DC is truly a one-of-a-kind hotel, and perhaps maybe the next starting ground for an innovative solution to some of our major world issues. For the traveler seeking to connect with others, Eaton DC offers content programming and social engagement focused on community building and social change. Confused? Think of heading to Eaton DC like heading to a think-tank with people from all walks of life. Get ready to be engaged; perfect for a traveling activist or an upcoming visionary. In-room, check out rare and radical books, Bluetooth record players, and natural products from body care to bedding. While visiting Eaton DC, partake in one of their wellness classes, or visit their Asian-inspired take on American eats at a restaurant, American Son. As unique as can be, you'll never forget your stay at Eaton DC.
6) Hamilton Hotel Washington DC
Hamilton Hotel Washington DC is a mere 0.4 miles to The White House; a hub in all the DC hustle. Luxurious but affordable, Hamilton Hotel caters to those whose purpose is to enjoy the capital city. An elegant lobby and equally sleek restaurant and bar make you elevated in DC. A well-equipped gym includes Peloton bikes. With the Metro station nearby and a number of attractions within walking distance, it is easy to explore Washington DC from Hamilton Hotel. Amenities include high-speed internet, Google Chromecast to stream all your favorite shows while traveling, and ADA accessible rooms. Stunning in aesthetic, convenient in location, and friendly in service, Hamilton Hotel Washington DC hits all the marks.
7) State Plaza Hotel 
State Plaza Hotel is clean and modern with spacious rooms. Adjacent to George Washington University, State Plaza Hotel is 0.6 miles from The White House and is close to the Metro. Unparalleled service is another reason to choose the State Plaza Hotel. Rooms with kitchenettes are available to feel even more at home. Eat breakfast at the Plaza's Garden Cafe, which offers al fresco dining in the warmer months. Complimentary newspapers, a state-of-the-art fitness center, and options for business travelers are all additional reasons to love State Plaza Hotel.
8) JW Marriott Washington DC
Glamorous in a modern way, JW Marriott Washington DC is an elevated hotel experience. With close proximity to The White House, The Smithsonian Museum, and The Verizon Center, travelers on foot will not be disappointed. Interconnected rooms are available for larger families or friends. Breakfast is offered at an additional expense, with a full buffet breakfast at $28. The fitness center is open 24/7 and includes machines, lightweights, and medicine balls. For a DC tourist, JW Marriott Washington DC really offers location and comfort in one spot.
9) Club Quarters Hotel in Washington DC
Club Quarters Hotel in Washington DC is known as a boutique business hotel but is happy to accommodate all traveling through the DC area. Just a two-block walk from The White House, Club Quarters is easy to access from the airport and to get around from. A collaborative workspace makes this a great choice for those who need to bring work to DC, as well as lightning-fast internet, and La Colombe coffee and tea. Keep fit by using the in-room yoga mats and fitness bands, or head to the fitness center, complete with Peloton bikes. Water machines on every floor ensure you will always stay hydrated while at the Club Quarters Hotel in Washington DC. The Club's restaurant, Cafe Soleil, is a French-inspired restaurant serving breakfast, lunch, and dinner.
10) Hyatt Place Washington DC/White House
Hyatte Place Washington DC/White House is the last on our round-up of convenient hotels near The White House. Just 0.3 miles from The White House, Hyatt Place Washington DC/White House offers cozy rooms complete with a corner sofa, work station, and large beds for a good night's rest. Modern and well-kept, Hyatt Place Washington DC/White House has 24/7 dining focused on fresh ingredients that include free breakfast for members. The rooftop bar, The Ellipse Rooftop Bar, offers stunning views of this world-class city with warming open-fire pits. A 24-hour fitness center adds to the allure of Hyatt Place Washington DC, as well as a pet-friendly policy so everyone in your family can enjoy the nation's capital.
Conclusion
Washington DC is a purely American experience, with a rich history to explore. Being close to The White House equals being close to many of the incredible cultural and civic landmarks of the city, including Museum Campus, veterans' memorials, as well as neighborhood restaurants and bars that make DC unique. Walkability is key in this city, as parking is often quite pricey, so all of these hotels ensure access to public transportation as well as the ability to go by way of foot. Whether you are coming to DC for political activism or just to learn about a slice of American politics, a trip to Washington DC is worth the visit. May you be inspired by this list of hotels in Washington DC near the White House, to make your DC visit a success!