20 Best Things to do in Washington DC at Night
By

Marina Yoveva
It has happened again, you find yourself in a new city, and whether you are there for business or personal reasons, you have no idea what to do tonight, and you do not want to spend another evening alone in a DC hotel. But lucky for you, there are a plethora of fun things to do in DC at night. But with so much life and activity in this historic city, where should you begin? This list of things to do in DC at night covers everything from historical landmarks, walking tours, craft beer and food experiences, even a ghost tour of The White House.
Relax and let this list take you on a journey through downtown DC nightlife where you are sure to experience the best that DC has to offer, including the best concerts, plays, music, drinks, and food. And for the vegan, vegetarian, and gluten-free diners, there are plenty of options in these many diverse cultural cuisine experiences.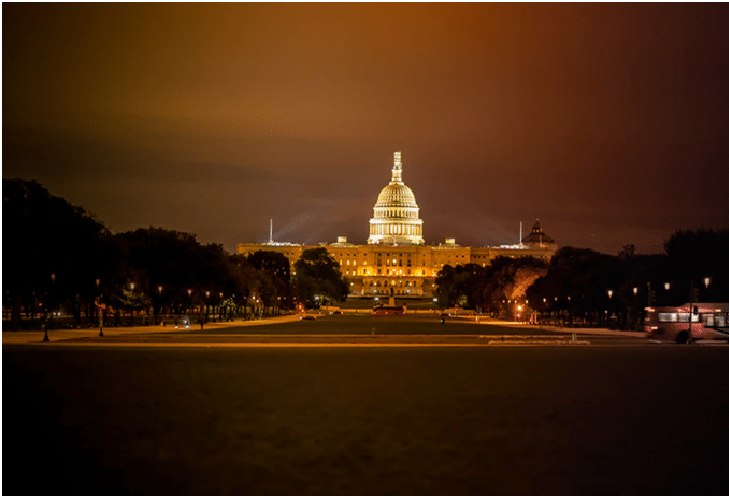 1. Lincoln Memorial
If a historical destination is on your list, this iconic memorial is a must-see when looking for fun things to do in DC at night. This historical landmark features the intricately detailed seated statue of the nation's 16th president, Abraham Lincoln. This monument is even more breathtaking at night when the inside of the monument is illuminated and the spectacle of this iconic destination is captured in its expansive reflecting pool.  
2. National Mall
This outdoor attraction is at the center of the most important national monuments in the United States Capitol. This park features extensive, stone walking paths that invite visitors to explore historical landmarks and experience some of the best natural features DC has to offer including the iconic cherry trees that delight visitors each spring with their lush, pink blooms, making this another of the many fun things to do in DC at night. 
3. Arena Stage
For a night on the town taking in the local culture, Arena Stage is the place for great entertainment. Featuring popular titles like Arena Civil Dialogues, Right to Be Forgotten and Newsies, there is something for any theatre lover. Get your tickets soon because this will surely be one of your favorite fun things to do in DC at night. 
4. Korean War Veteran's Memorial 
When exploring the many historic landmarks that DC has to offer, the Korean War Veteran's Memorial tops the list. This landmark features a triangular field displaying life-size statues of American soldiers during the Korean War. The impact of these effigies increases as visitors approach the "Pool of Remembrance." Open until midnight, year-round, this important memorial offers a realistic and informative depiction of United States history and is a welcome addition to the list of things to do in DC at night. 
5. Blues Alley
This jazz cafe is a great place for a date night and a chance to experience local jazz musicians. This intimate, all-ages jazz cafe offers the best in rising stars and is sure to delight the jazz lover while satisfying every appetite with a wide variety of appetizers and entrees like crab cakes, baked salmon and blackened catfish. With so many great things to offer, Blues Alley tops the list of romantic things to do in DC at night for couples. 
6. Vietnam Veterans Memorial
The next landmark on the list is the Vietnam Veterans Memorial. This landmark features pristine landscaping and intricately crafted, stone walkways that lead to an expansive, black marble wall that is inscribed with every soldier lost or missing in action who served during the Vietnam War. This destination is just another of the many educational features located in the heart of DC. This memorial is open 24 hours a day, making it a welcome addition to the list of things to do in DC at night. 
7. DC Improv Comedy Club
Looking to add a little more humor to your date night? This local comedy club has something for everyone on your night out with local comedy newcomers and icons like Michael Rapaport and Chingo Bling. This small venue is the perfect romantic thing to do in DC at night for couples with its intimate atmosphere, great food, and fantastic entertainment.
8. National Portrait Gallery 
If you're looking to explore the art scene of downtown DC, your first stop should be the National Portrait Gallery. This gallery features an expansive display of portraits depicting some of the most influential people in history such as the Obamas, Leonard Bernstein, and Alexander Hamilton. This destination is an interesting addition to the list of fun things to do in DC at night. 
9. Sip of DC Tour
This tour escorts you and your companion through downtown DC as you experience the unique flavors of local craft beers. This is one of many fun things to do in DC at night for the over 21 crowds, and this tour shows you all the nightlife charm of the local DC community. Start your night out right as you explore the many local brewing companies in DC. 
10. Ford's Theatre
This next destination on the list is part of the museum and entertainment. At Ford's Theatre, you can explore the scene of the assassination of Abraham Lincoln and learn more about the nation's history. Afterward, take in a show at this historical stage. Some of their most recent shows include Guy N' Dolls and A Christmas Carol, making this an entertaining and family-oriented addition to the many fun things to do in DC at night. 
11. Fado Irish Pub
This next fun thing to do in DC at night for the over 21 will take you on an authentic pub adventure. The founders of this establishment want all of their visitors to enter their restaurant for the food and leave with a story to tell. Featuring a full menu including Harp battered fish tacos, the Fado Pub burger and shepherd's pie, this restaurant is sure to create a night to remember. 
12. The Smithsonian Museum of Natural History
Located in the heart of downtown DC, The Smithsonian Natural History Museum has one of a kind pieces of world history. Explore the nature section featuring extinct and exotic displays of some of the most unique creatures in our planet's history. Then, explore the seemingly endless maze of cultural artifacts from some of the most well-known cultures in human history. This impressive destination is one of the many fun things to do at night in DC. 
13. NuVegan Cafe
Looking for a night on the town but want to maintain your healthy lifestyle? The restaurant wants to "challenge your perception of vegan food" by providing healthy options while also introducing its visitors to vegan comfort foods like mac and cheese, crab cake sandwiches and jumbo cinnamon rolls. Whether you are looking for a healthy meal option or want to explore new flavor profiles, NuVegan Cafe is an important addition to the many fun things to do in DC at night. 
14. Washington DC Guided Night Tour
Historic landmarks can be overcrowded in DC. To beat the crowds, try a guided night tour. This small, three hour, a guided tour will take you to all of the most popular monuments in DC including the Lincoln Monument, The White House, and the Jefferson Memorial. You will see the most famous national monuments from the comfort of a 30-person coach. This night tour is best shared with that special someone and is just one of the many things to do in DC at night for couples. 
15. U.S. Marines Sunset Parade
Start your night off with some fresh air and a glimpse of the U.S. Marine Corps in all their glory. This Parade displays some of the best men and women serving in the Marines, all against the backdrop of a dazzling sunset and the many monuments in downtown DC. This is a great way to begin a night on the town and another entry on the list of fun things to do in DC at night. 
16. Taberna del Alabardero 
For authentic Spanish cuisine, Taberna is a must. This restaurant is a great place to spend an evening and another stop on the list for romantic things to do in DC at night for couples. This restaurant offers private dining and an expansive menu including paella, fideua, and tapas. With tastes to suit any diner, this Spanish restaurant will excite your palate. 
17. Private White House Ghost Tour
Take a private tour of The White House and learn about the many ghost stories of this historic building. This is a unique and fun thing to do in DC at night, featuring stories like Admiral Decatur's duel, The Ghosts of The White House and Haunted Hay Adams Hotel. With so many chilling tales, this is a great way to learn some history as you uncover the mysteries of The White House. 
18. Carpe DC Food Tour
This walking tour of DC's local flavors is the perfect way to start your evening in DC. With five locations spread within one mile of each other, you are sure to experience the best in a variety of cuisines including American, Ethiopian and Jamaican. While traveling to each destination, you can explore historic communities and murals painted by local street artists. This is another fun thing to do in DC at night that will leave you with a full stomach. 
19. The 930 Club
If you want a night of great music, dancing, and an energetic crowd, look no further than this fun thing to do in DC at night for the over 21. The 930 Club offers a true nightlife experience in downtown DC. See the best in local bands and rising stars while you taste some great comfort food including many vegan, vegetarian, and gluten-free options. 
20. Thunder Burger & Bar 
If you want great food, atmosphere and the perfect place to spend a date night, Thunder Burger has everything you want. This is one of the many fun things to do in DC at for couples, and this cozy burger bar has so many gourmet burgers like the Signature Thunder Burger, Ventura Highway, and Portobello Road. Pair your burger with a local craft beer or wine. 
Conclusion
Now that you know about the many fun things to do in DC at night, you are ready for a night on the town, so grab a friend and show them all that DC has to offer in shows, theatre, food, and drinks. Whether you are looking for food, entertainment, or historical experience, this list will guarantee a night away from your hotel room. No matter what destination you choose, these venues will provide enriching experiences, historical locations, and provide plenty of stories to show off your knowledge of the diverse cultural experiences waiting for everyone in downtown Washington DC.