Warning
: DOMElement::setAttribute(): ID wpgmza_tolls_147 already defined in
/home/sweetspi/exploreist.com/wp-content/plugins/wp-google-maps-pro/includes/class.directions-box.php
on line
126
The airport is located at 100 Terminal Drive in Fort Lauderdale, Florida. Most of the restaurants mentioned are within the airport. Several have been listed outside of the airport property, so you can receive a more relaxed atmosphere after or before your flight. As you may guess, it is sometimes unavoidable to need to wait in line at an airport eatery. However, most of the restaurants listed are staffed by courteous and friendly members. Whether you are seeking American, Italian, Asian, Indian,  or other cuisines, you will find them in this Fort Lauderdale Airport restaurants list. You can enjoy an array of foods, including salads, soups, burgers, full-course dinners, and so much more. You can also choose from sushi, Chinese dishes, fruits, as well as having opportunities for vegan and vegetarian diet plans.
Don't worry; you also have the option to enjoy delicious beverages, such as a Margarita or a Bloody Mary – Ummmm! There is only one way to know for sure: Check them out the next time you travel using the Fort Lauderdale Airport!
See Also:
1. Pei Wei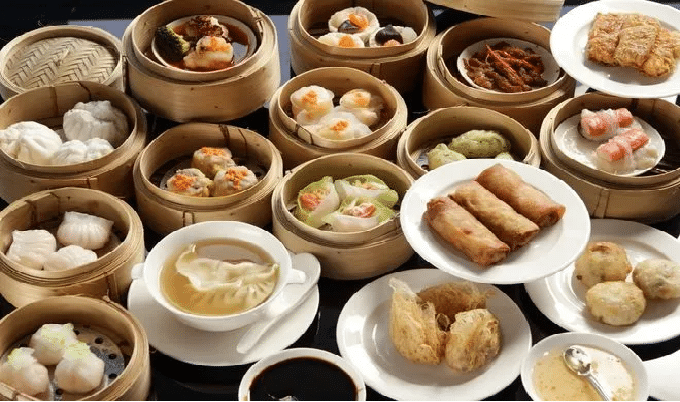 Customers rave over the food and service provided at Pei Wei. It is fast food served using the Chinese and Asian cuisines. Stop in for lunch or dinner, and if you are a vegetarian, it's for you. It is wheelchair accessible and ready to provide you with a takeout order. Choose from yogurts, fruits, salads, soups, edamame, and more. This one makes the list at number one of Fort Lauderdale airport restaurants.
2. Casavana Cuban Restaurant
You will enjoy the Latin and Cuban cuisines offered for breakfast, lunch, or dinner. The menu is available for takeout or table service. Casavana boasts of its years of authentic homemade recipes going into every meal. The reviews boast of delicious food and service. Stop by for an alcoholic beverage. It is located only 3.4 miles from the Intracoastal Waterway.
3. Lime-A-Rita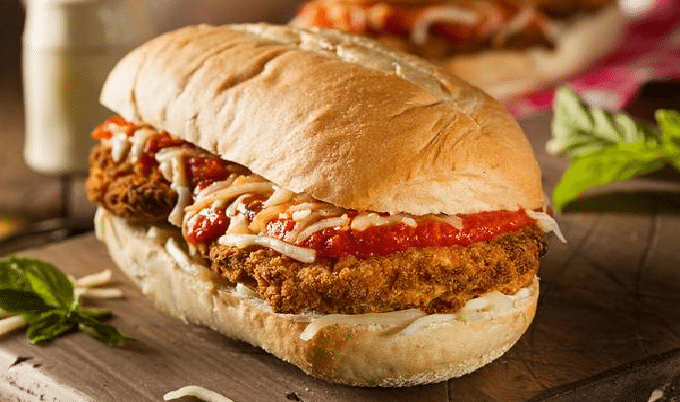 If you are searching for the perfect bar while at the airport, join the rest of the "very happy" customers. Frequent fliers claim they make this their favorite spot when subjected to the airline atmosphere. A happy bartender will provide you with a delicious margarita, proclaimed to be the best one in Fort Lauderdale. Come by and check it out!
4. Zona Fresca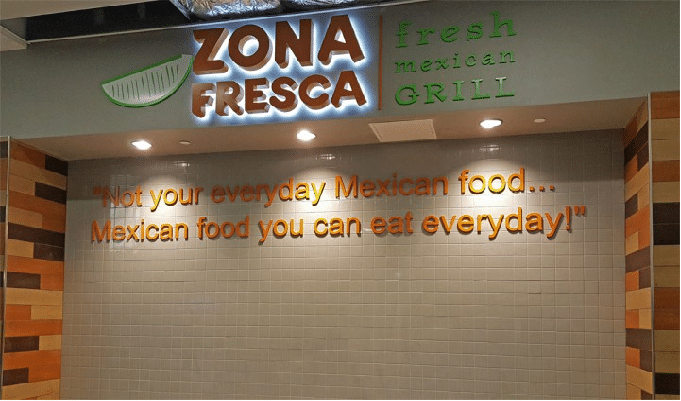 If you're craving freshly grilled Mexican food, Zona Fresca is your spot to grab a bite to eat while at the airport. Their mission is to provide a high-quality meal and make it a great place where everyone can gather. Come by and grab a customer-award winning Nachos & Steak with a side of salsa! Yummy! You'll have a delicious meal for breakfast, like an egg and cheese breakfast burrito!
5. Starbucks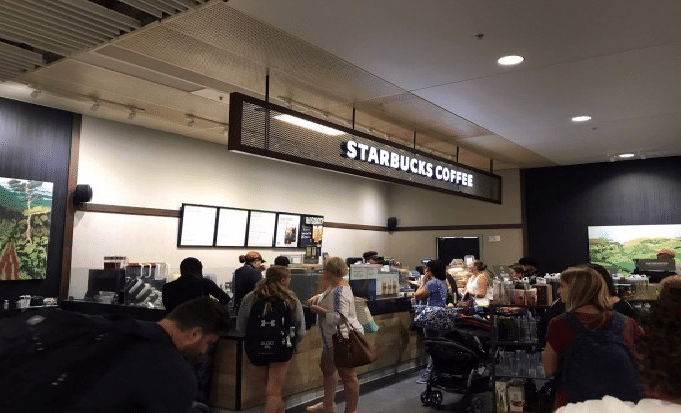 Nothing says good morning like Starbucks, and that is a double yes when you are stranded in the airport. The cafe-style cuisine is inviting with its courteous staff and awesome coffee choices like a Chai Latte, Teavana Chai Tea, Earl Grey Tea, London Fog Latte, and so much more.  Have herbal tea, white tea, or one of the delicious green tea options. You won't leave disappointed!
6. Sushi Maki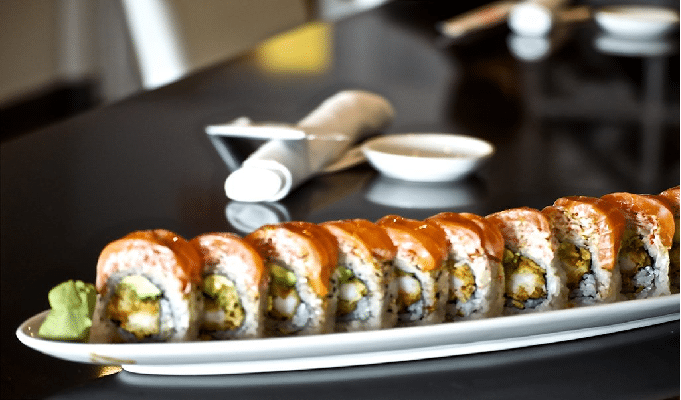 When you're craving sushi, nothing else will drop! Stop by and have a portion for either breakfast, lunch, or dinner. Reviews reveal the staff as being very courteous and helpful. These are a few of the tempting bites to enjoy; Volcano Fries, Shrimp Tempura, Spring Rolls, Lava Shrimp, Edamame, Kanisu, Calamar, Sushi Tacos, and so much more. Choose your favorites after a long flight and enjoy it! Surely one of the best Fort Lauderdale airport restaurants.
7. Food Network Kitchen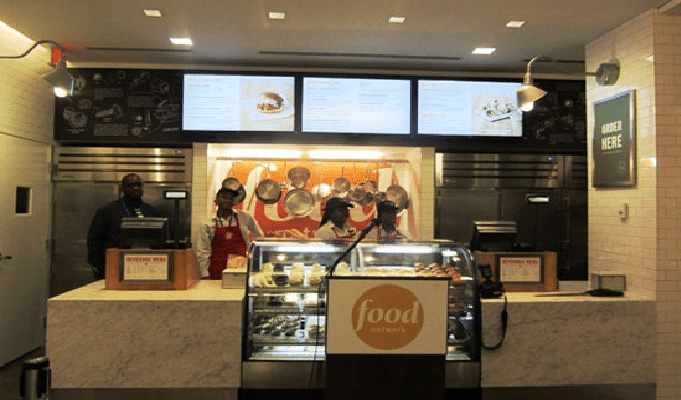 If you're in the mood for a bit of American cuisine for takeout or dining in, you are in the right place. It has television access and is also wheelchair accessible. Choose either breakfast, lunch, or dinner. Select an item to take on your flight, such as a delicious Cobb Salad. You can also enjoy the full alcohol bar while you are waiting for your plane.
8. Great American Bagel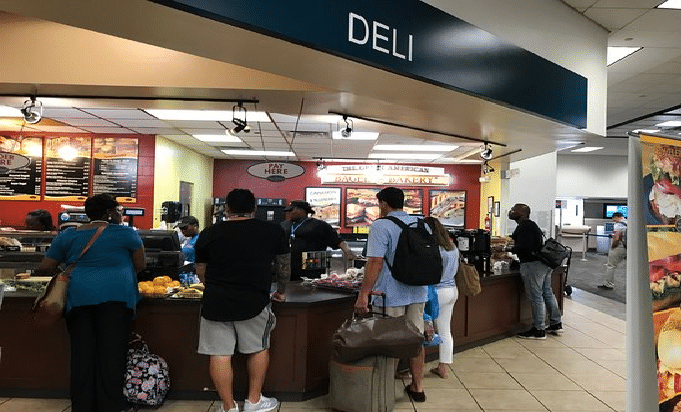 If you're searching for a quick snack, this bagel stop should be included in your pre-flight plans. Most declare the food and the sandwiches are substantially sized for airport pricing. If you're looking for an early morning venue, the selection is fair. The bagels are made from scratch and steam-baked on-location daily! If you are in town for business, consider a corporate breakfast or luncheon!
9. Air Margaritaville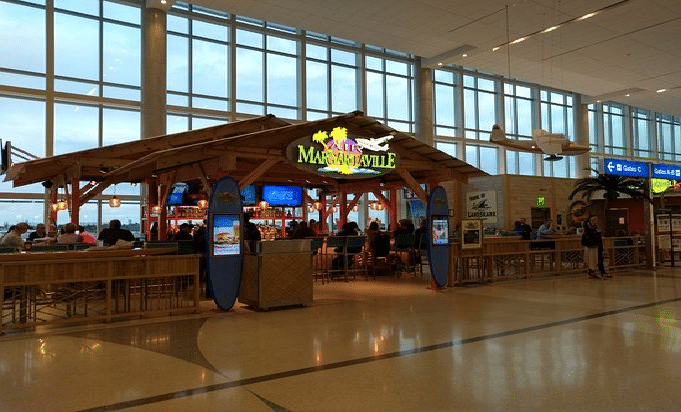 Come by and bring the kids while you wait for your flight. You'll find a great menu with a variety of drinks and food. The quick service will have your order ready while being attentive to your schedule. Have a spin with a draft beer, margarita drink, or other non-alcoholic options. The bar food sizes are huge, so come by and enjoy it!
10. Golden Bear Grill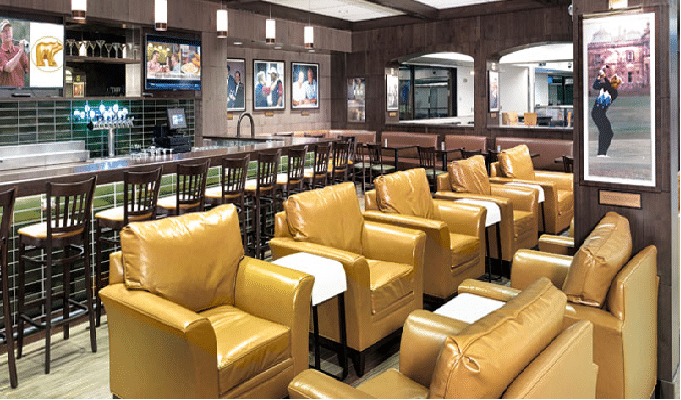 Sit back and wait for your flight in the vegetarian-friendly American cuisine and enjoy the bar for a delightful lunch or dinner. Reviews provided exclaimed the service and food are good and much better than expected for airport food. Grab what you need as takeout or have a drink while you wait at the full bar. It is also wheelchair accessible for easier access.
11. Torn Basil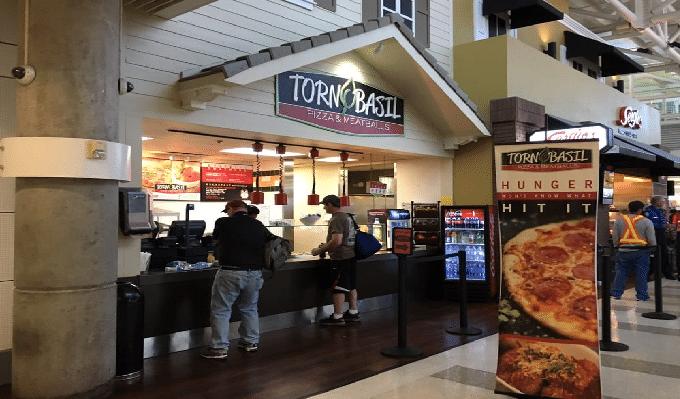 Check out the delicious American/Italian pizza joint during lunchtime hours. Have a seat and watch some television and enjoy a drink from the full bar. One client proclaimed she was not a pizza person but found the Spinach & Mushroom Pizza was the ticket in the delicious department. Swing by and decide for yourself!
12. Landshark Bar & Grill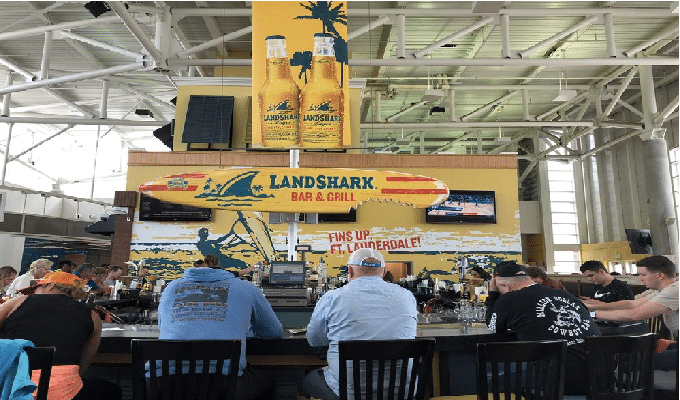 You will find the location within the airport opens at 6 AM and closes daily at 10 PM. You have wheelchair accessibility, table service, and takeout options. Have a seat and watch some TV or have a delicious alcoholic beverage from the full bar. Don't worry about the tab for now, since Landshark accepts your credit card. Stop by on your next flight.
13. Aroma Market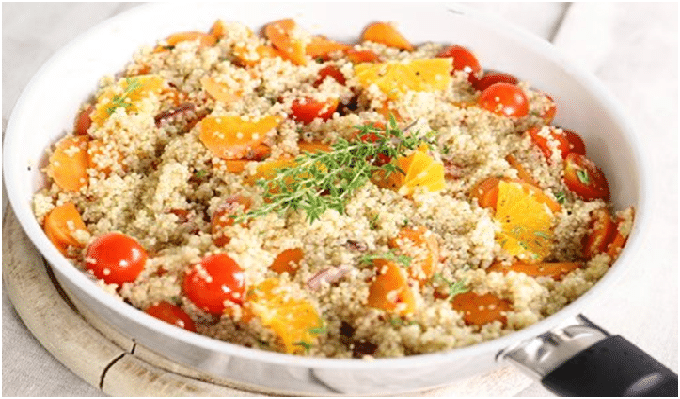 You have to experience this at least once because it is considered South Florida's Premier kosher caterer and market. Choose from items such as challah, pizza, rolls, and various bakery items. Other items include a delicious cooked eggplant parmesan on a baked wrap, meatballs or stuffed cabbage, and so much more. The veggies and all foods are high quality for the choosiest eaters!
14. Anthony's Coal-Fired Pizza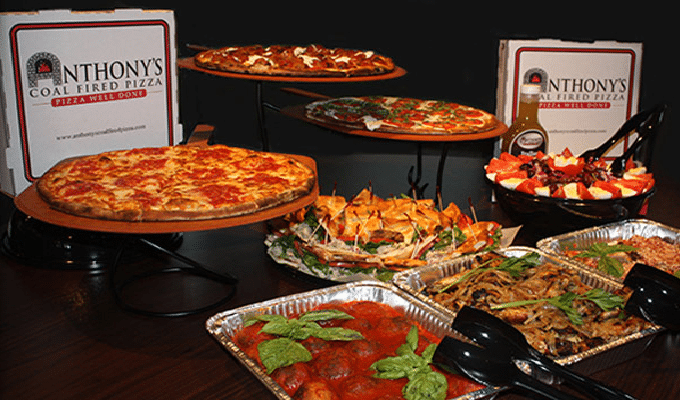 If you have transportation, it's worth a short ride to visit this pizza parlor. Leave the noise and crowds at the airport behind and step into a high-quality and affordable option. Enjoy comfort foods, including subs, wings, and pizzas created by this popular chain restaurant. You will be glad you took the extra time to enjoy the delicious food and fantastic atmosphere.
15. Indian Harbor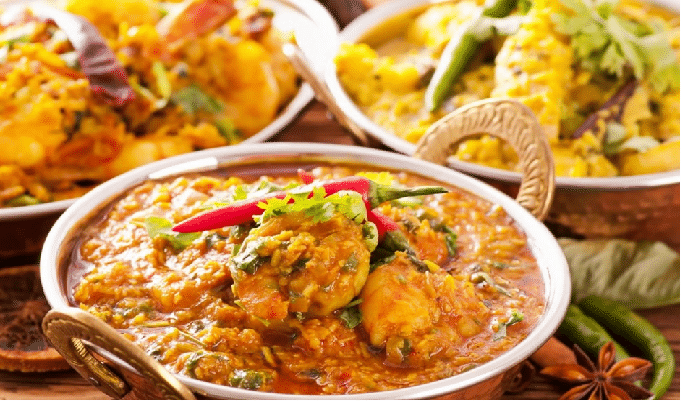 You will adore the menu offered by Indian Harbor with its vegan and vegetarian options for those so inclined. You can also choose from a vast menu, including a popular meat dish call Yellow Dal Tadka, as well as other Indian options, including curry, masala, and so much more. It is just a short trip from the parking lots of the airport, and so worth it.
16. Pelican Landing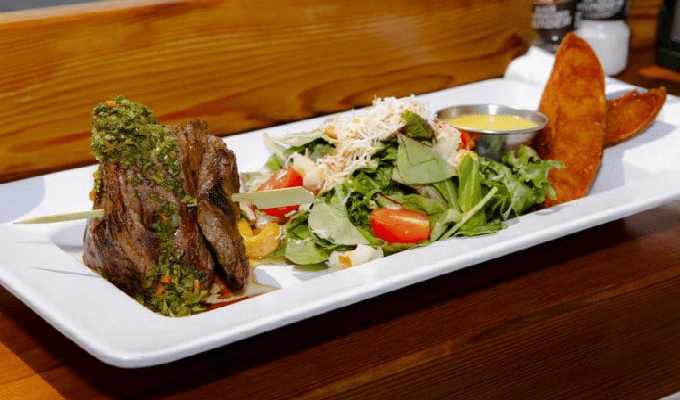 This fantastic restaurant is located right by Port Everglades as a seafood restaurant that is deemed one of the hottest spots in the Fort Lauderdale/Hollywood area.
Relax and enjoy a fish dish or seafood platter and salad while you enjoy the gorgeous views of the ocean waves before exiting or entering the airport area. Enjoy a delicious cocktail and plan for a return trip.
17. Chef Allen's 2 Go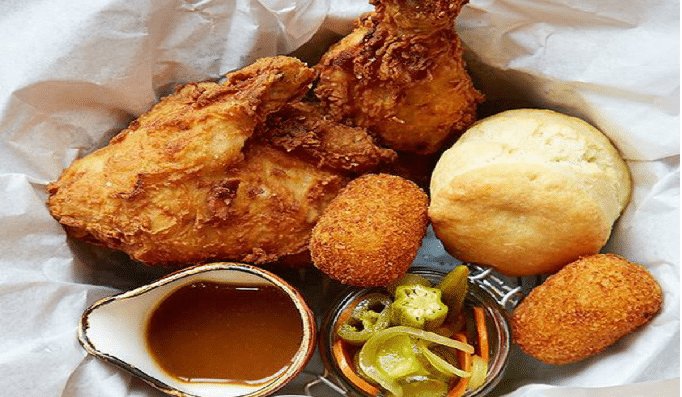 You will love the nice staff and variety of foods you will receive when you enjoy the venue found at South Florida's Chef Allen's restaurant. You will fall in love with the-inspired salads & sandwiches, prepackaged snacks – all dispensed in a basic setting. Have a look at the menu on the below link! And –  the restaurant is only one minute from the airport.
18. Firebirds Wood Fired Grill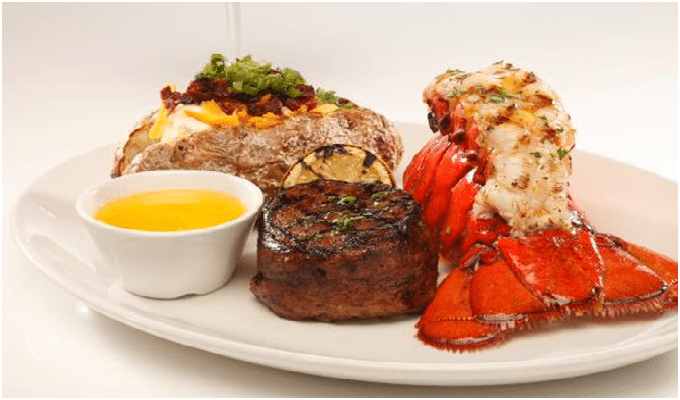 You won't be sorry you made the short 4.1-mile trek (12 minutes) to enjoy the flavorful wood-fired dishes. The restaurant is open from 11 AM until 10 PM seven days per week. Order some coconut shrimp, wood-grilled salmon, or a juicy prime rib. No worries since you will have free parking, and call ahead for a reservation if desired so you won't be delayed in a waiting line.
19. KUBO Asian Fusion Street Food & Sushi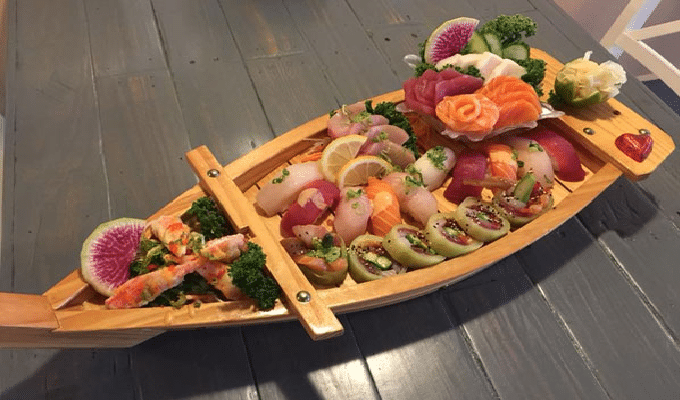 Step away – about 2.2 miles from the airport and enjoy some tasty sushi and other delicious options. You will soon discover only the finest selection of dishes served in the true spirit of Asia. Order from the luncheon menu or dinner at the sushi bar or join a table and chat with the friendly staff and the chefs. You will be hungry after you look at the delightful pics on the website. Make plans today!
20.  Shake Shack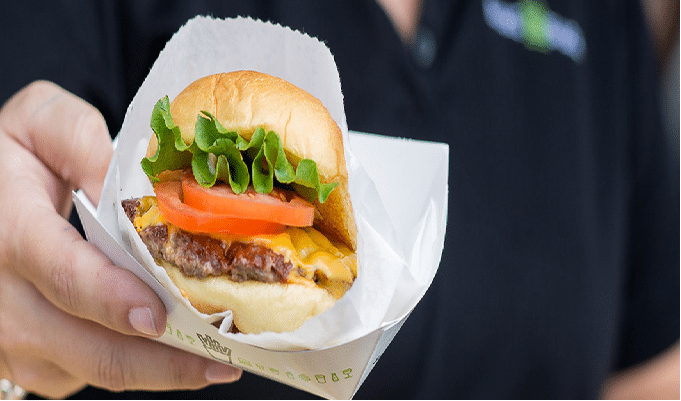 Travel just 0.3 miles from the airport and visit the juice bars or have one of the tasty smoothies. Try a hot dog or burger between the hours of 6 AM and 9 PM every day of the week. Breakfast is served daily until 10:30 AM. It is acclaimed as the perfect spot to visit before you advance to the plane ride. The patrons said it is worth the wait if there is a line, it is something to write home about!
Conclusion
Now, you have some of the hottest spots at your fingertips when you are in the Fort Lauderdale Airport area. Dine-in or out of many of the restaurants, or take it on board the plane to enjoy later. There is absolutely no reason to leave hungry. There is a huge variety (as you now see). If you have access to transportation, some of the locations would be worth the extra effort, so you are ensured to receive a much quicker service off of the airport property (just common sense there). Enjoy your next visit, whether it is for business or pleasure! This concludes the list of Fort Lauderdale airport restaurants. If you have any questions, let us know in the comments!