Are you interested in listening to the palms swaying gently in the breeze or spending a luxurious day on the beach? If you are, Fort Lauderdale invites you to a fascinating world. The sunrises are beautiful as you watch them unfold from your balcony or ground level in the sand; you will be riveted. You can enjoy 23 miles of coastline from the north at Deerfield Beach or from the south at Hallandale Beach. A bit of history unfolds in Broward County along the State Road A1A corridor, which displays Bonnet House in Fort Lauderdale, the Indian Mound Park in Pompano Beach, or the Barefoot Mailman Statue and Hillsboro Lighthouse in Hillsboro Beach. there is something available to suit every budget and group in this list of hotels near Fort Lauderdale Airport.
Enjoy fishing, hiking, snorkeling, and swimming at many of the piers and recreational resorts. Enjoy the Dania Beach Arts & Seafood Celebration, Pompano Beach Seafood Festival, and many other annual festivals. If you have a pooch in the family, no worries, check out one of the Canine Beach areas. Don't miss a single day of adventure. Be sure to visit one of the hotels near the Fort Lauderdale Airport area soon!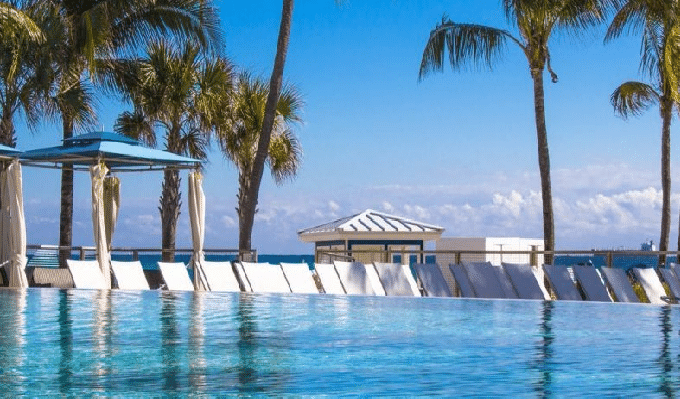 You will enjoy a relaxing oceanfront experience when you visit the B Ocean Resort with its white sandy beach. It's loaded with all of the most pleasurable amenities you will find in the South of Florida. Enjoy the pool or relax at the on-site bar and lounge. Enjoy the smoke-free atmosphere at any time of the day or night. Save a spot today!
2. Crowne Plaza Fort Lauderdale Airport / Cruise Port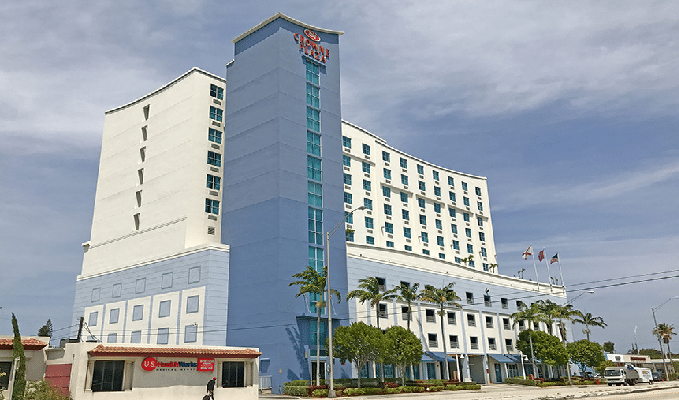 You will discover this full-service hotel at the entrance of the Port Everglades Cruise Port, which is less than one mile from the Fort Lauderdale Airport and just two miles from downtown. Enjoy the rooftop and sun terrace, room service, meeting rooms, and its onsite convenience store. You can also enjoy the free shuttle or taxi service. Book a room today!
3. Sonesta Fort Lauderdale Beach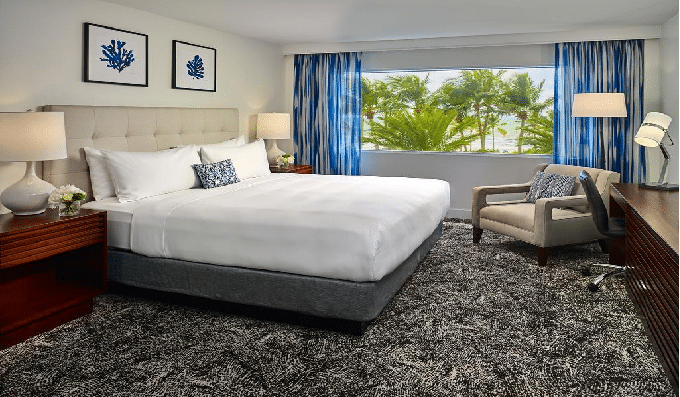 Make your dreams come true and stay at Sonesta, where you're a 'hop and a skip' away from the surf and sand. Grab a chair on the sundeck and enjoy the outdoor pool if you don't relish the sandy sheets! Dine at the Steelpan with its Caribbean-American fusion kitchen and bar. Choose the venue for a wedding or other special gathering. The options are limitless.
4. Fort Lauderdale Marriott North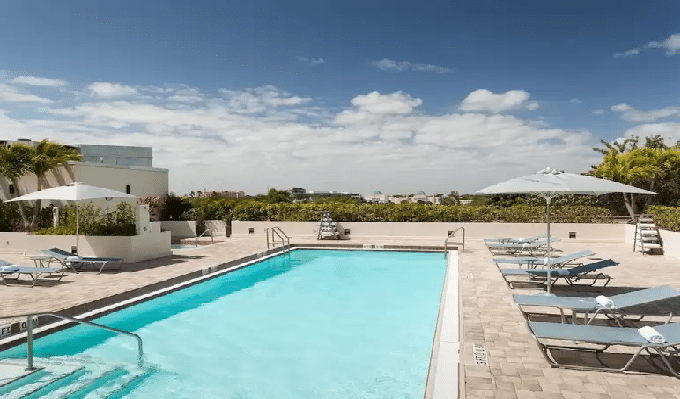 You are accessible to both the Fort Lauderdale International Airport and Miami International Airport. If you have kids, they stay free. Why not visit the workout room and fitness center? Enjoy the on-location bar and lounge for an exciting change of pace. Book your next conference in our convenient facility. Why not book a room in this fabulous non-smoking hotel for your next traveling experience?
5. Royal Beach Palace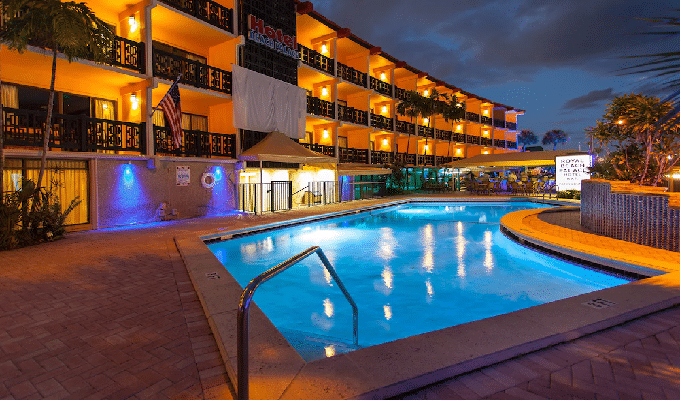 The warm and friendly atmosphere is deemed as "Our Place," which dictates a beautiful home away from home adventure. Enjoy a private balcony with room service or choose the in-room microwave and refrigerator if you would rather bring your goodies. You will spend a ton of time in the pool, on the beach, or in one of the shops within walking distance. You'll also have a bar and lounge for your enjoyment.
6. Pelican Grand Beach Resort, A Noble House Resort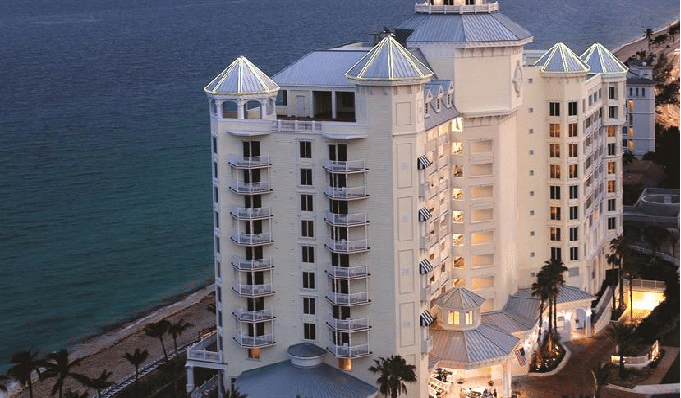 Enjoy the Atlantic Oceanfront rooms with the resort's suite renovations added in January of 2019. The resort has its private beach and joins the Lazy River Tubing ride. Have a splashing good time. Enjoy a delicious sweet treat from the resort's old-timey ice cream parlor. Take in the warm sun and have lunch delivered by one of the beach attendants.
7. Snooze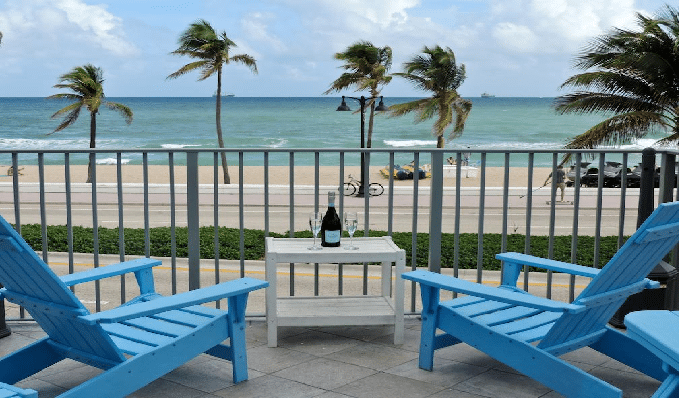 If you enjoy walking, Snooze is an excellent option for you. You have 24 restaurants within 0.3 miles! You also have eight great attractions nearby. Enjoy the rooftop terrace in the sun or the shade of one of the umbrellas. It's affordable if you are on a budget. It's acclaimed as providing comfortable and clean rooms for you to enjoy the beach. Also offered at Snooze is an ADA room, but contact us for reservations.
8. Ocean Manor Beach Resort Hotel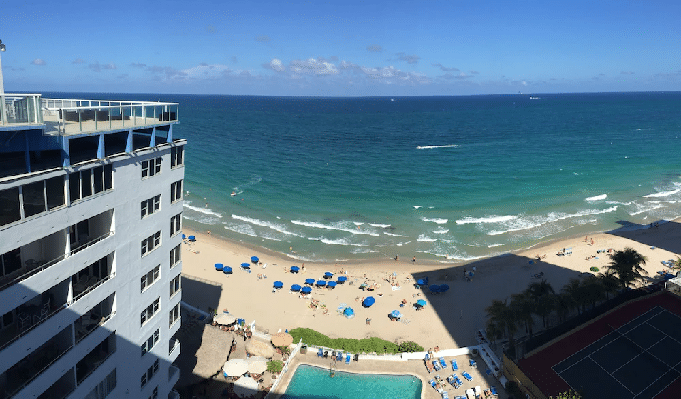 The hotel offers you a bay or ocean view suite. You are provided a kitchenette with a fridge for storing your beverages or food if desired. You have a private balcony and beach. Ocean Manor offers dog/pet-friendly options. Enjoy the bar and lounge or go poolside with our favorite beverage. Rent a bicycle and enjoy the beautiful area of Fort Lauderdale.
9. Candlewood Suites Ft. Lauderdale Air/Seaport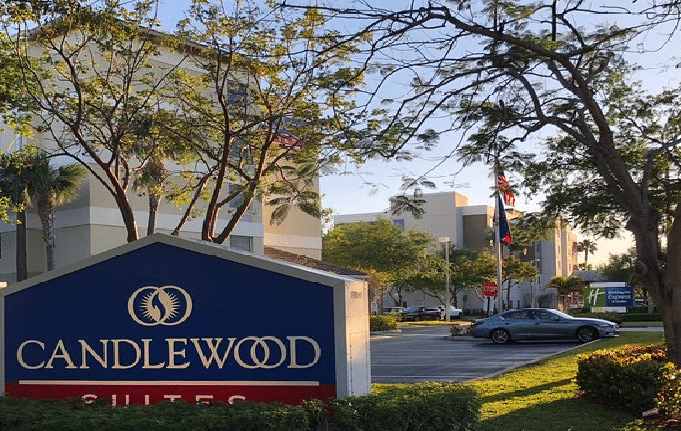 You will be pleased that the Amtrak Tri-Rail Station and the Fort Lauderdale Hollywood International Airport are only about two miles away. Its convenient location will bring you all of the comforts of home and more, including a Jungle Queen boat tour or a visit through the entertainment district, which is just three miles from the suites. It's pet-friendly, so don't worry about your precious canines.
10. The Westin Fort Lauderdale Beach Resort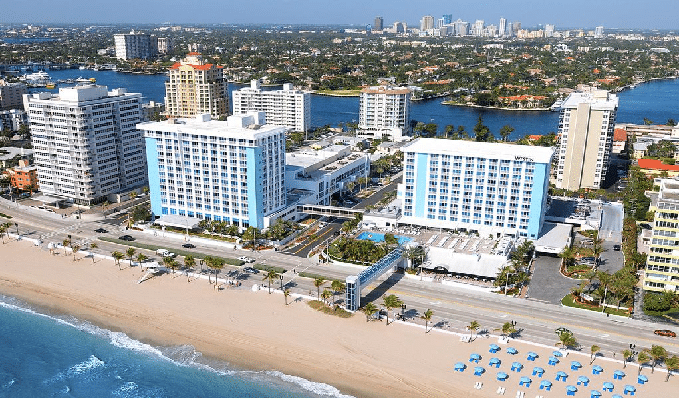 Bring your pets along and enjoy your time away from home. You have 433 rooms ranging from ocean views or the Intracoastal Waterway. The heavenly beds will be a welcome relief after you have an evening at the poolside bar, Waves Bar & Grill. Have a workout in the modern gym and top it off with an on-site spa treatment. Visit the location for business or a quick vacation spot.
11. The Atlantic Hotel & Spa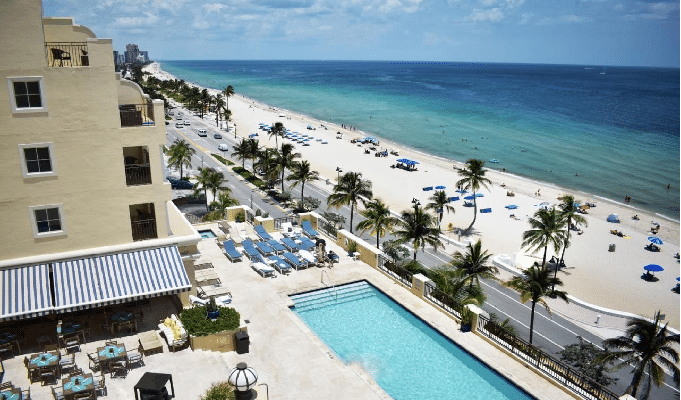 This fabulous hotel/spa is a dream come true where excellence, luxury, and the beach meet! Take in the ocean breeze from an elegant suite or studio after you indulge in a delightful spa treatment. Bask in the luxurious marble bathroom or cook your snacks in one of the kitchenettes if you don't want to leave the room. Enjoy the local flare and dine in the Wild Thyme either indoors or on the exquisite terrace and enjoy the scenery.
12. Hampton Inn Fort Lauderdale Airport North Cruise Port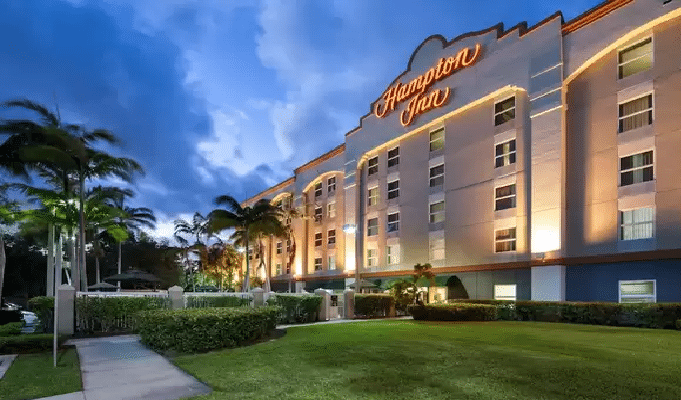 Enjoy your stay with 21 restaurants within less than a mile of your accommodations. The Fort Lauderdale International Airport is only one mile away with the hotel furnishing free airport transportation. You will get the full package of convenience, comfort, and value. The family-friendly atmosphere invites you to enjoy the pool, free breakfast, and so much more to have a great trip away from home.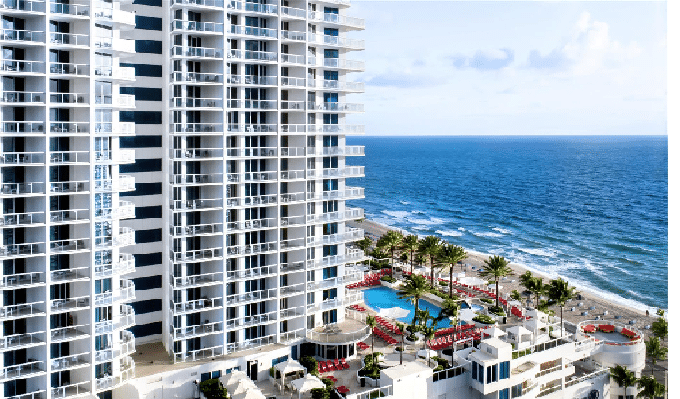 Enjoy your stay at this snazzy Atlantic Ocean vacation resort, centrally located in North Beach. You will enjoy the family-friendly atmosphere ranging from a one to a three-bedroom suite. Enjoy an evening walk over the three-mile beach or dine at one of the local favorites, including Surf & Sand, Ilios & Sun, or LaMarche. The ocean-view pool offers private cabanas, a stunning lounge, and your favorite daytime food and beverage service.
14. The Aqua Hotel/ Previously known As Angela's Beach Resort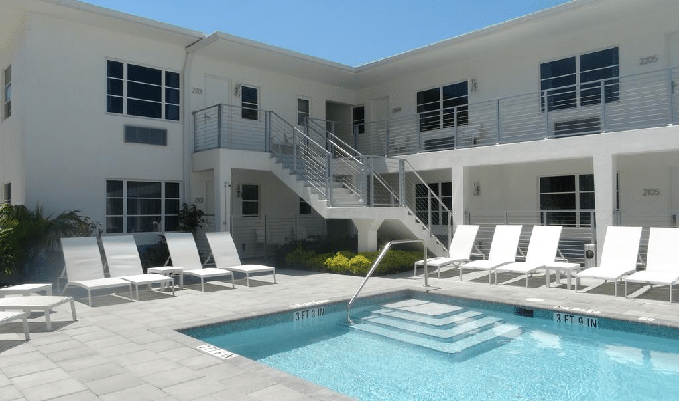 Visit the resort to enjoy all the North Beach area has to offer. Worship the sun or enjoy a nice picnic at its BBQ facilities. Rent a bike and go on a journey to the Village Design Art Gallery or go to the Bryna Beach Shop or Village Shoppe to get that special gift for those friends and family you left at home. You will have a wine garden just two blocks away, or you can visit one of the 21 local restaurants within less than one mile. Pick one today!
15. Best Western Plus Oceanside Inn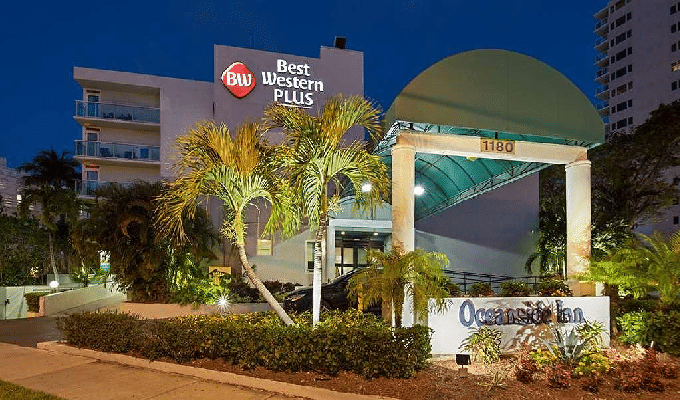 Clients have proclaimed that even though the hotel is a bit older, of how excellent the hotel is for its location and sleep quality if you are searching for a fabulous getaway. You can enjoy the free buffet breakfast or visit the cocktail lounge, the Island Bar & Grill during the evening hours. Take a dip in the heated outdoor swimming pool or take a sightseeing tour to take in all the area has to offer. The opportunities are limitless.
16. Hyatt Place Ft. Lauderdale 17th Street Convention Center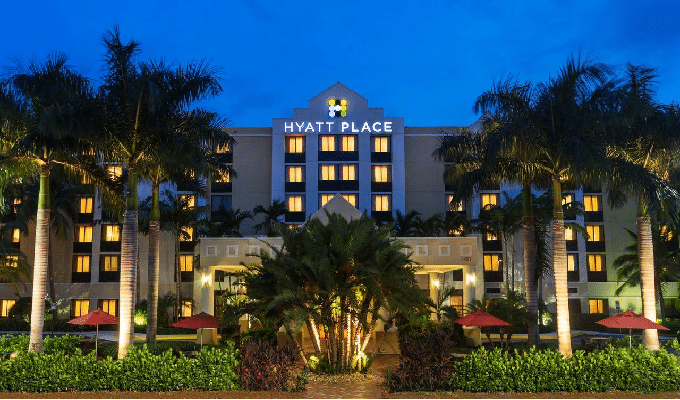 Enjoy your stay at this great location, only one mile from the Fort Lauderdale International Airport or two miles from the beach. The Hyatt offers a free shuttle to the airport and shops are within walking distance to the Outback, Harbor shops, Mezzaluna, and so much more. You will be glad to know it is a dog/pet-friendly establishment with meeting rooms and conference facilities for your convenience. See you there soon!
17. Holiday Inn Express and Suites Fort Lauderdale Executive Airport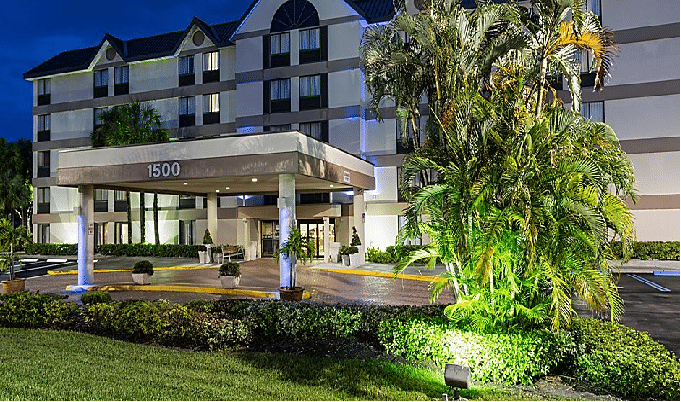 The HI Express is known for the little things, including WiFi, and a complimentary buffet for breakfast. Plan your next beach vacation, casino date, or business trip. If you are a football fan, book a room now for the Super Bowl LIV coming in 2020. Visitors claim the service is excellent, and the staff as polite and friendly. You can enjoy the fitness center, which is available with your 24-hour room access key! What more can you ask for when you are traveling?
18. Hampton Inn Ft. Lauderdale /Downtown Las Olas Area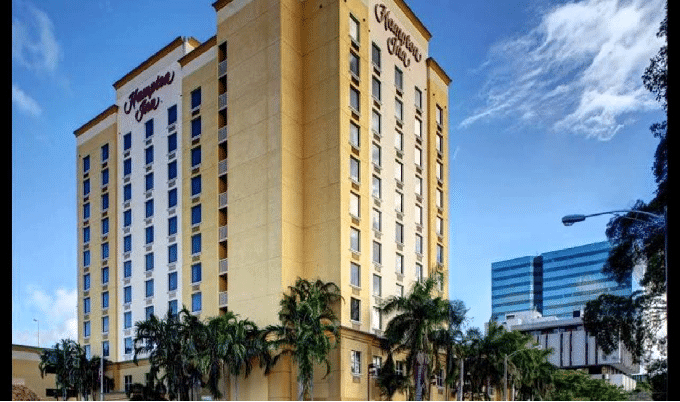 You will love the convenient location, which is only 15 minutes from the Fort Lauderdale/Hollywood International Airport – off of I-95 with a free shuttle when needed. Port Everglades is about 20 minutes away. Meanwhile, enjoy the on-site business center or fitness area for a quick workout. Enjoy the WiFi and free hot breakfast, including a healthy bowl of oatmeal and freshly baked waffles. Relax and enjoy your visit!
19. Royal Palms Resort & Spa.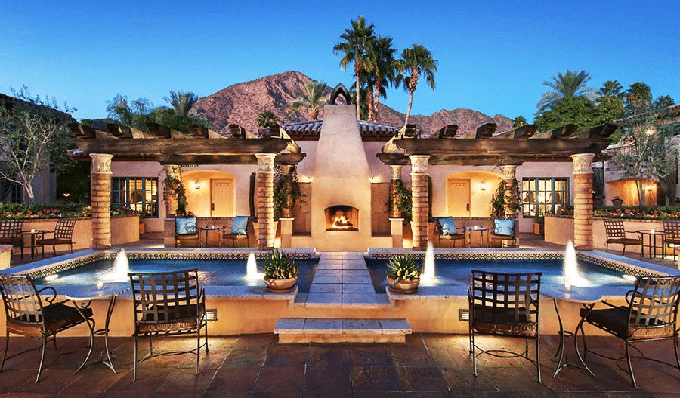 You will be delighted in the seaside community of North Beach Village with just one block from the Fort Lauderdale Beach, and about five miles from the Fort Lauderdale International Airport. Enjoy the Spa & Fitness Center, Bar & Grill, and other luxurious amenities, including a private balcony. The resort is a kids-free environment that promotes higher levels of relaxation. Enjoy the heated pool with its bar attraction or take a yoga class.
20. Oasis Hotel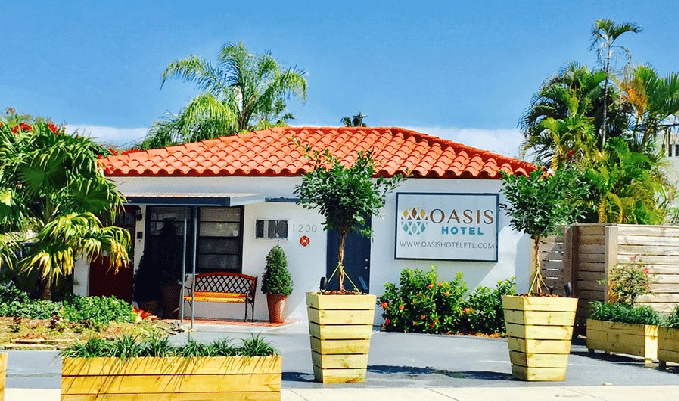 Your visit to the Oasis will plunge you into its modern interior design with a mix of Historical architecture. The rooms will provide you with a full-sized kitchen, coffee machine, and WiFi. You have two HD Smart TVs with Amazon Prime, and Netflix included. The Fort Lauderdale beach is about ten minutes away, but you have an abundance of eateries to satisfy your dining needs within a short walk of the Oasis.
Conclusion
You now have a huge opportunity to visit the hotels near Fort Lauderdale Airport with all of the amenities to suit your budget and situation, whether it is for your business or enjoyment. Many of the locations will offer a shuttle to the airport for your traveling convenience. Whether you want a free breakfast or an evening of entertainment and delicious beverages, you will find it in Fort Lauderdale. Enjoy the beautiful sunsets over the Atlantic and dine at one of the local spots to enjoy their cuisine. Several of the options are kid and pet-friendly, so be sure to reserve your favorite spot soon!