Warning
: DOMElement::setAttribute(): ID wpgmza_tolls_189 already defined in
/home/sweetspi/exploreist.com/wp-content/plugins/wp-google-maps-pro/includes/class.directions-box.php
on line
126
Most people travel to Fort Lauderdale for the sun and sandy beaches. We dream of laying on the warm sand relaxing our worries away and working on our tans. Some people, however, like those beaches to be clothing optional for that all-over tan. So, if you are looking for a nontraditional beach, there are plenty of nude resorts and nude beaches in Fort Lauderdale for you to enjoy.
Now technically it is not legal to be nude in Florida. "The official Florida state ruling on nudity in public places comes from State Statute 800.03, which states that a person cannot expose "sexual organ in any public place…in a vulgar or indecent manner." There are some exceptions to the rule though. It is not in violation of the law if you are not partaking in vulgarity or sexual acts, so if your plan was an innocent day at the beach, you will be fine.
With that being said, the greater Fort Lauderdale area has completely clothing optional. beaches, topless beaches, and then there are private resorts that are clothing optional.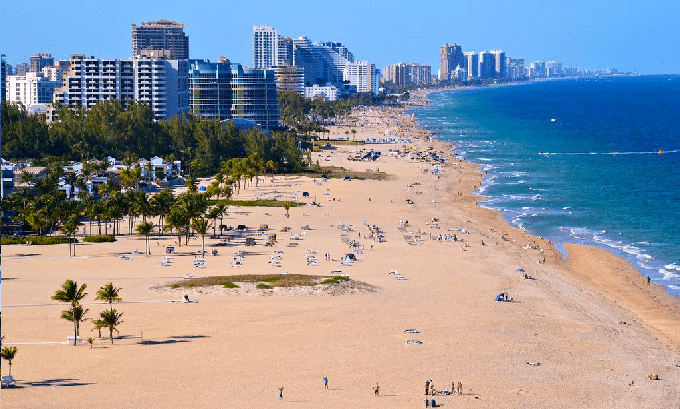 See Also:
Clothing Optional Beaches
Here are some clothing optional or nude beaches that allow you the choice of being clothed in your favorite swimsuit or being fully nude.
1. Haulover Park Beach
This is the only legal nude beach in Fort Lauderdale. Nestled in the beautiful Haulover Park, is a beautiful white sandy beach that spans over a mile of undeveloped coastline. Feel free to be clothed or unclothed at this beach because it is clothing optional. It is a family-friendly nude beach and there are trained professionals there for security and teaching about nude beach etiquette. You will want to make sure you are in the section of the beach that is clothing optional though. The 800-yard stretch of the beach at the northernmost end is partitioned off for nude sunbathing. Make sure to remember the sunscreen!
2. Blind Creek Beach
Being one of Florida's newest clothing-optional beaches, Blind Creek Beach is nature at it's best. The idea is to keep this beach as natural as possible by protecting some of the natural environments such as dunes. It is a beautiful place to sunbathe, swim, or go birdwatching. With the goal being to keep this beach as natural as possible, it is a good idea to bring water and snack with you because they are not sold here.
3. Apollo Beach
Apollo Beach is one of just a couple of nude beaches in the Fort Lauderdale area. This is a more secluded beach made up of crushed coquina shells with beautiful sparkling water. The surf and current can be rough at times, so be vigilant! Be careful though because nudity isn't allowed on the entire beach. You need to make sure that you are south of the very last parking lot labeled #5.
Topless Beaches
While there aren't a ton of nude beaches in Fort Lauderdale or the surrounding area, there are plenty of beaches where being topless isn't going to land you with a fine. Although it isn't legal so to speak unless there is a complaint. "Our policy has kind of been, 'hands-off,'" says Fort Lauderdale Mayor Jim Naugle."
4. South Beach (Lummus Park)
Although this isn't technically a topless beach, the atmosphere is pretty relaxed and you will find many women, especially European tourists sunbathing topless.  Because this isn't a topless beach, make sure you cover up if you are asked to because it may result in a fine or even jail time.
5. Hobe Sound National Wildlife Refuge
This off the beaten path beach, and home to many celebrities, is known for its secluded areas.  This is also a beach that is not technically clothing-optional, naturalists have been known to go topless, and even nude without too much hassle. Its seclusion and isolation make it possible.
Clothing Optional Resorts
There are many clothing-optional resorts in the Fort Lauderdale area. Because they are privately owned, the rules on public nudity do not apply.
6. Cypress Cove Nudist Resort
While Cypress Cove Nudist Resort isn't a beach, its lake beaches are just as enjoyable. If the natural feel is what you are after, then you need to stay here. You can sunbathe on the docks, swim in the pools, and just relax. Feel free to stay nude in every part of the resort. Everything you would find at a traditional resort you will find here like a 9-hole golf course, tennis courts, and a fitness center. It is also a family-friendly environment for naturalists vacationing with their families.
7. Alcazar Resort
The Alcazar Resort caters specifically to gay men. It is the most popular clothing optional resort for gay men in the United States. At only 50 feet from the gorgeous beach and shore of the Atlantic, you won't have far to go to enjoy the beautiful ocean waters. It is also only five minutes from the famous Sebastian Street gay beach. Whether traveling a single person or as a couple, this resort has everything you need for a great vacation.
8. Rooftop Resort
The rooftop Resort is not your typical place to stay. An all adult atmosphere for Lifestyle nudists,  you can walk around in your birthday suit anywhere on the property. With special event nights and video playrooms, you can go where your imagination takes you. For singles and couples, this resort offers heated pools and breathtaking views. It is only minutes from Haulover Beach, the famous and only legally nude beach in Fort Lauderdale.
Conclusion
There I nothing wrong with showing a little skin just as long as you do properly. Even though there are few legally nude beaches in Fort Lauderdale, there are options for you to look into. Nude lakes and nude resorts can be a great place to get your all-over tan or to practice your naturalist lifestyle. Plan your trip, pack your bags, and don't forget the sunscreen!