Warning
: DOMElement::setAttribute(): ID wpgmza_tolls_122 already defined in
/home/sweetspi/exploreist.com/wp-content/plugins/wp-google-maps-pro/includes/class.directions-box.php
on line
126
Gainesville, Florida is located almost halfway between Jacksonville and Orlando and is home to the University of Florida. It's the largest city within Alachua County. The city has a subtropical climate, thanks to its location, which does also mean that it can be quite humid at times – so make sure you always have water on you! The city has a large music scene, with artists like Tom Petty and the Heartbreakers, Stephen Stills and The Motels calling Gainesville home. Gainesville also has a large arts scene, and thanks to this, there are a large number of festivals and events held in the city. We created a list of the best events in Gainesville to make sure you don't miss out!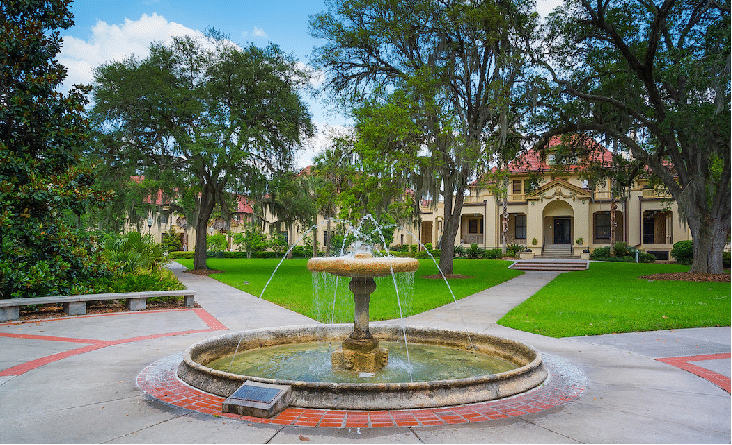 1. Cinema Verde
Starting off our list of the best events in Gainesville is Cinema Verde. Cinema Verde is an environmental film and arts festival, held annually in Gainesville. It offers film viewings, art shows, workshops, and different events to increase public awareness of environmental practices to improve quality of life in urban, suburban and rural settings.  The festival has been running annually since 2010. This festival is sponsored by the Visit Gainesville tourism board, as well as a host of environmentally conscious organizations from within the region, all promoting a better planet.  That event is usually held in February. 
2. Hogtown Craft Beer festival
The Hogtown Craft Beer Festival is held annually in March in Gainesville. The festival is the perfect place to sample craft beers from local, regional and national breweries. There's even some local cuisine on show, including carefully chosen beer samples to match.  And a bonus – if you want to experience the show but don't drink, you can take advantage of free entry as a designated driver! You may also want to check out the best bars in Gainesville.
3. Alachua County Fair
The Alachua County Fair is held annually in October and November. If you're planning to visit the festival, be sure to buy a ticket online to save some money! There are music acts on stage, a Ferris wheel, and plenty of carnival games as well. The festival runs for close to two weeks, so you're going to want to come back and enjoy more games!
4. Gainesville Native American Festival
Held in March, the Gainesville Native American Festival is a great way to learn more about the Native American culture, especially in the Gainesville area. Learn some dances, how to build a fire and take a look at a range of handmade arts and crafts. Entry is usually $10 for an adult and $5 for a child so it's an affordable day out for a family. There are food stalls around, with various traditional foods. 
5. Downtown Gainesville Art Festival
Wander around downtown Gainesville, whilst checking out some of the best artwork from local artists. Find a selection of artworks, sculptures, handmade jewelry, and ceramics as well as photography. If you're traveling with kids, there's even a section full of children's artwork, and even a station where they create their art. Over 100,000 people visit the town for this festival, so you're not going to want to miss out! The festival is usually held  November 
6. Santa Fe Arts Festival
The Santa Fe Arts Festival is full of great activities, including cultural events, outdoor activities, and attractions you're going to want to see. A festival is a great event for all your senses, with colors, delicious smelling food and live bands playing in the background. People travel from all over the USA to Gainesville to sell their fares at this festival, so you're going to buy some of the best of the best crafts during your visit. The festival is held in March
7. Jest Fest
If you're wanting a bit of circus fun whilst you're in town, be sure to visit the Jest Fest. The Jest Fest is home to the Famous Flying Wallendas and their high-wire acts, as well as circus and comedy starts over 5 stages. The festival is held in April, right when the weather is getting hot. There's plenty of food options, as well as clowns and puppets. 
8. Newberry Watermelon Festival
The Newberry Watermelon Festival was started in the 1940s, after the return of the region's veterans from World War 2, and the townspeople wanted a festival to bring back happiness to the region. The festival awards a prize to the largest watermelon grown, as well as a pageant! People travel from all over Florida to enjoy this festival. In terms of the best events in Gainesville, the Newberry Watermelon Festival is probably the most historically significant.
9. Kanapaha Spring Garden Festival
The Kanapaha Spring Garden Festival is an annual celebration, showing off over 150 booths of landscape displays and crafts. There's also a mainstage where you can sit in front of, and relax to some sweet local tunes. There's also an on-site auction, with all proceeds going to a local charity. You also have the chance to buy bunches of flowers to take home and decorate with. The festival is held in March.
10. Hoggetowne Medieval Festival
Everyone has to experience a medieval festival at least once in their life, so why not visit the Hoggetowne Festival. There are themed activities, games, crafts and even entertainment. The festival is in January and February, with over 40,000 people attending. Enjoy some medieval food and artisans. Enjoy the jousting at night, as well as juggling, acrobats, and knife-throwers. Over 150 artists are selling their fares as well. 
11. Thornebrook Arts Festival
The Thornebrook Arts Festival is an annual festival held in October. The festival showcases a range of artists from the local area and beyond. The festival has run for the last 35 years, giving it a great reputation – up to 20,000 people head there every year. As well as paintings and sculptures, there is also jewelry and pottery on show. It's a true festival, serving up some of the best famed 'festival food' including funnel cakes and kettle corn, as well as bagels, sandwiches, and desserts. There's always something to keep you entertained, including music and dance. 
12. Florida Bat Festival
On for the animal lovers is the Florida Bat Festival, held at the Lubee Bat Conservatory. The festival is held annually in October. This year is a double celebration, with the festival being held for the 15th time and the Lubee's Bat Conservatory's 30th anniversary.  Throughout the festival, you'll be spoilt with music, kid's games and some of the largest bats in the world! There is also a separate beer garden (with an additional entry charge) where you can try some of the best beers from the local area. 
It's fair to say, there's plenty of things to do in Gainesville while you're visiting. So check your calendar, plan a trip, and make the most of some of these best events in Gainesville so you get the most out of the city!