Gainesville, Florida, home to the oldest university in Florida, is a cultural hub for the state. Yet, equally rivaled to the music and arts that Gainesville provides are the great natural resources available. With an impressive trail system for biking and hiking, and access to waterways for recreation, Gainesville charms in a variety of ways. Whether you seek indoor thrills or outdoor adventures, Gainesville has it all in the city "where nature and culture meet." Come to Gainesville to relax and unwind, and enjoy one of the many green spaces that the city provides. Read on to discover the best parks in Gainesville, Florida, to map out your green getaway in the Sunshine State.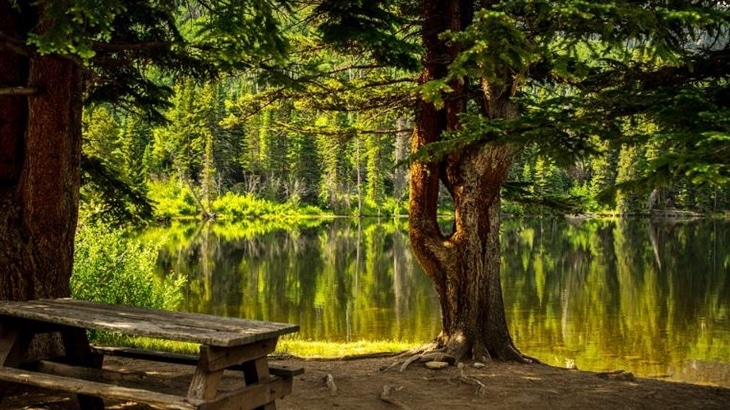 Read Also:
1. Sweetwater Wetlands Park
The best park to birdwatch in the Gainesville area is Sweetwater Wetlands Park, home to a number of wildlife species. Great Blue Herons, alligators, wild horses, and snakes are just some of the wildlife that can be viewed at Sweetwater. A great place for a nature walk, explore the 3.5-mile trail on the premises. Sweetwater Wetlands Park opens at 7:00 am and closes at sunset. However, the entrance gates close 15 minutes before closing time. The park covers over 125 acres of land.
2. Depot Park
One of the best parks in Gainesville, Depot Park is a key city park located right downtown. Actually, it's a wonderful spot for children in the summer heat. Thoughtfully, Depot Park offers a splash pad, waterfalls, and floor jets. Stroll along the water's edge promenade which hugs a small pond. Popularly, it's home to many events for the community including concerts and festivals. No wonder Depot Park is a beloved Gainesville staple.
Budget wise, free is good at Possum Creek Dog Park, which covers 76 acres of land. For fun, there's a skate park and a playground area. Additionally, there's a nature trail available for use in addition to the dog park. The dog park is off-leash. However, it's divided into separate areas for large and small dogs. So, take your furry friend with you. Additionally, enjoy the jogging trail or the nature trail that encompasses the floodplain of Possum Creek.
4. Haisley Lynch Dog Park
Haisley Lynch Dog Park is another one for keeping Fido exercised, although a beautiful, Florida-native garden surrounding the park will delight humans as well. Set on 1.4 acres of land, Haisley Lynch includes an area that is completely fenced off and leash-free. Conveniently, it's just off Main Street, Haisley Lynch. And, free never goes out of style.
5. Forest Park
Forest park is human and animal-friendly, with something to please both. Fun, the kids will enjoy kicking around a soccer ball. Also, you can let your dog run free in the fenced-in area. With two large volley-ball courts, three basketball courts, and a picnic area, it is easy to while away an afternoon at Forest Park. Dogs will especially love the water fountain, a bowl for water for the dogs. Other cooling-off facilities include kiddie pools and hoses to cool off during those hot summer months.
6. Kanapaha Veterans Memorial Park
Separate from Kanapaha Botanical Gardens, Kanapaha Veterans Memorial Park memorializes the veterans and policemen's' contribution to American history. Each brick in the park is meant to represent 1,000 American lives killed during the country's long history with war. Pay your remembrance respects, or, alternatively, go for a walk or play ball on these expansive fields.
7. Loblolly Woods Nature Park
Ideally, for bird-watching, this 159-acre park is perfect. Walk the boardwalk path through the lush forest of Loblolly Woods. Notably, observe the beautiful springtime flowers as they carpet the forest floor, or take a bike on the broad path. Named after Loblolly Pines, a tree native to the Southeastern part of the country, Loblolly Woods Nature Park truly lets you get away from it all to do some forest exploring.
8. Alfred A. Ring Park
In the number eight spot on the list of the best parks in Gainesville is the Alfred A. Ring Park, which is a beautiful spot for a short (1 mile) hike on sloping territory just next to Hogtown Creek. Gaze upon the confluence of Hogtown Creek and Glen Springs Run as you immerse yourself in the trees. This trail is open from dawn to dusk and is pedestrian-only, so you can leave all the noise of the city behind.
9. Gainesville-Hawthorne State Trail
An incredible resource for the Gainesville community, the Gainesville-Hawthorne State Trail spans 16 miles with beautiful views and the potential for wildlife sightings. Repurposing an old railroad trail, the now-gravel based pathway is ideal for bikers or hikers. With no fee, stretch your legs through land that covers Boulware Springs Park and Paynes Prairie State Park.
10. Devil's Millhopper Geological State Park
After a visit to Devil's Millhopper Geological State Park, you can say you walked down into a sinkhole. Or, tell your friends that you explored a rainforest! Devil's Millhopper's path takes you down a 120-foot cavity where the unique ecosystem is a lush rainforest. Bring a picnic to luxuriate in the cool green atmosphere this area provides. For those unable to climb downstairs, circumnavigate the top of the sinkhole on the nature trail.
11. Kanapaha Botanical Gardens
In a state that is lush and verdant, it's no surprise that the local botanic garden is noteworthy. The Kanapaha Botanical Gardens is a gem for plant-lovers, with 24 major collections of natural flora. Home to the largest herb garden in the southeast, Kanapaha Botanical Gardens shines in their ecological showmanship. Check out the Chinese royal bamboo, stroll along a pathway lined with palms, or check out their special Moonlight Walks.
12. Carson Springs Wildlife Foundation
Carson Springs Wildlife Foundation is an animal rescue center for exotic and endangered species. Animals species currently include Puma, African lion, Red Ruffed Lemur, and Grey fox, to name a few. Guided tours must be prearranged, and a suggested donation is $25 per adult, as all proceeds go to the care and upkeep of the animals.
13. Butterfly Rainforest
Part of the Florida Museum of Natural History, the Butterfly Rainforest is a hidden gem for those who love winged friends. A 6,400 square-foot building is screened but exposed to the natural Florida elements. Actually, this is truly heaven for butterflies. Walk through the lush landscape as free-flying butterflies loop and fly around you. Magical and photo-worthy, the Butterfly Rainforest should be on any nature lover's list.
14. La Chua Trail
Part of Paynes Prairie State Park, the La Chua Trail leads you to the Alachua Sink and through prairie and wetlands. Watch for alligators or migratory Sandhill Cranes as you walk this 3-mile trail, round-trip. Check out a ranger-led hike which occurs November through March to gain insider's information on the flora and fauna of the area. Remember to keep pets at home when visiting Paynes Prairie State Park.
15. Paynes Prairie Preserve State Park
Paynes Prairie is an incredible preserve to see wildlife, take a walk, or climb the 50-foot observation tower to overlook the area. Once occupied by Seminole Indians, explore the savannah, go fishing or boating, or head to the visitor center to learn more. If you love to camp, Paynes Prairie Preserve has that too—a dream for anyone who loves the Great Outdoors.
16. University of Florida Bat House
Another amazing resource from the University of Florida, the University of Florida Bat House gives visitors the opportunity to see live bats. The bats exit their homes about 15 to 20 minutes after sunset, as they embark on a mission to gather food. The best time to see the bats are in the spring and summer and the University encourages people to respectfully come and view the bats during that time.
17. Santa Fe College Teaching Zoo
The Santa Fe College Teaching Zoo is home to some 70 species including gibbons, lemurs, and Galapagos tortoises making it a shoe-in for one of the best parks in Gainesville. The only accredited zoo on a college campus, this is truly a one-of-a-kind opportunity to learn alongside future zookeepers. Come for one of the zoo's special programs, which include Animal Encounters, Galapagos Tortoise Encounters, and scavenger hunts in the zoo.
18. Florida Museum of Natural History
The Florida Museum of Natural History should not be missed when visiting Gainesville. Open daily, the Florida Museum of Natural History's permanent exhibits include Waterways and Wildlife, South Florida People and Environments, and the Discovery Zone for children. On-going rotating visits enrich the already valuable collection housed here, and admission is free for permanent exhibits.
19. Morningside Nature Center
Explore over 400 acres of the wild preserve at Morningside Nature Center, home to the 130-year-old Living History Farm. Come to Morningside Nature Center to get your start on exploring the area. It provides six miles of trail through sandhill, flatwoods, and cypress domes. On-going programs make learning fun and accessible, making this one of the best parks in Gainesville. The Living History Farm celebrates life in the 1800s, complete with festivals such as the Boil and Fiddlefest in November.
20. Florida National Scenic Trail
Florida National Scenic Trail is an iconic hiking trail, running 1,300 miles across Florida. Beginning in Big Cypress National Preserve, it crosses the Gainesville region. Hike part of the trail, enjoying well-marked and maintained trails. Always non-motorized, the Florida National Scenic Trail is one of twelve national scenic trails in the United States and exemplifies Florida's wilderness.
Conclusion, Best Parks in Gainesville
Gainesville, Florida, is rich in opportunities to explore both local flora and fauna. From hiking trails to observatory decks, opportunities to see wildlife up close or far away, Gainesville is a wonderful place for those whose idea of a good time is getting outside. You'll love everything green and wild, Florida-style, that Gainesville provides with this list of parks and learning opportunities! With many free and affordable options, Gainesville knows how to unwind and relax in nature without breaking the pocket-book. Take advantage of all the best parks in Gainesville that the city has to offer. Whether you're going solo or with the family, you'll be sure to find something that fits your needs.
Read Also: Things to do in Gainesville FL at Night