There is a beautiful city in Northern Florida that keeps you happily on your feet. It's the city of fun and is famous for supporting the visual arts. This metropolitan area comes alive with the rising of the sun, that peeks over the horizon and remains awake through a contagious spirit of intense entertainment. Yes, it never sleeps! I bet you're wondering where is this thrilling hub? Well pack your bags and get ready to revel in excitement. Travel by air, land or sea, it times to get to Gainesville.  Now, what are some fun things to do in Gainesville, Florida?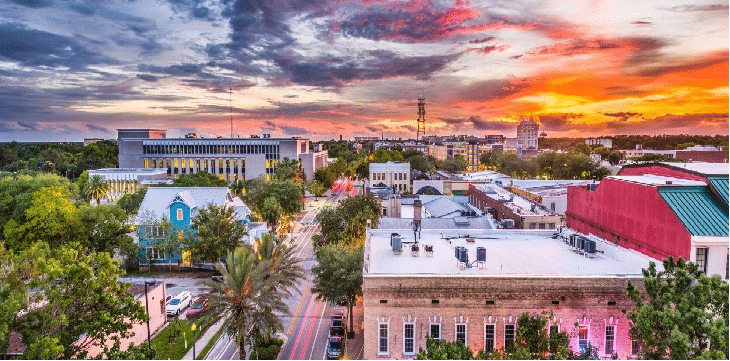 Absolute Fun Zone
By now you must have heard that Gainesville, Florida is a fun zone. It's perfect for everyone, including kids. So, you know what that means? This gorgeous city is just right for your family vacation. Some places and activities are fitting for persons of any age. Finding a toddler zone is easy as snapping your fingers. Don't believe me? Prove it for yourself. Take a trip to a beautiful city. And don't stop- unless it is to catch a breath and powerup for the excitement. There are so many fun things to do in Gainesville Florida. Yes, that's right! You'll get lost in the wonderful world of fun. And no, you won't need to worry about trying to find your way back, just revel in the enchanting moment. You'll be fine!
1. The Bull
Go out for a bite, a scrumptious dinner at any of its amazing restaurants, especially The Bull. This will further intensify your experience in the culture-filled city. You'll also be feeling like a native while you bask and share in some hilarious moments soaking up stand up comedy.
2. Cade Museum for Creativity and Invention
Another fun thing to do in Gainesville is exploring the Cade Museum. It's not like the typical museum. It's better! Your time will be well spent you'll journey repeatedly to Gainesville just to visit this awesome place. Who knows? You may even reinvent yourself while visiting here. This historical building that houses a plethora of interesting and valuable objects inspires the mind. Remember learning is always fun, so the more comfortable merrier you are, the more knowledge you'll absorb.
Now, roll up your sleeves and put down your bags. It's time to have some fun at the Cade Museum for Creativity and Invention. The museum sheds light on cutting-edge and emerging technologies. If that is not enough to captivate your mind. The Cade Museum in Gainesville, Florida introduces a new theme to thrill adventurous visitors of all ages. This involves using all your senses, primarily in Creative Labs that encourage you to think like inventors.
3. Rockeys Dueling Piano Bar
Downtown Gainesville should be a must-stop on your traveling list. There are several amazing places for you to visit, but the Rockeys Dueling Piano Bar is one of the top places you should be. So, what is exciting about this prime location? Well, let's start with it being a fabulous hip entertainment sanctuary. And if you love instrumental music, this place is absolutely for you. With harmonious tunes floating around, the piano lounge serenades its guests with live music. If you adore stand-up comedy too you'll find this place welcoming. Wait there's more. Open-mike nights for poets and musicians are also among its joy-giving packaging. Now, there's a bonus for night activities in Gainesville.
4. Hippodrome State Theatre 
Here's another fun thing to do in Gainesville Florida, make a stop at the Hippodrome State Theatre. Call it the Hipp-that's what natives say. Considering art as an intrinsic element of a society, this house of drama explores the truth of human experiences through dramatic works. Venture to this cultural centerpiece to enjoy aspects of its creativity-after all it's only fair that you have a dose of laughter and comical yet enlightening lessons every once in a while. Remember The Hipp is far from the ordinary, even for those who make it their home. Live theatre, films, gallery exhibits, classes, and special activities are just some of the pleasures that are available to your delight at this awesome place. 
5. Arcade Bar Gainesville Florida
Still, if that's not enough to convince you about the many fun things to do in Gainesville Florida, Arcade Bar should do the job. Don't get me wrong, there are several fantastic arcades here, but this is one of the best. It's a three-story building so, just imagine how much fun you can have in one location. A lot, right?  Pinballs, shooters, and fighters are just a few options on the ground floor. Your experience intensifies with each level. That means the classic arcade games and bubble hockey on the second floor will have you cheering for more pleasure. And finally, the third floor that's populated with beer ball, skeeball, pinball, and multi arcade games will certainly satisfy your desire for some well-needed fun! That's not all. Dancing the night away and enjoying the full services of the bar are major bonuses for your adventure at the Arcade Bar in Gainesville Florida.
6. Kanapaha Botanical Gardens
Do you hear that? Listen closely. That's the sound of nature calling you at Kanapaha Botanical Gardens. This is not to be confused with the Kanapaha Park. The breathtaking scenery that's dominated by lush bamboos, enchanting roses, beneficial herbs, and gorgeous water lilies and more are enough to create an indelible sensation and experience for nature lovers. This is also one of the best wedding venues in the metropolitan area. So, why not add celebrating your nuptial hour as another fun thing to do in Gainesville, Florida.
7. Painting with a Twist
Surely you must want to know about the artsy side of this city. Painting with a Twist will reveal this and so much more to you. Build initially to allow locals to relax, unwind and be creative in the aftermath of Hurricane Katrina, the fun hub has become a popular place among both tourists and natives of the city. So if you're planning a girl's night out, rate night, bachelorette party, family day, or private event, Painting with a Twist is the place to be. 
Conclusion
So, what are you waiting for? Now, you're aware of the fun things to do in Gainesville, Florida. It's time to have some fun, knowing that there is nothing to stop you. Whether it's a day or night, you're with your family and friends or choose to go alone, you won't be disappointed. There's nowhere else like this fantastic city. Enjoy!
Read Also: