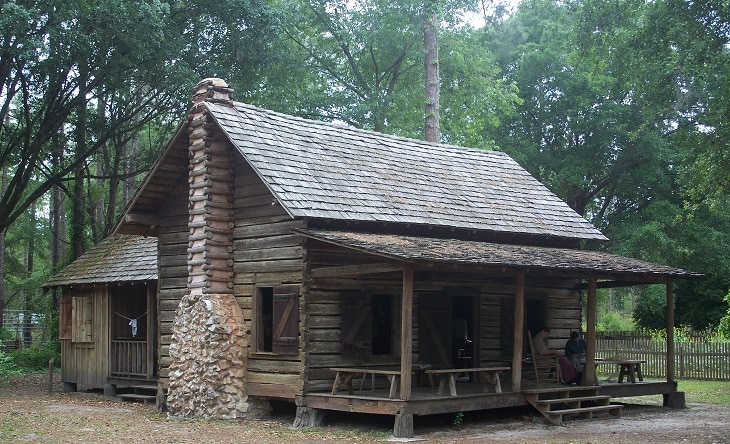 Hours of Operation
Admission Fee
Monday – Saturday: 9:00am – 16:30pm 
However, certain activities have their own operational hours. 
No entrance fee
However, donations are welcome.
Description
Morningside Nature Center is a nature park located in Gainesville, Alachua County. It homes a very important and historical monument – a farm, which is from the 1800s. The farm still produces the original products from the past, living up to their historical traditions, farming in sugarcane, corn, and cotton. The livestock is heritage breeds from when the farm was built and operated. Locals and tourists can visit the farm and experience and view the livestock & plantations of the 1840 farm. The livestock consists of; Jersey cows, Ossabaw Island hogs, Gulf Coast sheep and Dorking roosters & hens. 
Every Saturday, the volunteers dress in period attire and teach locals and visitors how to act and farm like a historical Alachua County. On Wednesdays visitors may feed the livestock vegetables and hay, this falls part of the feeding program, which is free. However, donations are welcome, donations in the form of food, such as; carrots, sweet potatoes, apples, melons, and squash. On the first Friday of each month, you may spend an hour with the reptiles and amphibians between 2:00 pm – 3:00 pm in the nature reserve. 
Morningside Nature Center also features nature trails and hikes for visitors to walk and enjoy the nature of the park. There are a few sections reserved for picnics for day visitors and tourists. Perfect for families to spend their afternoon and to enjoy their lunch while surrounded by historical sites and pure authentic nature. The park is incredible for school field trips and camping. 
Morningside Nature Center Reviews
At the Morningside Nature Center, tourists, visitors, and locals love the groomed hiking and nature trails. They are described as trimmed and neat filled with enjoyable moments in nature and capturing the perfect scenes. Morningside Nature Center features so many animals, unique to the farm as well as common and rare sites of other wildlife. Deer, tortoises, and turkeys are spotted during hikes and in the surrounding vicinity.
While, cows, sheep, and roosters that are indigenous to the farm are taking refuge at the farm and visitors have the privilege of feeding them. The history of old is also embraced at Morningside Nature Center, and visitors are taught all about the rural historical lifestyle of the farming techniques and styles from the past. It is very calming and soothing and many tourists, as well as locals, recommend it for clearing your mind. One of the best destinations in Gainesville, simple, beautiful, bright, natural and historical. 
Morningside Nature Center
Average rating:
0 reviews