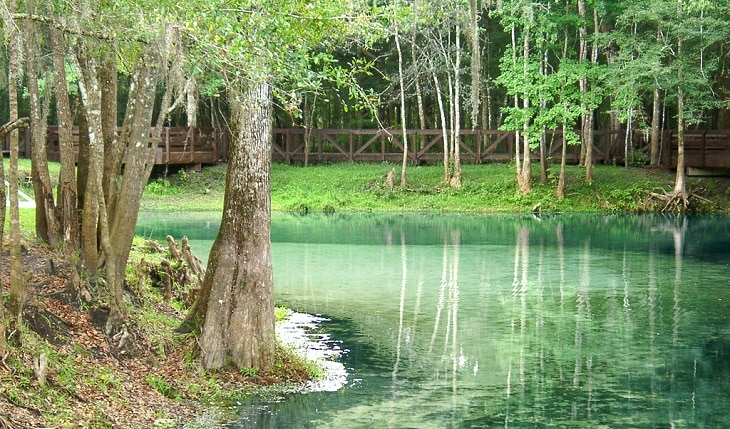 Phone: +1 352-264-6868
Address: 28800 NW 182nd Ave, High Springs, FL 32643, United States
Website: alachuacounty.us
Hours of Operation
Admission Fee
Open 7 days a week
(Dawn – Dusk)
Description
The Poe Springs Park is a national treasure and the dream family location in Gainesville. The park is 202 acres large and is situated along the banks of the Santa Fe River, providing the park with a cool and icy breeze and a gorgeous glistening stream of refreshing clear water. Poe Springs Park is the largest spring in Alachua County, which makes it an amazing tourist attraction as it features so many amazing activities. Poe Springs Park features a range of activities for the whole family to partake in, these activities include; a playground, tubing, swimming, kayaking, fishing, canoeing, hiking, picnicking, volleyball courts, a soccer field, nature trails and lastly their very own spring.
The park and spring are kid-friendly and the water is shallow, however, you are expected to watch over your kids while they play and swim in the stream. Poe Spring Park is not pet-friendly sadly and no alcohol is allowed, this ensures that the optimal of people have a great time enjoying nature without distractions. There is an underwater cave for the explorers to live out their wildest dreams and to go crazy investigating. The cave is 25 feet, this cave is to compensate for the fact that scuba diving is prohibited.
This park is known for its springs, streams, fields, trails and majestic woodlands. A very scenic environment with an overflow of nature for people to soak in. The parents can relax and enjoy a picnic cuisine while the kids play soccer on the soccer fields, explore the underwater cave or play on the playgrounds. The perfect family getaway location to simply destress and get an intake of pure nature. 
Poe Springs Park Reviews
Described by many that Poe Springs Park is the perfect weekend getaway. It is cheap, beautiful & family oriented. Mothers love the picnic pavilions and picnic patio sections, especially for renting. It is super convenient for birthday parties because after eating on the patio or pavilion kids can enjoy the spring or playground areas. Many reviews are on the parking and how neat and organized it is, also the fact that there is an abundance of parking even on the busiest days. And for families tight on money, $5 a car is exceptionally reasonable.
Some come only for the nature trails through the scenic woodlands and around the 202-acre park, while others come to watch the kayaks and canoes goe by. There is a lack of bins and trash-cans, however, that is an issue that is being looked at.  Parents love the fact that their kids are safe in a shallow spring, not like most other parks where the springs are exceptionally deep. Here at Poe Springs Park, families are always satisfied. Great for family picnics, birthday parties, stroll through the woodlands, swimming in the spring, exploring the underwater cave and kayaking. Be sure to make a stop at Poe Springs Park, it is definitely a place you and your family desperately need to visit. 
Poe Springs Park
Average rating:
0 reviews