Spending some time in the popular college town of Gainesville, Florida? There is plenty of fun, exciting nightlife options to explore during your visit! During the day, locals and tourists enjoy the museums, botanical gardens, a plethora of restaurants, or the exotic butterfly rainforest. The options are limitless for a full day spent in the city. However, when the moon comes up, many people leave their hotels and go in search of something a little different–nightlife, and the fun that comes along with it. So whether you are looking to dress up and hit the town, spend the night with your significant other, or dress down and head to a local spot, Gainesville will not disappoint. Peruse the options detailed below to see what fun things to do in Gainesville FL at night are available for you!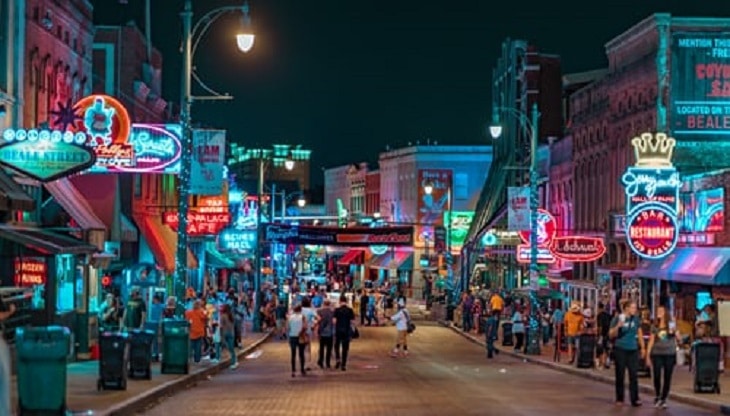 Read Also: Best parks to visit in Gainesville
Space Ultra Lounge
If you are looking for fun things to do in Gainesville at night, look no further than the Space Ultra Lounge. The 18+ dance and smoke bar offer enjoyment for adults of all ages. While they do not serve or allow alcohol on the premises, they do offer 30 different flavor combinations for hookah, which is guaranteed to leave anyone with a headrush worthy of a night full of dancing. Because the Space Ultra Lounge is not a bar, they offer extended hours for guests to enjoy dancing, smoking, and socializing. They close at 4 am and do not require a cover to enter, as long as the individual/group purchases a hookah. The hookahs at the Space Ultra Lounge cost around $10, but vary depending on quality and flavor. If you are unfamiliar with the amount of time hookah lasts, know that a single hookah will get a group of 5 people through 2 hours comfortably, given that the coals are changed as needed. 
Arcade Bar 
The Arcade Bar in Gainesville, FL provides fun things to do at night over 21 years of age. The Arcade Bar is filled with vintage and modern games, all for guests to enjoy while they order a drink from the full-service bar. This bar also offers; foosball, pinball, and skeeball, in addition to the other games available. The machines are run by tokens, which are used as currency for most of the games in the Arcade Bar. This location is well-spaced out, ensuring guests aren't too cramped when gaming or drinking. The bar was mindful when organizing their layout–the three-floor building is layered. The more physically active games are located on the top and bottom levels, along with their own bars, and the middle level is reserved for the arcade-style games that the bar is famous for. This ensures that people are in their comfort zone at all times, which is a great thing to be considerate of. 
Painting with a Twist 
Feeling artistic? Painting with a Twist in Gainesville, FL is a fun option for things to do in Gainesville at night for couples. Painting with a Twist is a chain that has locations scattered around the United States. They offer a beginners painting class that is guided by a professional artist. Customers are allowed to bring their own adult beverages, or wine can be provided by the store if desired. Many people opt to bring their own drinks, as they can assure it will be something they like. 
Couples can nestle together while exploring their creative sides together. Classes can be selected based on what the "theme" is. The customers are encouraged to be creative but are given guidelines so that their artwork turns out optimally. This is one of the wonderful, romantic things to do in Gainesville FL at night. 
Florida Fun Bikes
A fun concept is popping up all over the nation– that is the concept of exercising during a night of drinking. The Florida Fun Bikes put this idea into reality. Guests of the Florida Fun Bikes are expected to pedal, or bike, their way downtown Gainesville while being served alcoholic beverages by a bartender on board. This excursion is also educational, as the guide for the fun bike will share information about the city, as well as jokes and humorous banter as the customers pedal themselves downtown. This is at the top of this list for things to do in Gainesville FL at night because it is so versatile. Bachelorette parties book the Florida Fun Bike often, as do birthday parties, bachelor parties, and regular groups of people looking for a fun time. 
First Magnitude Brewing Company
A night out doesn't always have to mean dancing the night away. Sometimes it can mean some simple jeans and a beer at a local brewery. For many people, an important part of traveling is sampling the local beer culture. First Magnitude Brewing Company has a very relaxed environment, sporting community tables for their patrons to share. The night atmosphere is softened by soft strands of lights hanging around the outdoor space. This is a great place to take a group to share a drink or to go alone. The community feel encourages conversations with others and could lead to an unexpected friendship. This brewery has been nationally recognized for the quality of its brews. 
Kava Bar and Hookah Lounge
Another on the list of enjoyable things to do in Gainesville at night is visit the Kava Bar and Hookah Lounge. They serve unique hookah combinations, as well as classic hookah. They serve drinks, unlike some other hookah bars listed. This is something that will appeal to the 21+ crowd. The vibe from this bar and lounge is very energetic–a place a group of friends would visit to enjoy a hookah and some drinks while listening to loud music, and occasionally dancing. 
Rockeys Dueling Piano Bar
Rockeys Dueling Piano Bar is a bar in Gainesville that features 2 (or more) pianists that "duel" each other for the customer's entertainment. They incorporate comedy and audience participation in their shows, making this bar high on the list of things to do in Gainesville, FL at night. This bar has become an institution in downtown Gainesville, drawing a strong local audience, as well as tourists who are looking to sample Gainesville culture. 
Conclusion
Gainesville is full of exciting nightlife, both bars, and breweries, for customers to enjoy. There is no shortage of things to do in Gainesville, FL at night, but hopefully, the above information illuminated some great spots to visit in Gainesville. Whether you are a local who is looking for a fun night out, or a tourist who is looking to branch out and explore a new city, Gainesville has something to offer everyone. 
Visit Also: