BEST Restaurants in Hollywood, Florida [2022 UPDATED]
By

Marina Yoveva
If you are looking for the best restaurants in Hollywood then boy do we have a treat for you! Hollywood, Florida is an absolute dream destination with stunning beaches. Those who come to Hollywood come to be sun-kissed with radiant rays and hot summer air. This city is a tourist attraction for more reasons than just their beaches. Hollywood is also home to some of the most famous restaurants in the world. These restaurants compete with some of the best without a doubt. If you find yourself passing by you want to grab a seat at one or all of these restaurants. And don't worry about not finding a restaurant that caters to your needs, because one of these surely will. There are tacos, burgers, seafood, pasta & cocktails. This list is your guide at spotting the best restaurant in Hollywood.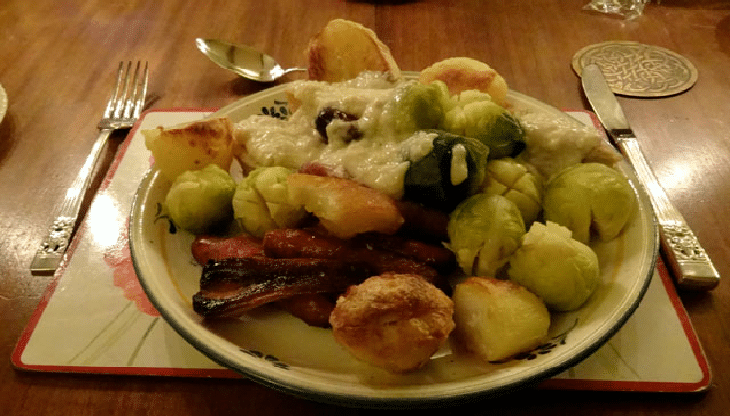 1. Monkitail  
Hollywood has some of the best restaurants and "Monkitail", is at the top of this list. Serving as the leader of this pack, this restaurant brings a little slice of Japan, dishing up the most delicious sushi. This Japanese inspired restaurant has great service and a gorgeous interior design. If you're a fan of Asian cuisine and sushi this is the place for you. 
2. Runas Peruvian Cuisine
A Peruvian and Latin themed restaurant. This fusion cuisine brings something new and refreshing to Hollywood and that is why it is all the buzz around Hollywood. Coming in second on our list is "Runas Peruvian Cuisine", this is one of the best restaurants in Hollywood, simply because it has some of the best dishes. Who doesn't love Latin and Peruvian cuisine? 
3. Pachamanka Authentic Peruvian Cuisine
Imagine if Latin cuisine meets Peruvian cuisine meets Seafood, that is what they've got serving at our number 3 spot restaurant. You can bring your Vegetarian friends, Vegan friends and even those friends who avoid eating Gluten. This restaurant caters for all, and that is why they're so popular. 
4. J28 Sandwich Bar
Calling all sandwich lovers, this is your one-stop shop to pick your most desired sandwich. The menu contains almost every kind. The combination of meats, veg & sauces is all collaborating to make a masterpiece of a sandwich. "J28 Sandwich Bar", offers vegetarian and vegan options as well as gluten-free sandwiches. 
5. Diplomat Prime
Steak for the meat-eaters. This steakhouse is the best of the best. And if you're not a meat lover, the seafood options are just as good as every single meat option. The service is spectacular and the vibe is buzzing. Waitrons are always friendly and serve the food nice and hot. The restaurant is also situated in a hotel, so the structure and interior are stunning. If you're in Hollywood this is the restaurant that should be on your bucket list. 
6. Taco Beach Shack
Fun, fresh and vivacious. This colorful set is the place for celebration and good times. Get your drink on with some of the best drinks in Hollywood, and don't forget the signature dish. The star of the restaurant. The amazing Mexican taco. Get your taco at the taco bar and enjoy it while embracing the ocean breeze. This taco shack is one of the best restaurants in Hollywood. 
7. The Taco Spot
Tacos with an ocean breeze. What more do you need? Hit this taco beach bar and create your taco. Choose your toppings and sauces. What you'll be pleased to know is that the food is healthy, perfect for the health fanatics. They have smoothies that will keep you feeling fresh for hours and everything is cost-friendly. 
8. JWB Prime Steak and Seafood
The number one spot for birthdays, engagement parties and work functions. This is when a steakhouse meets a fancy harbor. The combination is immaculate and refreshing. You'll be dying in a fine restaurant decorated to perfection and lounging in the most comfortable armchairs. 
 9. Kuro
A unique take on Asian cuisine. Each dish is served in a rustic looking dish plate and bowl. It is vintage meets modern, so those Instagram junkies will love the setting at "Kuro". One of the best sushi restaurants in Hollywood. So if you're a sushi lover, insta junkie or a fan of vintage/modern interior this is the restaurant you need to check out. 
10. GG's Waterfront
An amazing restaurant right on the harbor. You'll have to reserve your table as this place is popping. Everyone wants to be here. Take a seat at one of the seaside tables and watch the sailboats pass by and capture the sunset. Enjoy yummy meals, grilled, fried and boiled. The fish is caught and served fresh. If you're staying near the beach this is where you should be spending your time.  
11. The Tipsy Boar
This bar and pub serve up the best drinks and burgers. And if you're just looking for a snack, enjoy the nacho crisps with some dips. Cocktails, beers and wine, all choices are amazing. And then for the hungry lions, grab a bite and order the messy burgers. If you've had a long day at work this is your place to unwind. 
12. Billy's Stone Crab
This restaurant is situated on the harbor, perfectly next to the ocean with amazing views. Enjoy your meal while watching the boats pass by and have a romantic dinner with the sunset settling beyond the horizon. The signature dish is their crab so be sure to order that when you make your stop at "Billy's". 
13. II Posto Ristorante 
Italy in Hollywood. Meet Hollywood's finest Italian restaurant. The menu does justice to authentic Italian cuisine. From pasta's to pizza to perfectly made tiramisu dessert. "Posto Ristorante" is a clear contender for the top spot as the best restaurant in Hollywood, FL. 
14. Council Oak Steak and Seafood
This fusion cuisine is a mix of steak and seafood, a very contradictory dish as grilled steak and ribs are not usually associated with seafood. The two do not complement each other, but here at "Council Oak" you can order seafood or grilled steak, you can even order both. They complicate each as if they were meant to be on the same plate, no other steak and seafood fusion can compete.
15. Sipora Di Mare
A pizzeria you'll never forget. "Sipora Di Mare", serves nothing but stellar pizza. Sit back and relax as each bite takes you on a trip to Italy. If you're in Hollywood be sure to hit this place up as it's a place you'll never forget. 
16. Las Vegas Cuban Cuisine
This Cuban and Caribbean restaurant brings refreshing cuisine to the locals in Hollywood. The rice is to die for, the crayfish is marvelous and the fish is sensational. An obvious choice as to why it is on this list, surely one of the best restaurants in Hollywood. 
17. Hard Rock Cafe
Form messy burgers to petite salad bowls, "Hard Rock Cafe" is serving up stellar dishes for the whole family. A fun and vibrant cafe with a super diverse menu. They've got it all, making them one of the best restaurants in Hollywood. Not your ordinary cafe. Pop in and see for yourself. 
18. Sonny's Famous Steak Hogies
Head on down to "Sonny's Famous Steak Hogies", if you're looking for something big, something greasy and something mouthwatering. "Sonny's", does a marvelous job at fine-tuning the biggest and messiest burger to perfection. Not all burgers are worth getting your clothes and hands greasy, but here that's hardly a fuss. 
19. Rocco's Pizza Incorporated 
Eat a pizza slice bigger than your face at "Rocco's Pizza Incorporated". Bigger is always better when it comes to food. Order any range of pizza and order it at table size. You and your family will be able to share one enormous pizza and still leave the restaurant stuffed. Vegetarian and Vegan options are made available, so it is perfect for everyone.  
20. Florio's of Little Italy
This Italian restaurant is an architect with pizza. Designing some of the best flavor combinations and upgrading the classics. "Florio's" not only specializes in pizza but burgers aswell. So if you're not a lover of pizza, well, then you've got the burger option. Dine from dusk till dawn here at "Florio's"
Hollywood is one of the lesser-known, hidden gems of Florida so be sure to stop by. If you're simplifying looking to unwind or to experience a great buzzing vibe, these restaurants have them all. Restaurants are the "in thing" now and foodies are trending so we're sure you'll feel right at home with this list of the 20 best restaurants in Hollywood. Enjoy the meal and then post about it after.