Jacksonville, Florida, is the most populous city in all of Florida. Though this urban mecca has so much to explore, the city also has expansive green space to balance out the concrete jungle. Come to Jacksonville and discover a wealth of parks and natural spaces, including gardens, walking trails, and dog parks. Jacksonville has the largest urban park system in all of America!
Considered urban sanctuaries, Jacksonville has no shortage of ways to get outside in this spanning metropolis of over 840 square miles. Directly on the Atlantic Ocean, Jacksonville edges up against beautiful shorelines and sandy beaches. Additionally, Jacksonville is where St. John's River meets the Atlantic Ocean. Whatever your plan on coming to Jacksonville for, it should be balanced out by some time spent in Mother Nature. Read on to discover our round-up of parks in Jacksonville, Florida, to be sure to breathe in the fresh air and Florida sunshine!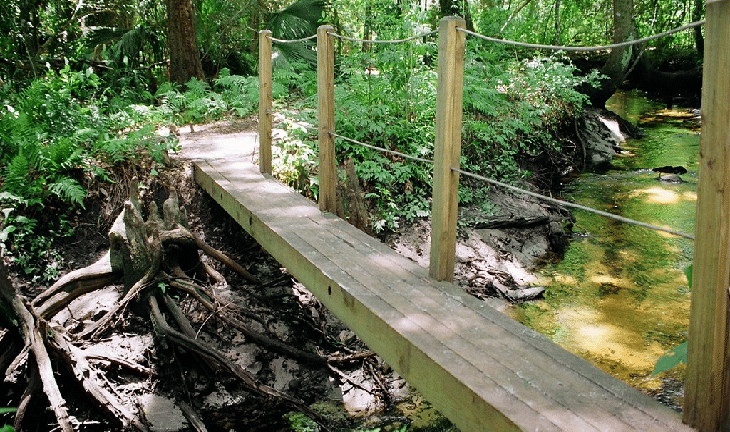 1. Southbank Riverwalk 
The Southbank Riverwalk is a wonderful place to start when headed outside while still in the city of Jacksonville. This 1 ¼ mile riverwalk hugs the St. Johns River and is home to many events and attractions. Locals love to go for a run, grab an ice cream, or simply sit and people watch along the Riverwalk. View shorebirds coming and going, river birds, and the sweeping skyline of the city from Southbank Riverwalk. 
2. Tree Hill Nature Center
Tree Hill Nature Center offers the unique opportunity to learn about local flora and fauna firsthand. Set in the center of Jacksonville, Tree Hill is accessible and cost-effective. With 50 acres of trails, a chance to see hummingbirds and native animals, as well as a Florida Natural History Museum, Tree Hill Nature Center, has so much to do. If you're up for extra-learning, sign up for a guided trail hike or an "Animal Encounter." 
3. Metropolitan Park and Marina
Located in downtown Jacksonville, Metropolitan Park and Marina are beloved by locals and tourists alike for hosting a variety of activities. A great place to spend an afternoon or evening outdoors, Metropolitan Park and Marina have picnic tables, carefully curated gardens, and waterfront access. Just off of I-95, Metropolitan Park is easy to get to, and often has concerts at its venue location.
4. Treaty Oak
Treaty Oak is not a park but an iconic oak tree that is so adored by Jacksonville, they have named the nearly 250-year-old tree, and worked to preserve it. People come to bask under the stretching branches of Treaty Oak, which was saved from development in the 1930s. The tree may be the oldest living thing predating the establishment of Jacksonville by founding father Isaiah Hart. Set in the Jessie Ball DuPont Park, it is worth the visit.
20 minutes north of the city by car is beautiful Big Talbot Island State Park. With a stunning overview of the ocean, Big Talbot Island is part of a string of oceanic islands. Boneyard Beach is an especially noteworthy part of the park with now-dead cedar and oak trees that jut from the beach in a bone-like fashion. Worth the drive and effort, do not miss Big Talbot Island State Park when visiting Jacksonville.
6. Central Park 
Central Park honors Jacksonville's history of the Civil War with a large memorial. The park spans 37 acres between Downtown Jacksonville and the Springfield Historic District and is also referred to as Confederate Park. Though the park is due a revival, the green space is historic in that it held the first Jacksonville zoo, as well as being a site for some 8,000 confederate soldiers who returned for a reunion in 1914.
7. Cary State Forest 
Florida's second established state forest, Cary State Forest is comprised of Flatwoods, marshland, and a sandhill. With hiking and horseback riding trails, primitive camping, and the chance to see wildlife, Cary State Forest is a true outdoorsman's dream. Nearly 13,500 acres, heading to Cary State Forest means leaving behind the hustle and bustle of the city; something everyone needs from time to time. 
8. Walter Jones Historical Park
Set on one of the first established homesteads in Jacksonville, Walter Jones Historical Park aims to share a slice of life from the early 1900s. Come to immerse yourself in the Mandarin Museum, the St. Joseph's Mission Schoolhouse for African-American children, and other historic structures. On-site walking trails and a picnic area make it a day at Walter Jones Historical Park. Additionally, Mandarin was once the winter home of Harriet Beecher Stowe, author of Uncle Tom's Cabin.
9. Jacksonville Zoo and Garden
Jacksonville Zoo and Garden is home to over 2,000 animals and some 1,000 plants. This large zoo sits on 117 acres, with notable jaguar and tiger exhibits. The gardens include Savanna blooms, an Asian Bamboo Garden, and Rivers of Colors Garden. Garden tours are available by registration every first Saturday of the month.
10. Kathryn Abbey Hanna Park
What's better than an oceanfront city park? Kathryn Abbey Hanna Park is a comprehensive city park in Atlantic Beach with hiking, biking, camping, and miles of white sand beach. A 60-acre lake is perfect for discovering by way of kayak or canoe or head to the beach for surfing lessons. Kathryn Abbey Hanna Park also has 300 sites for rustic, RV, and tent camping.
11. Jacksonville-Baldwin Rail Trail
A converter railroad turned recreation, Jacksonville-Baldwin Rail Trail covers 14.5 miles. A 12' wide paved trail is perfect for those with bikes or rollerblades. An equestrian trail runs parallel to the main trail and is unpaved. Touching the beautiful Camp Milton Historic Preserve, the trail is a great way to take in native plant life.
12. Fort Caroline National Monument
Fort Caroline was an attempted French settlement during the 1500s. Set on the banks of St.Johns River and was overtaken by Spanish colonists. The camp is a replica of what the original fort may have looked like. The grounds hold a 1.3-mile nature trail that winds and overlooks the mouth of the St. Johns River. An incredible insight into Jacksonville's past, head to Fort Caroline.
13. Jacksonville Arboretum and Gardens
A true hidden gem in the Arlington neighborhood of Jacksonville, Jacksonville Arboretum and Gardens is a perfect respite from the city. Immerse yourself in the walkway that circumnavigates a two-acre lake, or learn from the 100-labeled signs that identify local plants. Head to the arboretum to reflect, or work up a sweat. Either way, this off-the-beaten-path green space should be on everyone's agenda.
14. Dog Wood Park
A dog's heaven, Dog Wood Park is 42 acres of the fenced-in, off-leash dog park. Inside of the park is a lake for feline friends to swim in, an agility course, and obstacles to challenge Fido. Though the park does have a membership, daily visitors are welcome. Visiting dogs must have proof of current rabies vaccinations, so plan accordingly.
15. Neptune Beach
Beautiful Neptune Beach showcases the best of Jacksonville-area beaches. Cream-colored sand and clean beachside make a hike or a dip in these waters a perfect idea. A separate township from Jacksonville, Neptune Beach is just east of Jacksonville. Parking is a bit tight, but if you come early for the sunrise, it should be no problem at all. Stores and restaurants are close at hand, so you can sit in the sun and then dine in style. 
16. Springfield Disc Golf Course at Klutho Park
Accredited by the Professional Disc Golf Association, beginners and experts alike will love Springfield Disc Golf Course. Enjoy the variety of low ceiling, analyze, and hyzer shots. Downtown Jacksonville, getting to Springfield Disc Golf is a great way to burn off some steam, and brush up on some tosses. 
17. Castaway Island Preserve
A preserve on the end of a peninsula, Castaway Island Preserve is a fresh breath of air from the busy city. Just under a mile long, the walking path is a great place to view wildlife and birds overhead. Look for gopher turtles that live in the protected pine Flatwoods just along the San Pablo River. This is also a great place to launch a kayak. 
18. Timucuan Ecological & Historic Preserve
46,000 acres of wetland await you at Timucuan Ecological & Historic Preserve. Once home to the Native Timucuan people, shards of the second oldest pottery was found on these lands. Evidence of a Spanish mission, as well as Kingsley Plantation, the oldest plantation in the state, is also at Timucuan Ecological & Historic Preserve. Needless to say, their important layers to Florida's history have transpired here.
19. Theodore Roosevelt Area
600 acres of hardwood forest, wetlands, and scrub vegetation are on-hand at Theodore Roosevelt Area. A wonderful place to learn more about the local ecology, take advantage of the guided tour each Saturday afternoon. With four miles of trail, keep an eye out for animals and birds. Theodore Roosevelt Area is part of Timucuan Ecological & Historic Preserve and has special areas dedicated to the Timucuan people.
Conclusion
It is amazing that for being such a vast urban area Jacksonville has so much in the way of green space and opportunities to get outside. From beaches to historical monuments, Jacksonville impresses upon visitors just how much this part of Florida values being outside. Head to the arboretum or to one of the nationally recognized parks that Jacksonville area holds. It is easy to get the best of both city life and the great outdoors in impressive Jacksonville, Florida.