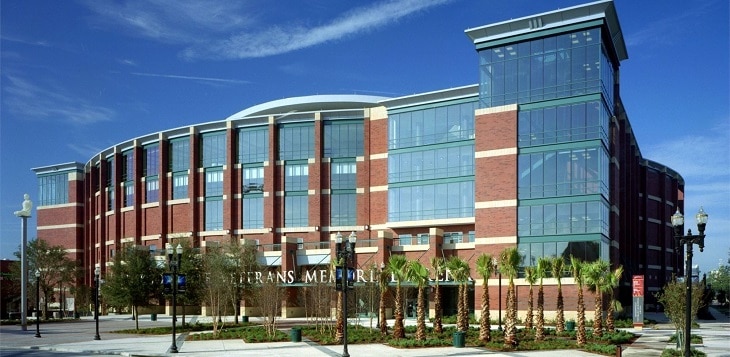 Hours of Operation
Admission Fee
This arena is open from Monday to Friday and closed on Saturday and Sunday
15 – 95 USD depending on the event
Description
The Jacksonville Veterans Memorial Arena is an ultra-modern entertainment arena in Jacksonville, Florida that holds up to 15,000 people. Having been built in 2003, this arena has been home to the Jacksonville Sharks, The Florida Hall of fame and the ECHL Icemen who have always kept this place flooded with masses coming to enjoy the live-action. 
Even more, the Jacksonville Veterans Memorial Arena has offered a stage to some of the big names in the entertainment industry such as Elton John, Pink, Garth Brooks, Kevin Hart, Jason Aldean, Rhianna, Dave Matthews Band, Red Hot Chili Peppers, Disney On Ice, Pearl Jam, and many more. This is a place that will make you understand the meaning of an entertainment haven.
Jacksonville Veterans Memorial Arena Reviews
If you are coming to enjoy an event in this place you need to come well prepared to come across large crowds of people if you are not a crowd person it might be a little scary at first. Nevertheless, you will have a fun time if you come with your friends who you can look out for each other. There are vendors selling food and also some restaurants around the Jacksonville Veterans memorial arena during events that will cut you down the movements to go pick up food during an event.
In case you are lost, there are attendants who are always ready to help you in case you need any assistance around the arena. Finally, as you know by now, this is a spot that's filled with crowds and with events comes different types of people there you need to take care of your belongings while here. 
Read Also:
Conclusion
There are so many places which you ought to check out while visiting Florida but the Jacksonville veterans memorial arena is a must-see. This is the one place where you are likely to catch the liveliest events in this city not forgetting mind-blowing performances that you'll find here. Plan a day and grab a ticket with your friends or family to come and enjoy some of the most mind-blowing performances that will leave you mesmerized. 
If you are a lover of some lively crowds and action, the Jacksonville veterans memorial arena will offer you all that and more. You will be guaranteed to find an event all year round so all you need to do is come ready to indulge in the ultimate live entertainment experience in this part of America. This is a place you will get some nostalgic memories that you will want to relieve for sure.  
Jacksonville Veterans Memorial Arena
Average rating:
0 reviews