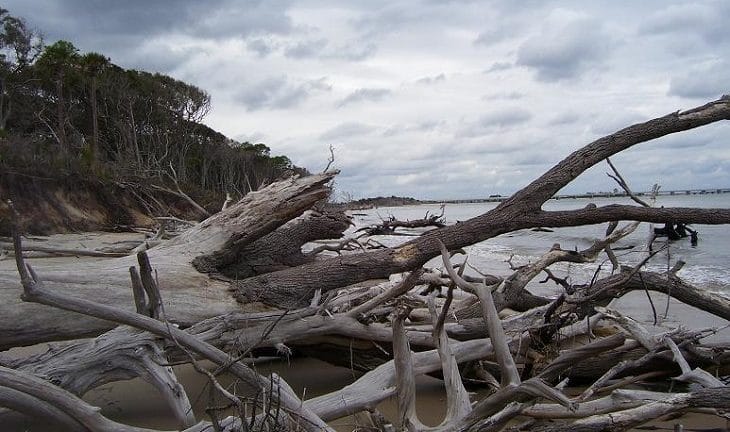 Phone: +1 904-251-2320
Address: 12157 Heckscher Dr, Jacksonville, FL 32226, United States
Website: www.talbotislands.com
Hours of Operation
Admission
Opened daily from 8:15 am – 6 pm
Description
The Little Talbot Island camping is one of the most gorgeous islands remaining in Northeast Florida which boasts more than five miles of scenic beaches and three miles of bike trails which you can come enjoy some cycling while you camp. Little Talbot Island camping area consists of untouched flora a fauna not forgetting ecosystems that beg to be explored. 
Even better, the white sand and the nearby waves from the ocean offer the perfect ambiance for water sport activities. The eroding sun-bleached roots and fallen trunks of cedar and palm trees at the Little Talbot Island create a linear view of natural sculptures that you will absolutely love. Whether it's surfing, birdwatching, fishing or hiking, this spot will offer you the ultimate camping thrill you are looking for. In short, this is a place that will give you the perfect nostalgic feel for an unwinding experience. 
Little Talbot Island Camping Reviews
The Little Talbot Island Campground comes with a boat ramp, playground, 2 restrooms and trails which you can enjoy as part of your camping activities. If you have dogs, they are not permitted on the beach and for a cycling experience, you will find big bike lanes that pass through the forest leading you to the unspoiled beaches. 
The main beach of the Little Talbot Island offers picnic tables and a perfect access via a lengthy wooden path maintained by the habitat. This is a very protected area which offers a great home to a wide variety of wildlife which is rare to find on a normal day. The forest will lead you into a wood-littered beach that has expansive white sandy beaches and is home to some of the most gorgeous sea birds, turtles and butterflies which will give you a frenzy.
Read Also:
Conclusion
If you are a curious traveler looking for the most exciting holiday experience in this part of America, this is your ultimate stopover. The Little Talbot Island offers you nothing but the best when it comes to camping and sightseeing where it boasts the finest untouched beaches and wildlife species like no other. You are guaranteed to have a camping experience of a lifetime in this place which you can tag your travel buddies to came and sample the niceties that this Island has to offer. You cannot say you have completed a holiday tour until you visit the Little Talbot Island camping which will offer you the ultimate hiking experience that you will reminisce for days on end after you are done with your vacay.
Little Talbot Island Camping
Average rating:
0 reviews