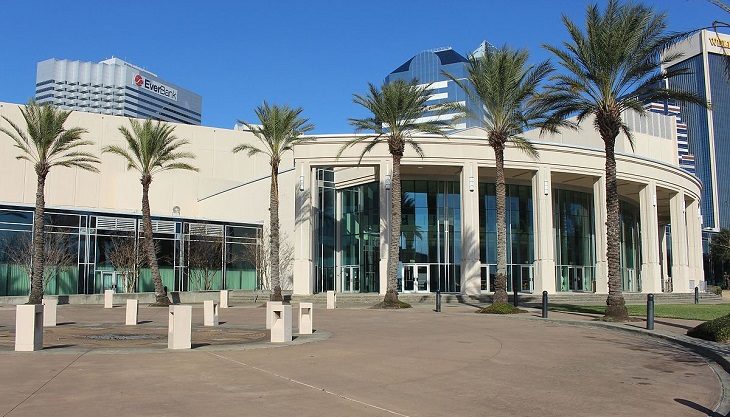 Description
The Times-Union Center for the Performing Arts nestles along the Riverbank in downtown Jacksonville and is known as the city's premier riverfront entertainment facility.
The Times-Union Center Jacksonville in a hub for community and professional artistry in the city and supports a wide range of entertainment options. These include touring Broadway shows, corporate sessions, community recitals and performances by symphony orchestras. The Times-Union Center Jacksonville's address is the perfect riverfront location to make it the finest performance venue in the city.
There are several rooms available in the Times-Union Center Jacksonville, including the Moran Theater, where Broadway shows are staged, along with music concerts, including hip-hop, rock, and gospel. Ballet and opera performances are also staged here and the theater seats 2,900 patrons.
Home of the Jacksonville Symphony Orchestra, the Jacoby Symphony Hall has excellent acoustics for all orchestral performances and seats up to 1,800 guests. Theater and dance performances and comedy shows are held at the Terry Theater in the complex, which seats 600 people and is a more intimate setting.
Examples of current offerings at the center include "Sesame Street Live! Let's Party!" for the children, "Family Feud – Live Stage Show," "The Simon & Garfunkel Story" and "A Bronx Tale."  Times Union Center Jacksonville ticket prices range from $15 to $52, depending on the show
The Times-Union Center Jacksonville offers a massive 20,000 ft of reception space for all social events, meetings, and dinners. Menu selections are tailored to every event and are catered by Savor…Jacksonville.
Read More:
Times Union Center Jacksonville Reviews
Times Union Center Jacksonville reviews place the center as being a clean, modern venue for theatrical plays and other shows with a friendly atmosphere. The program content was said to be professional and tasteful and that it was an all-around pleasant experience.
A family found their experience to be awesome, saying it was their daughter's first concert experience and she thoroughly enjoyed it. The center staff was lauded as being very friendly and helpful. Other reviewers thoroughly enjoyed their concert experience at the Times Union Center Jacksonville. One did say the beers were a little expensive at $8 but that food and non-alcoholic beverages were priced at a more reasonable $4. However, others did say at $4, even those prices were steep as you had to pay that for a bottle of water. Some visitors said the food selection was rather limited with items like cinnamon pecan nuts and pretzels, but that they were delicious.
Visitors to the center found the acoustics to be very good and the climate temperature to be comfortable, not freezing cold like so many other theaters. Seats are reportedly very comfortable, although some reviewers suggested that cup holders would be useful, as the first person coming out of the row knocked over a woman's drink with their foot, soaking the carpet.
Several people noted that it was very convenient to be dropped off and collected at the theater, rather than driving around looking for parking. 
Times Union Center Jacksonville
Average rating:
0 reviews