19 BEST Hotels Near Wet Willies in Miami Florida
By

Marina Yoveva
If daiquiris, good food, and parties are your thing, then you've probably already heard of Wet Willie's, a beloved chain with an upbeat location on Ocean Drive in Miami. If you're looking to spend some time there to have fun, then this list of hotels near wet willies in Miami is bound to help you out.
Set in the heart of South Beach Miami, Wet Willie's has deck views of Ocean Drive and Miami Beach, coupled with the world's greatest daiquiris. The best way to enjoy South Beach, and Wet Willie's, is to find a hotel nearby. Within walking distance to fun and sun, you'll be able to make the most of all the laid back vibes in Miami. So come on! Grab a drink, put on your shades, and get your party-on!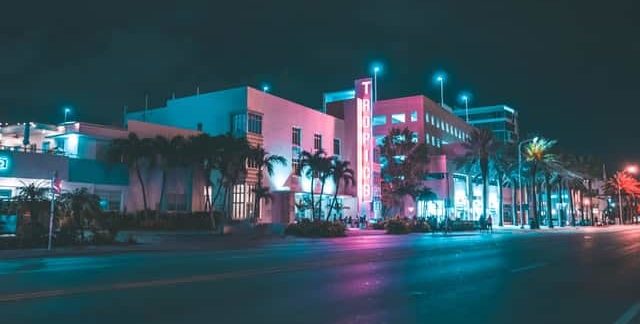 See Also: Hotels on Ocean Drive in Miami
1) Starlite Hotel
On the South Beach strip, Starlite Hotel is just a hop from Wet Willie's. You can literally stumble home in the wee morning hours and still make it to the front door of the bright Starlite Hotel. A family-owned business, Starlite Hotel is a boutique hotel that has been operating since 1974. Be right by the beach as well as the nightlife that Ocean Drive offers at Starlite Hotel.
2) Boulevard Hotel
Literally a minute's walk from Wet Willie's, Boulevard Hotel is a basic hotel that is a perfect location. Stay just steps from the Atlantic Ocean with air-conditioned rooms with comfortable beds.
Boulevard Hotel is also home to the Boulevard Restaurant with fresh seafood and an onsite hookah bar. Boulevard Hotel's website is not readily available; however, you can find booking through third-party websites such as www.booking.com.
3) The Colony Hotel
The Colony Hotel is cool in the art deco style that screams, "Miami." Beautiful rooms and suites decorated in calming green are the antitheses to the wild streets of South Beach.
Enjoy 24/7 desk service, free luggage storage, and room service, and an onsite restaurant. Be so close to the beach, you'll bring the sand home with you, and an equal distance to dancing and drinks. The Colony Hotel is an iconic Miami hospitality that will make you really feel as if you've arrived.
4) Avalon Hotel
Soon to reopen on October 23rd, Avalon Hotel is a gorgeous South Beach hotel with ocean breezes to boot. Decorated in bright decor, including live orchids, Avalon Hotel is a true vacation.
Enjoy daily breakfast, beach chairs to borrow, and high-thread-count linens. Really feel immersed in the beach life, then balance it with warm nights out on Ocean Drive. Avalon Hotel is a great bang for your buck and will leave you feeling refreshed after being in Miami.
5) The Hotel of Southbeach
Touting itself as "the" place to be in Southbeach, The Hotel of Southbeach offers an ocean-view rooftop pool, an unpretentious vibe, and a fitness center. The Hotel of Southbeach is another classic art deco hotel designed in 1939 by L. Murray Dixon. Enjoy a drink or meal in the Garden Bar & Lounge, or check out the iconic News Cafe, just below The Hotel of Southbeach. Be sure to check the website for special packages.
6) Room Mate Waldorf Towers Hotel
Room Mate Waldorf Towers Hotel is just north of Wet Willie's. A boutique renovated historic hotel overlooking the oceanside, Room Mate Waldorf Towers Hotel is a great pick when looking to stay on Ocean Drive.
Guests love breakfast until noon, a friendly staff, and a fast internet connection. Each room comes with a coffee maker, mini bar, flat-screen TV, and bathroom amenities. If you've driven to Room Mate Waldorf Towers Hotel, enjoy the valet parking service available.
7) Beacon South Beach Hotel
Beacon South Beach Hotel is just steps from the beach and emphasizes attentiveness to each guest. A complimentary breakfast is one perk and the elegant rooms, friendly staff, and a remarkable lobby.
The longer you stay, the more you save, so make yourself at home at Beacon South Beach Hotel. Additionally, enjoy the coffee station with fresh Starbucks coffee each morning. A romantic getaway, Beach South Beach Hotel is also great for families.
8) The Whitelaw Hotel
The Whitelaw Hotel is a chic boutique hotel in the heart of South Beach. This luxury hotel is just steps from all you could ever want in South Beach: the white sand beaches, sizzling nightlife, and restaurants, and shops.
Grab a drink from the hotel bar, and people watch or head to the beach with complimentary beach towels. The Whitelaw Hotel offers valet service parking but discourages guests from driving as there is limited parking in South Beach.
9) Clinton Hotel South Beach
The Clinton Hotel South Beach is a modern luxury hotel that has a laid-back charm. Hang poolside or hit the beach; either way, you'll end up a happy customer. Break a sweat at the fitness center, or take advantage of the trustworthy childcare service onsite.
It seems Clinton Hotel South Beach has thought of everything; not only is the hotel pet-friendly, but it also has a business center and valet parking service. Fast internet and an onsite sundries shop round out the deal.
10) Miami Beach International Travellers Hostel
If you're okay with hostel accommodations, Miami Beach International Travellers Hostels is a great spot for a wonderful price. You can rent a bed in a shared dormitory, perhaps meet some new friends, and be in perfect proximity to everything South Beach is known for. The hostel is on the beach, has a nightclub and restaurant onsite, as well as an arcade room. Though there is no wifi in the rooms, there is free wifi in the lobby.
11) Chesterfield Hotel & Suites
Chesterfield Hotel & Suites is a beautiful Art Deco Revival hotel on the outside with a modern look on the inside. Luxurious rooms will have you sleeping like a baby after a night of dancing, along with the Egyptian cotton linens.
Head to the Safari Bar for a drink, or check out the rooftop to really take the sun and views in. Grab complimentary beach towels and hit the beach, or lounge on the front porch to watch the scene unfold on Collins Avenue.
12) Hotel Breakwater South Beach
Hotel Breakwater South Beach is north of Wet Willie's by just a tenth of a mile, making this chic hotel a great pick. Hotel Breakwater South Beach has an artsy-aesthetic complete with Warhol-like prints and a rooftop pool you may never want to leave.
The onsite K'Alma Spa takes relaxation to a new level, and an onsite fitness center and free bicycles for rent ensure you stay active in South Beach. Beautiful rooms and an attentive staff make your stay at Hotel Breakwater South Beach bliss.
13) Blue Moon Hotel
Blue Moon Hotel is an elegant accommodation that is a tranquil oasis in South Beach. At the foot of all the hubbub, Blue Moon retains a certain class that sets it apart from the crowd.
A recent renovation gives added value to Blue Moon Hotel, with Mediterranean-style charm. Enjoy close beach access, fast wifi, an onsite restaurant, FIX, breakfast, lunch, and dinner.
14) Viscay Hotel
Viscay Hotel in Miami Beach offers bright rooms in the Art Deco District. Opened in 1941 and designed by renowned architect Albert Anis, Viscay Hotel puts you in the Miami scene.
Be close to Lummus Park, Versace Mansion, the Jewish Museum of Florida, and the Port of Miami. Amenities include free wifi, baggage storage, paid public parking nearby, and a concierge.
15) Clevelander South Beach Hotel and Bar
Clevelander South Beach Hotel and Bar is the perfect hotel to be at if you're ready to play. A vibrant ambiance, the Clevelander South Beach Hotel, and Bar have a stunning pool and patio, SPF4 Sun Deck, and onsite entertainment.
Enjoy weekly events such as live music or a DJ known for intermittently throwing down with the saxophone. Clevelander South Beach has two food venues; Clevelander Kitchen & Bar and Game On Sports Bar.
This place is so much fun! Get ready to party at Clevelander South Beach Hotel and Bar!
16) Majestic Hotel
Just a touch south of Wet Willie's on Ocean Drive is Majestic Hotel. Walk to boutique shops, the beach, or the unrivaled nightlife. Another Albert Anis' masterpiece, Majestic Hotel, is an Art Deco gem.
Amenities include fast wifi, an onsite bar and restaurant, and a shuttle and valet service (both for an additional fee). Rooms are wheelchair accessible and have family-friendly options.Majestic Hotel goes the extra mile with a sustainability pledge to conserving, water, and natural resources.
17) Metropole Suites South Beach
Metropole Suites South Beach is another hotel located south of Wet Willie's. Metropole Suites provides one and two-bedroom suites with a kitchen and separate living space. Great for extended stays, Metropole Suites offers daily, weekly, and monthly rates.
Amenities include free wifi, beach towels, bath amenities, and European pillow-top beds. Metropole Suites South Beach is ADA accessible.
18) Beach Park Hotel
A Mediterranean-style hotel, Beach Park Hotel, is bright and breezy. Designed by architect William Brown, Beach Park Hotel is one of the original members of the Miami Beach Architectural Historic District.
Though the building is historic, the rooms are clean and modern, with white walls that complement the beach atmosphere. Book a deluxe studio, double, or oceanfront room.
19) Ithaca of South Beach
Ithaca of South Beach offers a fresh approach to hospitality with large, colorful rooms. An apartment-style boutique hotel, Ithaca of South Beach, offers 24/7 virtual support. Talk, text, or email with staff for all of your concerns so that that staff can accommodate you safely.
Be sure to book an appointment at the Ithaca Spa to truly unwind after a night out. Ithaca of South Beach is also currently offering fully flexible and semi-flexible rates if you need to change your plans.
Conclusion
If you've got your heart set on being close to Wet Willie's of Miami, then this list of hotels near Wet Willie's in Miami is for you. From boutique hotels to budget accommodations, all hotels are within walking distance of Wet Willie's and all that Miami's South Beach is so famous for. You'll love being close to the beach yet still within proximity to the action with these hotels near Wet Willie's in Miami.