The 20 BEST Hotels on Ocean Drive in Miami, Florida
By

Marina Yoveva
Miami, is like no other place in the United States—pulsing with a vibrant culture set against the backdrop of clear waters and white sand beaches. It's no wonder why you're looking for the best hotels on Ocean Drive in Miami. Whether you've come to embrace the Cuban-influenced nuances of the city or have come to sink your toes in the sand, Miami is a perfect getaway.
Ocean Drive is the iconic front-face of South Beach Miami that runs along some of the most inspiring waterfront parts, including the Art Deco District and Lummus Park. Ocean Drive is also a great place to stay if you want to be close to all the action and glamour that South Beach Miami provides.
Jammed-packed with boutique shops, beautiful beaches, and all the nightlife that South Beach is famous for, you're immersed in it all when you stay on Ocean Drive. Read on to discover the best hotels on Ocean Drive in Miami FL, and get ready for your adventure to stunning South Beach Miami today!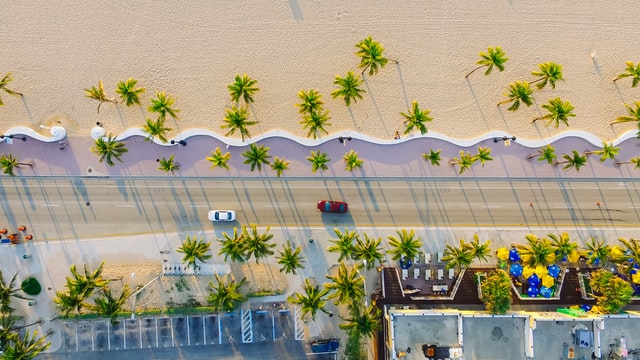 1) Boulevard Hotel
Boulevard Hotel is the perfect place to stay when you want convenience. Across the street from Lummus Park, where South Beach's famous shoreline is, you'll love the easy-breezy feel of this Ocean Drive gem. Espanola Way and Collins Avenue Shopping Area are a mere seven-minute walk away. The rooms are basic but clean, and the hotel offers breakfast in the morning. With prices slashed nearly in half currently, it's a great time to get a steal at the Boulevard Hotel.
2) Beacon Hotel South Beach
Highly rated by past guests, Beacon Hotel South Beach has everything you need to bring your tropical dreams to life. These bright and airy rooms transport you to Miami's sunny locale, and additional outdoor spaces for guests to uses, such as a terrace, add to the vacation vibe. Perks include: breakfast from 6 am – 9 am, a gym, a pet-friendly facility, and multilingual staff. Perfectly located to explore all that South Beach has to offer, stay in style at Beacon Hotel South Beach.
3) Chesterfield Hotel & Suites
Chesterfield Hotel & Suites is a luxurious hotel part of the South Beach Group Hotel. Styled in Art Deco Revival, Chesterfield Hotel is a historic part of South Beach's past. Enjoy a cocktail at the hotel's bar, Safari Bar, or people watch from the patio that faces Collins Avenue. This smoke-free property also touts the highest cleaning standards for the era and lists all their COVID-safety measures on their website. Head to the sundeck on the roof for ultimate relaxation, or walk out the front door to hit the beach.
4) The Whitelaw Hotel
Also, part of the South Beach Group Hotel, The Whitelaw Hotel, is another classy choice when looking to be in the heart of Miami's action. A simple, modern aesthetic greets you, as well as a beautiful terrace and a friendly staff that is available 24/7. Grab a complimentary beach towel and head to the water, or dine at the onsite restaurant, Taco Taco Express. Parking is available, and most South Beach attractions are close at hand.
5) Room Mate Waldorf Towers Hotel
With a boutique design hotel situated within proximity of everything, Room Mate Waldorf Towers Hotel delivers the highest quality in hospitality. A renovated historic hotel, Room Mate Waldorf, overlooks the sparkling waters. Rooms all come with free wifi, coffee and tea, and a flat-screen TV. The hotel also offers daily breakfast, laundry services, and valet parking. Check-in with the concierge to get insider tips on all the best activities in the area. A clear winner, Room Mate Waldorf Towers Hotel is at the heart of South Beach.
6) Majestic South Beach Hotel
Clean and sunny rooms are the Majestic South Beach Hotel's trademark, just steps from all there is to do in South Beach. Affordable rates make this a great deal, with accessibility for those in wheelchairs. Ocean 7 Cafe is Majestic's restaurant that offers delicious al fresco cuisine at all times of the day. Just across from Lummus Park, Majestic South Beach Hotel is close to natural and cultural highlights. Valet parking and shuttle options (both at an additional cost) add to the Majestic South Beach Hotel's easiness.
7) Clinton Hotel South Beach
Laid-back yet hip, Clinton Hotel South Beach is directly in the beauty and bustle of South Beach. Enjoy Clinton Hotel's private pool or bask in the warmth poolside. This boutique hotel offers various amenities, including being pet-friendly, free wifi throughout, and a gym. Two restaurants and one cafe onsight make dining easy. Feel at home with multi-lingual staff, with bonuses such as a business center and meeting room. Whether you're in Miami for work or play, you will leave feeling refreshed.
8) Stardust Hotel
Listed as a budget hotel, Stardust Hotel hits all the marks for a pinching pennies' traveler.  Lovers of architecture will adore the Stardust Hotel's immersion in the Art Deco District. Studio and one-bedroom apartments are available for short-term rentals, with a three-night minimum. Just a one-minute walk to must-see attractions in Miami, such as Espanola Way and Ocean Drive, Stardust is a shoe-string traveler's dream.
9) South Beach Rooms and Hostel
Also, a great budget buy hotel in Miami, South Beach Rooms and Hostel offers a community living space. The oldest hostel in South Beach is home to 150 beds, with options that include private rooms, family rooms, and a single bed in a shared dormitory. South Beach Rooms and Hostel also has added perks such as a $5 luggage hold, free linens and towels, and free in-room lockers. Though South Beach Rooms and Hostel are trying their best with sanitizing, do be mindful of travel dormitory-style.
10) Hotel Breakwater South Beach
Hotel Breakwater South Beach is another no-fail option. Right where the action is at, Hotel Breakwater South Beach brings the best of Miami to your doorstep. Enjoy amenities such as a 24-hour fitness center, complimentary bicycles to zip around South Beach with, and free worldwide calls. Check the hotel's website for specials. Current running specials include a Stay Longer & Save with discounts each night you stay and Drive & Dive, including free valet parking.
11) Metropole Suites South Beach
Metropole Suites South Beach offers one and two-bedroom suites with kitchens. A smoke-free hotel, fast wifi, is offered throughout the premises. Additional amenities include a swimming pool, dry cleaning and laundry services, and separate dining and living room areas. Great for families, Metropole Suites is a wonderful place to have all of South Beach out your front doorstep. Please note, there is no onsite parking.
12) Blue Moon Hotel
Suppose you're looking for a tranquil oasis while amidst busy South Beach, look no further than Blue Moon Hotel. Stylish with an "Art Deco spirit," Blue Moon Hotel is perfect for a special occasion. 75 elegant guest rooms and the FIX Restaurant all comprise the estate of Blue Moon Hotel. While at Blue Moon, relax and unwind at the outdoor pool, or walk out your front door to shops, restaurants, and the beach. The Blue Moon Hotel is a quiet gem set in the lively ambiance of SoBe.
13) Royal South Beach Hotel
Royal South Beach Hotel is closely situated to Collin Avenue shopping and all that SoBe has to offer. A fifteen-minute walk or less to all the major attractions of South Beach, Royal South Beach Hotel is a wonderful choice. Enjoy the onsite restaurant, free coffee and tea in the common area, and concierge service. These family-friendly rooms have a kitchenette complete with microwaves and refrigerators. Affordably priced, Royal South Beach Hotel offers glamor at a reasonable amount.
14) Viscay Hotel
Viscay Hotel was designed in 1941 by architect Albert Anis and is a 22-room hotel close to everything. This hotel offers standard, studio, and double rooms, with amenities onsite that include free infant cribs, fast wifi, and a hot breakfast. An informative, friendly staff helps direct you to all the best activities in South Beach and beyond. Still, one of the best Hotels on Ocean Drive in Miami FL you will find.
15) Ithaca of South Beach Hotel
Colorful, spacious rooms await at Ithaca of South Beach Hotel. Ithaca of South Beach is perfect for families as it offers larger rooms with options that include rollaway beds, infant cribs, and double beds. With only 11 rooms in total, Ithaca of South Beach Hotel is great for travelers who like a more intimate setting. Enjoy the express check-in and check-out as well as a concierge service, and an onsite gift shop.
16) Kimpton Angler's Hotel
Kimpton Angler's Hotel is a mix of lofts, studios, suites, and villas, celebrating life along the oceanside. Multiple onsite pools add to the magic and ambiance of Kimpton Angler's Hotel. Dine at the hotel's oyster bar, Seawell, or sip on a cocktail at Minnow Bar. Continental breakfast is offered daily for an additional cost, as well as onsite parking. Free bicycle rentals, an onsite spa and fitness center, and free newspapers are all great touches.
17) The Fairwind Hotel
Another hotel on Ocean Drive in Miami FL. The Fairwind Hotel has recently reopened after being closed during the pandemic's initial stages, and it is ready to welcome you. A clean, well-kept property ensures guests feel comfortable. Enjoy the scenic rooftop pool, complete with a poolside bar. Grab a coffee at the onsite coffee shop or dine at The Fairwind Hotel's onsite Cuban-themed restaurant, La Sambra Miami. A 24-hour check-in makes travels seamless at any hour.
18) Bentley Hotel South Beach
The Bentley Hotel South Beach is directly on Ocean Drive, meaning the ocean view is yours. Awarded the Best Rooftop Pool by Frommer's, Bentley Hotel South Beach is near perfection. Newly renovated spaces ensure the highest quality of rooms. Head to the beach with complimentary beach chairs and towels from the front desk, or enjoy the view from your private balcony. With options that include luxury studios and deluxe suites, you'll never want to leave the Bentley Hotel South Beach.
19) Ocean Five Hotel
Ocean Five Hotel is a great choice when you want to be on a beachside. This stylish boutique hotel has been recently upgraded, and the simple yet elegant rooms reflect this. Options include a studio room with a kitchen, and a special offer of free parking valid on certain dates is a rare commodity. A multilingual staff welcomes international visitors, as well as offering concierge services. Check the website for additional offers, which include AARP and military rates.
20) The Villa Casa Casuarina
Truly a one-of-a-kind experience, The Villa Casa Casuarina is the former Versace mansion. Think impressive Italian columns, key lime coral flooring, and a warm Mediterranean style. Built-in 1930, the Villa Casa Casuarina was originally owned by an oil tycoon who died in the house in 1937. Incredibly unique, guests have the option of staying in four different types of suites, all with their own personality.
Conclusion
Whether you seek a boutique hotel experience or would rather travel with budget accommodations, South Beach Miami runs the gamut in hospitality choices. Close to the beach and all that South Beach has to offer culturally, this list of hotels on Ocean Drive in Miami are all winners. Beautiful Miami is waiting to welcome you. Get ready for your next adventure, and book your Ocean Drive accommodation today!