Warning
: DOMElement::setAttribute(): ID wpgmza_tolls_177 already defined in
/home/sweetspi/exploreist.com/wp-content/plugins/wp-google-maps-pro/includes/class.directions-box.php
on line
126
Sunny and with the ability to be outside year-round, Miami is the perfect place to skate. Recently, the city of Miami has had a new push to develop skate parks, with Lot 11 recently being opened in November 2019. Revolutionary, Lot 11 repurposes the underpass of I-95 into a 45,000 square foot haven for skateboarders. Surely a project such as this is a herald call to skateboarders that their sport is not only welcome here, but celebrated. Read on to discover where the best skateboarding parks are in Miami are at and get ready to see this city, and the surrounding area, in a new way!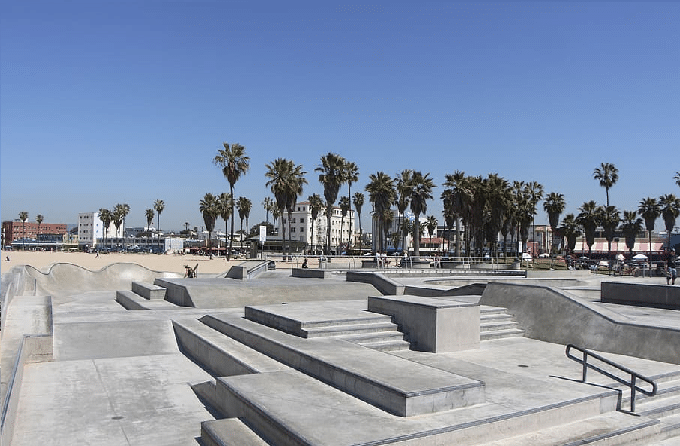 1) Skateboard Supercross Academy SBSX Pumptrack
This by-appointment-only skateboard academy is perfect for any boarder looking to perfect their skills. With lessons in skateboarding and longboarding, as well as open rides, Skateboard Supercross Academy is a wonderful spot to hone in on specific tricks or techniques. Skateboard Supercross also serves as competition grounds for skateboarding and longboarding. The pump track is one of a kind, and the professionalism at Skateboard Supercross unparalleled. Get your skate on Skateboard Supercross with renowned instructor Sarah! For sure one of the best skateboarding parks in Miami, you can find.
2) Westwind Lakes Skate Park 
An incredible 10,000 square feet of concrete, Westwind Lakes Skate Park is a must-see for skateboarding aficionados. The very first stop on legendary Tony Hawk's 2011 tour, Westwind includes quarter pipes, wallride, launch ramps, and hubbas to name just a few. With a $2 entrance fee, it's mere spare change for the time you will spend here. BMX, skateboards, and inline skates are all welcome, and helmets are required at Westwind Lakes Skate Park.
3) Lot 11 
The newest addition to Miami's skateboarding scene, Lot 11 is a true skate park wonder to behold. Set under I-95, Lot 11 is urban yet approachable for skaters of all abilities. Brainchild of the Miami-based skate organization, Skate Free, Lot 11 gives new life to the skateboarding community of Miami. Inspired by skateboard mecca, L.A., Skate Free designed the park to utilize an under-appreciated space. Now skaters of all ages flock to this unprecedented park in Miami.
4) North Beach Public Skate Park
North Beach Public Skate Park is also a new addition to Miami, just opened in 2018. Set in a beautiful location, skate to your heart's content just next to the beach. Just between the city and suburbs, skaters flock to this dream spot. Quality ramps and ample concrete to play, this a perfect spot to spend the day. Do note, there is no major area for shade and the park has limited public drinking fountains, so be sure to bring both water and sunscreen.
5) Skate Park and Pump Track at Haulover Beach
Yet another newly-opened skate park, Haulover Beach brings more reasons to love Miami's blooming skate scene. In the north-east corner of Miami Dade County, Haulover Beach includes place to practice grinds, ollies, nollies, kickflips, and heelflips as well as a pump track. A labor of love, five communities joined together to raise money for this skate park whose expanse is some 7,500 square feet. Skateboarders and bicyclists are encouraged to come and play at Skate Park and Pump Track, Haulover Beach.
6) Kendall Indians Hammock Skate Park
Set inside Indian Hammocks Park, this skate park has become one of Miami's most popular skate destinations. Designed after two of the most famous skate parks in the country, Kendall Indians Hammock Skate Park is a haven for skateboarders, bikers, inline skaters, and scooters. A whopping 14,000 square feet of outdoor play space, Kendall Indians Hammock Skate Park was one of the first skate parks to open in Miami, ushering in the encore of additional parks in the years to come. While in the park, enjoy all the Kendall Indians has to offer with disc golf, BBQ pits, walking paths, and some 116 acres of nature.
7) Bamford Sports Complex Skateboard Park
Bamford Sports Complex is not only a skate park but also home to an aquatic center, baseball diamond, and indoor gymnasium, and picnic area. So, when you come to Bamford Sports Complex branch out and enjoy all that the location has to offer. Of course, skating is the highlight with a variety of jumps and ramps all at no cost to enter. An unsupervised park, skaters ride at their own risk. Please note that Bamford Sports Complex is not directly in Miami, but in northern neighbor, Davie; approximately a 30-minute drive from the center of Miami.
8) South Dade Skating Park 
Great for beginner to intermediate level skaters, South Dade Skating Park is open 365 days. The park is always free and no helmets or knee pads are required, however, riders play at their own risk. Without lights, the fun of South Dade ends as the sunsets. Popular, South Dade is open for rentals on the weekends, which limits all-access skating to weekdays. A great all-around skateboarding parks in Miami!
9) Ramp 48 Skate Park
Interestingly, the popular Ramp 48 is also a key mission point for Calvary Chapel Fort Lauderdale. So while this is a great asset to the area, be prepared for potential church outreach while skating at Ramp 48. That said, Ramp 48 is a positive place to hit the concrete with ramps outside as well as an indoor area. A street course, bowl, halfpipe, and vert ramp are all reasons to head to Ramp 48 Skate Park.
10) Country Village Park 
The Country Village Skate Park is an outdoor skate park with 9,000 square feet to explore by way of skateboard, BMX, and scooters. Whether you are a beginner, intermediate, or expert, this newly added park will test your abilities. A free facility, it's a great place to head for an afternoon. Hours are 3 pm to 8 pm, Monday through Friday, with weekend skates open from sunrise to sunset. In the Northwest part of the city, Country Village Park is worth the moderate trek.
Conclusion
It's incredible to see skateboarding parks in Miami growing month by month. With these rapidly-growing expansions, it's no wonder it is an amazing time to be a skater in South Florida. With this list of beloved locales, new and old, you'll be sure to have your share of skate spots to hit up. We hope this list has left you inspired and ready to ride!