20 BEST Things to do in Orlando, FL [2022 UPDATED]
By

Marina Yoveva
Orlando may be synonymous with Disney World, however, this central Florida city is more than just a theme park. From botanical gardens to retail therapy, outdoor excursions to museums, Orlando is a well-rounded, family-friendly city. Of course, if you are looking for theme parks, Orlando has that too. Universal Orlando, Sea World, and Discovery Cove are a few additional theme parks to the much-loved Disney World.
Whether you've come to Orlando for the culture, food, or to play outside, there is no shortage of things to do in Orlando. Beautiful year-round, Orlando is a sunny refuge for vacationers from all corners of the country and world. Read on to discover the top things to do in Orlando, to get dreaming of your Florida adventure today!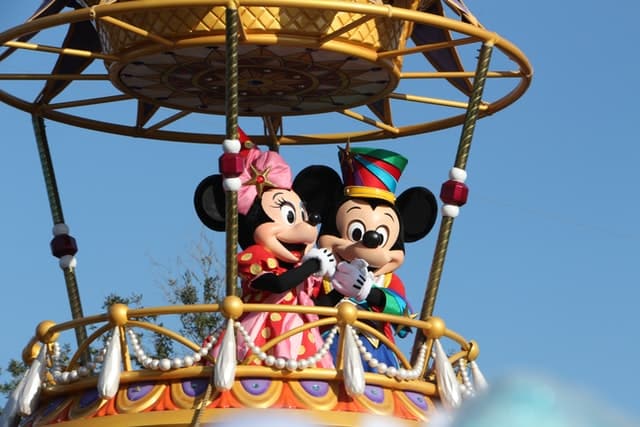 1) The Wizarding World of Harry Potter
All aboard for Hogwarts! At The Wizarding World of Harry Potter, let your magical dreams loose. Part of the Universal World complex, The Wizarding World of Harry Potter includes Hagrid's Magical Creatures Motorbike Adventure, Diagon Alley, and Hogsmeade. There's so much to explore, from taking a ride on the Hogwarts Express to stopping for a bite to eat at The Leaky Cauldron. If you feel like you're geeking out while you're there, fear not; you're in good company at The Wizarding World of Harry Potter.
2) Discovery Cove
The sister park of SeaWorld Orlando and Aquatica Orland, Discovery Cove, is an incredible place to visit to learn more about marine life. It is an all-inclusive day resort. You can experience the following at Discovery Cove; the chance to swim with dolphins, unlimited drinks and food, the chance to snorkel with tropical fish at The Grand Reef, and time to relax at Serenity Bay. Additionally, you can enjoy worry-free amenities like free locker use, fresh towels, and animal-safe sunscreen.
3) The Holy Land Experience
Okay, The Holy Land Experience might not be on most's list when it comes to planning their Florida vacation. This Christian-based theme park is so other-worldly that it transports you to the ancient city of Jerusalem in 1st-Century Judah. Broadway-style productions spice up the experience, and The Holy Land Experience operates as a working church, complete with services and Bible studies. Definitely not for everyone, if you've got a penchant for the holy land or just for the unusual, head to The Holy Land Experience.
4) Amway Center
Amway Center is the mega-venue for sports and entertainment in Orlando. Home to the Orlando Magic, the Amway Center is also a great place to catch live music and other entertainment. With a 20,000 seat capacity, Amway Center continues to host events during the pandemic, with safety precautions in place such as mandatory masks and social distancing. For ticketing and upcoming events, visit the Amway Center's website.
5) Lake Eola Park
Set in downtown Orlando, Lake Eola Park is a scenic spot to take a walk or have a picnic. The lake is easy to walk, with a path around the circumference, just under one mile long. Other unique opportunities like renting a swan-shaped paddleboat or seeing a concert at the Walt Disney Amphitheater make Lake Eola Park worth the visit. Picture-worthy, grab shots of the swans that swim in the lake or relax by the beautifully manicured flowers.
6) Orlando Science Center
Founded to promote public understanding of science, the Orlando Science Center is an impressive collection of exhibits great for all ages. Open seven days a week, the Orlando Science Center has a range of experiences, such as Pompeii: The Immortal City and DinoDigs. Young kids will especially love KidsTown, where they can splash and play with hands-on experiences. The museum also has two theaters for immersive movie viewings.
7) Harry P. Leu Gardens
Just outside downtown Orlando, the Harry P. Leu Gardens are 50 acres of tropical and sub-tropical gardens. Lush and stunning in color, the Harry P. Leu Gardens collection includes a Tropical Stream Garden, Butterfly Garden, and Color Garden, to name a few. The Leu House is also open to tour and showcases what a turn-of-the-century Florida home looks like. The gardens are open daily from 9 am to 5 pm, and the gardens are cashless, so plan ahead by buying tickets online or with a credit card in person.
8) Walt Disney World Resort
For many, Walt Disney World is the holy mecca of childhood dreams, a place where magic still exists, if only for a short time. If this is true for you (or if you have children and you've given in to their Mickey Mouse dreams), then Walt Disney World Resort is waiting for you. Yes, it's expensive. Yes, there are long lines. But there are also amazing opportunities like getting to meet characters in person, rides and thrills, shopping galore, and a wide array of restaurants.
Four major theme parks comprise the Walt Disney World Resort: Magic Kingdom Park, Epcot, Disney's Hollywood Studios, Disney's Animal Kingdom Theme Park; as well as two water parks. One thing's for sure— you'll never be bored at Walt Disney World.
9) Exotic Animal Experience
If you've always wanted to be up close and personal with a sloth, or get your Instagram selfie with a zebra, then the Exotic Animal Experience is a must. Everything is totally interactive at this private, seven-acre zoo whose animals include kangaroos, lemurs, Muntjac deer, and an owl monkey. Licensed by the USDA and also Florida Fish & Wildlife, Exotic Animal Experience may be as close as you ever get to these exotic beauties.
10) Orlando Vineland Premium Outlets
Everyone loves a bargain, and it's easy to find one at Orlando Vineland Premium Outlets, a megamall of outlet stores. Come to shop for major brand names like Adidas, Calvin Klein, Burberry, and Gucci, all at a reduced price. Just off of Interstate 4 and International Drive, enjoy an afternoon or evening strolling the outlet stores and grabbing a bite to eat. Restaurants onsite include Panera, Five Guys, and Sarku Japan.
11) The World of Chocolate Museum
Chocolate lovers, get yourself to The World of Chocolate Museum fast! This off-the-beaten-path gem is truly worth visiting, with 25 chocolate sculptures such as Mount Rushmore. Learn more about the history and production of chocolate in the museum, which ends with a trip to the tasting room to sample different chocolates.
If you haven't had your chocolate fill yet, head to the cafe where you can sip on freshly made hot chocolate with macaroons or try the chocolate fondue. Wine lovers will also celebrate the perfect marriage of Wine Happy Hour every Monday – Friday from 4 pm – 7 pm.
12) Sleuth's Mystery Dinner
Become a detective for a night and help solve this mystery dinner's crime conundrum. A fun night out, Sleuth's Mystery Dinner invites audience members to participate in the whodunnit. Part theater, part comedy, part a nice dinner out, Sleuth's Mystery Dinner is an out-of-the-norm night for the whole family. The experience runs two-and-a-half hours and is $45/adult, $30/child.
13) Everglades Airboat Tour
Get out of the amusement park rut and experience the thrill of the Everglades with an airboat tour. Captain Jack's Airboat Tours take you into the mangroves, through the Everglades, and into alligator territory. With a current buy-one-get-one-free special for adult tickets currently running, this is the best time to book a tour with Captain Jack's. Feel the wind in your hair as you explore unchartered territory, seeing wildlife up close with an Everglades airboat tour.
14) Old Town Kissimmee
An amusement park celebrating old-time carnival rides, antique car shows, restaurants, and shopping, Old Town Kissimmee is fun for a night out in Orlando. Every Saturday night Old Town Kissimmee hosts a classic car show, and Old Town has a running list of upcoming performers for the weekends. Start your night with a meal out at places such as Shoney's or Flipper's Pizza, then mosey on over to the Ferris wheel, to the carousel, or to try your luck on the Hurricane roller coaster.
15) Orlando Museum of Art
Proving that Orlando has a bit of high-brow culture to round out all its amusement fun, the Orlando Museum of Art is committed to connecting people to art and new ideas. Current exhibits include Voices & Conversations, giving focus to conversations around race, identity, and activism. An ongoing list of events can be found on the museum's website and include discounted days, book clubs, and Family Highlights Tours to foster art-based conversations throughout the whole family.
16) Dr. Phillips Center for Performing Arts
Whether you're looking for stand-up comedy or a night of classical music, you'll find it at the Dr. Phillips Center for Performing Arts. Bringing "arts to everyday life," the Center for Performing Arts hosts mainliners like upcoming musician Keb Mo and comedian Bill Barr.
In response to Covid-19, Dr. Phillips Center for Performing Arts is currently offering a Frontyard Festival where you can reserve a socially distant box for up to five people. This innovative way of continuing entertainment shows what a resource the Center for Performing Arts is to the Orlando community.
17) Madame Tussauds Orlando
Madame Tussauds is a chain of museums that make past celebrities and notable figures come to life through their life-size wax sculptures. For sure, the concept in and of itself is a bit wacky, but there's a reason that this museum has continued to be a worldwide success. Feel as though you've stepped onto a movie scene with their Classic Movies exhibit, where you can take selfies with stars such as Marilyn Monroe or celebrate a soccer goal with the replica of Neymar. It's a weird and wonderful way to spend an afternoon, that will surely result in some fun pictures.
18) Gatorland
Only in Florida do you get such quirky spots as Gatorland, a fantastic world of alligators where you can embark on experiences such as the Screamin' Gator Zipline or the Gator Night Shine. Book a kid's birthday party at Gatorland, and let your children meet and greet animals that include alligators, crocodiles, tortoises, snakes, and other critters.
Check out the shows that Gatorland puts on, to really get some thrills and chills as gators jump from four feet out of the water!
19) Crayola Experience
Create your own crayon color at the Crayola Experience of Orlando. If you love to craft or simply have some nostalgia for the Crayola crayon, head to the Crayola Experience to explore art and technology. Experiences include the Activity Studio, an Adventure Lab where you can solve puzzles, as well as the Crayon Factory Show where you can watch crayons being made.
End it all with a trip to the Crayola Cafe (currently open only on weekends) or by picking up some new crayons at The Crayola Store.
20) Orlando Farmers Market
Every Sunday from 10 am – 4 pm, farmers gather in Eola Park to sell their fresh produce, artisanal goods, plants, and freshly prepared foods. Dog-friendly, the Orlando Farmers Market is a relaxed way to spend a Sunday, enjoying the best of Florida's produce.
A special beer and wine garden are open each Sunday from 12 pm – 4 pm; another fun side to the market. With 50 vendors participating year-round, feel the pulse of Florida's fresh food scene at the Orlando Farmers Market.
Conclusion
Yes, getting off the normal tourist trail in Orlando can take a bit of extra effort. Yet, Orlando is a diverse city with a multitude of activities for every interest. If you're coming to Orlando for amusement parks, you'll certainly find your fill, and yet, Orlando is also home to some world-class museums, unique outdoor adventures, and deliciously fresh food. With this list of things to do in Orlando, you're on your way to an amazing adventure in what is known as The City Beautiful.