20 BEST Things to do in St. Petersburg, FL [2022 UPDATED]
By

Marina Yoveva
St. Petersburg, Florida, sits between the Gulf of Mexico and Tampa Bay, making it the ideal spot for sand and sunshine. Year-round visitors flock to St. Petersburg which promises not only vacation vibes but also unique attractions such as the Dali Museum of surrealist art and the Florida Orchestra. With an average of 361 days of sunshine a year, this gem of Florida is also home to excellent restaurants, unparalleled shopping, and—you got it—beaches. Whatever your reason for a trip to St. Petersburg, we've got a round-up of things to do in St. Petersburg to get you dreaming. Read on to discover all there is to do in The Sunshine City!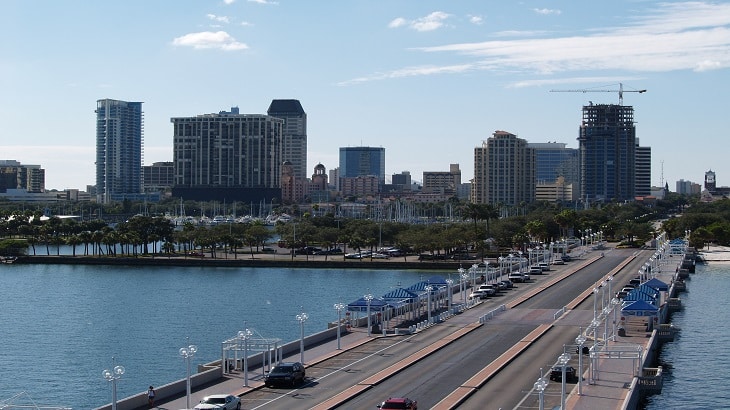 1) The Dali Museum
You may not expect The Dali Museum to be in Florida, given that the artist was originally from Northern Spain, however, this important collection has made its way to St. Petersburg. Located in downtown St. Petersburg, The Dali Museum celebrates the life of Salvatore Dali, along with the surrealist and avant-garde art movements. The museum was designed by architect Yann Weymouth and is an impressive entrance to this other-worldly collection of art. Open daily, advanced reservations are currently be required.
2) Sunken Gardens 
This four-acre botanical garden in the Historic Old Northeast neighborhood is a charming way to spend an hour. Explore tropical plants, waterfalls, and fowl in this historic garden that is over 100 years old. In addition to the garden being a centennial, so are some of the plants, so it is very important to remain on marked pathways when visiting the Sunken Gardens. The gardens are open daily, and admission for adults is $12.
3) Chihuly Collection
The Chihuly Collection is an assemblage of the remarkable work of glass-blower Dale Chihuly, located at the Morean Arts Center. View these stunning works, which range from a uniquely crafted work for the center, the Ruby Red Icicle Chandelier, as well as other notable works like Persians and Tumbleweeds. Chihuly has been credited with innovative glass-blowing designs that have revolutionized the field.
4) Sawgrass Lake Park 
Sawgrass Lake Park is an impressive 400 acres, best known for being one of the largest maple swamps in Florida. This free park is a great place to do some bird watching or look for other native fauna such as small alligators. The park's mile-long boardwalk is a highlight of the area, and the observation tower gives perspective on the area. Bring a picnic to enjoy after your hike, and really make an adventure of your time at Sawgrass Lake Park.
5) Imagine Museum
By now you might be catching the drift that St. Petersburg loves art. Another incredible opportunity to view glass artists is at the Imagine Museum, with some 500 glass art masterpieces, highlighting artists from around the world. A free introductory tour to the collection happens every 3 pm Tuesday through Friday and is a great way to gain some appreciation for this art form. The museum also has fun Augmented Reality Selfie stations throughout the building to snap an out-of-this-world pic with.
6) St. Petersburg Saturday Morning Market

The St. Petersburg Saturday Morning Market is a lively slice of St. Petersburg culture held weekly. This market includes fresh produce and locally-made food, live music, and artisanal wares. Whether you've come with a long shopping list of veggies to get or simply want to stroll and enjoy the wonderful sights and sounds, St. Petersburg Saturday Morning Market is a happy way to start your weekend. The Market's season runs from mid-November to late May and a separate summer market can be found at Williams Park.
7) Florida Orange Groves and Winery
Wine from oranges? Though this seems to defy the notion of traditional wine-making, this wonderful taboo is indeed created and can be explored, at the Florida Orange Groves and Winery. Top-selling wines include flavors like the Key Limen wine, as well as a tantalizing Tangier Tangerine. Tours are available Monday to Saturdays, 10 am to 4 pm, and Sundays 12-4 pm.
8) Tropicana Field 
Home to the MLB Tampa Bay Rays, Tropicana Field, affectionately known as "The Trop" is a domed stadium and must-see for any baseball lover. The first MLB field to feature naturally-looking FieldTurf, there's so much to learn about Tropicana Field. Though Tropicana Field usually hosts tours, they are temporarily suspended during this Covid era. You can still get tickets for the upcoming 2021 season, including spring training.
9) Vinoy Park 
Located on St. Petersburg's downtown waterfront, Vinoy Park spans nearly 12 acres and holds so much fun. Lined with gorgeous palm trees, Vinoy Park is a wonderful place to bike, walk, catch an event, or have a picnic. Some of St. Petersburg's most scenic views can be taken in from Vinoy Park, making this a smart addition to anyone's itinerary.
10) Florida Holocaust Museum
Certainly not an easy subject to broach, the Florida Holocaust Museum pays a tasteful tribute to all those lost in the WWII Holocaust. The museum has in-depth exhibits that span not only the Holocaust but also additional humanitarian issues such as the Civil Rights Movement. A Holocaust Survivor Speaking Schedule is part of the museum's normal programming and is a tremendous opportunity to learn first-hand from those who endured. The museum is currently open Fridays, Saturdays, and Sundays, with advanced reservations required.
11) Skyway Fishing Pier State Park
You don't have to be an angler to appreciate this impressive bridge, which connects St. Petersburg to Sarasota. The world's longest fishing pier is open 24/7, meaning anytime is a good time to try your luck with the fish. Fishers in this area cast a line for Florida specialties such as snook, grouper, and pompano. The Skyway also makes a beautiful spot to catch the sunset, or sunrise, depending on your biorhythms.
12) Cross Bay Ferry
The Cross Bay Ferry is a fun and functional way to avoid traffic, and see St. Petersburg from the water. The ferry traverses Tampa Bay, between Tampa and St. Pete's, and makes for an effortless way to get from one city to the next. Book your ferry ride online to catch the ferry, which runs every day except Mondays and Tuesdays. Adult fares run at $10, one-way, and $20 round-trip.
13) Maximo Park
Relax and unwind at Maximo Park, which runs 70-acres long, oceanside. With seven boat ramps, a disc golf course, a covered playground, picnic shelters, and shoreline fishing, it's near-impossible not to find something to do here. The park also has four major archeological sites from Native people who originally lived in the area. An additional highlight of the park is the 50-foot observation deck where you can look out on the sparkling waters of St. Pete's.
14) Fort De Soto Park 
Fort De Soto Park is comprised of five islands, connected by bridges and causeways. Operated by Pinellas County, Fort De Soto Park is the largest park in the county's system. Remarkable beach plants, mangroves, and palm hammocks make this landscape spectacular, and the park sees an impressive array of migrating birds. Camp, swim, picnic, and play at Fort De Soto Park.
15) Museum of Fine Arts 
We'd be amiss if we didn't add just one more very important art attraction to this list; the Museum of Fine Arts. Discover art that spans 4,000 years of work, with permanent and rotating exhibits. Set in the epicenter of downtown St. Petersburg, the Museum of Fine Arts' collection includes major names like Monet, Renoir, and a large sculpture gallery. Check out the museum Thursday evenings when admission is reduced.
16) St. Pete Beach
St. Pete Beach is actually a barrier resort town just west of St. Petersburg that is packed full of beautiful beaches and makes a great day trip. A number of fun attractions in addition to the beaches are worth checking out, such as the Pass-A-Grille area with shops and restaurants as well as the Moorish-style Don CeSar Hotel. Beach highlights include Pass-A-Grille Beach, County Park Beach, and Upham Beach, as well as nearby Shell Key, a haven for turtles and seabirds.
17) Boyd Hill Nature Preserve
Once a zoo and botanical garden for the city of St. Petersburg, Boyd Hill Nature Preserve has expanded to become 245-acres of protected habitat. On the shores of Lake Maggiore, Boyd Hill Nature Preserve has walking trails, as well as an Educational Center to stop into and learn more about the area. The ecosystem includes a network of marsh, swamp, and pine Flatwoods, and the chance to witness native Florida wildlife up close.
18) Historic Kenwood Neighborhood
The historic Kenwood neighborhood is a great destination if you want to soak in some of St. Pete's past, as well as admire the beautiful architecture. Just west of downtown, the Kenwood neighborhood has beautiful oak trees that line brick streets, and homes that are done in the Craftsman style. A great place to have a stroll and work up an appetite, the neighborhood is also home to many excellent restaurants and bar choices and is especially known for being LGBT-friendly.
19) The Manhattan Casino
Head to The Manhattan Casino to revel in the contributions of African American culture in St. Petersburg. The Manhattan Casino was once the African American community's dance hall and included past performances by major names such as Louis Armstrong, Duke Ellington, and Nat King Cole. The casino is currently being renovated to become a multipurpose food venue, complete with restaurants, a coffee shop, and a coworking space.
20) St. Petersburg Museum of History 
Deep-dive into the history of St. Petersburg at the St. Petersburg Museum of History. Located on the St. Pete's Pier, you can make a day enjoying time by the water, combined with this cultural attraction. The museum's exhibits include pictures of St. Petersburg dating back to when the city was constructed, as well as "The Odditorium," a unique collection of rare and strange items that reside in St. Pete's. The Museum of History is open daily and is $15 for an adult entry.
Conclusion
There is so much to love in sunny St. Petersburg. From being a mecca for art to a mecca for sun worshippers, whatever your interest and style, you will find it here. Get ready for your adventure with this list of best things to do in St. Petersburg, Florida!
SEE MORE POSTS