Among many other things, the state capital of Florida is known for its vibrant greenery, both natural and planted by man. It is the perfect place to visit experience all that Florida has to offer–nature, museums, outdoor parks, dining, nightclubs and bars, and a vibrant city. The only thing it's missing is the beach! Those who visit Tallahassee that like to live on the simpler side often go in search of campgrounds in Tallahassee, Florida. By camping instead of staying in a hotel, visitors are able to commune with nature while still being within a reasonable distance to the city and all of the local activities.
Some travelers prefer to stay in an RV during their camping excursions, while others prefer the more simplistic feel of a tent pitched underneath the stars. Campers have several options for campgrounds in Tallahassee FL. Some are highly rated, while others are less well-traveled.  Regardless of experience, below you will be able to find the campground that will fit your needs.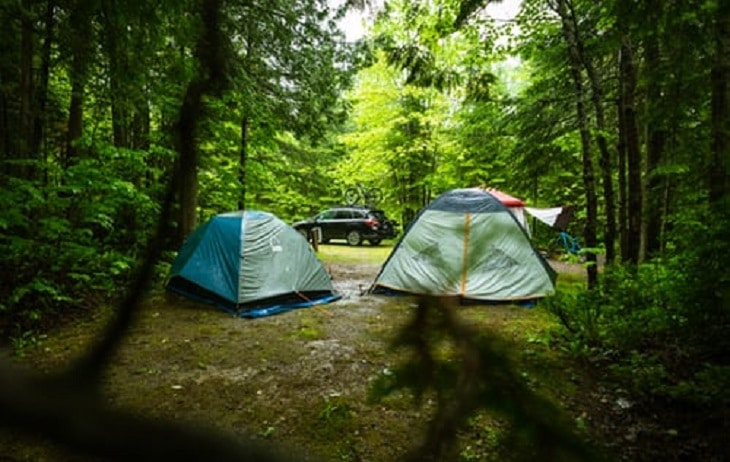 Read Also: Things to do in Tallahassee with Kids
Coe Landing Tallahassee, FL
Coe Landing is a campsite that primarily caters to those traveling by RV. They have many different camping areas to choose from, and they can be reserved online or by calling the number listed below. Additionally, Coe Landing is near a lake and there is a fishing pier for guests to enjoy during their stay. The campsite has wireless internet, restrooms with hot showers, and electricity. It is important to note that no unaccompanied minors are allowed on the campsite without a guardian over the age of 18. This is to ensure the safety of all campers. There is no alcohol permitted on the campsite, so if you are looking to kick back with a cold beer on your vacation, this might not be the campsite for you. However, if you are looking for a simple campsite with basic amenities and fishing privileges, Coe Landing might be just the place for you.
Tallahassee East Campground
The Tallahassee East Campground is a fantastic place to spend a vacation in the area. They offer areas for campers using tents, RVs, and they also rent out beautiful log cabins for customers to enjoy. Not quite a hotel, but the cabins available still have that natural camp feel. This campsite in Tallahassee, FL is just off the freeway with quick access to all of the charms that Tallahassee has to offer. Like most campsites, Tallahassee East Campground offers clean restrooms, wireless internet, and various campsites for tents and RVs depending on preference. They also have a swimming pool for campers to enjoy, a game room, and they are located right on Lake Catherine to allow for fishing and swimming. With amenities like this, this campground is the one to beat when looking into campgrounds in Tallahassee, FL. 
Lake Talquin Camping
Lake Talquin is a state park in Tallahassee that offers campers the most authentic of camping experiences. Located in the forest, campers must pitch a tent and spend their vacations under the stars if they are to stay at Lake Talquin. Near to several lakes and rivers, there is no shortage of fishing or water activities for campers to enjoy. This is a wonderful spot to bring your family for a relaxing and bonding experience. Campers can choose how close or far away they would like to be from others, lending a greater amount of privacy and independence. If it's a breath of fresh air you are looking for, Lake Talquin is one of the best campgrounds in Tallahassee, FL.  
Big Oak RV Park Tallahassee, FL
The Big Oak RV Park is another park just on the cusp of Tallahassee, perfect for going into town during the day to enjoy the events and sightseeing of the city. Their amenities include; laundry facilities, restrooms, planned camper activities, pet-friendly, and fenced in areas for dogs to run, among other things. The campsite has a very community feel to it and would be an excellent place for a family or group traveling together in a recreational vehicle. The rates of the Big Oak RV Park are very reasonable. It is $50/ day or $300/ week. There is an additional fee of $2/ day for any additional cars brought with the RV. 
Tallahassee RV Park
The Tallahassee RV Park, according to Good Sam, is southern hospitality at its finest. While they do not allow tents, they do have a plethora of room for campers that bring an RV in tow. The Tallahassee RV Park is famed for its wonderful customer service, impressive amenities, and their allowance of pets. They do a stellar job of ensuring all technology can function out in their neck of the woods, providing high-speed wireless internet that guests can connect to. Guests are encouraged to bring other forms of entertainment aside from electronics, but Tallahassee RV Park understands that sometimes a vacation away from the office does not necessarily mean a vacation without work. 
While this campground is set in a beautifully wooded area, the site is only a few minute drives to the Florida State University, among many other gems that Tallahassee has to offer. This campground also offers a swimming pool for guests to use. The stunning magnolia trees towering over the campsite is enough to lure campers to this area alone, but with all of the added amenities, it's understandable why visitors see this as one of the best campgrounds in Tallahassee, FL. 
Lakeside RV Park Tallahassee, FL
This no-frills RV park in Tallahassee is the perfect place for a camper on a budget. There are laundry facilities available for guests, as well as a lakeside view for campers to enjoy. Campers are able to stay as long as they would like–some have even stayed longer than a year! This is a popular option for those who are touring the United States by RV and have found a place they want to reside for a longer period of time. The RV park is close to all of the restaurants, shopping, and attractions that Tallahassee has to offer. 
Conclusion 
Although there are a lot of options for places to stay, ensure that you consider whether you will be bringing your trusty RV, or camping underneath the sky. That will make all the difference in selecting the perfect campground in Tallahassee, FL for your stay. In addition to this, consider how important electronics will be to you during your visit. While some campgrounds in Tallahassee, FL are well equipped for electronic devices, some leave campers to their own wits and do not offer any wireless internet. There are many different ways to camp, and none of them wrong. Making sure you pick the right campground can make your vacation truly something to remember.