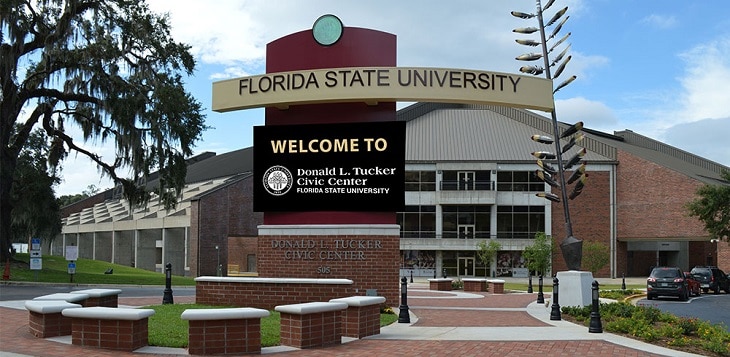 Hours of Operation
Admission Fee
Directions
Donald L Tucker Civic Center hours vary depending on the event. There are no set hours, as events can start as early or end as late as the host of the event would like. If you are trying to discern the hours because you have an upcoming show at the Civic Center, use the website listed to find the event you will be attending. It should indicate the time there! If you need the hours of operation for the box office, they are 10 am-5 pm Monday-Friday. 
Donald L Tucker Civic Center fees vary based on the event and the quality of seats selected. For example, if you would like to buy floor seats for a well-known basketball team's game, you will be paying somewhere around $100 or more. Keep that in mind when looking at tickets for this location. Cheaper seats can be purchased by sitting further away from the action. "Nosebleed" seats are available for around $20, and typically still give the customer the same experience. 
The Donald L Tucker Civic Center address is; 505 W Pensacola St, Tallahassee, FL 32301 and is part of the campus of Florida State University. Parking can either be paid at the arena or park in overflow and use the metro shuttle to arrive at the arena. 
Description
The Donald L Tucker Civic Center is an arena located on the Florida State University campus. It was paid for by the city and built-in 1981. The civic center hosts an array of events, most of them themed to basketball or sports of some sort. The maximum capacity is 12,100 people, but that has been exceeded on extremely popular days. The Civic Center is a place for the community to gather together and watch a game, a show, or a concert.
The Civic Center has snacks and beverages available for purchase, and they are said to be of good quality. While one can expect these snacks to be pricier than average, they are known to be tasty and enjoyable to munch on during a game. The Civic Center does not have hours of operation because the hours are based around events happening. Because events are timed differently each day, customers are expected to follow an events schedule rather than daily hours. 
Read Also:
Donald L Tucker Civic Center Reviews
Donald L Tucker Civic Center reviews include; information about the quality of the food served there, customer service, ease of access, and ease of parking. For the most part, the Civic Center has wonderful ratings by both students and regular customers attending shows. The chief complaint is that the tickets and concessions are expensive, but that is a given when talking about a public arena. The Civic Center has earned a 4.4 / 5 on Google reviews, and the majority of people seem very pleased with their experience here. 
Donald L Tucker Civic Center
Average rating:
0 reviews