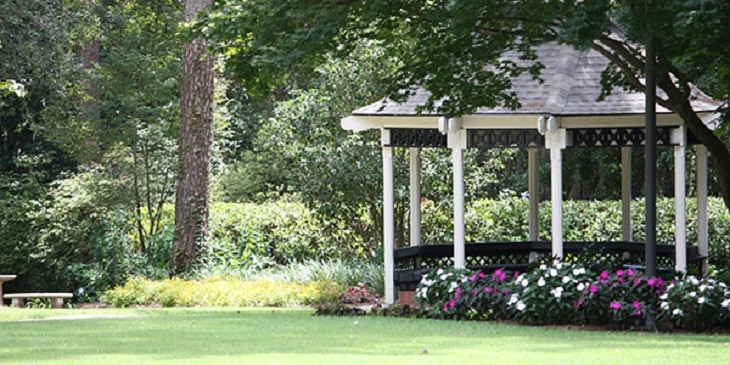 Phone: +1 850-891-3915
Address: 3205 Thomasville Road, Tallahassee, FL 32312
Website: www.talgov.com
Hours of Operation
Admission Fee
This place opens daily from 7 am to 11 pm 
Prices range from 100 – 1300USD depending on the crowds and the time that you shall be spending on the premise. 
Description
Dorothy B Oven Park is a classic gem that features some of the most refined lush landscapes you can ever imagine. Since the 1930s, this garden has been a haven of events and weddings that granted it the fame it has to date. It features some a gorgeous home that comes with a perfectly done wooden floor and exquisite furniture which can also be used for seminars or wedding receptions. There are walking trails and well-manicured lawns at Dorothy B Oven Park which kids can enjoy a play day or even a fantastic picnic day. You will have a lot to see in this park which boasts some of the finest palms and Azaleas which come blended with an ambiance that will blow your mind! Even better, you might even be lucky to pop-in and find a Christmas tree lighting event if you are traveling to this place for a holiday which is a sight to behold.
Dorothy B Oven Park Reviews
I would highly recommend Dorothy B Oven Park as an option if you are looking for a perfect place to hold a baby shower or a wedding or a summer garden wedding which comes with the most inviting ambiances to enjoy. It is mostly for hiring events so single visits may be a little expensive. It is also a place you need to come with a good camera to capture some unforgettable memories that this place will offer you. Most events are charged from 8 am – 5 pm after which there is an extra fee incurred so you need to include that factor if your event is going to run into the night time. Also, well-behaved or trained pets are allowed to come and enjoy the bliss of this majestic garden too. 
Read Also:
Conclusion
If you are looking for an ideal place to celebrate that memorable occasion with your family or friends or even unwind as group Dorothy B Oven Park is your perfect spot. From the flora and fauna to the fantastic clubhouse, here at Dorothy B Oven Park, you'll get that and more! This is a place you will absolutely fall in love with once you set your eyes on it because its beauty is irresistible. The nature trails coupled up with the scenic views and lush landscapes of the  Park will definitely give you some nostalgia for days. Tag a nature lover to this majestic park to come and enjoy one of the most beautiful unwinding spots in this city.
Dorothy B Oven Park
Average rating:
0 reviews