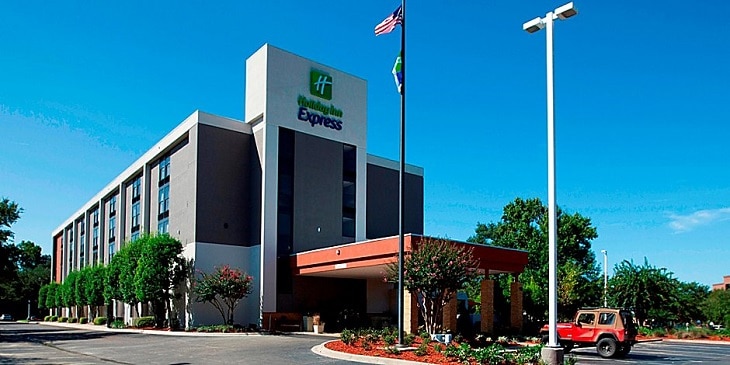 Phone: +1 850-386-7500
Address: 1653 Raymond Diehl Road, Tallahassee, FL, 32308, US
Website: www.ihg.com
Check-in Times
Room Rates
Directions
Check-in: 3:00 pm
Check-out: 11:00 am
You will be in the suburbs near Alfred B. Maclay State Gardens & The Centre of Tallahassee. Within close proximity of A J Henry Park & St. Peter's Anglican Church. 
Description
Holiday Inn Express Tallahassee features 135 air-conditioned rooms with refrigerators & microwaves in every room. Each room is equipped with the essentials for a fun and luxurious getaway. LCD televisions, safes, phones (for local calls), hair-dryers, private bathrooms, and wifi. Enough to keep you entertained and feeling refreshed all day long. The Holiday Inn Express Tallahassee offers amazing amenities for guests to take advantage of for their whole stay. A pool and a 24-hour fitness center. The hotel also features free wireless internet access for all guests and a fireplace in the lobby for guests to warm-up and socialize during winter.
Complimentary breakfasts are served between 6:30 am – 9:30 am on a daily basis. If you don't want to eat directly at the hotel, there are some delicious restaurants nearby to choose from. Great parking sites for guests and an overflow of that to accommodate large families and crowds of people fleeing in to visit the hotel. Rare to many other hotels, the Holiday Inn Express Tallahassee is a business center. Also included are laundry and dry cleaning services. If you need to step out and grab a bite to eat or shop till your heart drops, there is a nearby mall. The Carriage Mall is only 10 minutes away from the hotel. The Holiday Inn Express Tallahassee does its best to accommodate disabled guests as well. 
Read Also:
Holiday Inn Express Tallahassee Reviews
Guests who have stayed at this hotel have experienced the greatest and have appreciated it fondly. The staff treat guests like royalty and are always offering a helping hand. Many guests love how the hotel remodels itself to offer more and qualitative services. The rooms are spacious and immaculate, described by many guests as breathtaking. Guests love the conveniences of the hotel and how near the mall is, if you are craving a little extra tender loving care (TLC).
The hotels are clean and bathroom facilities are always at their best. The bathroom is always restocked with new towels and room service is stellar. Guests love the fact that you can celebrate important dinners and parties for personal reasons. The hotel is amazing for guests who are searching for a good night's rest and time away from their very stressful lives. 
Holiday Inn Express Tallahassee
Average rating:
0 reviews