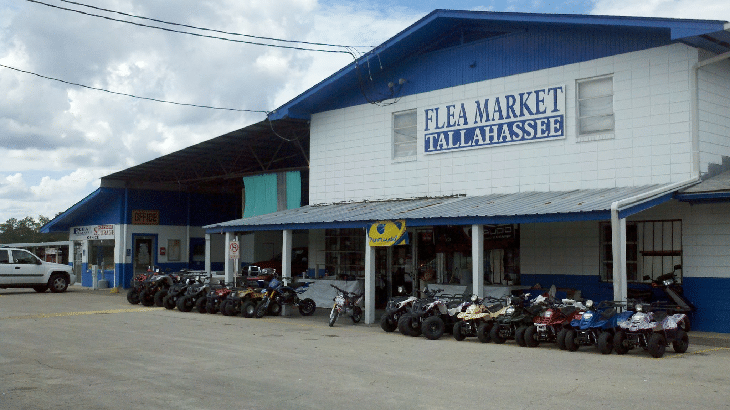 Hours of Operation
Admission Fee
Opened on Sartuday and Sunday from 9 am – 5 pm
Description
Tallahassee Flea Market is one of the most exciting places in this city to come and enjoy thrift heaven where it boasts one of the largest vendor collections you'll ever come across. This market is assorted with the most exciting shops to sample from which offer fresh produce, second-hand goods and also pets.  If you are a lover of the freshest farm produce, then the Tallahassee Flea Market is your ultimate stop over to check out all that and more. 
This long-standing market has been offering its people some of the most amazing shopping ambiances for all types of shoppers who always want to come back after trying this place for the first time. For a fully immersive tour around this market, you need to come with a well-informed guide who will give you a detailed tour together with the history of this spot that will blow your mind!
Read Also: 
Tallahassee Flea Market Reviews
The Tallahassee Flea Market boasts a great array of fresh veggie vendors to junk where you are guaranteed to get some decent buys as long as you aren't looking for top quality stuff. As you take a  nice walk in a covered area, you need to beware since the crowds are large during the summer season.  Fruits and vegetables are abundant in this place and they are fresh from the surrounding farms which I'm sure you'll love to come for a meal.
As you visit the Tallahassee flea market, you need to make sure you come ready to indulge in a variety of the best farm produce and mingle with some of the locals as you buy some niceties that you can take home after your fun-filled trip in this amazing market. From the aisle barkers to the timidest of vendors, you'll have the most colorful morning or afternoon when you come here though some of the vendors are cash-only – some take plastic – and a growing number are up to speed with virtual transactions like Paypal and Google Wallet.
Conclusion
The Tallahassee Flea Market is one of the best places to head out and shop if you are looking for local farm produce to make a meal. Even better, there are of things that you will come across not to mention the souvenirs that you will find in this amazing place to buy and take home after your long-deserved holiday. For a curious traveler looking for the most exciting pocket-friendly outdoor shopping experience, this market will quench your shopping thrill not to mention the memories you will make in this place as you shop.
Tallahassee Flea Market
Average rating:
0 reviews